What is AI on Snapchat: Time for a Virtual Getaway With It
Snapchat is one of the most well-known social media apps out there. Be it for kids, teens, young adults, and even the ones who never get out of style with what's new online surely know about this application. As fads and trends evolve, Snapchat is improving and developing its features. Recently, it released one of its most relishing features called My AI. Initially introduced last February, this feature only allows Snapchat's paid subscribers to enjoy it. Still, as requested by the majority, Snapchat AI now becomes globally free to use by everyone who uses the app.
With a lot of functionalities, Snapchat AI allows users to engage themselves socially by having conversations with friends with different group chats powered by a chatbot, allowing a nonstop flow of visual conversations, vacation planning, birthday gift request suggestions, and many more fun and exciting virtual experience that can be personalized and accessed through the app. You can read and find out more about this interesting feature below.

Part 1. What is My AI on Snapchat?
Social media platforms like Snapchat are joining the race to incorporate artificial intelligence into their systems. My AI, a new Snapchat chatbot, is one such tool that can perform a variety of tasks. My AI is a new feature on Snapchat that allows you to create and share personalized AI-generated content. You can use this AI content generator to create filters, lenses, and games that are unique to you. You can also use My AI to create personalized messages and stories. My AI is powered by Snap's artificial intelligence technology, meaning it can learn and adapt to your preferences over time. The more you use My AI, the better it will become at creating enjoyable content.
Now that you know what is My AI on Snapchat, it is time to turn it on. Please continue reading for more details.
Part 2. How to Add My AI on Snapchat?
Everyone can use Snapchat My AI chatbot, whether they have a free or paid account. The AI is turned on by default on your account, which you can check in the Chats section. Kindly follow the steps below.
1.
Run Snapchat on your Android or iOS device, and then navigate the bottom navigation bar to find the Chats section.
2.
From the Chats list, you will see My AI at the top. Click on it to access the chat AI on Snapchat.
3.
You will see a Say Hi to My AI pop-up. Read through the details, then hit the Okay button to start the conversation.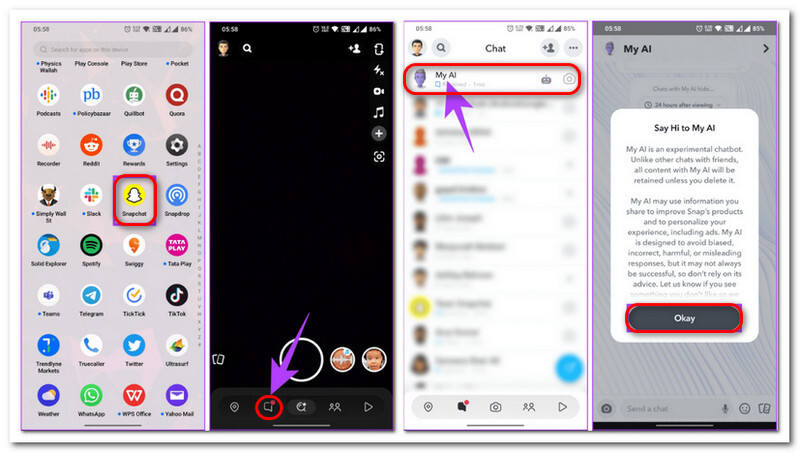 That's it! You have successfully added Snapchat AI to your device. However, you might have to update the Snapchat app in the App Store or Play Store if you cannot find this feature.
Part 3. How to Get Rid of My AI on Snapchat?
Even though My AI has many fun features and unique options, there can be times when you would rather not utilize it on Snapchat. If you no longer wish to use this feature, here's how to delete My AI on Snapchat.
1.
Open the Snapchat app and navigate to the Chats area from the bottom of the screen.
2.
Select My AI to open it. Once opened, hit on My AI on the top.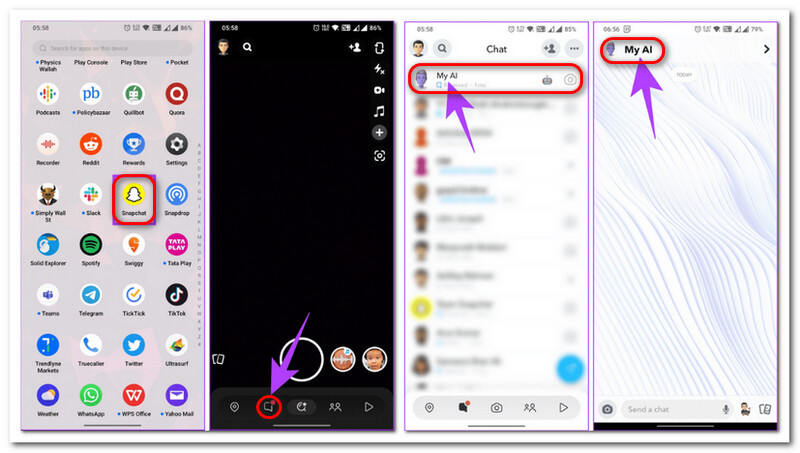 3.
Click the three-dot icon at the upper right-hand corner from the My AI profile. Then, go to Chat Settings.
4.
Under Chat Settings, select Clear from Chat Feed option. After that, you will see a pop-up indicating if you are sure of clearing the conversation. Tap Clear.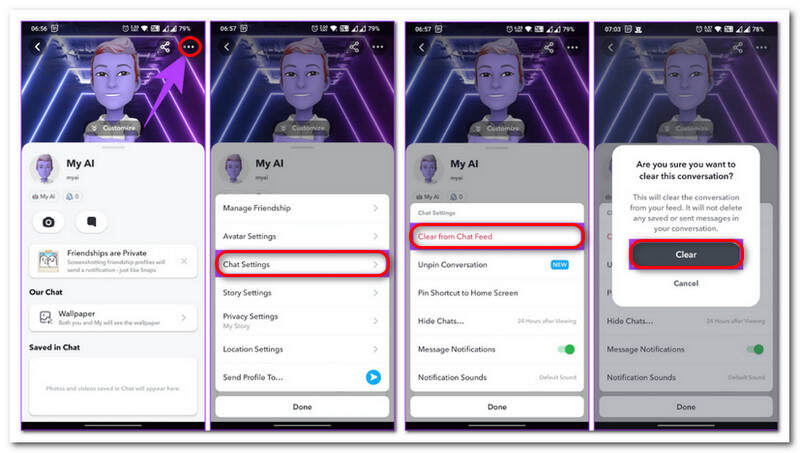 Once you have deleted My AI, it will no longer be accessible. You will also no longer be able to use any of the features associated with My AI, such as the ability to create and send AI-generated images.
Part 4. How to Use My AI on Snapchat?
As stated in this article, there are many things you can do or ask with Snapchat My AI. For example, As stated in this article, there are many things you can do or ask with Snapchat My AI. For example, you can ask it to play games, tell jokes, or even write you a poem. You can also use it to get information about the world around you, such as the weather or the latest news. The possibilities are endless with this Snapchat feature.
To begin talking with My AI, follow these easy steps:
Talk to Snapchat AI
1.
Open your Snapchat on your device.
2.
Click the Chats button in the navigation bar. Or you can swipe to the right from your Camera screen.
3.
Try out My AI by sending it a text or question, or it can be a task.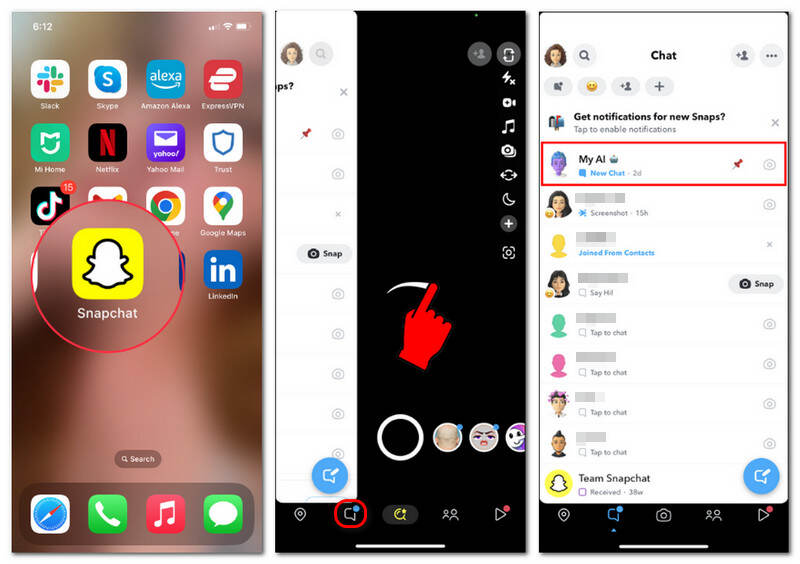 From here, you can chat as much as you wish with the Snapchat My AI chatbot. My AI will try its best to answer your questions. The more detailed and specific your questions are, the better answers you will receive.
Feel free to explore and see what it can do! Below is an example conversation with My AI on Snapchat.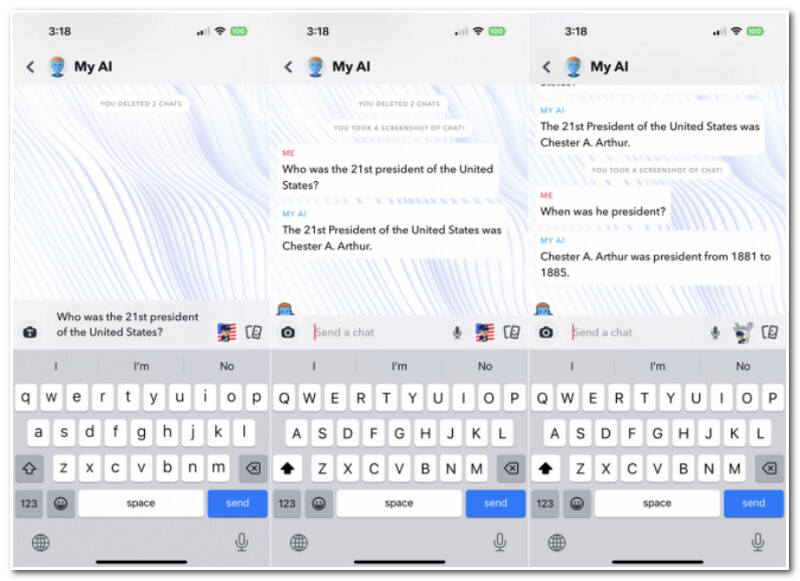 Reset Snapchat AI
You can also reset your conversations with Snapchat AI. However, the only way to do this is to first clear your conversations with My AI. Here's how to do it:
1.
Tap your Profile, then click the Settings icon in the upper right-hand corner.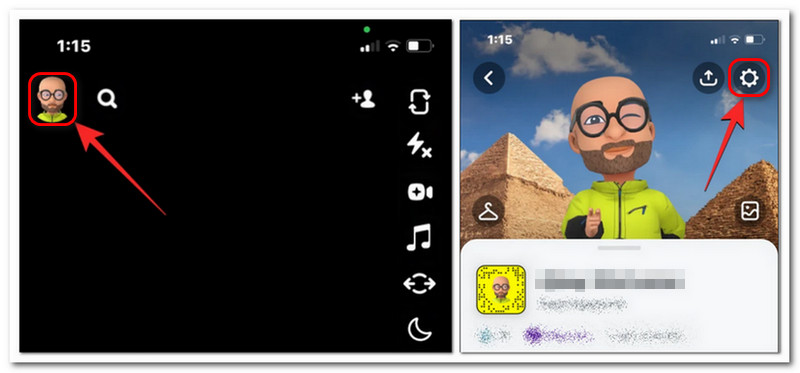 2.
From the Settings, scroll down and hit on Clear Data under Privacy Controls.
3.
Tap on Clear My AI data. To confirm your action, select Confirm.

Your previous conversations with the Snapchat My AI chatbot have been erased from your account. You can start the conversation again with the AI if you want to.
Part 5. Why Does My Snapchat Not Have AI?
If your My AI on Snapchat is not showing up for you, it could be due to a few reasons. First, ensure you have updated your Snapchat app to the latest version. If you have, and My AI is still not showing up, try restarting your phone. If that doesn't work, you may need to uninstall and reinstall Snapchat. Finally, you can contact Snapchat support for help if you're still having trouble.
Part 6. FAQs about How to Use My AI on Snapchat
Is My AI a real person on Snapchat?
Snapchat AI has more human-like traits and style of conversing according to its users. However, given this statement, the short answer to the bottom of this mystery question is that it is not a real person. Snapchat AI is powered by ChatGPT, which works remotely to serve the users while acting like a real person behind the curtain.
Is Snapchat AI safe?
Generally speaking, Snapchat AI is safe to use. Although some users spoke about their displeasure towards this app regarding its nasty suggestions and pieces of advice, many other people still find it great and beneficial for movie recommendations and music suggestions. However, users should still be careful and vigilant not to share too much personal information when talking with My AI. This is reflected by Snapchat itself, which suggests that sharing confidential or sensitive information with My AI should be limited if not avoided.
Is My AI only for Snapchat Plus?
As demanded by most users, Snapchat AI is now free to use globally without needing to subscribe to Snapchat Plus. You must update your app, open it, and find My AI by swiping to the right of the camera screen.
What version of Snapchat has AI?
Snapchat AI is now available for everyone regardless of whether you are using it for free or paying for a subscription. It is enabled by default within your phone if the Snapchat app is downloaded. If you are a first-time user, you must open a conversation with My AI and tap Accept to agree to the terms.
Is the AI on Snapchat free?
This is good news to all the Snapchat AI enthusiasts as it rolled down to be free for everyone without subscribing to Snapchat Plus. Download the Snapchat app, find and tap on the Chats tab, or swipe right from the Camera tab and then choose My AI.
Conclusion
Having your own AI chatbot in your social media app will make social interactions with friends more engaging, right? Snapchat My AI feature has several advantages, such as simple access to information and a virtual friend that learns your preferences. However, parents and guardians should be aware of the potential dangers of promoting the healthy use of My AI. As this field of technological advancement rapidly develops, we will strive to keep our audience informed of changes.
By following the steps in this article, you can easily unlock the power of artificial intelligence and take your snaps to the next level by learning how to get My AI on Snapchat.
Did you find this helpful?
375 Votes
YES

Thanks for letting us know!
No

Thanks for letting us know!
AnyMP4 Video Converter Ultimate
All-in-one video converter, editor, enhancer upscaled with AI.