A Ticket to Recover Snapchat Messages: Claim It Now!
There are a lot of unforeseen circumstances that may cause you to lose your data in the blink of an eye. Some may be retrievable, while some may be gone for good. Luckily, as we live in an advanced world run by technologies, some softwares can give us a hand to recover what we've lost, be it some important files, passwords, device updates, or even messages we unintentionally deleted from our inboxes, like the software we offer to you in this post.
Aiseesoft is one of the few leading quality software providers specializing in bringing solutions to our table regarding programs and systems. This may be the best resort to find answers for iPhone and Android users regarding recovering deleted Snapchat messages. Aiseesoft offers an amazing and powerful data recovery tool called FoneLab, which is the right choice for your concern. Discover the process as you read more.

Part 1. How to Recover Deleted Snapchat Messages on Android?
Let's say you regularly delete files on Android phones to improve performance and accidentally delete important Snapchat messages. In that case, you can use Aiseesoft FoneLab Android Data Recovery to recover lost Snapchat messages. This tool can also be used to recover other important Android data, such as contacts, messages, call logs, music, videos, pictures, and more, in addition to messages. Would you like to recover your deleted Snapchat messages on Android? Aiseesoft FoneLab for Android is the best option for recovering lost Android data. It is an effective tool that can help you get back your lost data quickly and easily. Here's how to use it to recover deleted Snapchat messages, and look at what it can offer.
1.
Download and run this powerful Android data recovery tool, Aiseesoft FoneLab Android Data Recovery, and install it on your computer.
2.
After downloading and installing it, run this amazing Android data recovery software on your device. On the main interface, select Android Data Recovery to recover your deleted Snapchat message.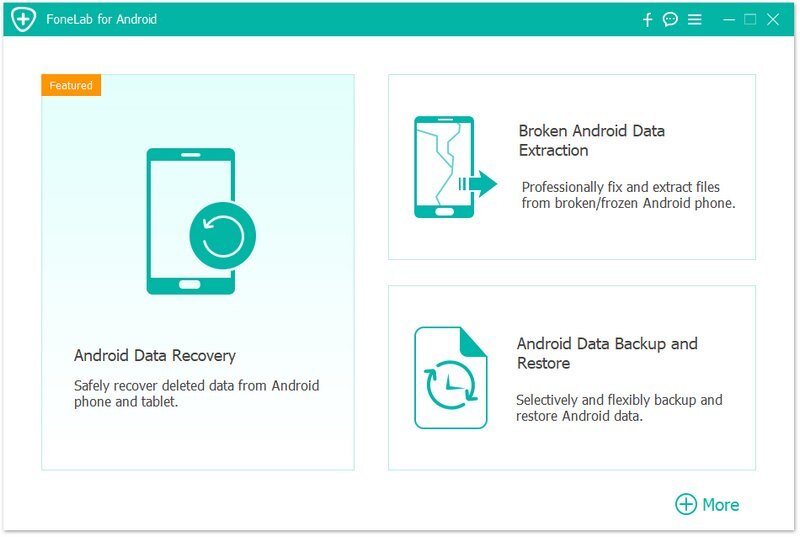 After this, connect your Android device to your computer using a USB cable. Aiseesoft FoneLab for Android will automatically detect your Android phone.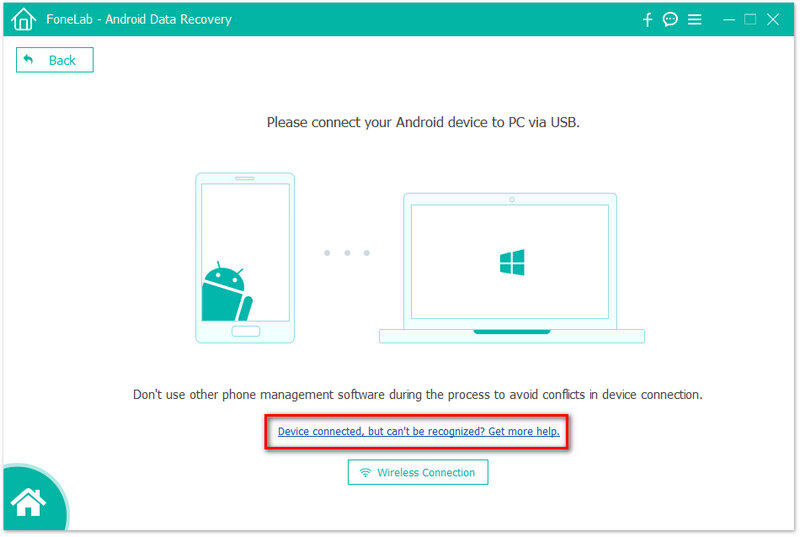 Situation 1. If your device is connected but not recognized, press Device connected, but can't be recognized. Get more help. To get more methods to get a successful connection.

Situation 2. If you're having trouble connecting your device to your computer, tap the Retry button to reconnect it.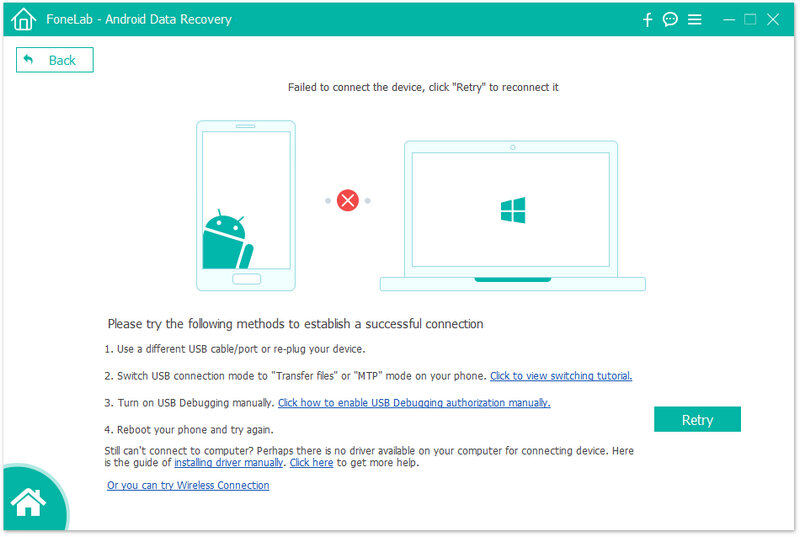 Situation 3. Otherwise, Click to view the switching tutorial for full steps to switch USB connection mode to Transfer files or MTP mode.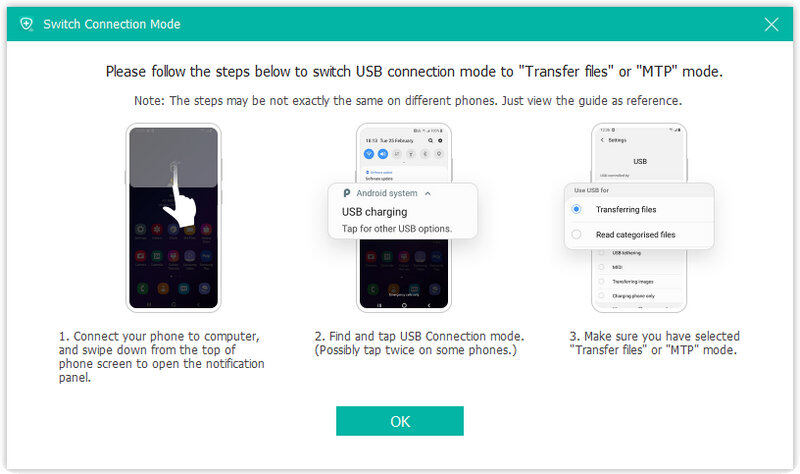 3.
If USB debugging is not enabled, FoneLab for Android will prompt you to do so on your phone. It will detect your Android version and provide instructions on enabling USB debugging on your phone. After completing the steps on your phone, press the OK button to move to the next step.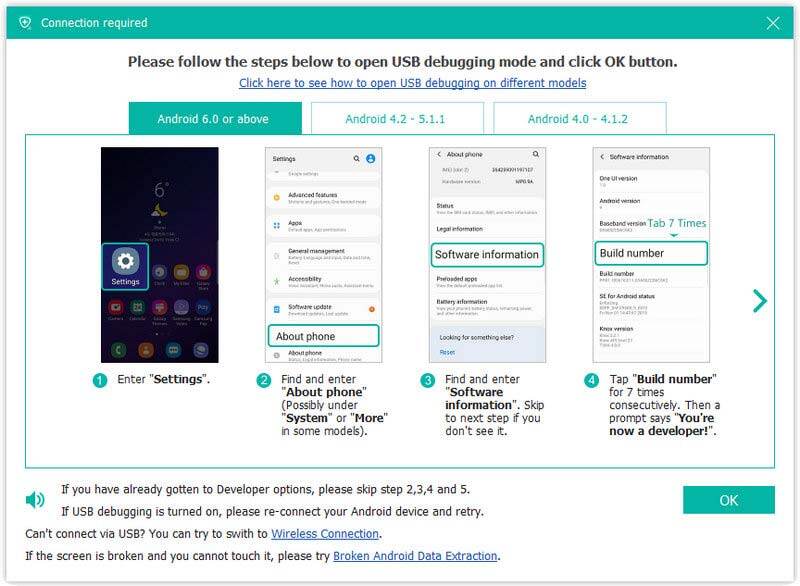 4.
Once your Android device is connected, all file types will be displayed on the interface. You can select the specific file types you want to recover, such as contacts, messages, message attachments, call logs, photos, audios, videos, and other documents. In this case, you can navigate to the Snapchat messages you want to recover. Then, hit the Next button to scan the selected Android data.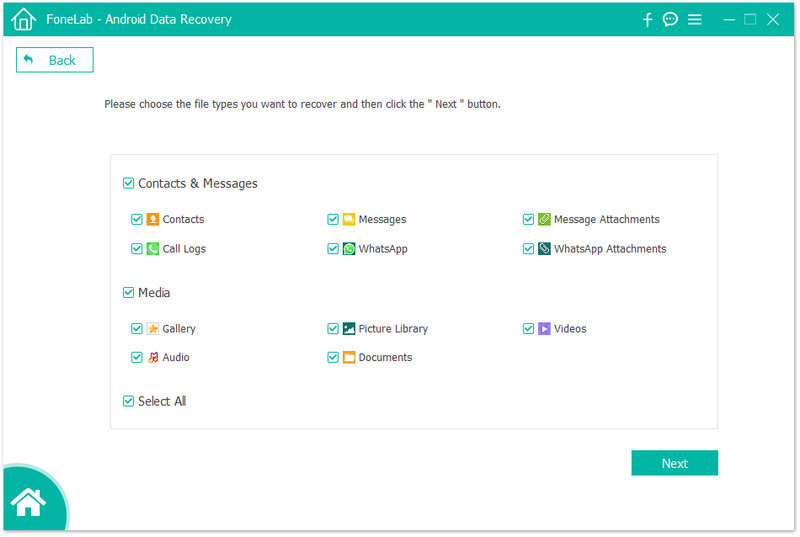 5.
The program will analyze your device, then prompt you to install the FoneGo Rooting Tool and enable Install via USB in the Developer options.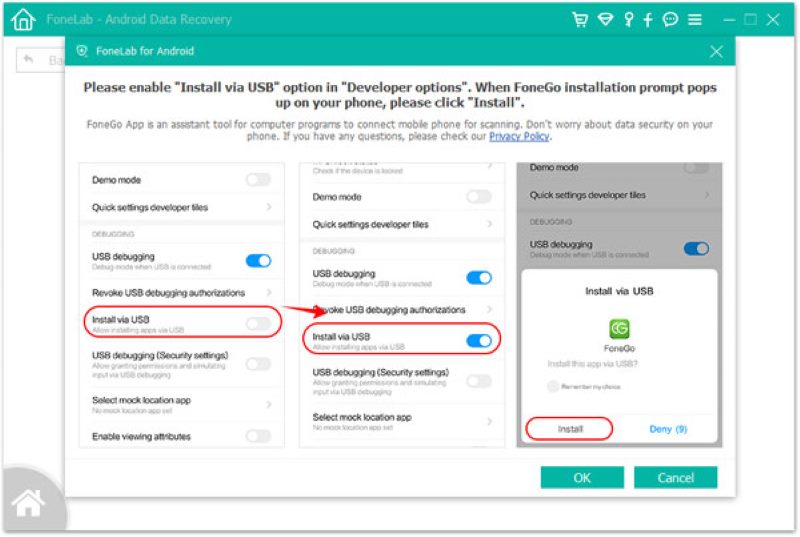 6.
To scan your phone, you must first authorize the FoneGo App to access it when you install it. If you have authorized it, but the program did not detect the authorization status correctly, please tap I Have Authorized. You can also choose to scan authorized files.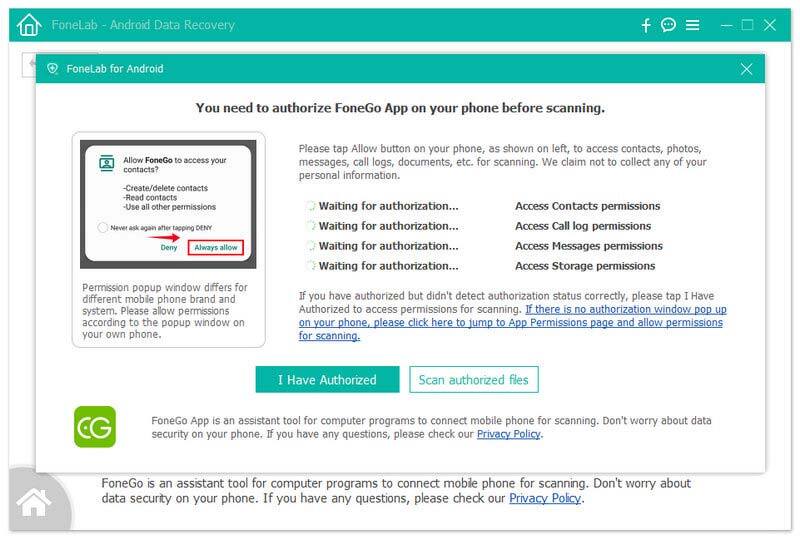 7.
the program detects unauthorized items on your phone, you will receive a pop-up message asking you to confirm whether you want to go back and grant permissions or continue scanning authorized files. After that, the program will begin scanning your phone.

8.
Once the scanning is complete, you will be notified that the Standard Scan is finished. Then, select OK and preview your files listed in categories on the left sidebar. Choose the Snapchat message you want to recover, then tap the Recover button to complete the recovery process.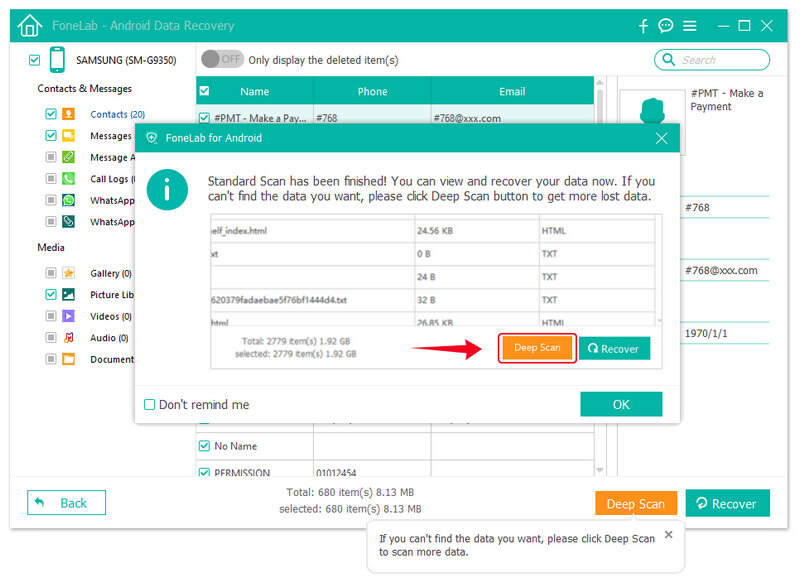 9.
If you cannot locate the data you want, click the Deep Scan button in the bottom right corner to retrieve more lost data. A pop-up message will then appear explaining Deep Scan. To perform a Deep Scan, it is necessary to have root access to your phone so that you can scan your entire storage. Compared to Standard Scan, more data will be scanned, taking longer. After rooting your phone, exit the root tools and click Start Deep Scan to scan more data. After that, select the data you want to recover.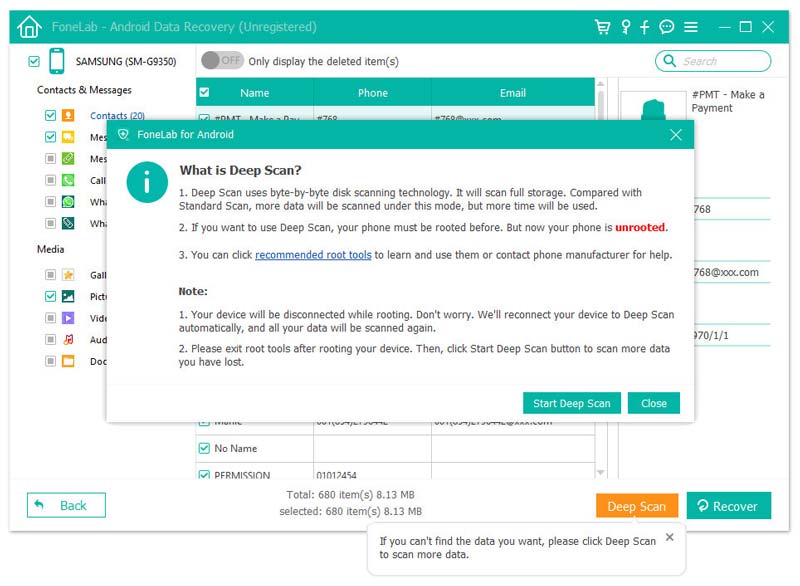 If you lost your iPhone data, you must see the next section. Like the Aiseesoft FoneLab Android Data Recovery, there's software like that for iPhone users, as an amazing and powerful tool for data recovery.
Part 2. How to Recover Deleted Snapchat Messages on iPhone?
1.
Download this amazing iOS data recovery tool, Aiseesoft FoneLab iPhone Data Recovery, and install it on your computer.
2.
Run this software after you install it. Then, choose Recover from iCloud Backup File. Next, you need to sign into your iCloud account.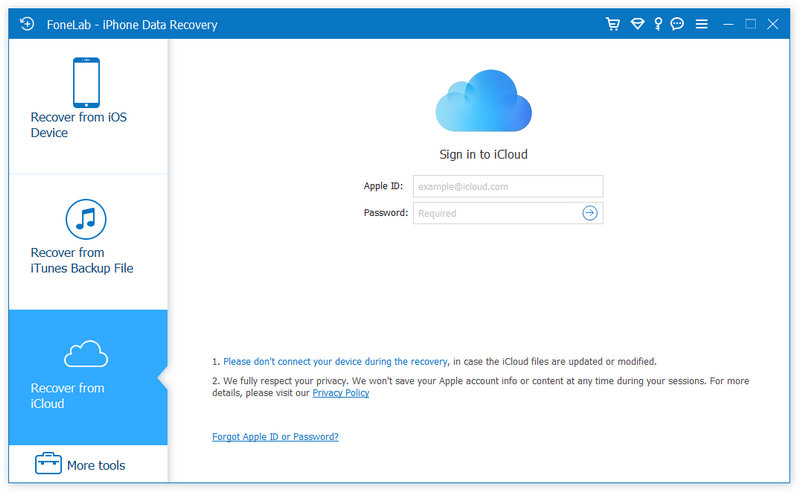 3.
Please note that you must press the Trust button on your iPhone if you have enabled two-factor authentication. Apple will then mail you a verification code to your iPhone. Enter the verification code in this software.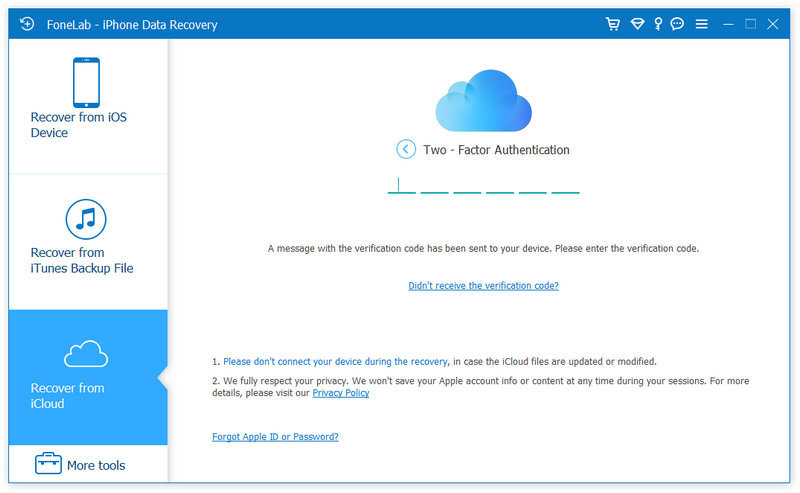 4.
You must scan from your iCloud Backup, then press Start.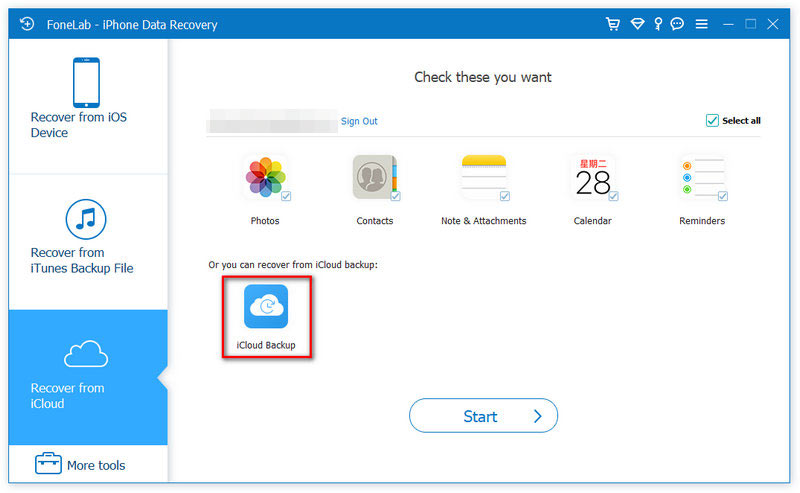 5.
Tap on it, and all the backup files for the iCloud account will be shown. You can choose one based on the device name and backup date. Tap Download to proceed.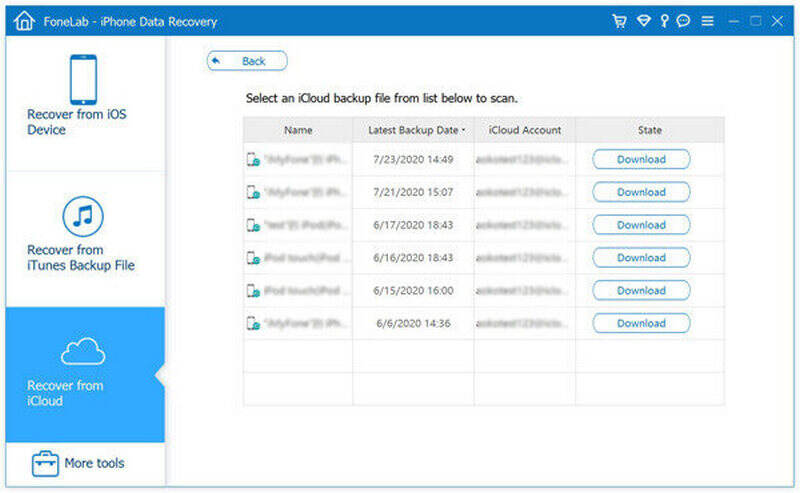 6.
The pop-up window will display all of the data types that are backed up to iCloud. Choose the check boxes next to the items you want to recover, then click Next. The software will then begin scanning your iCloud backup file.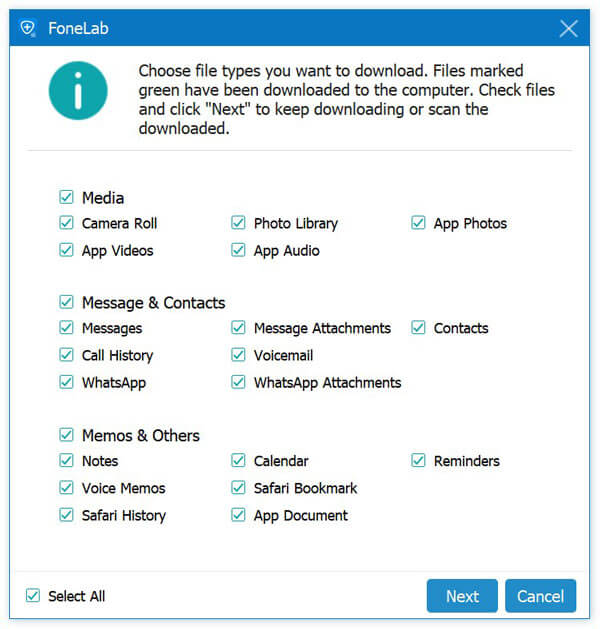 7.
Once the scanning process is complete, click the data type in the left pane to view the details on the right. Navigate to Snapchat files, select the deleted Snapchat messages you wish to recover, and tap the Recover button to export the deleted data from iCloud backup to your computer.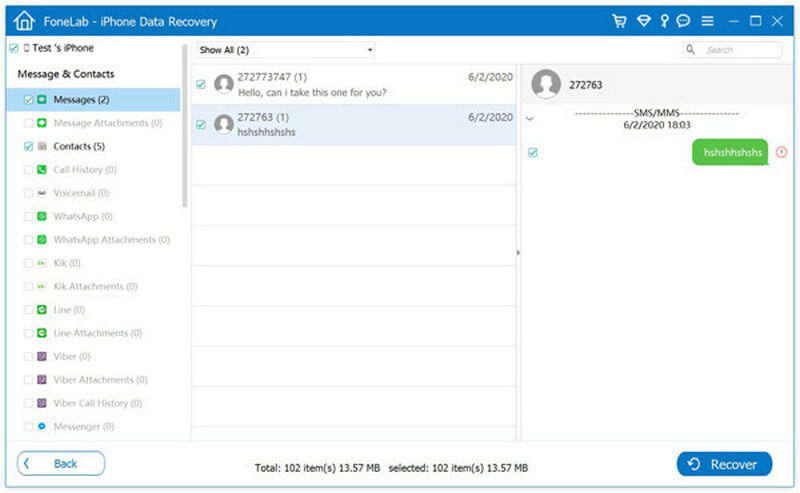 With Aiseesoft FoneLab Data Recovery, retrieving your Snapchat messages has never been easier like getting a Snapchat story recovery! Follow the steps and enjoy the convenience of accessing your messages stress-free. This tool is amazing and practical, as it can solve our problems. It's a valuable tool for file recovery. Get it now for easy use.
Part 3. FAQs about Recover Deleted Snapchat Message
Can I recover deleted messages on Snapchat?
Yes. Although there is no built-in way to recover deleted messages on Snapchat, following the steps to get them all back, as mentioned in this article, is possible.
Are deleted Snapchat messages gone forever?
Snapchat has a delete default setting to delete messages permanently once they're already viewed or expired. However, if you wish to retrieve messages you unexpectedly lost, recovering them is possible with the help of some service/software providers like Aiseesoft FoneLab for iPhone and Android users.
What happens when you delete a Snapchat message?
When you delete a Snapchat message and the receiver hasn't viewed it yet, they will never be able to read what you've sent, but they will be notified that you deleted a message.
Can you get a Snapchat chat history?
Yes. You can get Snapchat chat history using a desktop or laptop browser. All you have to do is download your data, which contains your files from your chat history.
Does Snapchat save messages in a database?
Like many other apps, Snapchat stores structured data inside a SQL database. Typically, the database's storage directory is unavailable to the user. However, individuals can quickly check out all the files using a phone with root access that can be discovered in any system directory.
Conclusion
Most messages sent using Snapchat will be automatically deleted, whether you do it or not, once they have been seen or have passed their expiration date since that is Snapchat's default setting. However, retrieving these messages from your files or chat history can go hand in hand, even when there is no built-in way. Aiseesoft FoneLab Data Recovery is a quality software service provider that can bring out the best solutions to this problem, whether you're an Android or iPhone user. As long as you follow the steps in this post using this software, recovering deleted Snapchat messages can be done without sweating.
Did you find this helpful?
378 Votes
YES

Thanks for letting us know!
No

Thanks for letting us know!