How Do I Delete A Snapchat Story: The Rules of Thumb
Snapchat's Stories feature allows users to upload almost anything under the sun to make the experience of using the social media platform more relishing and fun. However, there are times that we unintentionally click on something that we do not really wish to share in our story, making us want to take it back. Hence, we quickly take action to delete them before anyone else sees them. But have you ever wondered if people can still view them no matter how fast you delete them? Or did you ever question yourself as to how you delete stories on Snapchat right away after mistakenly uploading one? These are some of the questions that we will try to give answers to. To know more about these queries, continue to read this article.

Part 1. How to Delete a Story from Snapchat?
If you change your mind about a Snap you added to your Snapchat Story, you can always remove it. Keep reading to know the answer to how.
Delete My Story on Snapchat
1.
Tap your Story icon from the upper left-hand corner of your Snapchat app.
2.
Click on the My Story icon to see your Snapchat story.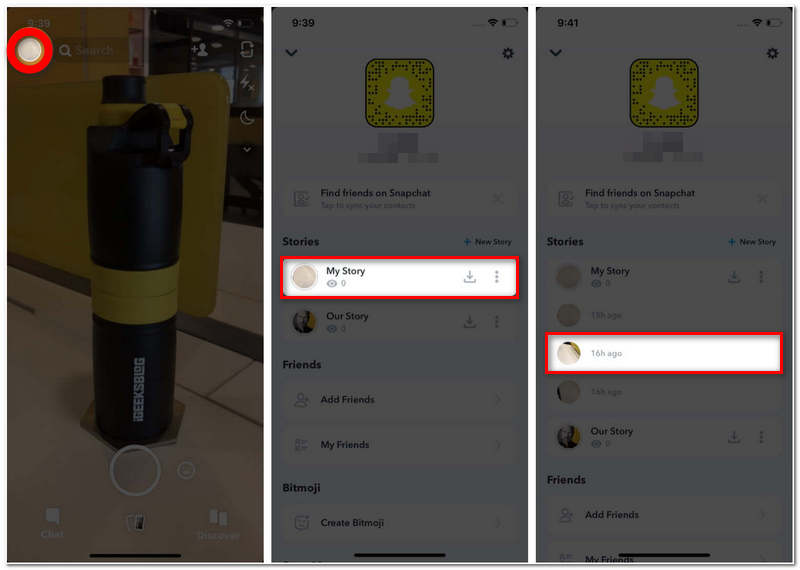 3.
Press long or tap on the three-dot icon.
4.
Hit the delete button and confirm your action.
That's how you easily delete a story from My Story on Snapchat, similar to deleting messages from Snapchat. You can repeat the process if you want to delete multiple Snaps from My Story. Moreover, there's also a method to remove your story from Private Story on Snapchat. Kindly see the next part.
Delete Private Story on Snapchat
1.
Tap on your profile icon from the top-left corner of your Snapchat app.
2.
From the bottom of My Story, click on the three-dot icon next to your private story.
3.
Press Delete Story and confirm your action.

You have successfully deleted your story from the Private Story on Snapchat. Now, if you are wondering how to delete a saved story on Snapchat chat, you can do the following steps below.
Delete Saved Story on Snapchat Chat
1.
From your Snapchat app, go to the Chats tab.
2.
Navigate to the conversation where you have saved a story.
3.
Press and hold it and click Delete.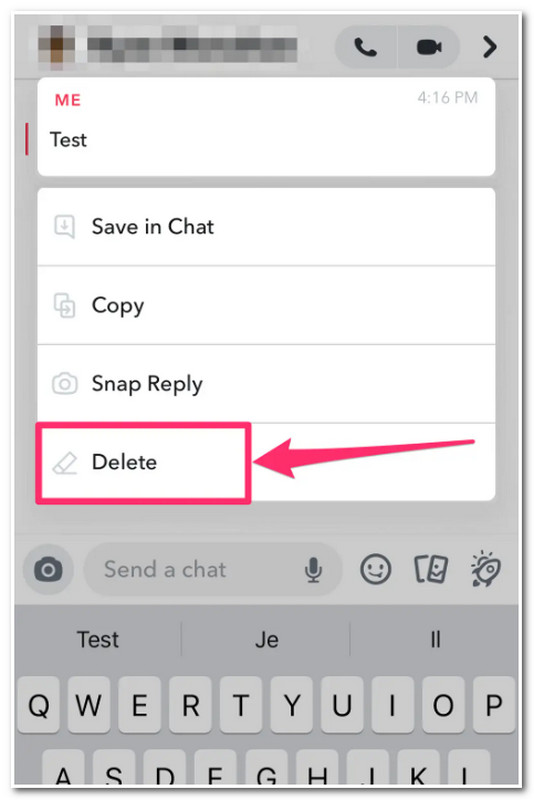 Please be aware that your friends can see that you deleted a Snap story in Chat. You can only delete a Snap story if it has been delivered or opened by one or all participants in the conversation.
Moreover, when you delete a Snapchat account, the saved story will be also deleted from your device.
Part 2. How to Delete Snapchat History Permanently?
Privacy has always been a major issue on the internet, particularly on social media. As one of the most popular social media platforms among young people, Snapchat has been the subject of much concern about its privacy and data security. So, how do you delete your Snapchat history permanently? Here's how:
1.
Open the Snapchat app, then navigate to Settings.
2.
Tap Clear Conversations from the Account Action section.
3.
You can delete your conversations individually, or you can delete all of your conversations at once by tapping Clear All under Account Action.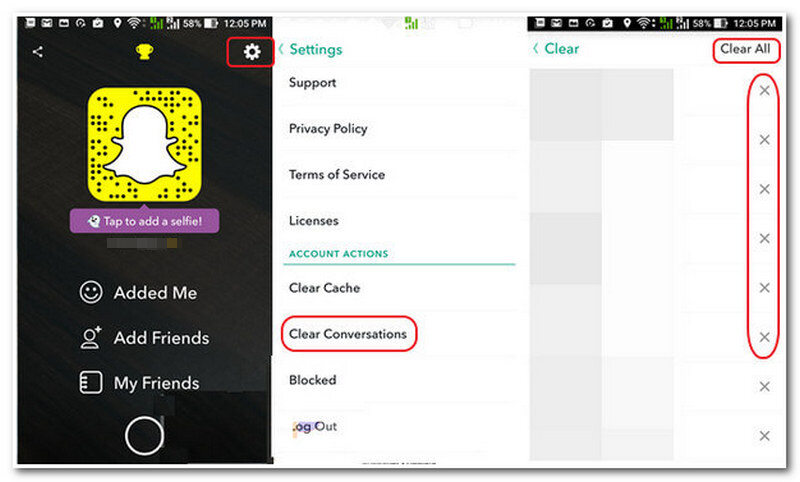 There you go. You have learned how to delete Snapchat history permanently with just a few clicks.
Part 3. Why Is My Snapchat Story Still There Even If I Deleted It Already?
When you delete a Snapchat story, Snapchat will attempt to remove it from their servers and your friends' devices. However, this might not always work if someone has a bad internet connection or runs an old Snapchat version. In this case, the deleted Snap may still appear for a brief moment. This is because Snapchat stores stories on their servers for a while before deleting them. If someone has a bad internet connection, it may take longer for Snapchat to delete the story from their servers. Additionally, if someone is using an old version of Snapchat, they may not have the latest security updates that prevent them from seeing deleted stories. In these cases, someone can see a deleted Snapchat story for a brief moment.
Part 4. FAQs about Delete Story on Snapchat
Does deleting a Snap story delete it for everyone?
No, once the user has removed or deleted the Snapchat story, it will never be visible to everyone as well. Unless those who viewed the story before it got deleted saved the Snaps through screenshots.
What happens to deleted stories on Snapchat?
When you delete a Snapchat story, the snap will immediately be deleted from the app's server and your friend's devices, too, as long as you have a stable internet connection to do so, because if not, the deleted story might still be visible to everyone for a short period of time before it completely disappears.
Can I see who viewed my deleted story on Snapchat?
Sadly, when you delete a snap from your Snapchat story, it totally disappears, and so you will no longer see the list of people who have viewed it.
When you delete a Snap, does it also delete for the other person?
Yes, because once a Snapchat story has been deleted, it can no longer be accessed by others as well.
How do you delete a whole Snapchat story?
To delete a whole Snapchat story, follow the three simple steps. First, go to your Profile. Then, click My Story to view it. After that, press and hold on to the Snap you want to delete, and then tap Delete Snap.
Conclusion
Although Snapchat automatically deletes your uploaded Snaps from your story after 24 hours, you can also make them disappear whenever you want. Just like some people quickly unsend messages they just sent when they suddenly feel embarrassed about it, if you think twice about a Snap you added to your Story, you can always have its traces down. With this, the story will no longer be visible to all your friends and others, as the server will also attempt to remove your stories from their devices.
Basically, to delete a Snapchat story, you just have to go to your profile, open your story, and tap the delete button. For other questions, the answers provided above are expected to guide you. With this, we greatly hope you learned something from this article, so it is better to share this post with your other friends who might need it, too.
Did you find this helpful?
413 Votes
YES

Thanks for letting us know!
No

Thanks for letting us know!
AnyMP4 Video Converter Ultimate
All-in-one video converter, editor, enhancer upscaled with AI.