How to Delete Snapchat Account: Snap It Out As You Wish
Snapchat is a mobile application that allows users to express themselves using its many features while having fun with the people they interact with. It is a social media platform that lets you live in the moment by posting and sharing some pieces of your life creatively. It is doubtlessly an easy path to build an experience as there are also tons of people who use Snapchat every single day.
However, some people express dissatisfaction with the app, leading them to delete their accounts. But how do you delete your Snapchat account? Is it possible to have it deleted and recover it once you change your heart? Let's find out.

Part 1. What Happens When You Delete Your Snapchat Account?
Deleting your Snapchat account will result in Snapchat removing all of your account information, including your settings, friends, Snaps, Chats, Stories, and device data, from its servers. Your friends will no longer be able to see your account or send you snaps.
Be advised that Snapchat will store your messages and snaps on its servers for up to 30 days after you delete your account. You can access your snaps and messages if you reactivate your account within 30 days. However, if you do not reactivate your account within 30 days, Snapchat will permanently delete all your account data.
However, for legal purposes, Snapchat will retain certain personal data, such as your purchases on Snapchat. If you are sure you want to delete your Snapchat account, it is a good idea to download a copy of your account data first.
Part 2. How to Delete a Snapchat Account?
If you are sure you want to delete your Snapchat account, please follow the instructions we have provided for you.
Delete Snapchat Account on Android
Here's how to delete a Snapchat account on Android:
1.
Launch the Snapchat app on your device. Once opened, click on your Profile in the upper left corner.
2.
From your profile screen, tap on the Settings icon.
3.
Navigate to the Support menu, then select I Need Help.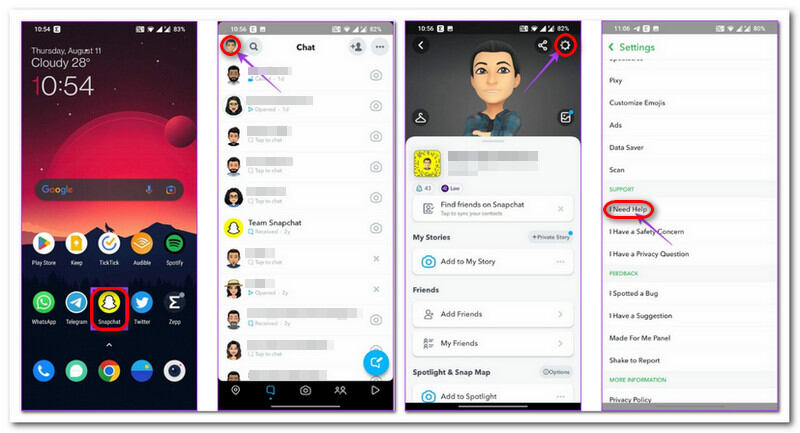 4.
After that, tap on the search bar to find Delete My Account and choose it.
5.
Next, click the accounts portal in the How do I delete my Snapchat account? section.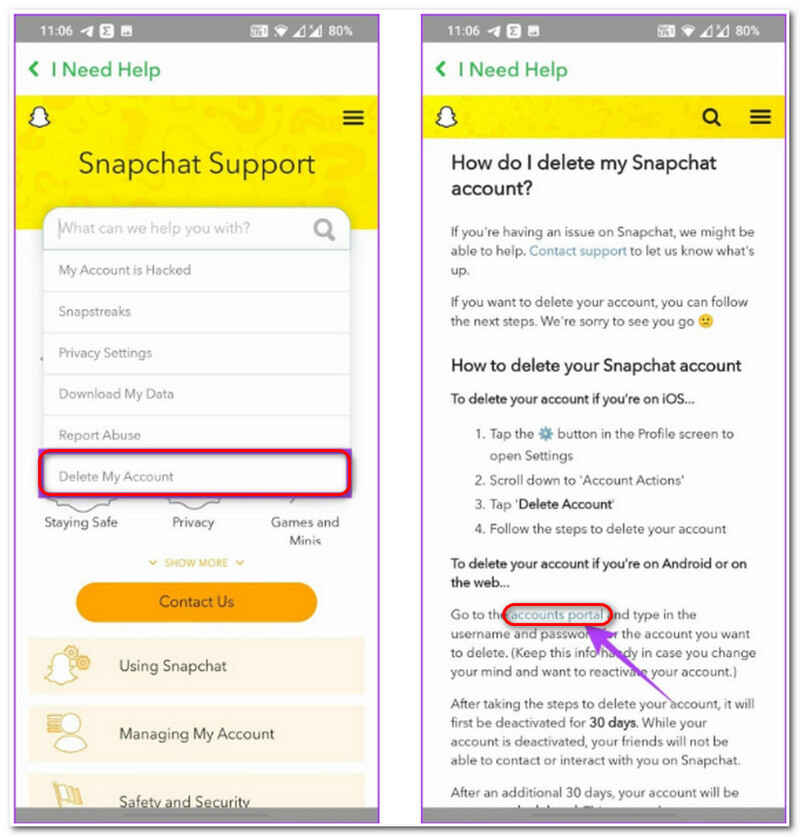 6.
You will see the Delete Account page. Lastly, confirm your username and password, then tap on Continue.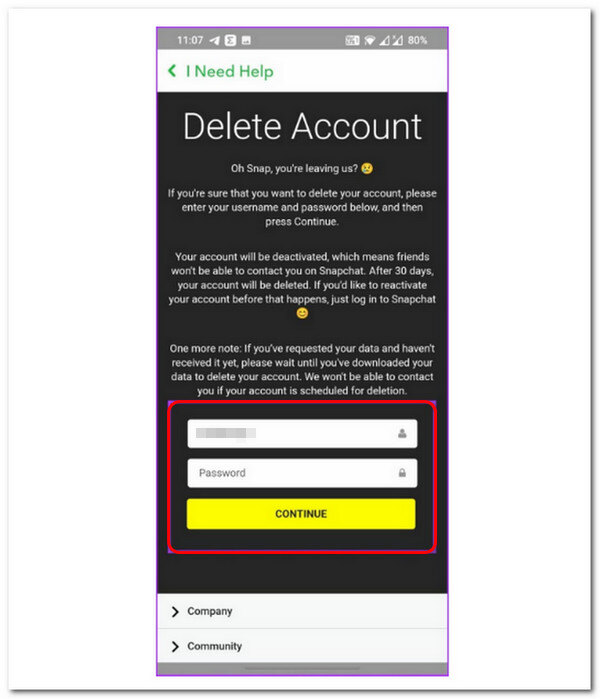 Delete Snapchat Account on iOS
Deleting your Snapchat account on an iPhone is simpler than on an Android device. Here's how to do it:
1.
From your iPhone device, open Snapchat. Then, click on your Profile.
2.
Next, tap on Settings in the upper right-hand corner. Afterward, proceed to the bottom of the page and click Delete Account.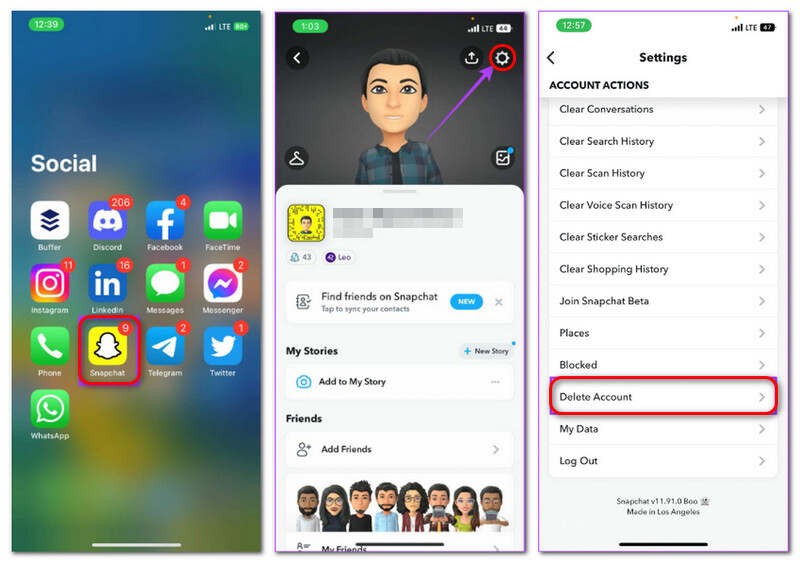 3.
Then, you need to log in to your Snapchat account. From the Delete Account page, confirm your username and enter your password. Lastly, choose Continue.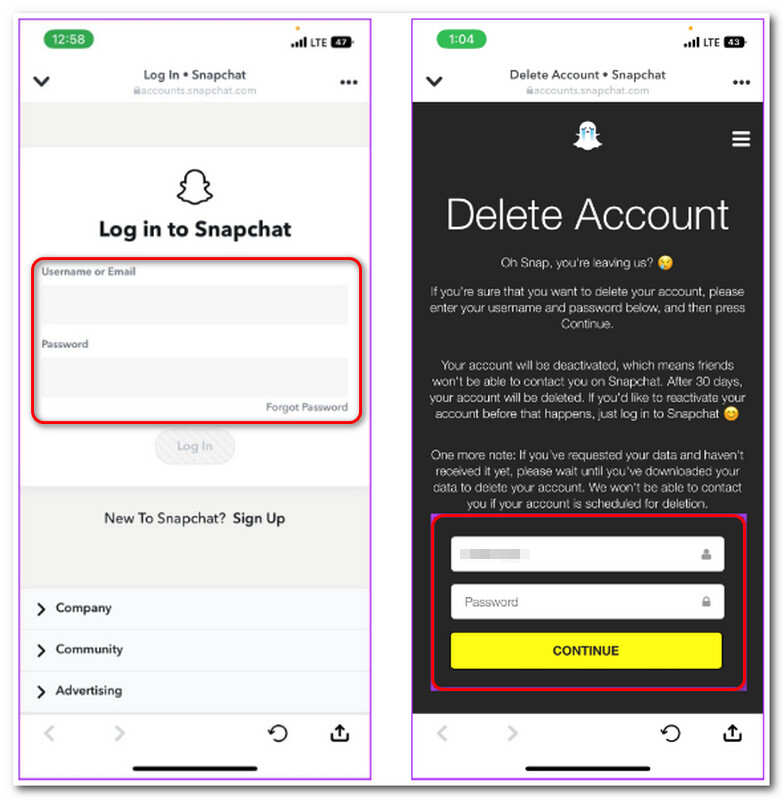 You can perform the same steps online on a desktop if you cannot access your Android or iOS device. Please continue reading for instructions.
Delete Snapchat Account on Online
Snapchat now offers web versions to all users, so it is possible to delete a Snapchat account online. However, this can only be done through a web browser. Here's how:
1.
Navigate to Snapchat (https://accounts.snapchat.com) in a web browser. Then, sign into your Snapchat account.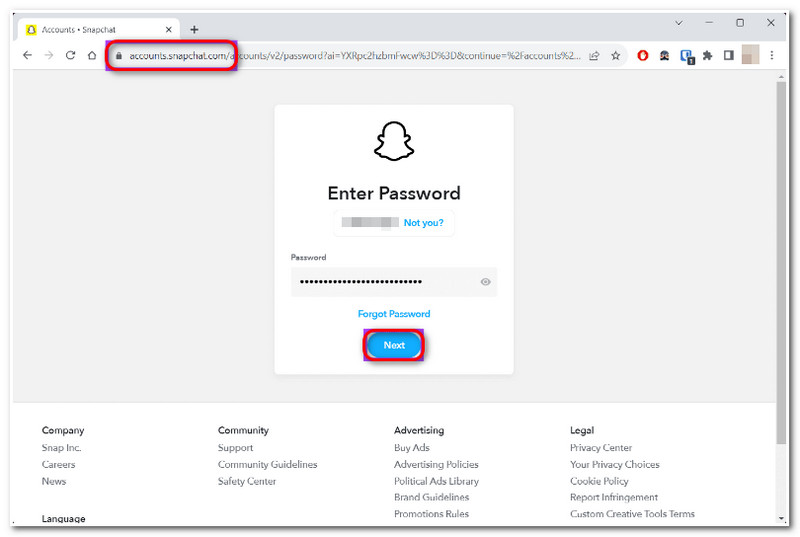 2.
Once you signed in, tap on your profile picture in the top left corner.
3.
From the drop-down menu, select Account Settings. After that, you will be taken to the new window to see the Snapchat account settings.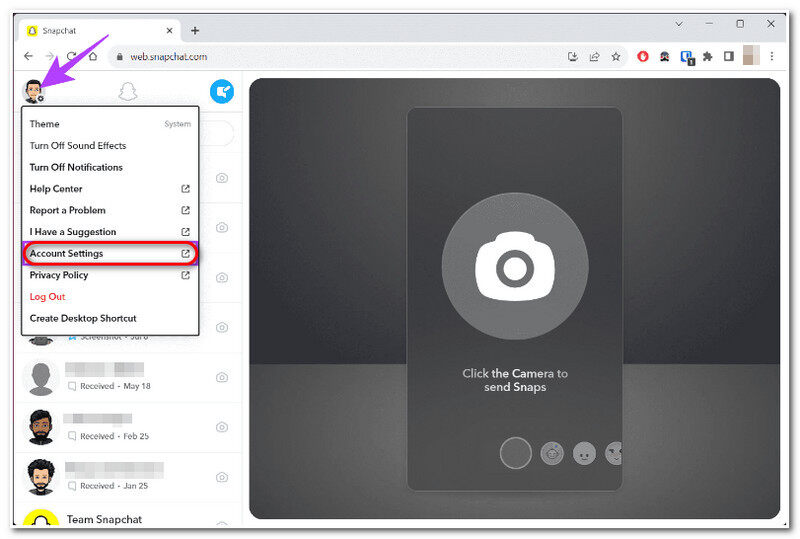 4.
Navigate down and tap on Delete my account.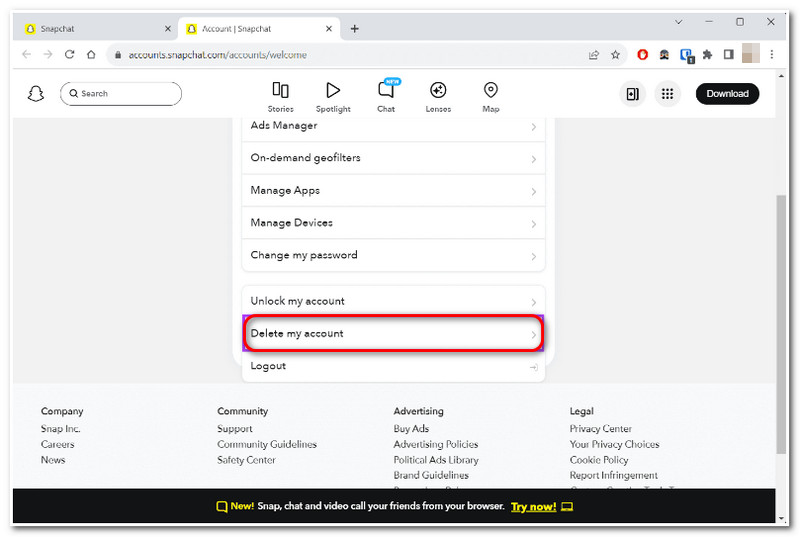 5.
It will navigate to the Delete Account page and enter your Snapchat account password. Finally, click the Continue button.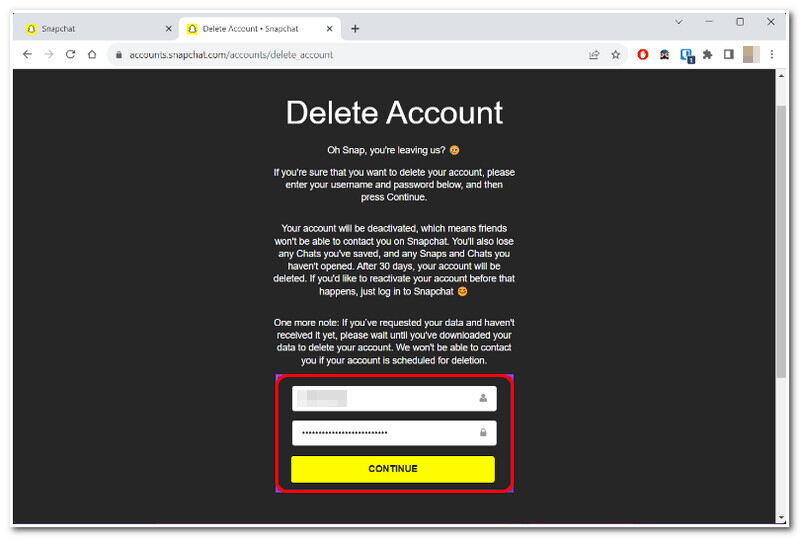 There you go! You have successfully deleted your Snapchat account. Remember, you must wait 30 days after you delete your account. After that, your account will then be permanently deleted. However, if you are wondering if it is possible not to wait 30 days to delete your account, we offer you the answer in the next section. So, feel free to continue reading.
Part 3. How to Permanently Delete Snapchat Account Without Waiting 30 Days?
Unfortunately, there is no way to permanently delete a Snapchat account without going through a 30-day deactivation period. This is because Snapchat wants to give users time to reconsider their decision before permanently deleting their accounts. While there were ways to bypass this in the past, now you simply have not to log in or use Snapchat for that 30-day window before your data is wiped from their servers.
Part 4. Why Can't I Delete My Snapchat Account?
You may be incapable of deleting your account on Snapchat for a few reasons. To delete your account, enter the correct username and password first. If you have activated two-factor authentication, follow the steps carefully. Moreover, if your Snapchat account is temporarily locked, you may need to wait until the lock period expires before attempting to delete it.
If you are considering removing your Snapchat account permanently, it is important to understand why you cannot do so. You should also be aware of the steps in deleting your account and ensure you are prepared to lose access to your Snapchat data.
If you wish to recover your account, move on to the next section.
Part 5. How to Recover a Deleted Snapchat Account?
If you change your mind, you can recover your deleted Snapchat account within 30 days of deactivating it. You can do this by following these steps:
1.
Launch Snapchat on your device. Log in to your Snapchat account that you want to recover. From the pop-up, select Yes to confirm account reactivation.
2.
Next, please choose the reason and click on Reactivate my account. Then, tap Okay to confirm your action.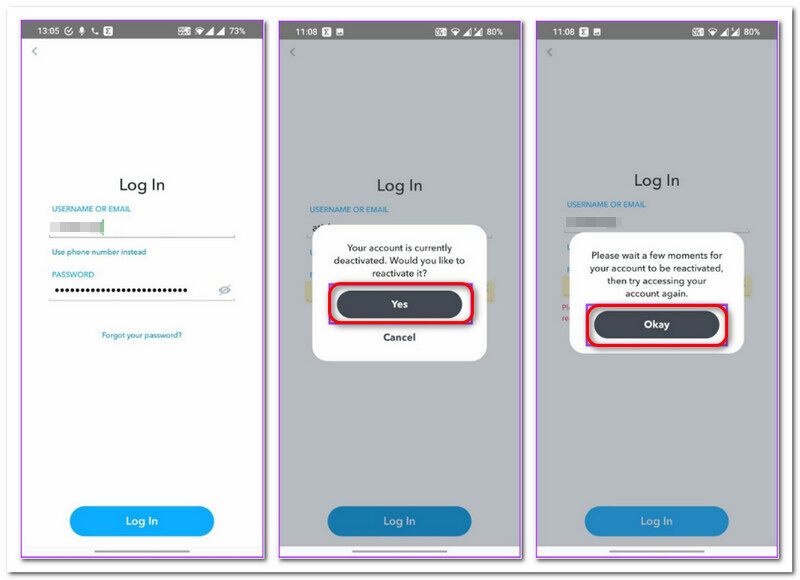 3.
After that, put your username and password on the appearing page.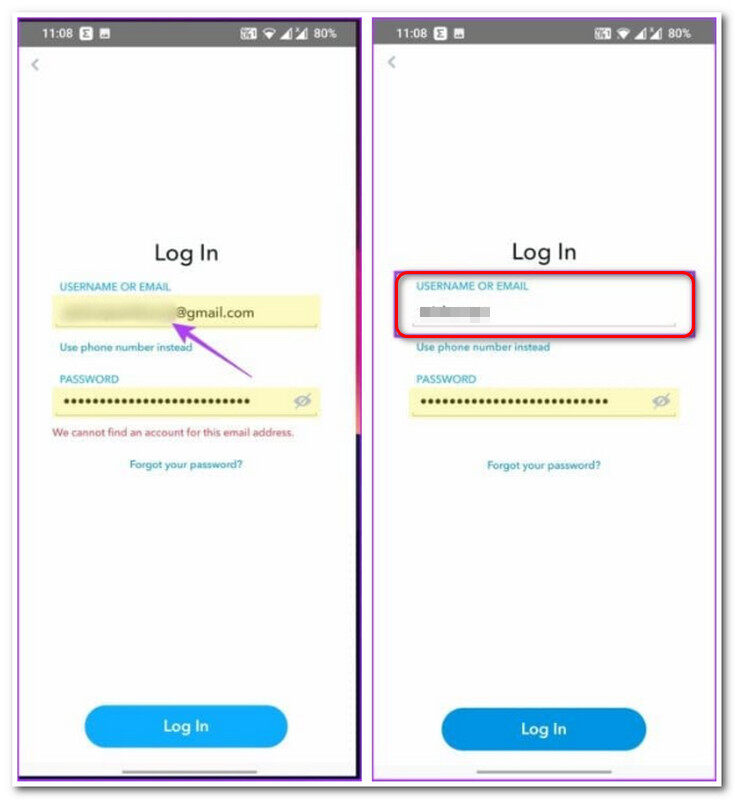 Once you log in, Snapchat will reactivate your account within 24 hours. This is how you can get back access to your Snapchat account. Please see the FAQ section below if you have questions we have not addressed.
For similar topic bout recovering Snapchat Streak, you can check this post.
Part 6. FAQs about Delete Snapchat Account
Does Snapchat delete accounts?
As a rule, Snapchat deletes accounts only if they violate the app's rules and community guidelines. Serious offenses include using fake accounts, spreading hate and misinformation, or misusing Snapchat illegally. Other lesser violations may also result in the deletion of your account. However, you may have been hacked if you did nothing wrong and cannot access your account.
Can I recover a deleted Snapchat account?
If a Snapchat account is deactivated for over 30 days, it will be permanently deleted. Unfortunately, according to Snapchat's official policies, recovering the account at any cost is impossible. As a result, you should always try to recover your account within 30 days or four weeks.
How long does Snapchat keep data after deleting?
Your Snapchat account data will be kept for 30 days after you delete it. Once you have completed the process, your account will be permanently deleted and cannot be recovered. This includes your data, such as friends, chats, stories, settings, and location history.
Does anyone still use Snapchat 2023?
As of the second quarter of 2023, Snapchat, a photo and video-sharing app, had 397 million daily active users worldwide. This increased from 383 million global daily active users in the first quarter of 2023. The app has seen a consistent rise in everyday active users since the start of 2019.
What happens when I remove my Snapchat account?
Upon deletion of your Snapchat account, your friends can no longer view your profile, send you snaps, or view your stories. Your conversations and shared media will also be removed from their accounts.
Conclusion
As people engage more in social media, sharing special moments with friends and followers has become part of the culture. As one of the prominent platforms that lets you do all sorts of things to connect with other people while expressing yourself, Snapchat has grown much larger in the hearts of its users. However, a change of heart can happen overnight. As Snapchat tries to expand its features, some people grow sick of it, resulting in displeasure and disinterest towards the app, leading them to delete their accounts. But what happens when you delete your Snapchat account? Would it be possible to recover a deleted Snapchat account once you feel the spark of interest in it again?
These questions are nothing new for people who are engaged as Snapchat users. Hence, following the steps and guidelines above, you'll never go wrong when deleting your Snapchat account or recovering it afterward.
Did you find this helpful?
389 Votes
YES

Thanks for letting us know!
No

Thanks for letting us know!
AnyMP4 Video Converter Ultimate
All-in-one video converter, editor, enhancer upscaled with AI.