TikTok Repost Button: How To Repost and Undo It with Ease
As one of the most popular social media platforms, TikTok continually adds new features to keep its users engaged. The platform has currently included a new feature called the Repost button. TikTok's concept of reposting is comparable to what other social media platforms provide. Like on Facebook, which enables users to share posts from other accounts on their profiles for their friends to view, X users can also repost another user's post. Even on Instagram, users can share posts and reels in their Stories. It's not surprising that TikTok adopted the trend, given that most social media platforms provide a repost or reshare option. TikTok launched this new feature in 2022, but what happens when a user hits it?
This comprehensive guide will help you understand more about the TikTok repost button. Let us all find out about these things in this post.

Part 1. What Does Reposting Do on Tiktok?
The concept of TikTok reposting is similar to other social media platforms. Reposting on TikTok is sharing or re-sharing content generated by other TikTok users, such as videos, audio clips, challenges, dances, and more.
Part 2. How to Repost on Tiktok?
Now you know what repost means on TikTok. Let's now look at the how. Here's how to repost on TikTok:
1.
Open the TikTok app and find the video you want to share.
2.
Once you find the video you want to repost to your TikTok feed, tap the Share button in the bottom right-hand corner.
3.
Now, you should access the Share to pop-up. From here, you can see and click the Repost option.
4.
You can optionally add a Comment to your shared video. After reposting, you'll notice the option to write a comment next to your profile picture alternating with the words you reposted.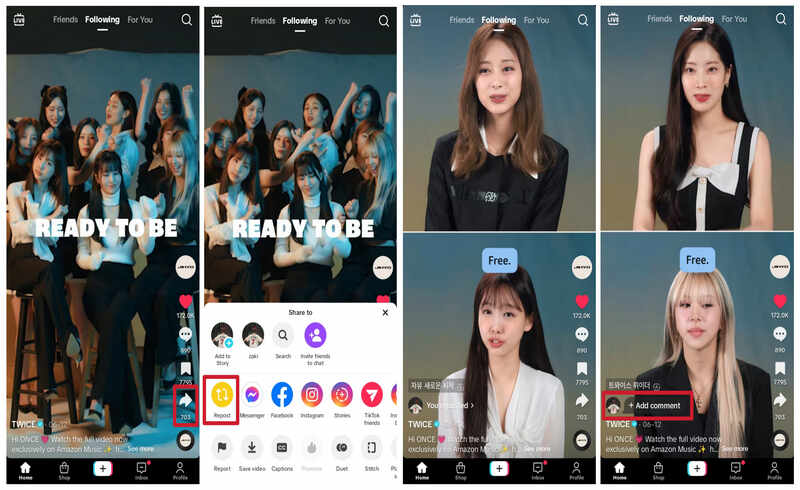 Are you aware now of how you repost on TikTok? That's great! As you can see from the steps, we can now repost our favorite content videos on TikTok with a simple tap.
Part 3. How to See Your Reposts on Tiktok?
TikTok reposts were not visible on your TikTok profile, but they can now be seen in one place. These steps must be taken if you're wondering how to see your TikTok reposts.
1.
Open your TikTok app on your phone.
2.
Navigate to your Profile within the app, then click on the double arrow icon in the center of the screen indicating reposts.
3.
Now, you can check all your reposted videos on TikTok.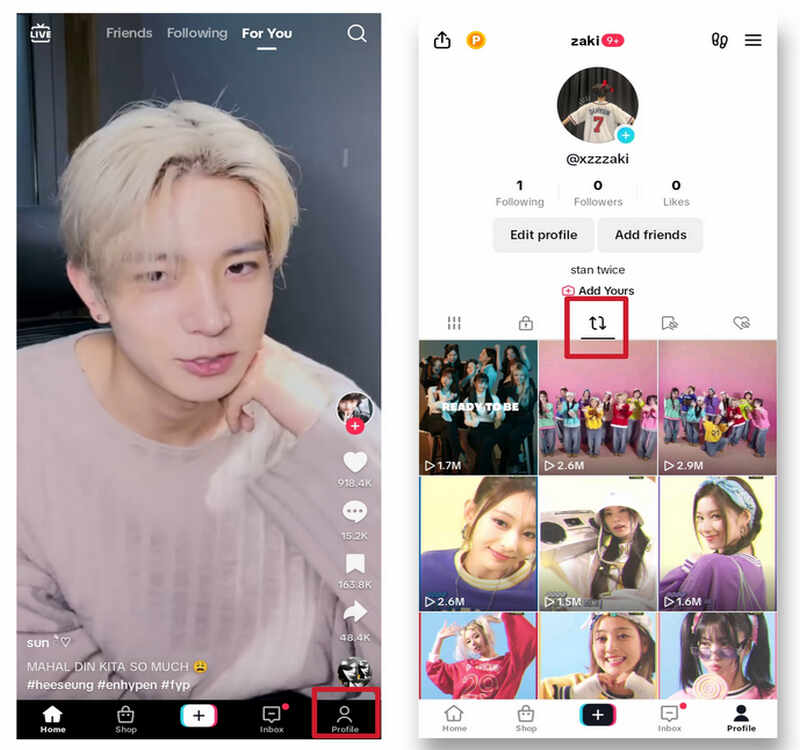 It's easy, right? You can now see all your reposts in one place. Thanks to this feature of TikTok.
Part 4. How to Delete and Undo a Repost on Tiktok?
If you change your mind about something you decided to repost on TikTok, or if you repost something by accidentally clicking the repost button, you can undo the repost on TikTok in the same simple methods you reposted it in the first place.
To do this, simply follow these instructions:
1.
Open the TikTok app. Then, go to the Repost tab on your Profile. Then, find the reposted video you want to delete.
2.
After that, tap the Share button again.
3.
Now, press the Remove Repost button. Then, a pop-up will appear on top, indicating your report has been removed.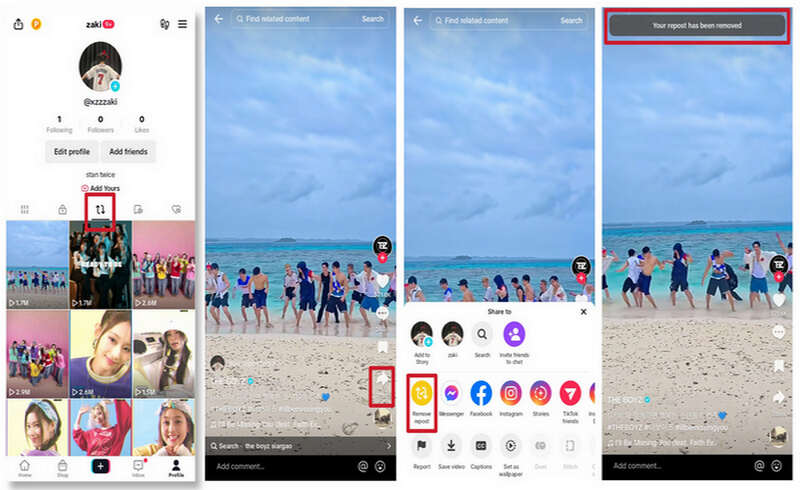 We hope this helps you delete your unwanted repost, but remember that the longer you leave it after reposting, the more likely someone will have already seen it. If you wish to repost the video again later, you can do so by following the steps we stated previously.
Part 5. How to Hide Reposts on TikTok?
There is no way to hide reposts on TikTok as of yet. But if users persist in having that kind of feature, TikTok will find a way to develop such a thing to cater to the tastes of its users.
Reposting on TikTok, as the term implies, is a way of sharing another user's content with your own TikTok audience. However, if you want to manage the content that shows in your TikTok feed, your only choice is to block them. This prevents them from interacting with your posted posts, viewing your profile, or messaging you. You may do so by visiting their profile.
Part 6. FAQs about How to Repost on TikTok
Where do reposts go on TikTok?
A reposted TikTok is more likely to appear on your followers' For You Page, just like all the videos you have created. The videos you repost are not shown on your profile because they belong to the original creator. Your profile photo, however, will appear on the video to indicate to your followers that you shared it. Also, there is a tab in the center of the Profile tab with the double arrow icon where you can see all of your reposted videos.
How does reposting work on TikTok?
Reposting work on TikTok through these simple steps. First, select the TikTok video you would like to repost. Then, from the right-hand menu, select Share and then Repost. You may add a comment to your repost, displaying it as a caption above the original owner's TikTok username.
How do you tell if your TikTok is reposted?
Following these steps, you can tell by checking if you have a Repost button. First, click the Share button in the right-hand corner, then check if there's a Repost button. If none, you can update your TikTok app to get that Repost button. Lastly, when you click the Repost button, you'll see the option to write a comment above the original creator's name alternates with the words you reposted next to your profile. In that case, your TikTok has been reposted.
How to allow reposting on TikTok to turn on/off?
There is no way to directly turn on or off reposting on TikTok. As there are built-in options on the Privacy tab, you can keep your likes, comments, tags, and stickers private on TikTok, but there is no built-in option to turn on or off your reposts. You can just stop using the Repost button if you don't want to use the repost feature of TikTok. However, if you want to, you can do it and vice versa.
What happens when you repost on TikTok?
Reposting on TikTok will allow you to share any video on your For You Page (FYP) with your friends and followers. Your profile picture will appear above the original creator's name once the video has been reposted. The '+Add comment' button will allow you to add a comment that will appear above the reposted video. When you comment on a video that has been reposted, it also shows up in the original video's comment area, where other users (and not only the user's followers) can view it.
Conclusion
It's undeniable that TikTok is the platform for attracting and engaging digital audiences today as a source of viral trends and dancing challenges. However, you need to boost your game to take full advantage of TikTok's engagement capacity. Using tools like reposting will enable you to interact with your community meaningfully. Right? Furthermore, we have discussed what you need to know about reposting on TikTok. So, what are you waiting for? Hit that 'Repost' button and share what you want to share with your followers and friends. If you find this post helpful, share it with others, too!
Did you find this helpful?
541 Votes
YES

Thanks for letting us know!
No

Thanks for letting us know!
AnyMP4 Video Converter Ultimate
All-in-one video converter, editor, enhancer upscaled with AI.