DU Recorder Review: A Remarkable Recorder For Windows, Mac and Mobile Devices
To begin with, not everyone has a computer to use. However, many people are looking for a screen recorder that is compatible with a computer and their mobile devices. So, if you are one of the seekers, do not go anywhere because we have a piece of great news for you! This article review will present a screen recorder application that might satisfy your recording needs and introduce DU Recorder to you. This recorder application is compatible with your mobile devices. Therefore, you do not need a computer to use this application. All you need to have is any phone device. With DU Recorder, you can enjoy many editing tools and more features. Do you want to know more? Let us read now!
1. Our Verdict
Pros

It is fast to download
It has a straightforward interface.
It supports audio, video, and cam recording.
It offers editing features.
It has many features on mobile devices.
It has a smooth and clear recording process.
It has a high-quality recorded output.
You can hide the record window.
Cons

It has no custom option on its video recorder.
It has a lot of ads while used on mobile devices
It has a watermark on your screen recordings.
Overall Ratings
Easy to use:9.0
User-friendly:8.5
Features:8.0
2. What is a DU Recorder?
Price: Free
Platform: Windows, Mac, iPhone, iPad, Android
DU Recorder is a screen recorder software that can be installed on your computer, and its goal is to use it for learning and training purposes. In addition to this, DU Recorder is an easy-to-use screen recorder that allows you to record your screen whenever you want. This recorder software includes features that anyone can use, especially those business people, students, and even beginner users who love to watch tutorials over the internet. Moreover, let us know more upon this article review.
Main Features
DU Recorder is free to use, yet it has many features it offers for you. Please see below:
◆ It has a screen recording.
◆ It provides high-quality videos.
◆ It has video editing tools.
◆ It has automated screenshots.
◆ It has image editing.
◆ It allows you to record external sound.
◆ You can shake the device to stop recording.
◆ You can change the speed of the video.
◆ It has a video resolution of up to 1080p.
3. DU Recorder Review
Interface
DU Recorder has a clean and plain interface. It has a color combination that has a lightweight vibe. Its interface is straightforward to use; in just a little click, you can record your screen and more. In addition, you can effortlessly see the options such as Record Screen, Record Videos, Settings, and more.
Record Screen - DU Recorder on PC/Mac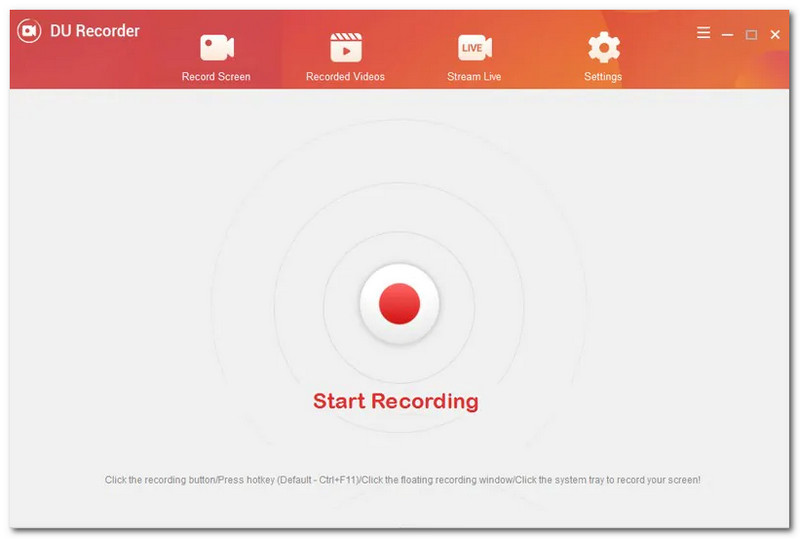 You can use DU Recorder on your Windows and Mac computers. It is beneficial, especially for those users who want to use a computer at work. DU Recorder allows you to record your entire screen computer. Let me show you an illustration of how to do that. First, you can install DU Recorder on your computer. After downloading and installing the software, run it to your computer. After that, you are now ready to use it.
So, to start recording, look at the center of the interface, and you will see the red circle button or the Start Recording. Du Recorder also has a floating bar option. You can also use that to start recording. If you want to end the recording, tap the red button again or the Stop recording.
DU Recorder Setting Parameters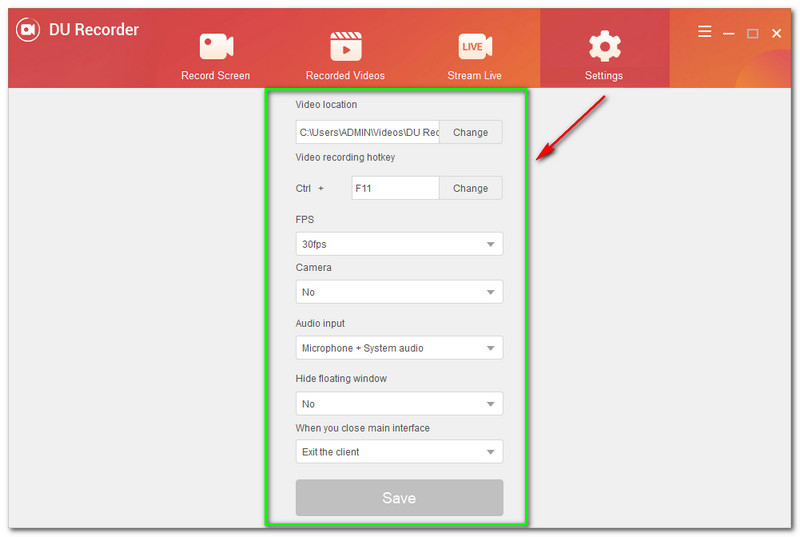 When it comes to setting DU Recorder parameters, you can change the location of your video. To do that, hit the Settings, and you will see the Video Location. Then, select the Change and choose the folder you want. What's more? It has a Video recording hotkey where you can see the FPS from 30fps to 60fps. When it comes to Audio Input, you have an option such as an only microphone, only system audio, and no audio. Moreover, you have the choice to show or hide the floating window. After all the changes, tap Save.
DU Recorder on iPhone
Although iPhones have a built-in screen recording, you can still use DU Recorder, and this recorder software is much more compatible with mobile devices. For example, Apple devices like iPhone, iPad, and more. To record on your iPhone device, you have to download DU Recorder on the Apple Store. After that, go to the Settings of your iPhone and click the Control Center.
Then, tap Customize Controls and add the Screen Recording. Then, open the Control Center and long-press the record icon, and a small box option will appear. Then, select DU Recorder Live. After that, click the Start Recording.
After the recording process, tap the red line above or tap the record icon on the Control Center to stop recording. To see your recorded video, open your Photos on your iPhone, and you will see the album named DU Recorder Live. You can now enjoy watching your recorded video.
DU Recorder Editing the Recorder File
DU Recorder enables you to edit your recorder file to make it more perfect. It allows you to Cut the unwanted part of your recorded file and you can Trim the part that you want to keep. In addition to this, you can Add Text to your recorded video file. Also, you can Add Background Music for your recorded video file to make it more lively.
What's more? You can select a part of your recorded video and speed up the part that you like from 1 to 2 times, you can also speed down from 1 to 0.5. Not just that, DU Recorder enables you to Add Frames to your recorded video file and add funny stickers to have a unique result. Moreover, you can do a lot more from DU Recorder. You can try it now.
4. FAQ
How can I hide the floating window of DU Recorder on my PC?
Just in case you do not want to display the floating window of DU Recorder, you need to do the following. First, launch the DU Recorder software. Then, tap the Settings on the right side of the panel, and you will see all the options. Look for Hide Floating Window and select the YES. After that, you will no longer see the floating unless you change into the settings again.
Is DU Recorder safe?
According to the users, DU Recorder is entirely safe to use. This recorder software is secure and does not affect any of your devices since it is not stealing any data and personal information.
I want to record using the DU Recorder on my PC. However, I want to disable the audio. How will I do it?
Suppose that you do not want to add audio to your recorded video; you must take note of this illustration. First, you have to launch the DU Recorder. Then, go to the Settings. After that, select the Audio Input, and you will see all the options and select No Audio. After all the changes, tap Save.
5. Best Alternative - AnyMP4 Screen Recorder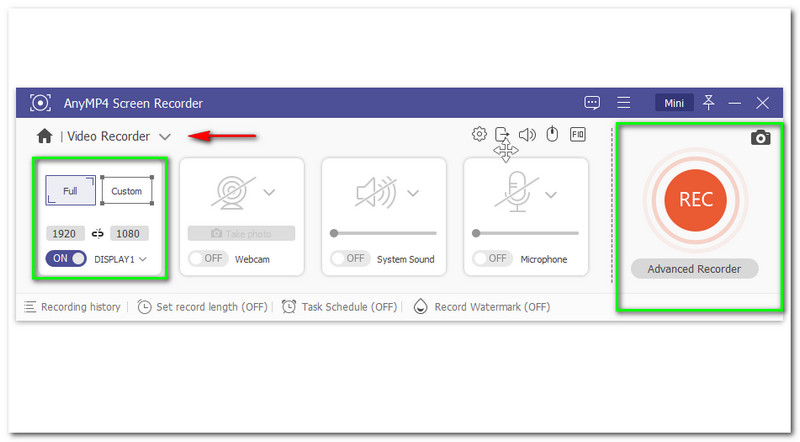 There is no doubt that DU Recorder is an excellent recorder since it is compatible with Windows and Mac computers and even on your mobile devices. However, AnyMP4 Screen Recorder is undoubtedly much more perfect and reliable, especially on your computers. It offers a free download, and it does not have any limitations while using it. In addition to this, AnyMP4 Screen Recorder has vast features on computers rather than DU Recorder. What else? You can also enjoy while recording your gameplay, and the good thing about that is you can share your memorable wins with others.
What's more? Unlike DU Recorder, in AnyMP4 Screen Recorder, you can unlock new, leading screen recording features. Amazing, right. So, just in case DU Recorder did not meet your needs in terms of recording your screen, we highly recommend AnyMP4 Screen Recorder. There is no doubt it will give you a fast and better experience!
Conclusion
To sum it up, we provided you with a piece of information about DU Recorder. We talked about its system requirements. In addition to that, we have obtained an idea that you can install DU Recorder on mobile devices. What's more? We also present to you some of its uses. So, if this article review helps you a lot, do not forget to leave us a comment below. Till our following article!
Did you find this helpful?
358 Votes
YES

Thanks for letting us know!
No

Thanks for letting us know!
Best Video Recorder with Audio
AnyMP4 Screen Recorder
Capture every moment in desktop, browsers, programs and webcam.