How to Screen Record TikTok: Easy Tips to Ease Watermarks
We all know that TikTok is one of the massive and successful entertaining media sites nowadays that can offer us different types of videos or content. That is why many users nowadays watch a video more than a hundred times, especially when the content catches their attention or entertains them. However, the delete feature is also available on TikTok, which means the video can be gone for an instant, and if that is the case, then we cannot watch a certain video all over again. On the other hand, downloading the video comes with watermarks.
In line with that, we can only record TikTok videos to watch them repeatedly without a watermark. That is why this article exists to offer you five tools to make the recording possible. We also give you instructions on how we can use them. Without further ado, here are the tools that we can use. Please read and do not miss even a single detail.

How to Record a Video on Tiktok
AnyMP4 Screen Recorder
Most of the time, downloading the TikTok video may leave watermarks. It is the mark where we can see who uploaded the video. This kind of element may ruin the aesthetic of the video. Not until a solution like AnyMP4 Screen Recorder is available, which allows us to record TikTok videos without watermarks or other privacy-related hassles. That is possible because it has a feature to select a specific place to record on your screen. Let us now see how we can make it possible."
1.
Download and run AnyMP4 Screen Recorder on your computer device and launch it.
2.
From there, we need to view the Video Recorder on the interface. From there, look at the Custom and permit yourself to modify it to the specific location you want to capture.
3.
In addition, we now need to enable the Sound System to record sounds from the TikTok post. To continue, click the Record button.

The video on TikTok can be downloaded in the most amazing way possible. We can see that the procedure is simple and can help you make the most of your time. This tool's ability to produce high-quality results for no cost is another plus. We can now say by to watermark and say hi with quality outputs through this recording software.
OBS
OBS is cross-platform compatible. Some individuals use it to broadcast Facebook, Twitch, and YouTube media. Few people are aware that they can stream to TikTok using OBS Studio. You can use OBS for live TikTok streams because it offers specialized screen recording and streaming functions. Even though TikTok is not a live-streaming website, this is the case. Additionally, it enables you to make TikTok videos that are more intricate and use your phone or monitor screens.
If you utilize TikTok for marketing and business, you know how crucial it is to put each new tip to use. Although OBS is not a recent invention, few TikTok users use it. OBS is simple to use once you have a PC, which is a prerequisite. then adhere to the directions below to record TikTok using OBS.
1.
Open the OBS Studio on your computer.
2.
Set the scene by going to Sources. Add audio and visual sources, such as a webcam, browser, microphone, etc.
3.
Go to the Settings menu and adjust the resolution, bitrate, and frame rate, among other settings. After that, choose Start Streaming.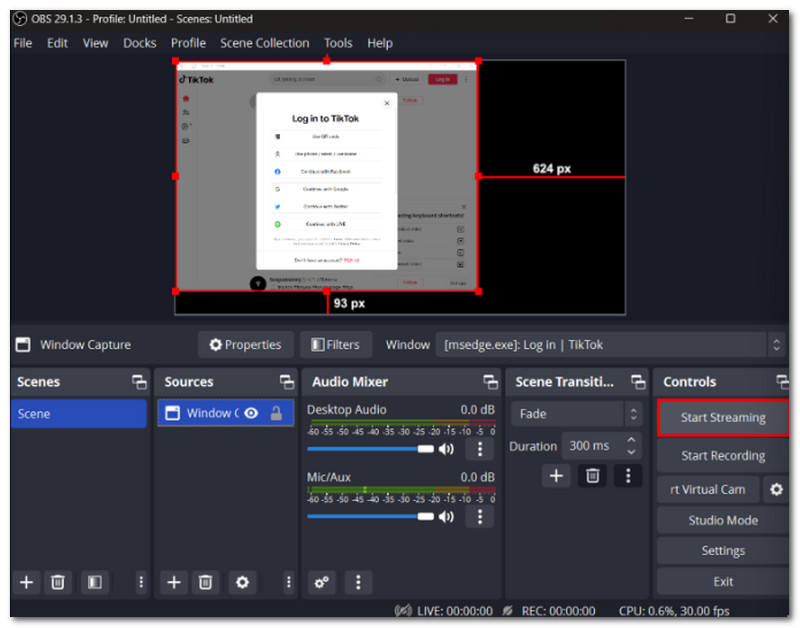 That is the capability of OBS Studio. It will help you to do the process comprehensively and high-quality. However, we can also see that the tool requires professional skills, and novice users might have difficulty using it.
iTop Screen Recorder
The third recording tool we can use is iTop Video Recorder. This tool also can capture the video you want to record. However, unlike the first two tools we mentioned above, it only possesses the simple features and basic functions of a video recorder. To use these basic functions, we need to see the steps below:
1.
From the TikTok Browser, open the iTop Screen Recorder.
2.
While watching the TikTok live or video that you want to record, please see the Settings of the recorder and click the REC button to start,
3.
Once you finish recording, please hit the Stop button and see the recording on the Creations of the tool.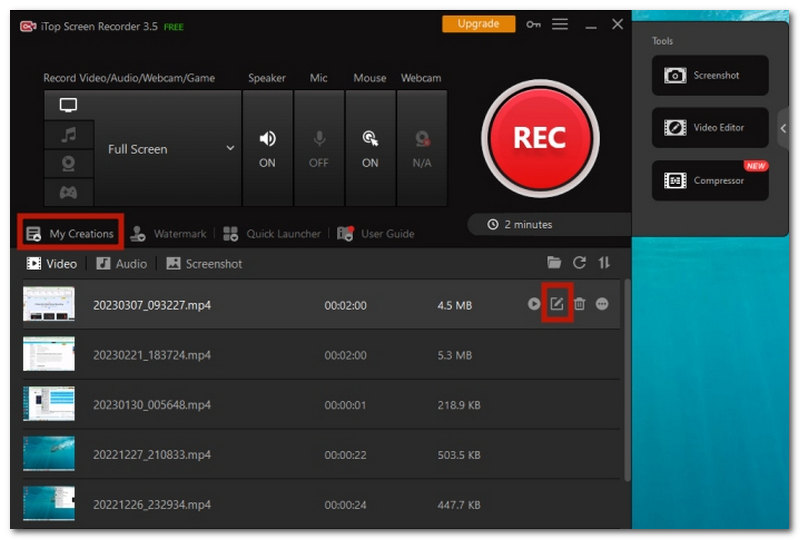 The tool is basic yet effective. However, we do not recommend it for users who love to add spices to their recorded videos since this tool does not offer us that kind of feature.
QuickTime Player
Another incredible tool we can use for macOS users to capture TikTok videos is QuickTime Player. It is a built-in feature or tool for Apple products like MacBook. It is a video player, but it also possesses features like a Recorder. Let us see what we got.
1.
On the interface of the Player, please see the New Screen Recording.
2.
Now, we go to the TikTok video on the browser and allow it to play. From there, we can now click the REC button.
3.
That is not yet the start of recording because a new tab will appear where we need to tap Start Recording. After the recording starts, allow the tool to capture the video on TikTok.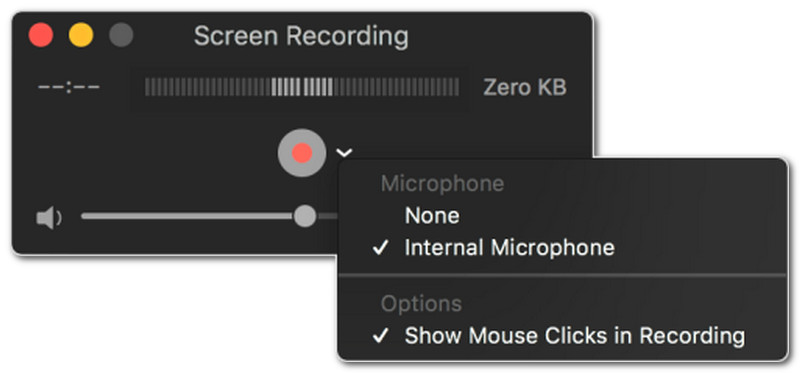 That is the incredible player of QuickTime in its recorder. We can see that it is possible, yet only limited users can use this since it is only recommended for MacBook users.
DemoAir
Next on the line is an online tool that can help us record TikTok online. This process can be possible as long as we have DemoAir.
1.
Please access the website of DemoAir. Then, set it up by following the procedure on your screen.
2.
We are now about to start recording by going to TikTok and hitting the Start button of the tool.
3.
After recording, we can get the output by downloading the video in our desired format.

Online recording tool is also effective in capturing TikTok video, yet the performance of it will depend on the speed of your internet connection. Also, the quality of the video can be in danger since it can vary depending on the speed of your MBs.
Part 2. FAQS about How to Record a TikTok
Does TikTok notify screen recording?
As of my most recent update, TikTok users were not frequently notified when someone recorded their content using screen recording. But this may change based on the gadget and operating system. While TikTok does not have a built-in feature to send notifications for screen recordings, some devices may display one to the user being recorded when a screen recording is in process.
Can you screen-record TikTok without them knowing?
Without the content creator's knowledge, it is indeed feasible to screen-record TikTok videos. Users can record video from their screens using the screen recording features on many smartphones and other devices. But when doing so, it's crucial to protect the privacy and rights of the content provider.
Can you screen-record TikTok live?
As with regular TikTok videos, you can screen-record TikTok live streams. You can record live streams without informing the content creator because the procedure is the same.
Can you record a TikTok without posting it?
Users of TikTok can make videos and save them to their drafts without sharing them with the world. A TikTok video can be recorded, edited, and enhanced before being saved to your drafts for posting or additional editing. Until you decide to post the video, other TikTok users won't be able to see it.
How do TikTok creators see who saved their videos?
As of my most recent update, TikTok has no built-in functionality allowing producers to view who saved their films. Videos' likers, commenters, and sharers could be seen by their creators, but TikTok did not give creators any information on people who saved their work.
Do people know if you screenshot TikTok?
Since my most recent update, TikTok has not notified users when their material has been screenshotted. Similar to screen recording, this may change, though, based on the gadget and operating system. A built-in screenshot notification option was absent from TikTok.
Conclusion
There you go, the five essential tools we can use nowadays to record TikTok videos without the watermarks. Among the five, we can conclude that AnyMP4 Screen Recorder and OBS Studio are performing well; these tools can provide high-quality features and outputs. However, AnyMP4 Screen Recorder is much easier to use and suits the novice user.
Did you find this helpful?
483 Votes
YES

Thanks for letting us know!
No

Thanks for letting us know!
AnyMP4 Screen Recorder
Capture every moment in desktop, browsers, programs and webcam.