Save TikTok to MP4: High-Quality Video Conversion
With its brief, captivating videos spanning a wide range of topics, from education to entertainment, TikTok has taken the world by storm. You could often find TikTok videos that you'd like to download for offline watching or send to friends. People like to save and share their favorite videos on their phones using the save button in the TikTok app, but what makes this a little annoying for some others is that a watermark appears in the video. That's why users resort to the help of web-based tools that allow them to download their favorite videos at high quality without a watermark.
Using web-based tools has its ups and downs, and one of its downsides is that among all those tools, how many are safe and secure? People will only find out when there's malicious activity in their accounts or phones. This article exists to sort trusted and safe tools for convenience and comfort. You'll be able to look at a reliable TikTok to MP4 converter in this article, and these tools ensure fast and high-quality video conversion. So what are you waiting for? Continue reading this article to download TikTok videos without watermark at the comfort of your own space. Start converting today!

Part 1. 5 Ways to Download TikTok to MP4
To download TikTok videos, users use the traditional way of saving them on their devices and letting the watermark obstruct their views while playing offline. Worry no more because we listed 5 ways to convert TikTok to MP4 downloadable format without a watermark on your devices easily and securely.
PC Software
If you're looking for a TikTok to MP4 converter, you'll need the right PC program to download TikTok videos without a watermark. The most well-liked and dependable choice is AnyMP4 Screen Recorder. With a 7-in-1 screen recorder and editor that works on Windows and Mac, you can record any action from video and audio without any latency. It provides a simple method for saving TikTok videos in MP4 format without the watermark.
1.
Go to AnyMP4 Screen Recorder website and Download the software.Run the file, then Install the software.
2.
Once installed, launch the software and choose the Video Recorder from the main page.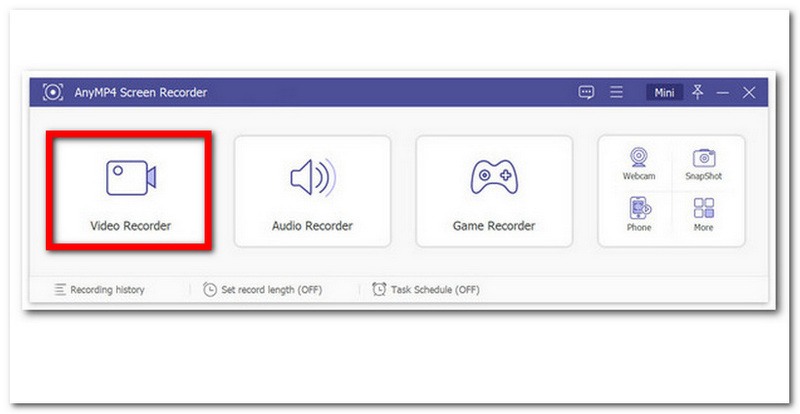 3.
After clicking the Video Recorder, a red dotted line appears on the edge of your screen. Drag or enter dimensions to set TikTok video size.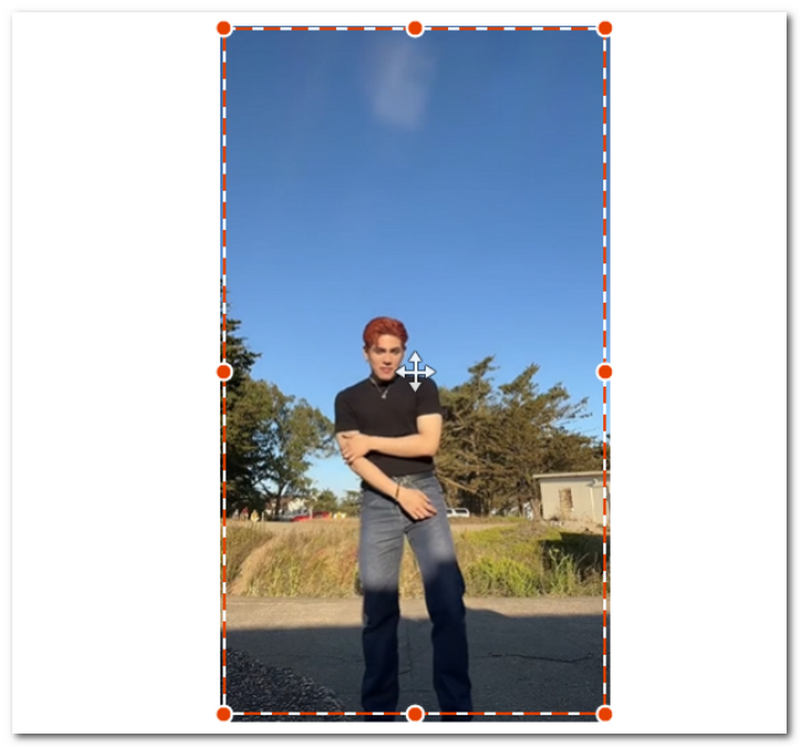 4.
Turn the System Sound ON and the Microphone OFF.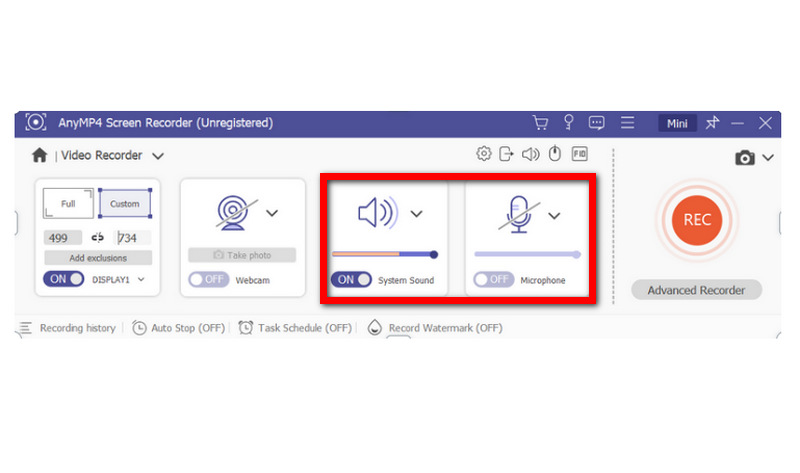 5.
After adjusting the red dotted line to match the TikTok video ratio and the Audio Settings. You can now click the REC button to start recording.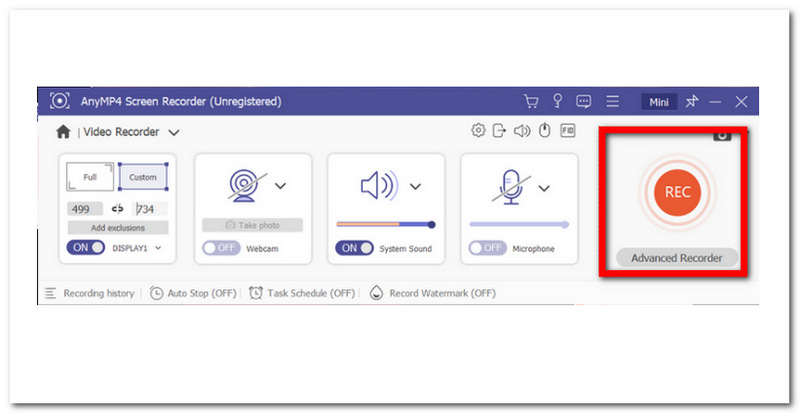 6.
Click the red square button when stopping the record.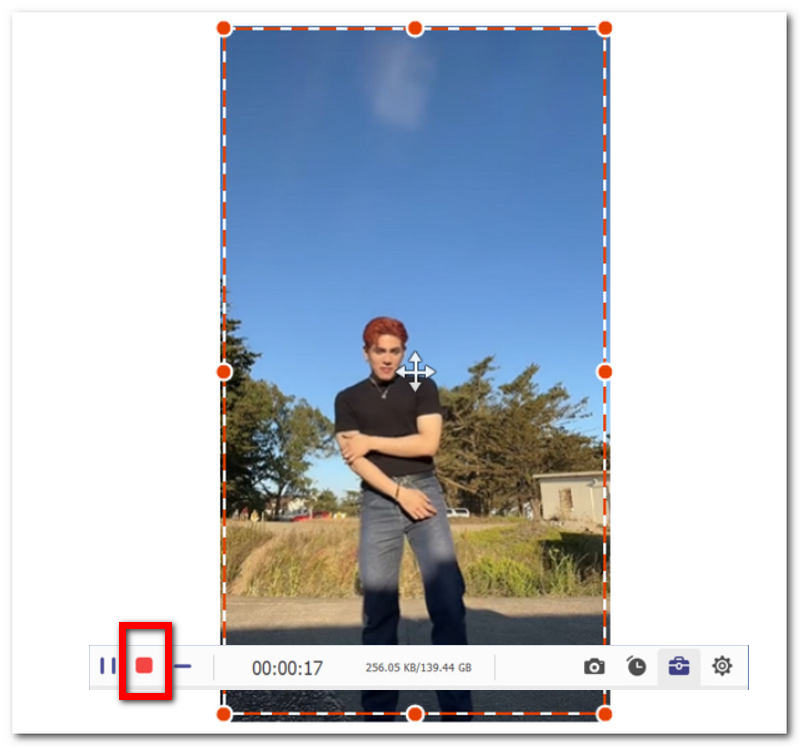 7.
It will show you a preview of your recordings, which you can edit before saving them on your computer.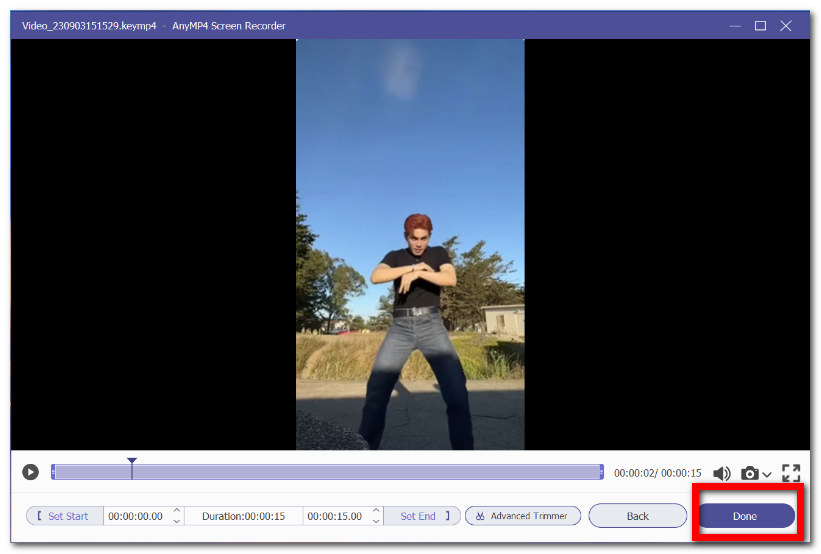 AnyMP4 Screen Recorder is a paid software, but its free version offers and works just fine for TikTok video saving. The only difference is that you can have unlimited screen recording time when registering. It's a small price to pay for such features. You can be assured you get your money back for the high-quality screen recording you'll produce when you use the software. With AnyMP4 Screen Recorder, you can record TikTok videos on PC.
Online Converter
Users frequently want to save their favorite TikTok videos to watch offline or share with others, which is understandable given the app's never-ending supply of fascinating videos. Although TikTok offers a native download option, it frequently includes a watermark, which some users may find objectionable. Fortunately, there is a workaround: TikTok videos without watermarks may be downloaded using online TikTok to MP4 Converters.
1.
Go to any online converter. In this case SSSTik.io.
2.
To download, you must copy the link to the video.
3.
Paste the link on the online converter and start downloading.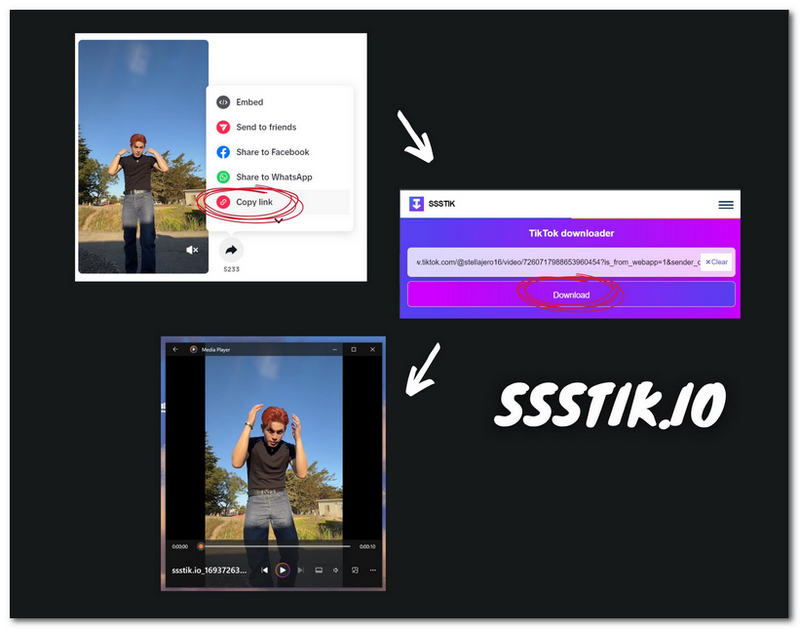 Online converters benefit those in a rush who aren't bothered by web-based tools. Save and enjoy your favorite TikTok video and share it with your friends without a watermark with the help of an online TikTok to MP4 Converter.
Mobile Apps
We'll walk you through saving TikTok videos to MP4 format without the bothersome watermark using mobile applications, whether you want to save your favorite TikTok movies for offline watching, compile your favorite material, or simply avoid the watermark.
1.
Download SnapTik on your app store.
2.
Copy the link of the video you want to save.
3.
Paste the link on the app and start downloading.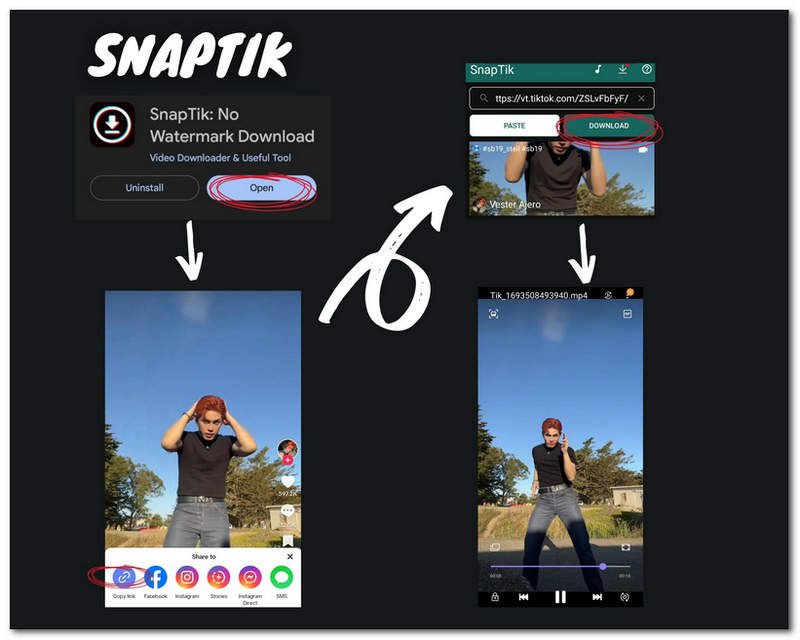 You may effortlessly save TikTok videos to MP4 format without a watermark using mobile apps like Snaptik. These techniques offer a hassle-free approach to achieving your objective, whether you're producing your content or simply want to watch your favorite TikTok videos offline.
Browser Extension
The use of extension in a situation like this might save you time. Those annoying watermarks might be off-putting. Fortunately, there is a fix: installing a browser extension.
1.
Go to the browser, and in there, search for an extension TikNote.
2.
Download the extension and browse the video you want to download.
3.
Every video has a save and download button. Click that and go to the TikNote Icon in your lower right screen.
4.
You can now download all the videos you save there to your device without a watermark.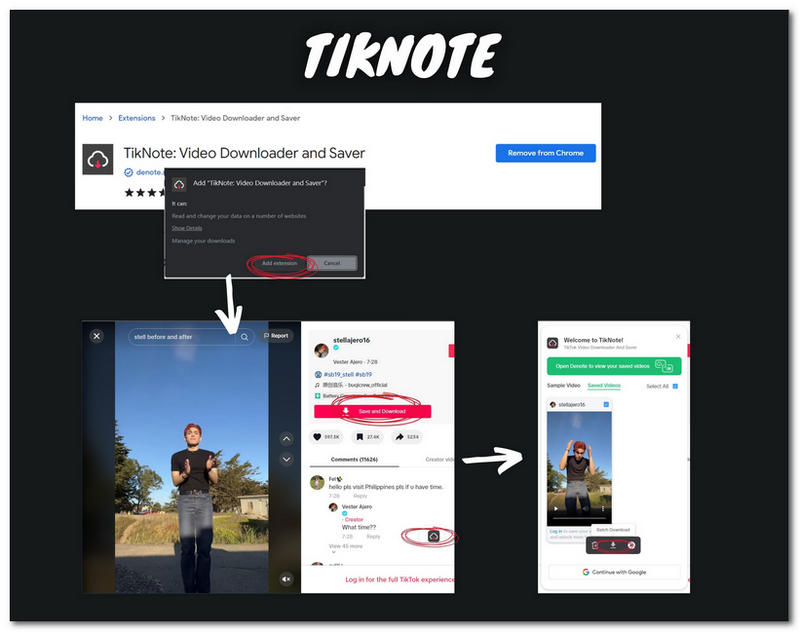 When you use a trustworthy browser plugin, downloading TikTok videos to MP4 format without a watermark is simple. However, while downloading and sharing TikTok videos, be mindful of copyright and use rights. Watch and share your favorite TikTok videos without worrying about watermarks!
Traditional Saving
Using the app, your favorite TikTok video may be saved simply and quickly by downloading TikTok videos to MP4 without violating copyright and privacy issues.
1.
Go to your desired TikTok video you want to download.
2.
Click the share button and click save video to save on your device.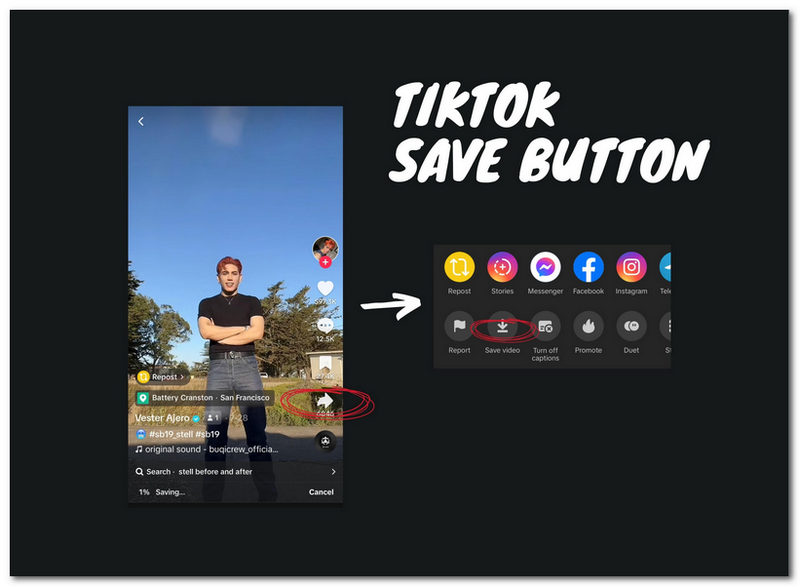 Depending on your device and the TikTok app version, the save video option might not be available on all devices. Always respect copyright and privacy when downloading and sharing videos from the platform. Watch and share your favorite TikTok with others!
Part 2. FAQs About How to Download TikTok to MP4
Is TikTok video downloader legal?
It is generally accepted that using a TikTok video downloader to store videos for private use is lawful. It's crucial to remember that downloading and sharing TikTok content without the creator's consent may violate copyright and other intellectual property rights, resulting in legal problems. TikTok videos that have been downloaded should always be used carefully.
Where can I find downloaded TikTok files?
Videos from TikTok that you download via a downloader tool or directly from the TikTok app are normally stored in your device's gallery or camera roll. The same place on your smartphone where your images and videos are kept is also where you may view the TikTok files you've downloaded.
What video quality is available for download?
Depending on where you download the TikTok video from, the video quality available for download may change. The video quality you download straight from TikTok through the app will often be the same as the original, which can be in SD or HD, depending on the platform. The movie quality you may download may depend on the settings offered by the third-party downloader you are using.
Do you keep a record of my downloads?
We can't save personal data or track your downloads because. Depending on the TikTok video downloader or program you are using, the usage and record-keeping rules may change. Always read the tool's privacy and terms of service to learn how they handle your data.
How do I save a TikTok video to my gallery without posting it?
Launch the TikTok app on your smartphone. Then, look for the video you want to download. The Share button should appear as an arrow pointing to the right. You can preserve the video rather than share it with the world. Doing this will save the video to your device's gallery without being uploaded to your TikTok profile.
Conclusion
There are several methods to convert TikTok videos to MP4 format, so it needn't be a difficult operation. The approach you decide on will rely on your tastes and the resources you have available. When downloading and sharing TikTok content, be cautious to adhere to copyright and privacy laws.
You may easily watch your favorite material offline or share it with friends and family by downloading TikTok videos to MP4 format without watermarks. You can now maintain high-quality TikTok videos in a format that meets your needs, whether you prefer utilizing specialized mobile applications for enhanced convenience or web converters for quick and simple conversions. So start converting your preferred TikTok content to MP4 files right away!
Did you find this helpful?
371 Votes
YES

Thanks for letting us know!
No

Thanks for letting us know!
AnyMP4 Screen Recorder
Capture every moment in desktop, browsers, programs and webcam.