How to Use IMDb TV to Enjoy Movies and TVs
IMDb TV is 100% free. However, you are required to watch the Ads. In addition, IMDb TV works through the web browser on your PC, and it can work on mobile devices also and stream movies and TV shows anytime you want. Nonetheless, supposing that you are new to IMDb TV, this is your chance to obtain an idea of how to use IMDb TV. To be specific, how can you watch it on TV, how can you even search for the movies you like, and more. You can start reading now!

1. What is IMDb TV
Price: IMDb TV costs nothing because it is free.
Platform: Online
Pros

It is a free streaming site service for all users.
Its movies offer HD video content.
It offers movies and TV shows that other movie sites do not have.
IMDb TV guided channel is provided for new and even old users.
Cons

It has Ads before and during the content.
It has a content Library that falls short compared to other movie streaming sites.
IMDb TV without Ads is impossible.
IMDb TV is a free movie streaming site. Therefore, there is no monthly fee, and of course, expect commercials since most free movie streaming sites have commercials. Moreover, it has an excellent user interface and is close to professional movie streaming sites.
Furthermore, it provides a Preview, and IMDb TV lets you watch the trailer of the movies. What else? It provides numerous Genres you can choose from. Below allow us to share some movies you can watch after reading this review post.
IMDb Top TV Shows
◆ Planet Earth II
◆ Breaking Bread
◆ Band of Brothers
◆ Avatar: The Last Airbender
◆ Cosmos: A Spacetime Odyssey
◆ Game of Thrones
◆ Rick and Morty
◆ The World at War
◆ Fullmetal Alchemist: Brotherhood
◆ The Last Dance
IMDb Top TV Episodes
◆ The Bond
◆ Six: Springer Becks
◆ Episodes of Liberty City
◆ Teacher's Genuine Stories
◆ The Accidental Medium
◆ Long Distance Relationship
◆ Five Children and It
◆ Nothing to Declare
◆ On the Block with Tamar
◆ Better than Us
2. How to Watch Videos on IMDb TV
IMDb TV is a free streaming site. However, you need to sign in for them to watch movies and TV shows. If you have an existing IMDb TV account, you can still use it, especially if you still know the email and password.
If not, you can create a new one for free. In addition, you can also use your Facebook, Apple Gmail, and Amazon account to log in to IMDb TV. Please see the steps below to sign in to IMDB TV and start watching after the signing process.
Signing In:
1.
On the upper right corner of the site, you will see the Sign In button and click it. Then, IMDb TV will show you choices if you want to sign in using another account. If not, you can also click Create a New Account to make a new one.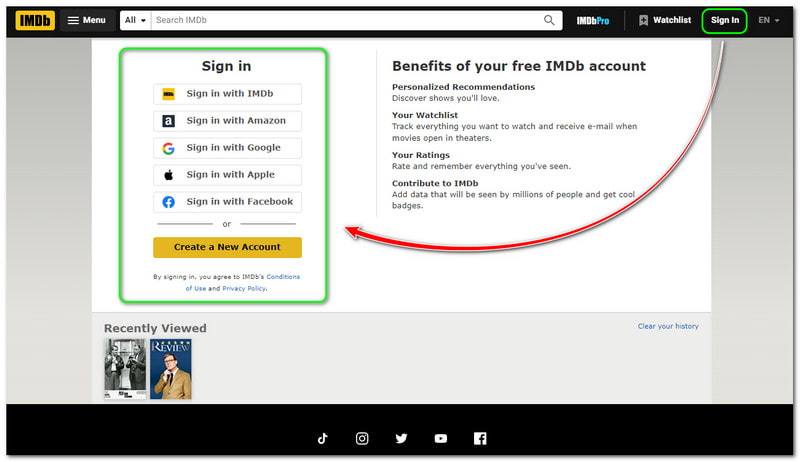 2.
Supposing you will choose your Gmail account, tap the Sign In with Google option, and you will proceed to another window. You will see your Email in the typing box, and tap Create your IMDb Account.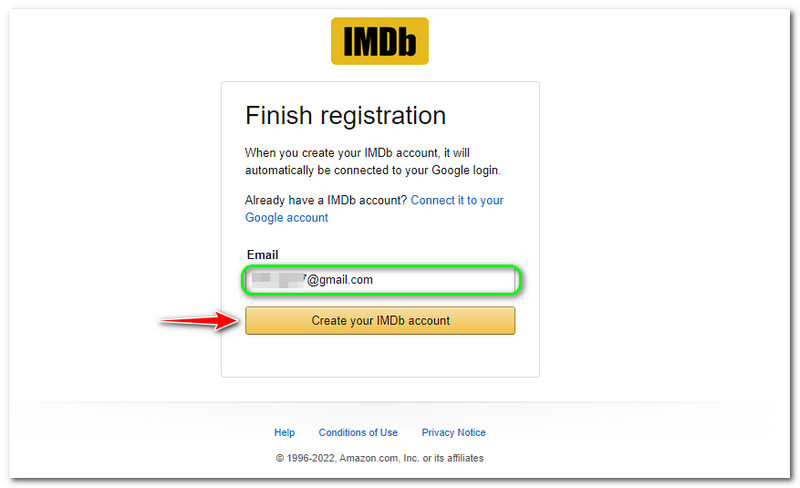 3.
IMDb TV will refresh after signing in and automatically return to the official site. Then, you can start watching movies.
Watch Movie:
1.
Select the IMDb TV on the left part of the site. After the Menu option. Then, you will go to another panel of IMDb TV. You will see numerous movies and TV shows, and you can watch Hollywood hits and TV favorites.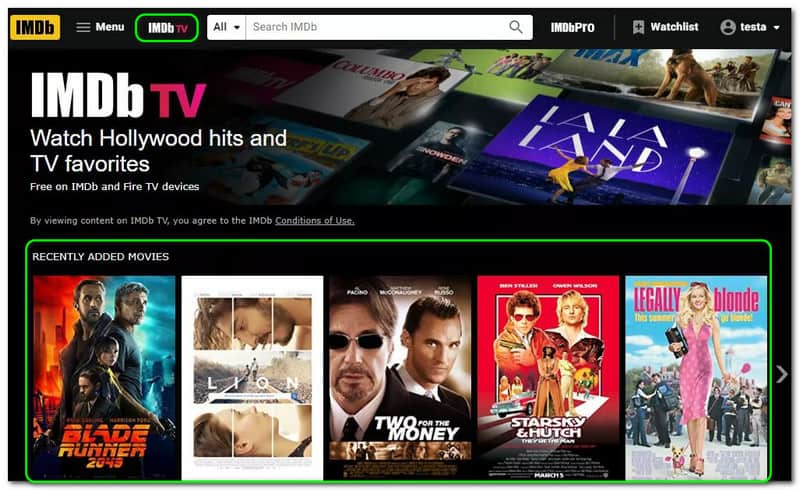 2.
Select a movie you want to watch. Double-click the movie or TV show, and then the video player will appear with the movie playing. You can now enjoy watching movies or TV shows.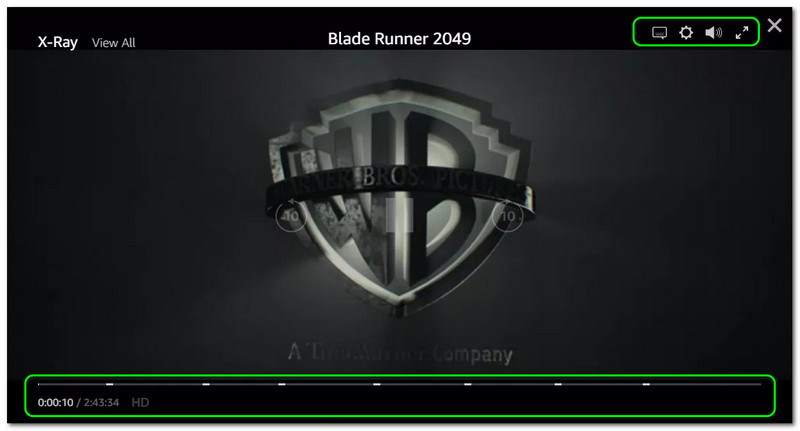 It is easy to sign up and watch movies on IMDb TV, right? Once the movie is playing, you can add Subtitles based on your language. You can also adjust the Volume and Full-Screen of the movie to watch it in a bigger version. Use the steps above as a guide, especially if you are a beginner of IMDb TV.
3. How to Search on IMDb TV
Searching on IMDb TV is one of the helpful ways to find your favorite movies or TV shows. Moreover, you cannot search on IMDb TV if you are not signed in yet. You can refer to the singing steps above before searching on IMDb TV. In this part, we will provide you with the quickest way to search on IMDb TV. Please see the steps in the bottom part.
1.
On the official site of IMDb TV, if you look at the top, you will notice the Search Bar. It is a wide rectangular panel, color white, and has a Search icon on the right corner.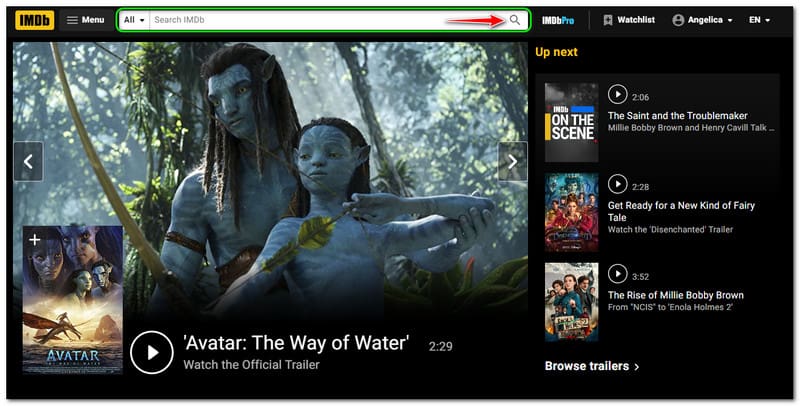 2.
Type the Title of the movie of a TV show you want to find. Then, you will see the possible results while typing. When you find a movie or TV show, you can click it by using your keyboard. You can also tap Enter on your computer's keyboard to load all the possible results.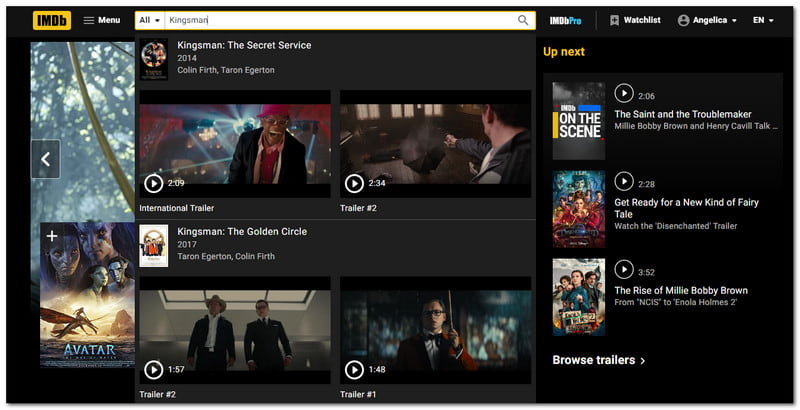 3.
Once you have found the movie, you can start watching it. You can also watch the movie's trailer first on the Search Results.
Again, using IMDb TV is manageable. You can search for TV shows and movies in less than a minute. In addition, in the Search Results, IMDb TV provides the movie's full title, including the trailer. Sounds great, right? Find your favorite movie on IMDb TV now!
4. FAQs of IMDb TV
How to block ads on IMDb TV?
You cannot block the Ads on IMDb TV because IMDb TV will not work without the Ads. After all, it is free. According to IMDb TV, Ads help them continually provide the users or watchers with excellent movie information.
Does IMDb TV have commercials?
Yes, IMDb TV has commercials because they are free to use. If IMDb TV does not have Ads, it will not continue to operate unless you want to pay for it. In addition, IMDb TV works with its Advertisers to balance the promotion as well as their program.
Is IMDb TV free and safe?
Indeed, IMDb TV is free and safe at the same time. However, since it is free to use, you need to be careful with third-party Ads that are not included in IMDb TV.
Conclusion:
Knowing how to use, watch, and search on IMDb TV is fulfilling, especially if you are a beginner. After becoming aware of all the steps above, there is no limitation on watching your favorite movies! Furthermore, we will see you again on our next How-To upload!
Did you find this helpful?
395 Votes
YES

Thanks for letting us know!
No

Thanks for letting us know!
AnyMP4 Video Converter Ultimate
All-in-one video converter, editor, enhancer upscaled with AI.