Peacock Streaming Services: Watch Movies on Samsung TV
Peacock is perfect for watching movies, TV shows, and more. It is also on-demand with its Live TV Platforms, and Peacock became famous and has grown much larger since last year. Supposing that you acquired a Premium Plan from Peacock and are tired of watching movies from your devices, you can now watch movies using your Smart TV. In this how-to review article, we prepare a guide on how to get Peacock on Smart TV. We also prepare some alternatives to it. You can start reading now and get an idea from them individually.

1. Overview of Peacock
Pros

It has a free tier with no significant limitations.
It provides well-known movies and network shows.
It also provides live sports for paid users.
It offers flexible pricing plans.
It supports numerous account profiles.
Cons

The Peacock Premium subscription still has Ads.
It does not support offline downloads.
It does not work in other countries.
Its movie library is frequently changing.
We are aware that you are curious about how much Peacock is. The Premium Plan costs $1.99, and the Premium Plus Plan costs $9.99. But what is Peacock? It is more likely relative to its well-known competitors. It offers categories with a wide variety of reality shows, movies, series, etc. In addition, it has live sports like golf, Premier League Games, and more, especially for Premium users.
Furthermore, it has an excellent interface, and the interface will change if you are using other devices. For example, the interface of Peacock on a PC is not the same as on your Smart Phones. Overall, you will still appreciate it because you can still use it easily. Below, we will list the best shows of Peacock Movies and show you the newest movies from Peacock.
Latest Movies from Peacock
◆ Halloween Ends
◆ Minions: The Rise of Gru
◆ Vampire Academy
◆ Friend of the Family
◆ The Black Phone
◆ Redeeming Love
◆ Downton Abbey: A New Era
◆ Easter Sunder
◆ The Bad Guys
◆ Jurassic World Dominion
2. How to Get Peacock on Smart TV
To get Peacock on Smart TV, you need to download the Peacock App. It is comparable to downloading other apps on Smart TV. For that reason, we have prepared steps to get Peacock on Smart TV by downloading it. We use Roku. However, the basic steps can be applied on compatible TV platforms.
1.
In the Home Menu, you will see the Search Bar on the left side of your Smart TV. Then, find the Peacock App from the Roku Channel Store. You will see the results on the right side of your Smart TV.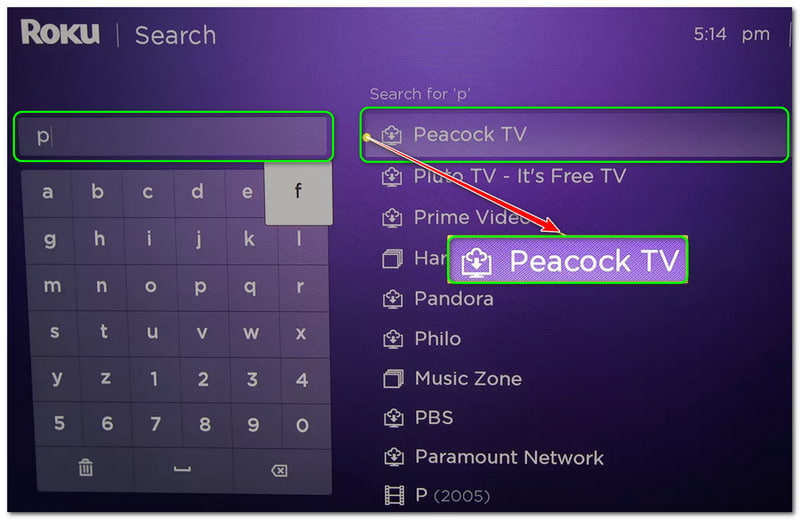 2.
After choosing the Peacock, select the Add Channel so that you will add it to your Channel Library.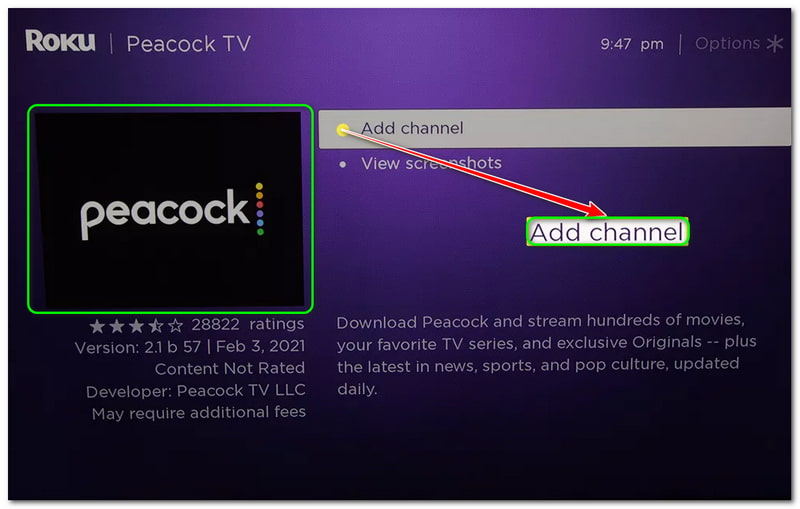 3.
After the downloading process and once the channel is added, click the OK button on the pop-up dialog. Then, you will head back to the Home Menu.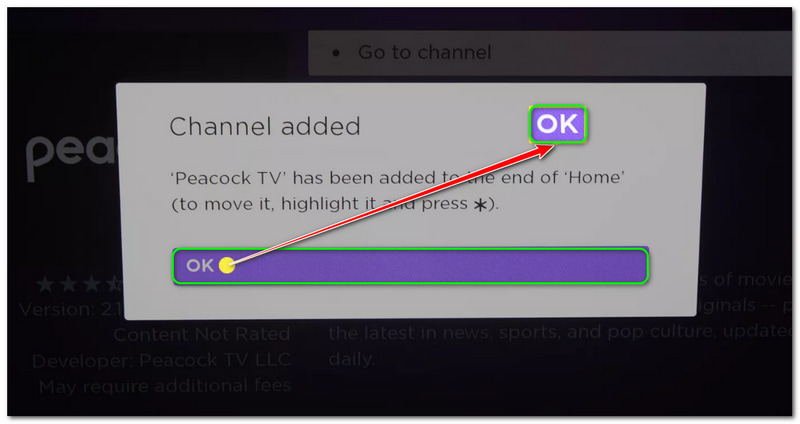 4.
You can start opening the Peacock app. But first, you need to tap the Sign Up to Watch for Free, supposing that you do not yet have an account. If there is any, tap the Sign In button on the upper right corner of your smart TV.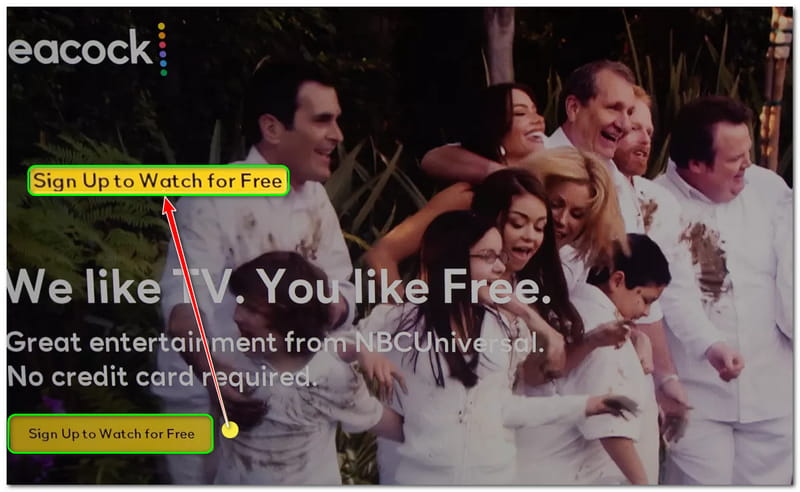 5.
Enter the Email you want to use and enter the Password. Then, tap the Start Watching button.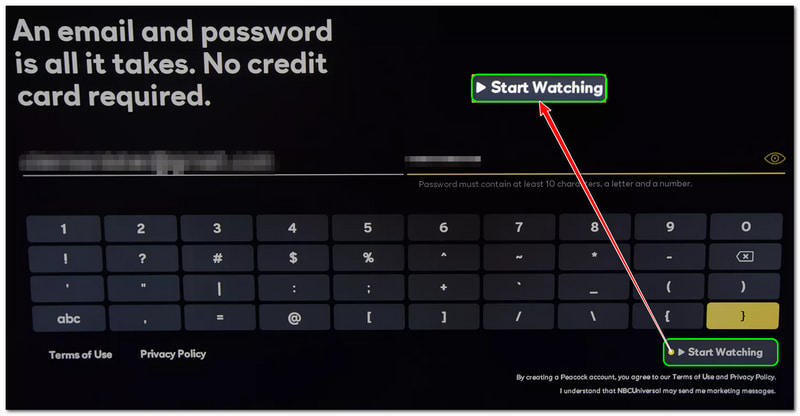 Before proceeding, you must ensure that you are subscribed to Peacock on their official website. Using your Smart TV, which is connected to the Internet, go to the Home Screen and choose the Apps on the lower side of your Smart TV.
After that, search Peacock and launch the app details. Then, select the Add to Home button. Afterward, Peacock will be downloaded and installed immediately. Now, launch Peacock on your Home Screen. Then, log in using your Peacock account, and that is it!
3. Top 3 Alternatives to Peacock
Vudu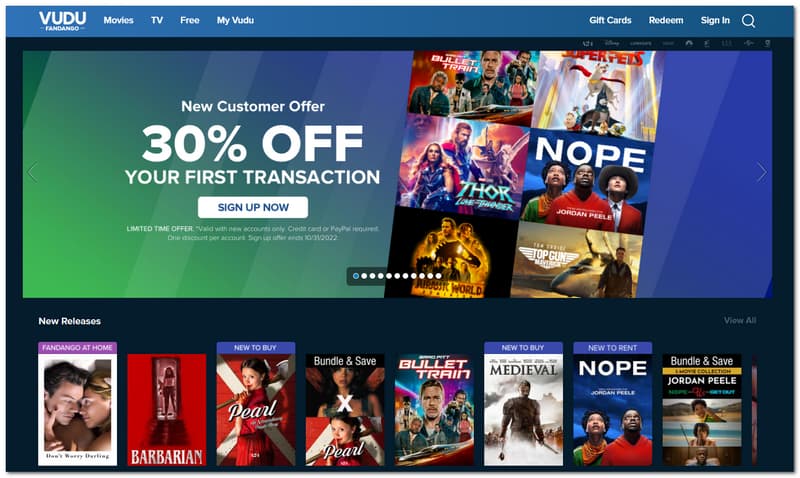 Pros

It lets you watch movies for free, buying and renting.
It has a Preview on its official page previewing the latest movies.
It provides well-known movies with subtitles.
It lets you list movies in many ways.
It has free movies to offer, and you can easily find them.
Cons

Some of its movies are costly in price.
You must sign up and register with them.
Vudu offers a free trial just like the Peacock free trial. Nonetheless, we are mentioning Vudu because it is counted as one of the alternative movie sites to Peacock. There is no doubt that Vudu will not disappoint you, especially with the movies it offers and more.
Once you go to the official website of Vudu, you will see options on the upper part, such as Movies, TV, Free, My Vudu, Gift Cards, Redeem, and Sign In. I think Vudu is unique because it offers Gift Cards, and you can Redeem a Digitial Copy or Vudu Code. Also, you will automatically notice the Preview where you can see all the Recommendable Movies you can enjoy watching.
Tubi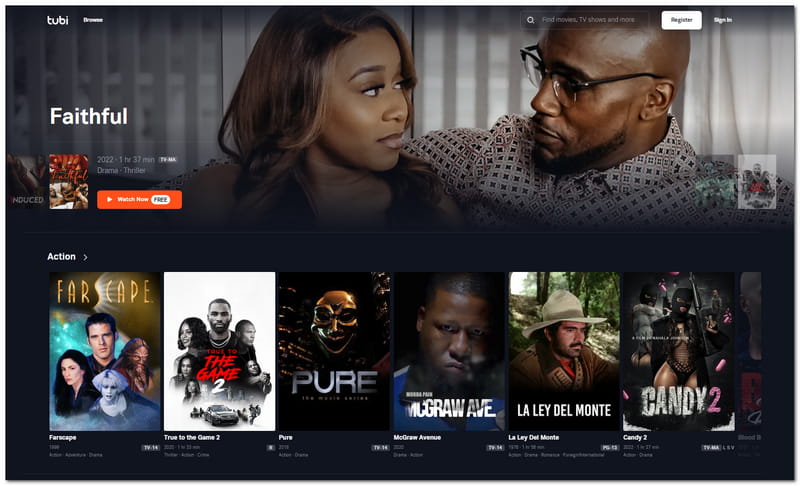 Pros

Its movies are high-quality, and almost all of them are well-known.
It has many categories.
It also has subtitles that Tubi lets you choose the prefer you want while watching movies, especially in different languages.
It provides a category just for kids or children only.
Cons

The movies and TV shows are shuffled.
Another alternative to Peacock Streaming Service is Tubi. It allows you to Find Movies, TV shows and more using the Search Bar. Moreover, you can Register with them using Gmail or Facebook account. Also, you can Register via Tubi Email, where you can make a Tubi Email and use it upon signing in to them whenever you desire to watch a movie or TV show.
Furthermore, it provides a Preview and lets you watch the movies that were displayed in the Preview section. In addition, almost the recommended movies on the Preview are free to watch. On the upper right side of the official page, you will see the Browse, and you can browse by Genres, Popular, and Collections.
Yidio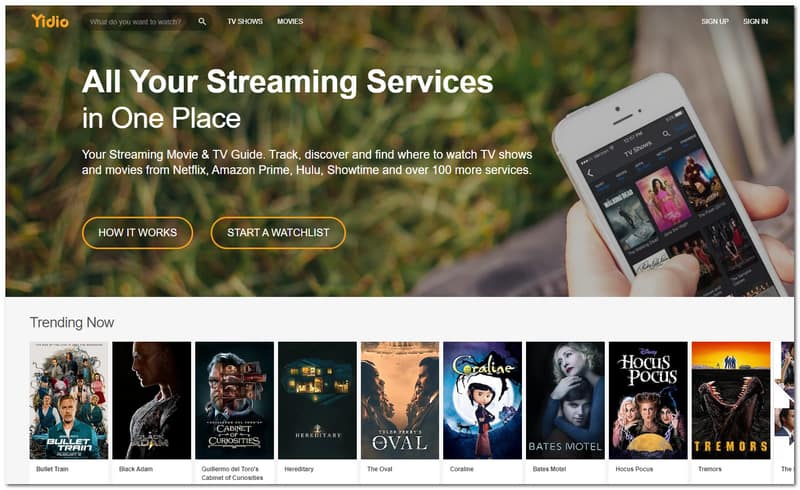 Pros

It offers a free movie and lets you find them using your Web browser.
It also offers numerous unique filtering options.
It allows you to watch the movie for free, rent, and buy it.
It also allows you to avail of their subscription.
The movies are well-categorized and sorted.
Cons

Some of the movies are streamed on the other Website browser.
The movies are similar to DVD quality.
Yidio is the last alternative to Peacock TV. It has a clean user interface, and you can see all the options used after your launch of its official website. Once you launch it, you will see the Search Bar, TV shows, Movies, Sign Up, and Sign In in the upper corner of the interface. Also, it provides a Guide by clicking the How It Works button, or you can also click the Start a Watchlist.
Aside from that, Yidio offers categories such as Trending Now, Popular TV Shows, Popular Movies, Free Movies, Just Aired Episodes, Watch Live Free, and more. But the unique part of Yidio is it offers a TV Schedule for specific dates.
4. FAQs of Gettngs Peacock on Smart TV
Is Peacock streaming free?
Peacock is not 100% free but offers a free trial for every watcher. As mentioned above, if you want to purchase it, you can buy the Premium Plan for $1.99, and the Premium Plus Plan costs $9.99. Again, we do not consider Peacock as a free movie streaming site.
Does Peacock have commercials or Ads?
Yes, Peacock has commercials. The commercial usually lengths depending on what plan you avail. If you are watching for free on Peacock, you can expect commercials around four to six times per hour of the movie or show. Again, the cons of Peacock are even if you avail of the Premium Plan or Premium Plus Plan, you will still experience commercials, but they will lessen, unlike the free.
How to turn off CC on Peacock?
It is easy to turn off CC on Peacock while watching a movie. After choosing a movie with a subtitle, click the Comment icon or Subtitle icon on the left corner of the movie. After that, the pop-up menu will appear and show you both Audio and Subtitles. Then, you can choose between the Off button or the English button. To turn off the CC, select the Off button.
How to cancel the Peacock Plan?
To cancel Peacock Plan, select your Account and then go to your Plan. Then, you will see the Change Plan button on the right side. After that, you will see all the available Plans, but on the lower part, you will see the Peacock Free. Choose Peacock Free and tap the Change Plan button. Then, Peacock will ask if you want to switch for Free. Then, click the Switch to Free button. That is it!
Conclusion:
Indeed, Peacock is one of the best movie streaming sites. It can be launched in Web Browsers, Devices, and Smart TVs. But we know that even if we purchase one of its Premium Plans, it still has commercials or Ads, which is quite saddening. For that reason, as you have read above, we provide three movie streaming site alternatives to Peacock, including their pros, cons, and details. Furthermore, we hope you obtain knowledge of this How-To and review article. We are looking forward to seeing you again in our next post. Until next time!
Did you find this helpful?
206 Votes
YES

Thanks for letting us know!
No

Thanks for letting us know!
AnyMP4 Video Converter Ultimate
All-in-one video converter, editor, enhancer upscaled with AI.