How to Watch and Search Live TV and Movies in Pluto TV
Pluto TV is different from a more prominent movie streaming site, but Pluto TV is a well-known site. In addition, it is different from a typical movie streaming site because it can be connected to your smart TV and is almost suitable for any platform. Moreover, can beginner users use Pluto TV? Maybe, but this How-To article is for everyone. We provide guidelines that might help you, come and read them below!

1. Overview of Pluto TV
What is Pluto TV?
Price: Free
Platform: Online
Contrary to other movie streaming sites over the Internet, Pluto TV offers a free movie streaming site. You will definitely appreciate its user interface because it is neat and professional. Nevertheless, it's Viacom-owned, and the live service does not have close cable mainstays. However, it offers sufficient supplementary programs such as sports, news, entertainment genres, and more.
Pros

It is a professional-like movie streaming site, yet it is free.
It has numerous contents, categories, genres, and more.
It does not require an account to sign up or sign in.
It has an excellent user interface.
It offers both on-demand content and live streaming.
It is available in almost many streaming devices,
Cons

It has minimal traditional cable channels.
It offers too many Ads and does not offer an option to pay for the Ad.
It has a bare-bone feature.
The movies are not in HD quality.
Best Movies on Pluto TV
◆ The Kids Are All Right
◆ UppityL The Willy T. Ribbs Story
◆ The Whistleblower
◆ Train to Busan
◆ A Most Wanted Man
◆ Lady Vengeance
◆ Wendy and Lucy
◆ The Death of Stalin
◆ Stuck in Love
◆ The Return of the Living Dead
◆ House of Hummingbird
◆ Rising Victor Vargas
◆ 99 Homes
◆ Love, Antosha
◆ Fish Tank
2. How to Search on Pluto TV
Method 1: Live TV
1.
In the middle of the official site, you will see the three options, like Live TV, On Demand, and Search. Choose the Live TV.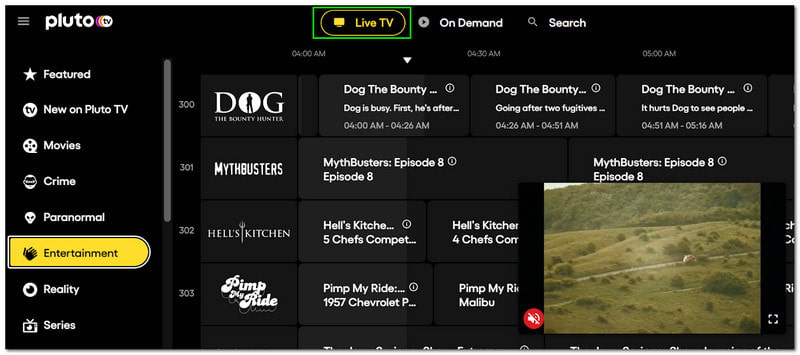 2.
Then, on the left side of the official site, you will see many options, such as Featured, New on Pluto TV, Movies, Crime, Paranormal, Entertainment, Reality, and Series. Select the Entertainment button.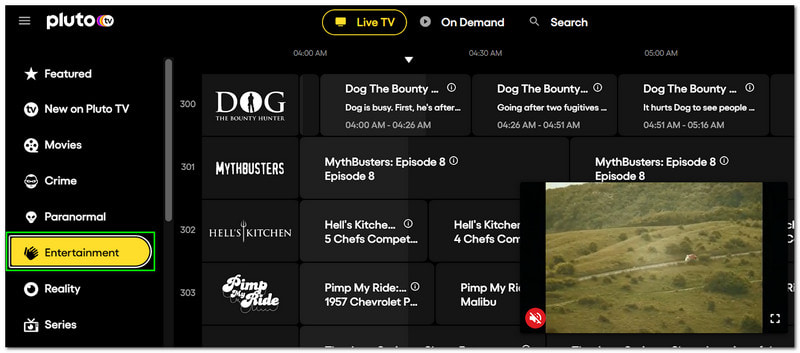 3.
All the results will be shown in the middle part of the interface site.
Method 2: Search Bar
1.
In the middle part of the movie site, you will see Live TV, On Demand, and Search. Select the Search Icon.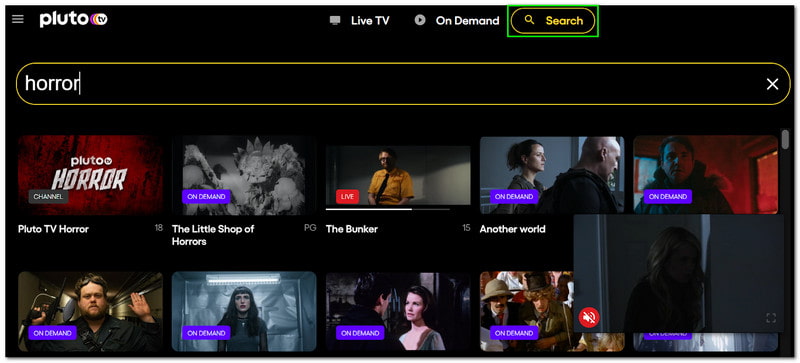 2.
Then, the Search Bar will appear. After that, type the movie or TV show you want to find. Then, click the Enter button on your computer's keyboard.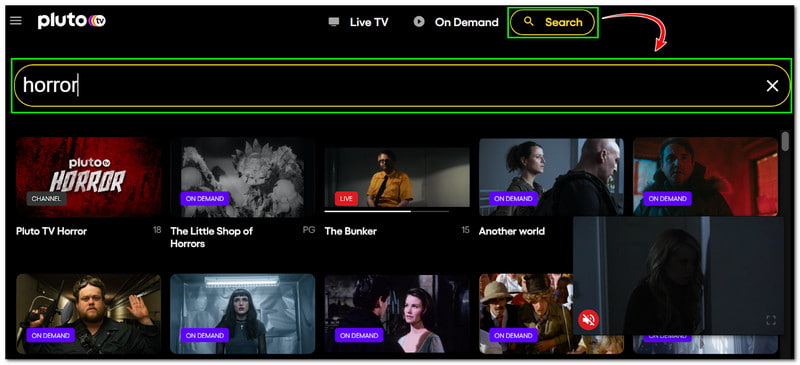 3. How to Change Language on Pluto TV
Sadly, Pluto TV still needs to have a feature to change the language of the audio. Therefore, if you are watching a movie in the English language, you cannot change the language and dub it into German, Spanish, or other languages. Right now, changing language is only available for larger platforms. Nevertheless, the alternative to it is you can enable the closed captions. For that reason, you can watch the movies much easier to understand.
4. How to Search Movies on Pluto TV
Method 1: On Demand
1.
Above the official streaming site, you will see the Live TV, On Demand, and Search buttons. Since we are talking about On Demand features, we will click the On Demand button.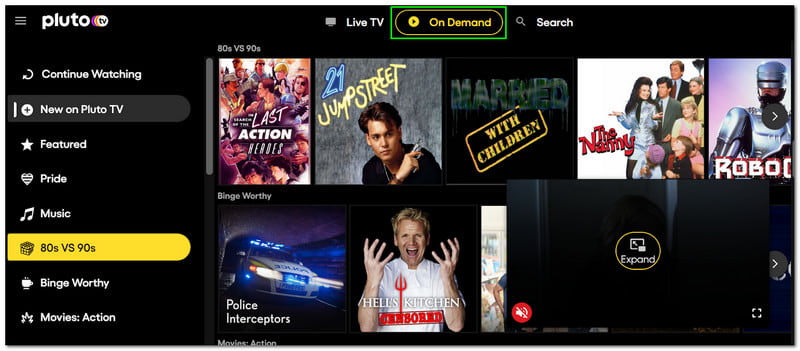 2.
After that, you will see the options on the left side of the movie streaming site. You can choose from these lists; New on Pluto TV, Featured, Pride, Music, 80's VS '90s, Binge-Worthy, Movies: Action, and more. Then, you will see the results in the right side corner.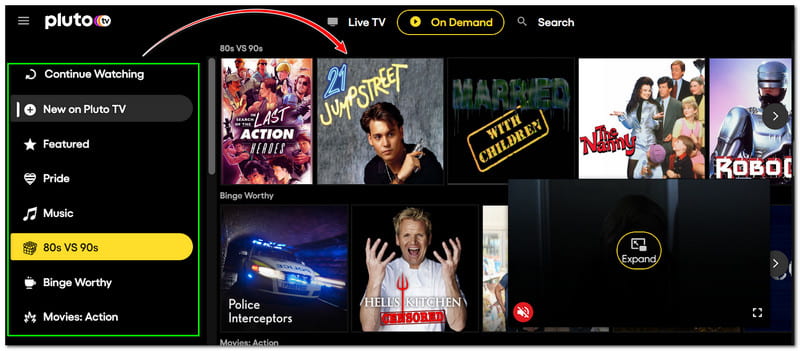 5. How to Put Pluto TV on your TV
Method 1: Using Google Play Store
1.
If you already turn on your TV. You must log in to your Google Play Store account using your Smart TV. After that, proceed to the Channel Store.
2.
Next, find the Pluto TV application on Google Play Store and download it on your Smart TV.
3.
Start launching the Pluto TV app. Since you are using it for the first time, the activation code is a must. You will see the code, and it will be displayed on your Smart TV. After that, go to the activation tab and enter the six-digit code from Pluto TV to activate Pluto TV.
Method 2: Using Roku
1.
After turning on your Smart TV, log in using your Roku account.
2.
Go to the Roku Channel Store using the Remote of your Smart TV, or use the Roku app, if any.
3.
Find the Search Bar on your Smart TV and type the Pluto TV on the Text Box. Then, when you see the Pluto TV app on the Smart TV screen, click it.
4.
Next, you will see the Download button and click it. After the downloading process, Install the Pluto TV on your Smart TV. After that, there will be a short process of installation and software updates. After that, you can now use Pluto TV.
6. How to Add Channels on Pluto TV
1.
Open Pluto TV and go to your account by clicking My Pluto, located on the lower-right panel.

2.
You will see the Control Your Pluto TV Experience. Then, below that, you will see the option lists, such as Activation, Edit Channels, Remote, and Settings. Choose the Edit Channels.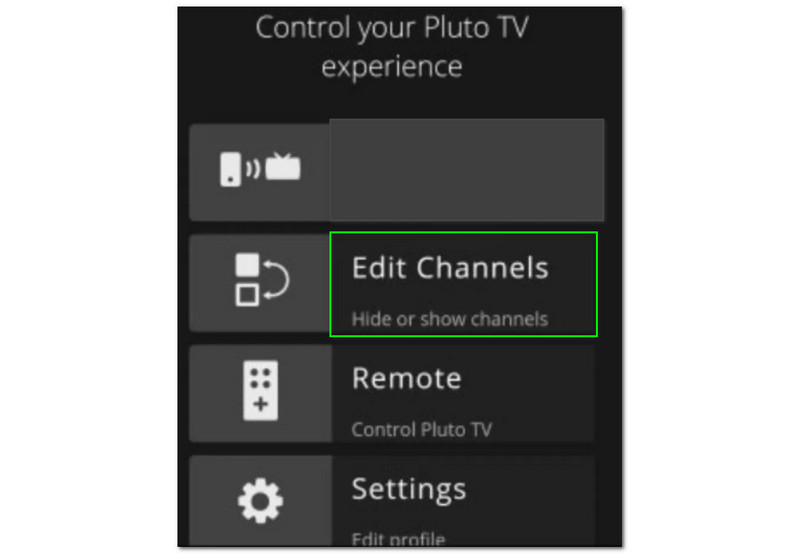 3.
All the Pluto TV Channels will appear. You will notice the Eye and Heart icons on the right.Select a channel you want to add and tap the Heart icon to add the channel, specifically into your Favorite Folder. Also, you can choose Channel with different categories by tapping the Jump to A Category button.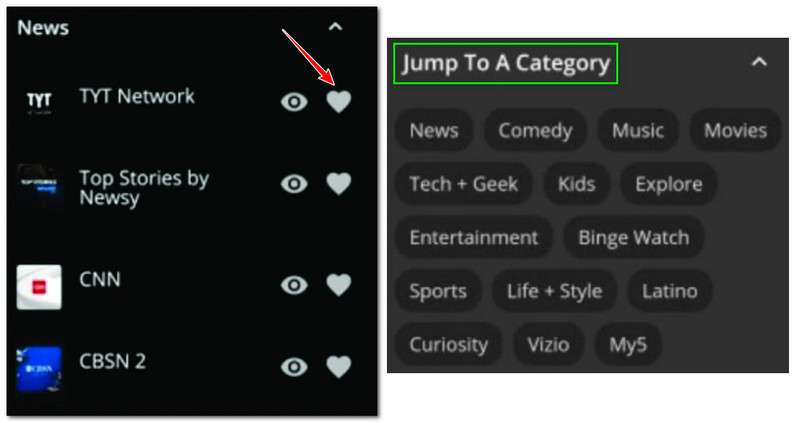 7. How to Download Movies from Pluto TV
1.
Using StreamFab Pluto TV Downloader, we can download movies from Pluto TV. Download and install StreamFab Pluto TV and launch it. Then, proceed to the Streaming Service and choose Pluto TV card.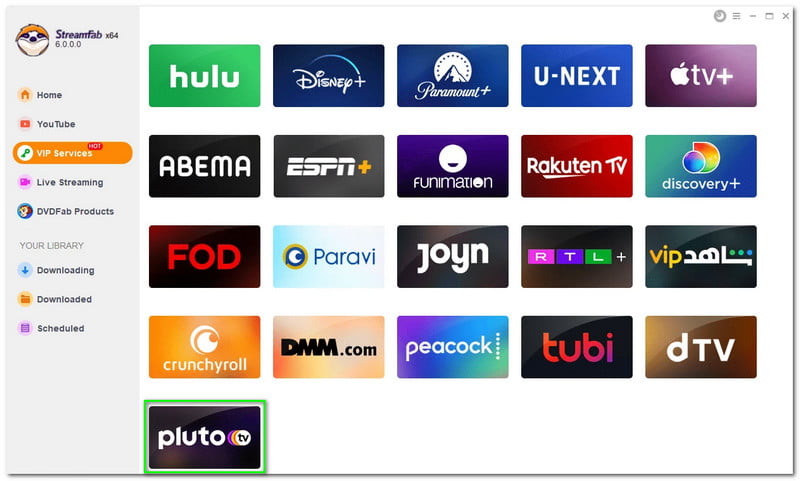 2.
Choose a movie you want to download and on the On Demand section. After that, on the square panel, you will see the details of the movie, and in the lower-right part, click the Download Now button.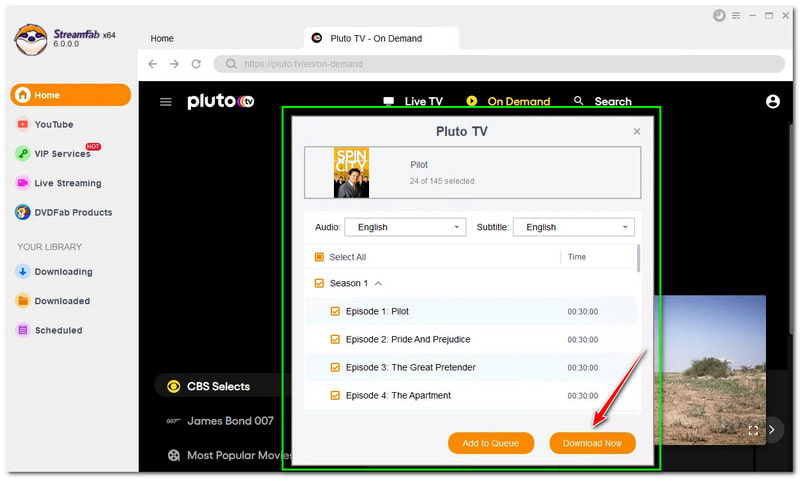 3.
Go to the Downloading section in the left-side corner. Then, you will see your chosen movie downloaded. Wait for the process until it is finished.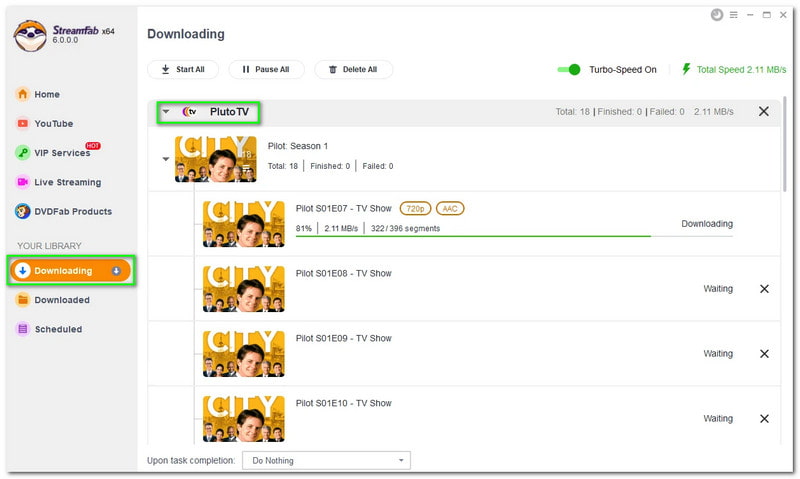 Yes, you can download Pluto TV movies. However, you cannot use Pluto TV itself to download movies. For that reason, you need third-party software in order to download movies.
Furthermore, you must note that we are not encouraging anyone to download movies using Pluto TV. The only purpose of this How-To article is to give you a practical Pluto TV guide, especially for the beginner user.
Moreover, we do not suggest anyone download movies with copyrighted issues. Therefore, you can only download movies if you subscribe to the movie site or buy the movie.
8. How to Get Rid of Ads on Pluto TV
We must acknowledge that Pluto TV has Ads since it is free to use. For that reason, many users want to get rid of them because it causes distractions and hassles. Furthermore, there are some ways to get rid of the Ads on Pluto TV.
After creating a Pluto TV account and logging in, you must go to the Settings Menu. After that, find the Turn Off Ads on the Preferences. After that, all the incoming Ads will be disabled on Pluto TV.
You can use an Ad Blocker if you do not want to log in to your account. On the internet, you can find some on the Ad Blocker software and start downloading and installing it on your PC. After that, you will no longer experience Ads on Pluto TV while watching.
Moreover, the most effective way to get rid of the Ads on Pluto TV is by supporting them. In what way? By becoming their subscriber. If you are still waiting to be made aware, Pluto TV has a Premium Subscription. Once you subscribe to them, you will experience watching Ads-free. In addition, it has many advantages. If you are interested, you can subscribe to Pluto TV Premium now.
9. FAQs of Pluto
Is Pluto TV safe and legal?
There are many speculations that Pluto TV is a movie streaming site that is malicious and contains viruses. But in spite of that claim, some users can provide the safety of Pluto TV. In addition, the Pluto TV app itself is considered a safe file, and when it comes to its legality, it is 100% legal, and it is licensed.
Is MeTV and Grit TV on Pluto TV?
A lot of users usually ask this question. But unfortunately, according to our research, there is no answer to it. In other words, we need to dig for more information about it until we can get an answer. Currently, there needs to be an assurance that MeTV and Grit TV are on Pluto TV.
Does Pluto TV have live sports?
Yes, Pluto TV is a home for all sports. Therefore, it offers live sports also. It allows you to gain information on the most prominent athletes all over the world, including their analysis and interviews. Nevertheless, Pluto TV does not offer 24/7 live broadcasting. In other words, you need to be alert when live sports will be broadcast.
Conclusion:
All the questions above are answered with this How-To article. In addition, we can also guarantee you that what you have learned above, like what is Pluto TV, Pluto TV review, and Pluto TV guide, are accurate and helpful. Overall, we want to know your thoughts; leave us a comment, and see you again in our next upload!
Did you find this helpful?
421 Votes
YES

Thanks for letting us know!
No

Thanks for letting us know!
AnyMP4 Video Converter Ultimate
All-in-one video converter, editor, enhancer upscaled with AI.