How Camtasia Record Video and Audio: Let us Know the Steps and Tips
We would like you to know about Camtasia screen recording software in this post. It enables you to record your screen and even your audio. Moreover, it is a screen recorder and a video editor. Camtasia has the features that you are looking for. However, you are not just looking for the features but also on how to use Camtasia. For that reason, we have simple steps that we want to share with you in this article. These steps will be advantageous for you, especially if you are a beginner user. So, without further ado, let us start reading now.

Part 1: How to Record Video Audio on Camtasia
1: How to Record Video in Camtasia
This part will see the steps to record screens and videos on Camtasia. Please see below:
1.
After downloading Camtasia, launch the software, and you will see the New Recording on the middle part of the interface.
2.
Click the New Recording, and you will proceed to a new rectangular panel software.

3.
To start recording, click Screen 1, and Camtasia offers a full-screen record, region, widescreen, and social media like Facebook Cover Video and Instagram.
4.
Following this, after choosing the part you want, you have an option to turn the Microphone and adjust the volume. Moreover, you can also turn on the System Audio. Then click REC.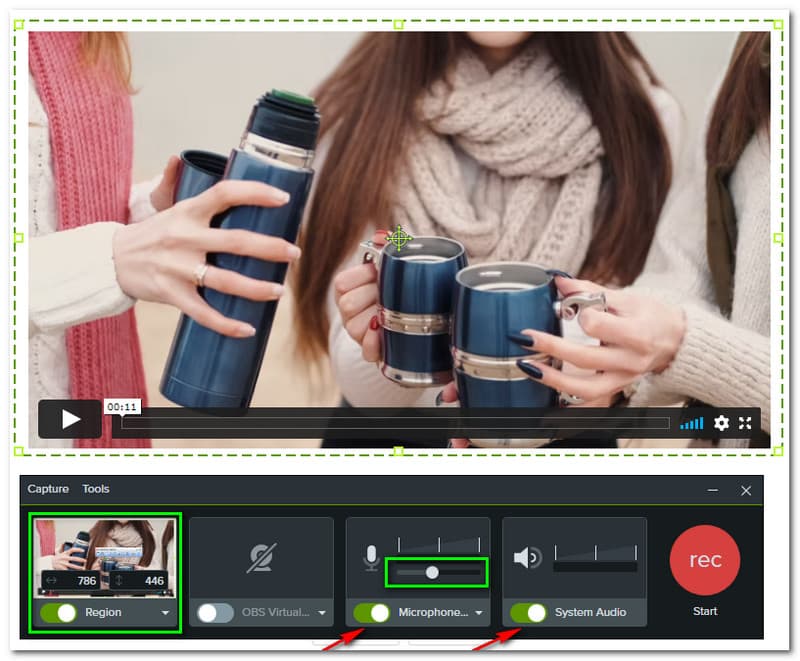 5.
After the recording process, you will go to the new panel to preview your recording video. Then, click the Export.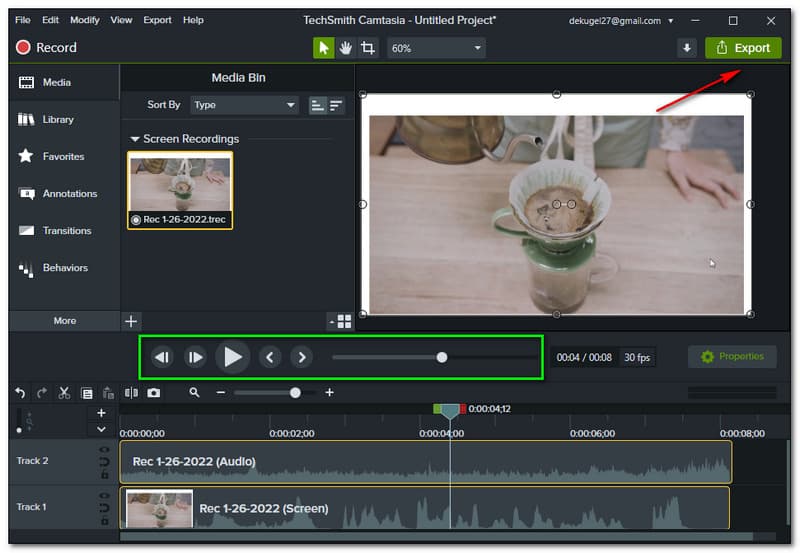 2: Edit Recorded Video
Did you know that Camtasia offers editing tools? Yup! In this method, we will introduce editing tools that you can use to make your recorded videos more wonderful. If you are excited to know more, please see the steps below:
1.
Again, after the recording process, a new window will appear where you can edit your recorded video.
2.
Upon tapping the Media on the left side of the window, you will see all your Screen Recordings beside it.
3.
To add Icons to your recorded video, hit the Library place on the left side of the interface, and all the available Icons will appear. Select the Icons you want and drag them directly to your recorded file.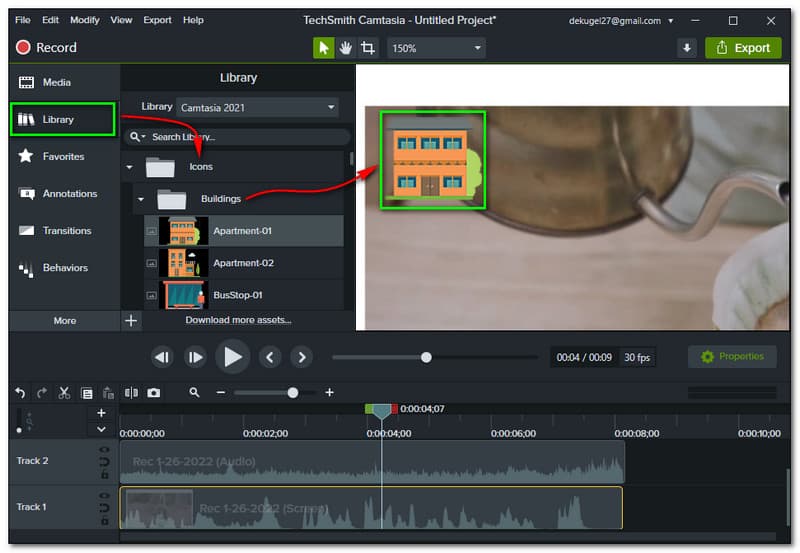 4.
If you want to add more, you can add Annotations. Find the Annotations on the left side of the software under the Favorites, then click it. Then, drag the annotation to your recorded video.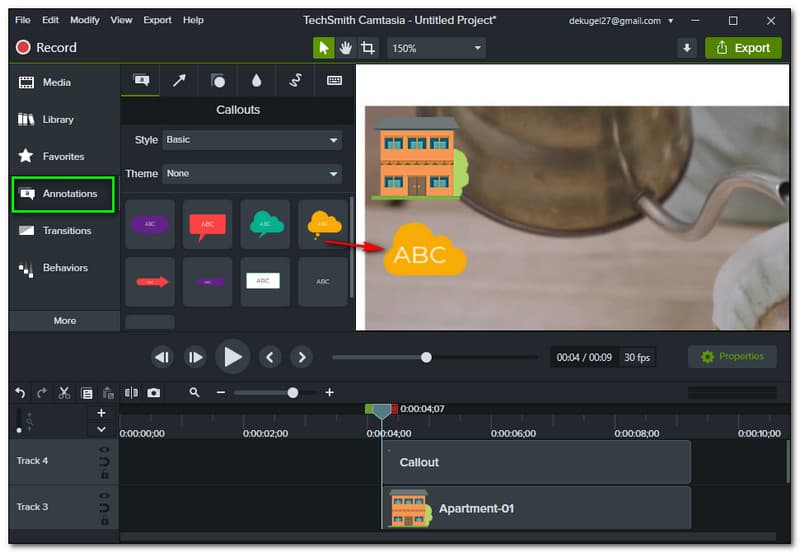 5.
After all the edits and satisfaction, you are ready to export your file. Click the Export above the right panel of the software.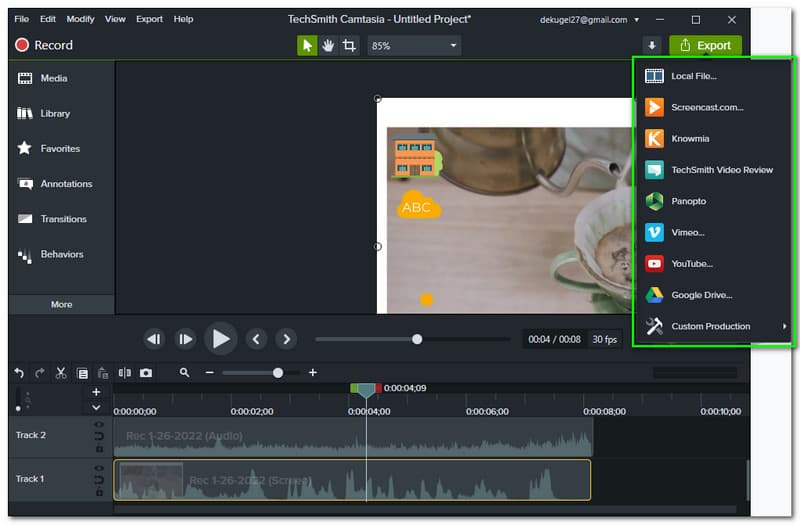 6.
Then, Camtasia will give you an option where you want to save your file. If you're going to save it to your computer, select the Local File. Then, wait for a little while to finish.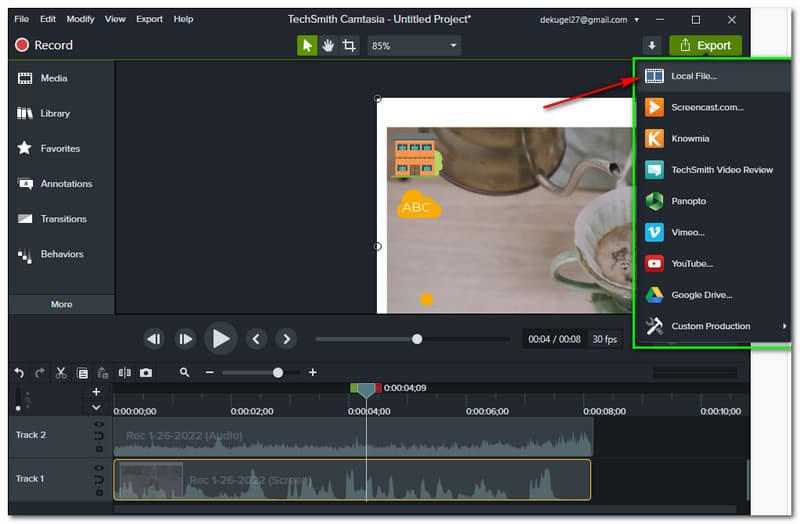 Tips On Editing Your Recorded Video
Tip 1: Visual Properties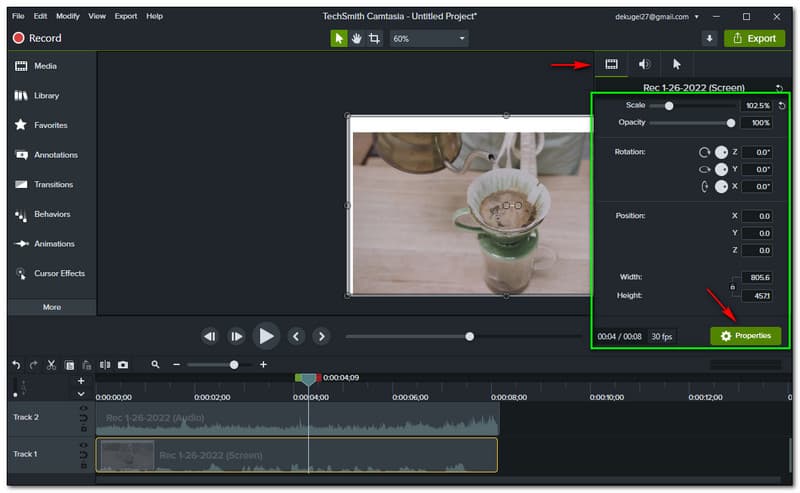 In this part, we want to share some tips before exporting your recorded file. You will see the Properties on the right side below by tapping the recorded video. Click that, and the options will appear. With this, you can adjust the Scale of your recorded video from 1% to 500%. In addition to this, you can also change the Opacity of your file from 0% to 100%.
Tip 2: Audio Properties
Also, there are options to adjust the audio on your recorded video file. Tap the Audio Properties beside the Visual Properties. Then, you will see the Gain. Adjust that depending on your choice from 0% to 250%. Plus, you can enable Mix to mono and Auto-normalize loudness.
3: How to Record Audio on Camtasia
In this method, we provided simple steps to record audio using Camtasia. If you want to determine more, please see the steps below:
1.
Go to the main interface and select the New Recording.
2.
Following that, you will continue to the new rectangular interface. Then, disable the Screen Recording and OBS Virtual Camera. After that, enable the Microphone and System Audio. Then, hit the REC.

3.
After the recording process, you will proceed again to the next panel. To export, hit the Export on the right side above the interface. Then, click the Local File to save it to your computer.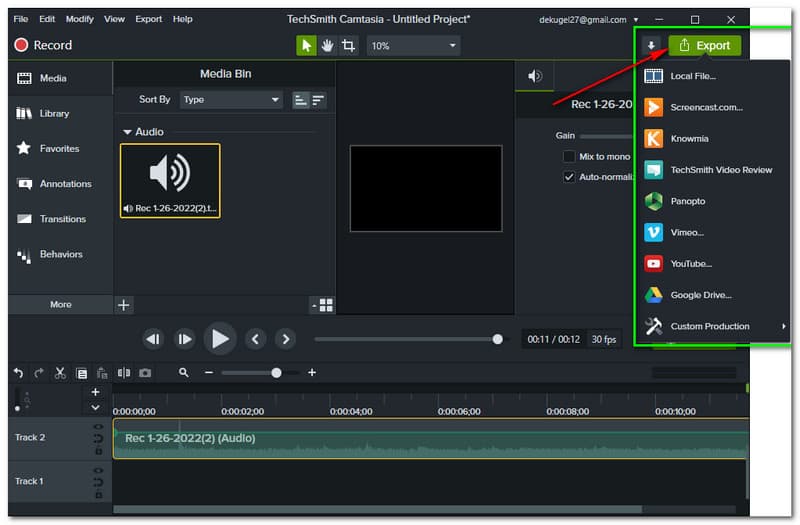 Part 2: FAQs on How to Record Video and Audio on Camtasia
Can I separate audio from video in Camtasia?
Yes, you can separate audio from video. To do that, permit the Screen Recording if you want to record only. Then, you start recording using audio-only. We prefer the steps above. Take time to read them.
Why is my Camtasia not recording audio?
If Camtasia can not record audio, check if the microphone and system audio are turned on or enabled. Or, go to Tools and click the Options. Then, select the Inputs. After that, hit the Audio and select Audio Device.
What does audio compression do in Camtasia?
Audio compression in Camtasia means that the software will lower the high part of your recorded video so that you can match it to the low part of the audio. With that, you can raise the volume freely.
Part 3: Alternative - AnyMP4 Screen Recorder

Undoubtingly, Camtasia is one of the most popular recorders. However, it is costly, and other users might not afford it. Also, there is a limitation to using Camtasia. For that reason, many are looking for affordable and easy-to-use software. With that, we got your back! Introducing to you AnyMP4 Screen Recorder. We are proud to say that this recorder software is perfect for beginner users. In addition to this, it is very affordable to many. Not just that, it provides you with features that you will love. It can record your gameplay effortlessly with HD effects.
Moreover, it is also perfect for recording your screen and audio. Furthermore, it has the power to record your phone screen on the computer. AnyMP4 Screen Recorder has a lot to offer. So, if you are wondering and want to know more, you can visit the software and try it for free.
Conclusion
To conclude, we learn the simple steps to record screen and audio using a Camtasia recorder. In this post, we also include some tips about the recording process. We hope that we have answered some of your questions about Camtasia. With that, we expect you again in our next article!
Did you find this helpful?
376 Votes
YES

Thanks for letting us know!
No

Thanks for letting us know!
How to Record Screen
How to Record Video Audio
AnyMP4 Screen Recorder
Capture every moment in desktop, browsers, programs and webcam.