How to Record Gameplay on PS4: 2 Instant Ways in Sharing your Amazing Gameplays
PS4 gaming can bring immense gameplay for all the gaming enthusiasts out there. We can feel the connection between what we are playing through this technology. It also comes with super HD and fantastic graphical designs, such as the character or the game's locations. That is why many gaming communities constantly suggest having a PS4 rather than playing online games. Indeed, many gaming enthusiasts will probably choose PS4 rather than the other mediums of games. Many content creators who utilize this kind of field must know about recording their gameplay. That will enable them to share their gameplay content on different gaming communities such as FaceBook Gaming and YouTube. In line with that, we will explore a few ways on how gameplay recording on PS4 makes it possible?
Furthermore, we will meet two tools that we can use to make it possible. One is a built-in tool, and the other is a fantastic screen recording software that we can download. Without further discussion, let us now unveil the methods and software we need to record gameplay on your PS4.

Part 1. How to Record Gameplay on PS4 using Aiseesoft Screen Recorder
Aiseesoft Screen Recorder

There are already hundreds of screen recording tools in the digital market. These tools can offer different features. However, Aiseesoft Screen Recorder is a rising and leading screen recording software we can use with complications. It is a screen that provides a tremendous tool in delivering a high-quality video output for all of us. In addition, these tools can also capture our devices' internal and external sound. All of these come with high-definition results.
Furthermore, one of the significant contributions of Aiseesoft Screen Recorder for gamers is its ability to scene record gameplay with at least 30 FPS. That also means recording gameplay on your PS4 with Aiseesoft Screen Recorder is possible. Thus, let us discover its ability to record your gameplay. Kindly look at the steps and details we need to know below.
Tips
You need to connect the PS4 using a specific chord on your computer. Launch the Aiseesoft Screen Recorder on your device to enable the recording process.
1.
Launch the Aiseesoft Screen Recorder on your technology to see the interface on your screen.

2.
From the interface click the Video Recorder at the first icon box.

3.
You will now sight a new set of icons on your screen. Afterward, customize the mode of your video recording by setting up the framerate of your recording. From the same interface, allow the software to capture the Microphone and Speaker by sliding the buttons under the icons to the right side.
4.
After fixing up the settings for your screen recorder, it is now time to click the REC button at the most right corner of the interface. That causes a three seconds countdown to appear.

5.
The following step we need to do is launch the game from our PS4 and let yourself experience the game while still recording. Also, allow the screen recorder to run while you are playing.
After playing a game, we should now click the Stop icon from the floating tab. A preview tab will also be where you can play your recording. You can see the Save button from the same tab to secure your recording file.
6.
After that, a new window tab will appear to choose the folder you want to save freely. Select the folder, then click the Save button on the most right corner of the Window Tab.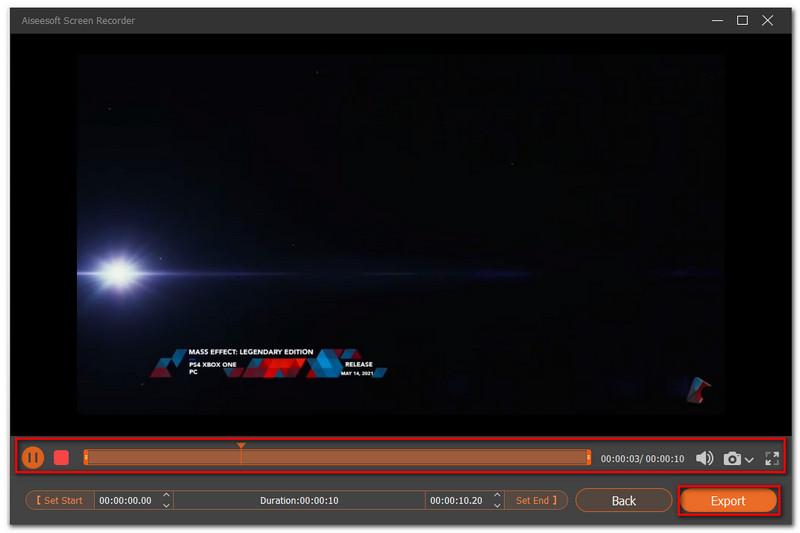 Part 2. How to Record Gameplay on PS4: Built-in Tool
The following method is a built-in tool from your PS4. It is straightforward to use. Please take a look at the simple steps to know what we need to do to record the game on your PS4.
1.
Go to your PS4 Controller to click the Share button on it. The Sharing and Broadcast Windows popup will appear on your screen. You can now adjust the Length of Video Clip, Broadcast Settings, and Audio Settings from the parameter setting.
2.
The default length of 15 minutes is adjustable by clicking the Length of the video. You see a drop-list on the right corner of the interface. You can adjust the video length from 30 seconds to 15 minutes default up to one-hour video clip length.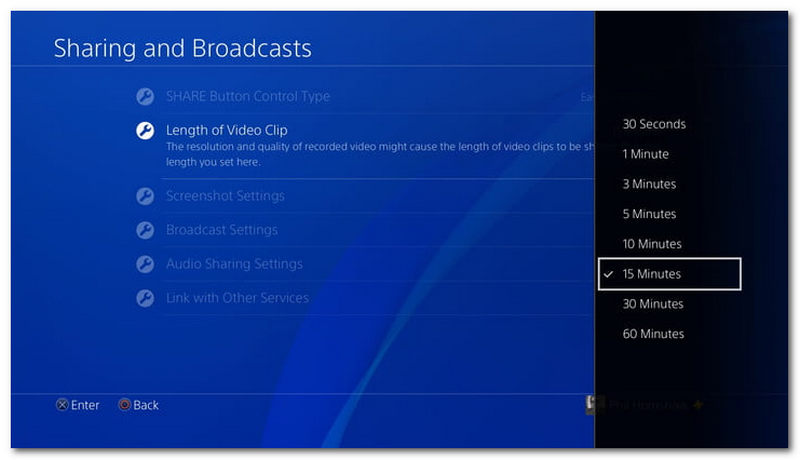 3.
You must now launch the game on your PS4 by double tapping the button for Sharing. That step will allow us to start recording.
4.
As we continue the process, we shall now stop the recording if the game ends. The stop process will be possible if we long press the Sharing button on your computer. That step will allow you to stop the recording automatically.
5.
We shall now proceed to the saving process of the tutorial. We need to go to the Menu to select the Save Video Clip button. We can see that icon beside a square element.
6.
In addition, we can also upload our video recording outputs. From the same Share tab, it will ask you. How do you want to share your experience? Under it, choose the Upload Video Clip among the choices if you're going to upload it. You may also upload a screenshot, Broadcast gameplay, or start sharing play.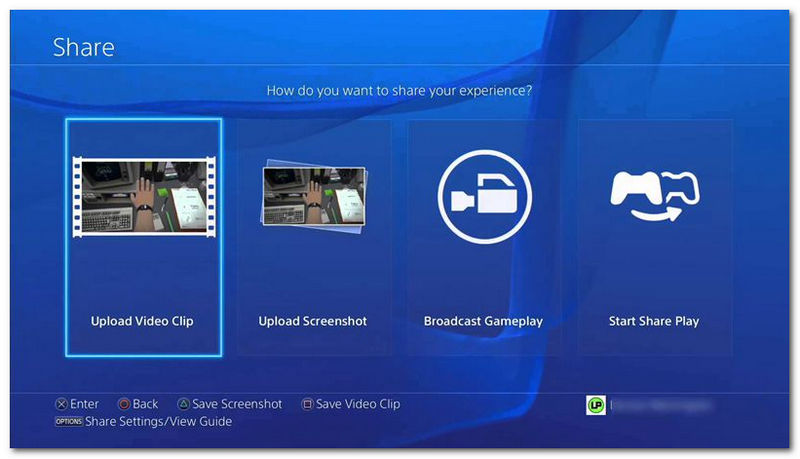 Part 3. FAQ about Recording Gameplay on PS4
How to stop gameplay recording on PS4?
Numerous people are asking how to stop the gameplay in PS4 using the built-in tool. The process of eliminating the recording is indeed a bit tricky to do. It is not the usual step to take, just like when using a software tool. Therefore, to stop the recording on PS4, we need to go on the Share button menu of your PS4. From the Sharing tab, you need to long-press on it. Please wait for a few seconds then your recording must automatically be saved on your file. If not, you need to repeat the process.
Does PS4 record gameplay automatically?
Yes, your PS4 can automatically record your gameplay without any additional hardware required. Holding down the share button on your PS4 Controller will open the 'Share' menu. From there, you can edit many things, including setting up your Playstation 4 to automatically record your gameplay. You can then set the desired Length of video clips that you want to record whenever you press the share button, which will cue the start of your recording. The default duration is set to 15 minutes, but the minimum duration can be 30 seconds, and the maximum is as long as 1 hour. This feature is most useful when you have great gameplay you want to review and share a snippet of. You may easily access them as long as you press the share button on your Controller before it happens, and it is within the scope of the duration.
Do I need a capture card to stream on my PS4?
Yes, you can. Capture cards are input devices that function mainly as a converter of gameplay signals into digital data that may be uploaded to the internet. With capture cards and other accessories like HDMI cable, gamers and streamers can share the gameplay online. However, even though capture cards provide higher video quality, they are pretty expensive. This is why many aspiring streamers look for alternatives to capture cards. One of the most infamous streaming platforms that Sony's PS4 can stream to without a capture card is Twitch. The only things needed to start sharing gameplay online with this method are PS4, PC, DUALSHOCK 4 controller, PS4 Remote Play, and OBS or similar software. Once you have this, which is way cheaper than a capture card, the only thing left is to set things up.
Conclusion
Therefore, we can conclude that sharing our gameplay on PS4 will not be a problem if only we have the proper guidelines. Concurrently, we can have a successful process if we have the right tool to ensure it. In regards to that, we can also see how sound Aiseesoft Screen Recorder is in doing it. Also, we can see the built-in recording tool too is very effective for the instant process of capturing our gameplay on PS4. On the other hand, we hope this article helps you make the recording process possible. You start sharing it with other gamers so that we can help. You may also visit the Top Seven Review, for we have a lot of articles that can bring considerable help with different aspects of our grind.
Did you find this helpful?
339 Votes
YES

Thanks for letting us know!
No

Thanks for letting us know!
How to Record Screen
How to Record Video Audio
Aiseesoft Screen Recorder
Capture every moment in desktop, browsers, programs and webcam.