3uTools Review: The Comprehensive Phone Unlock Tool for your iPhone, iPad, and more
Accessing your entire device is complex, and you need software to use for that because you cannot access your entire device alone, especially if you have a lot of files, photos, music, videos, etc., on your device. But what if you are an iPhone, iPad, or iPod user? That is not a problem! In this review, we want to present to you 3uTools. It is software that can do almost everything on your iPhone, iPad, or iPod, using a USB cable. It can unlock, backup, restore, and clean your phone! To know more, please read this article review until the end.

1. Our Verdict
Pros

It has a clean user interface.
It has flash and jailbreaker activation.
It is a free download.
It supports iOS devices for iPhones, iPads, and iPods.
It provides regular updates to ensure that 3uTools is still effective.
It can be used across different types of functions.
It is easy to use.
Cons

It is not easy to download.
It is not cross-platform.
The English instructions are sometimes broken because the developers of this software are not native English speakers.
It cannot offer a complete iCloud activation lock bypassing.
Overall Ratings:
Interface:9.0
Features:9.0
Easy to use:8.5
2. What is 3uTools?
Best for: sers searching for a tool that is an all-in-one iOS file and data management tool. Also, a tool that is great for jailbreaking the device.
Price: Free
Platform: Windows and Mac
Main Features:
3uTools is software that you can use for your Apple devices. In addition, it allows you to get organized and manage your photos, videos, music, ringtone, and many more. The great thing about 3uTool is that you can use your computer to manage your iPhone successfully. Moreover, you can learn more about this tool when you look at the bottom of this part, and it is all about its main bulleted features. Please see them now:
◆ It can manage all your applications, photos, videos, ringtones, music, and more on your device.
◆ It can completely view your iOS devices like activation, jailbreak, battery, and iCloud lock, including the detailed information of your iOS and iDevice.
◆ It can match the available firmware for every iOS device.
◆ It supports SHSH backup, baseband upgrade, baseband downgrade, etc.
◆ It can backup and restore your device.
◆ It can clean garbage.
◆ It can make ringtones.
◆ It can convert video and audio and modify audio.
◆ It can migrate data and delete invalid icons.
◆ It lets you stop the iOS update.
◆ It supports Real-Time Screen and Real-Time Log.
◆ It has an intelligent Flash and Jailbreak.
3. 3uTools Review
Interface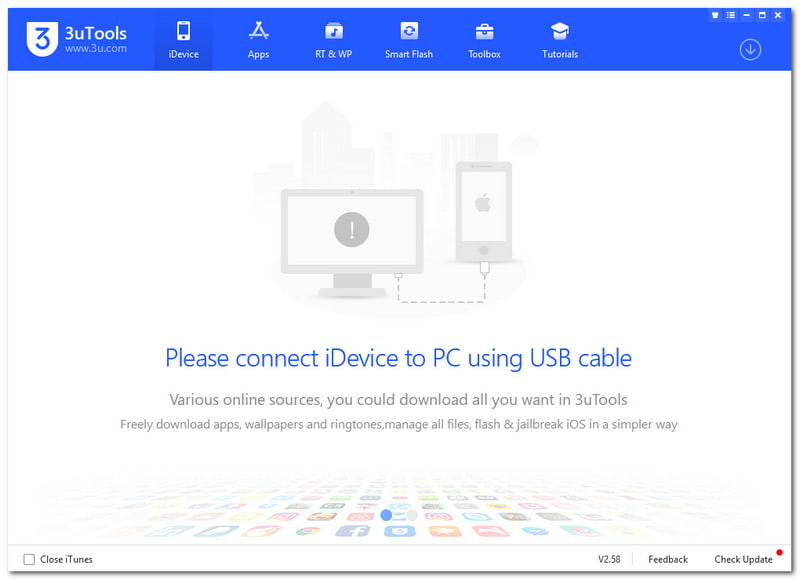 It is what 3uTools looks like when the device is not yet connected to your device. It has a clean user interface. In the upper left of the panel, you will see its name and logo. Next to that, you will see all the options of 3uTools, such as iDevice, Apps, RT & WP, Smart Flash, Toolbox, and Tutorials. After that, what you will see on the middle part is the message Please Connect iDevice to PC using USB Cable. Moreover, in the next part, you will see more about 3uTools, so please continue reading.
3. 3uTools Review
View Info of iOS Device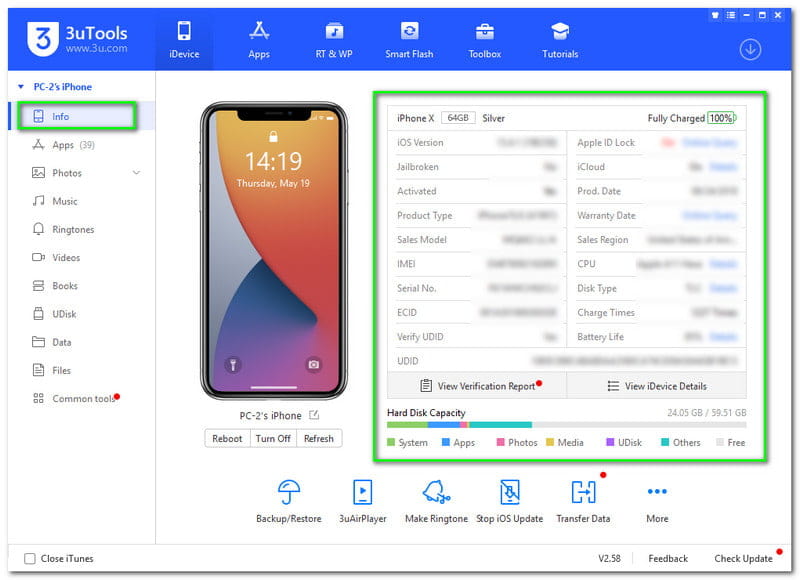 After you connect your device, you will notice on the left part of the interface all the options that are available on 3uTools. First on the list is the Info. In summary, it will show you all the information about your device. As you can see, we connected iPhone X with 64 GB on our computer, and 3uTools offers all the information about our device like iOS Version, Jailbroken, Activated, Product Type, Sales Model, IMEI, Serial No., ECID, Apple ID Lock, iCloud, and many more. Then, on the lower part, you will see other options like Backup/ Restore, 3uAirPlayer, Make Ringtone, Stop iOS Update, Transfer Data, and more.
Intelligent Flash and Jailbreak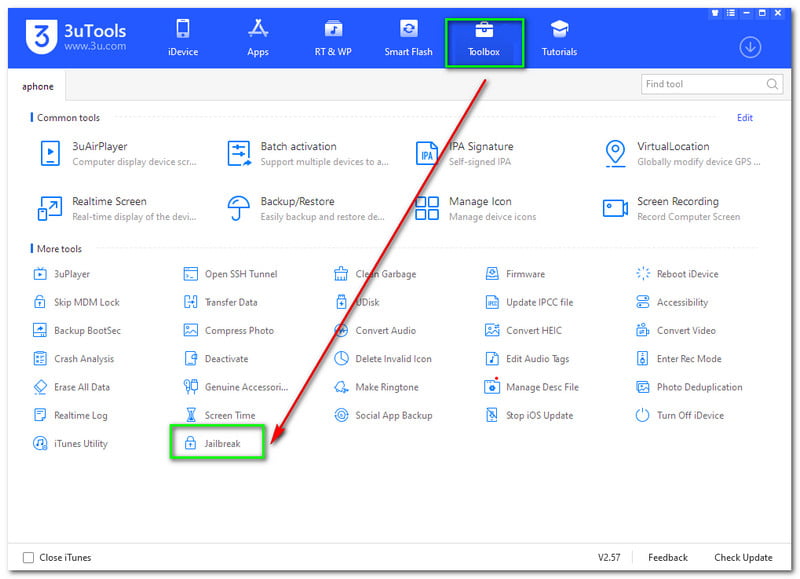 Jailbreak is one of the functions of Toolbox. After clicking the Toolbox, go to the bottom part, and you will see the Jailbreak and click it. Then, you will proceed to the next panel and choose the first option and on the bottom right of the panel, tap the Start Jailbreak. After that, you will see the Current status on the bottom part, and you will also see its percentage. When the percentage becomes 100%, click the OK button.
Another thing that you need to do is find the Jailbreak installed on your device and open it. Then, select the Setting and tap General, and you will see Profiles and Device Management. Click the Trust button, and that is it!
Manage iOS Data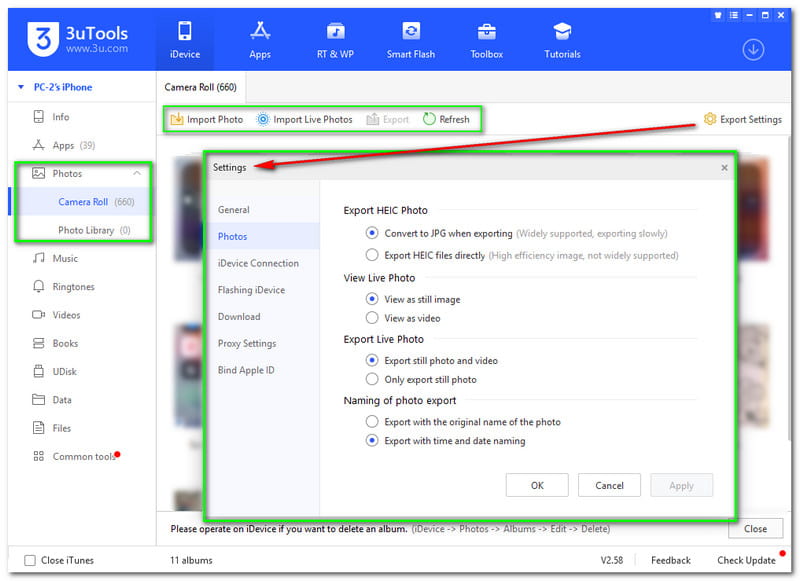 You will also see the Photos options on the left corner of the panel. Click the Photos, and you will see all the Album on your device. In addition, you will see at the bottom of the panel how many albums you have on your device. As you can see, we have 11 albums. Moreover, 3uTools allows you to Import Photos and Import Live Photos. When you tap Import Photo, it will let you Select a File or Select a Folder. After that, choose a file or folder from your computer and import it directly to your Camera Roll.
Furthermore, you can make adjustments when it comes to Export Settings. You can choose to Convert to JPG when exporting or exporting HEIC files directly. Also, you can choose to view it as a Still Image or View it as a Video. In addition, when exporting a Live Photo, you can select Export Still Photo and Video or Only Export Sill Photo. Lastly, when naming a photo export, you can choose Export with the original name of the photo or Export with time and date naming. After the adjustments, click the OK button.
Backup/Restore iOS Data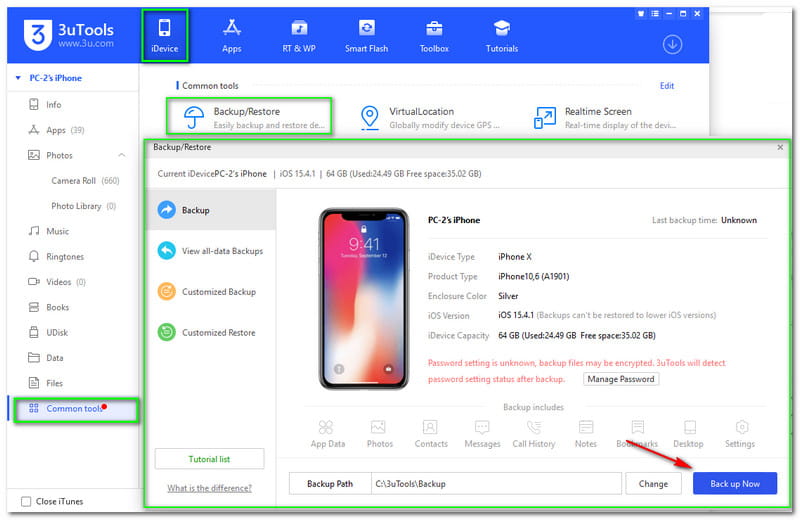 3uTools has many features, and one of them is the Backup/Restore. It allows you to backup or restores your device. To do that, you will see the Common Tools on the left side of the interface. It is the last option, and click it. Then, first on the list is the Backup/Restore tap it, and you will proceed to the next panel. On the other panel, you can see the Backup and other options in the left corner. After choosing the options, you can start clicking the Back up Now button, which is fast and easy.
4. FAQs of 3uTools
Is 3uTools safe?
3uTools is entirely safe, especially if you download 3uTools on its developer's website. In addition to this, 3uTool protects every user by implementing security measures to maintain the users' information safe. Moreover, 3uTools only collects information when users use the software to download apps.
Can I use 3uTools for Android devices?
Yes, you can use 3uTools for your Android devices. However, there will be a change in its functionalities, and it can be more limited. Furthermore, there is also a selection of the different tools you can use for your Android device, even if some are paid software.
How can I download apps using 3uTools software?
Launch the software, and beside the iDevice, you will see the Apps. Click the Apps, and you will see many kinds of applications that you can download. After that, click the application that you like and tap the Install. Or, you can search for the application that you want in the search bar on the left corner. Then, 3uTools will immediately install the application on your iPhone.
5. 3uTools VS Aiseesoft iPhone Unlocker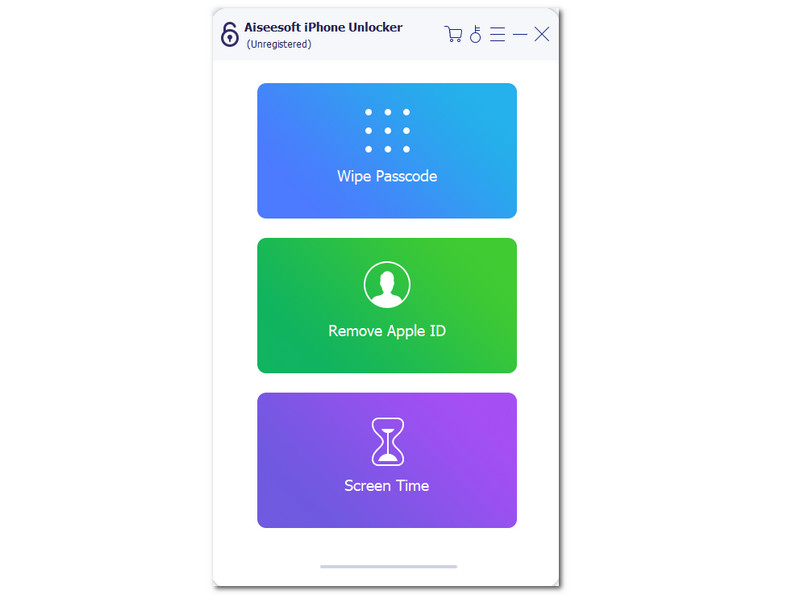 In this part, you will realize why the 3uTools alternative for Mac is Aiseesoft iPhone Unlocker. We all know that 3uTools offers a vast number of features. However, we guarantee you that Aiseesoft iPhone Unlocker will satisfy you! In addition to this, Aiseesoft iPhone Unlocker has an excellent interface.
Aiseesoft iPhone Unlocker stands out because it is compatible with iOS 15, the newest Apple update. Moreover, we are excited to share a comparison table between 3uTools and Aiseesoft iPhone Unlocker. Please see the table below:
| | | |
| --- | --- | --- |
| 3uTools | VS | Aiseesoft iPhone Unlocker |
| Free | Price | Starts at $31.96 |
| Windows, Mac | Operating System | Windows, Mac |
| None | Money-back Guarantee | 30-day |
| | Free Upgrades | |
| | It supports SHSH backup and baseband upgrade/downgrade. | |
| | It can unlock Touch ID and Face ID. | |
| | It can unlock 4-digit passcodes and 6-digit passcodes. | |
| 8.6 | Interface | 9.0 |
| 8.5 | Safety | 9.0 |
We can see that 3uTools is free, and Aiseesoft iPhone Unlocker stands out more because of its features and benefits. It is all up to you what you want to choose. However, you should try Aiseesoft iPhone Unlocker, and it is not a waste of time. More iPhone unlocker tools are here.
Conclusion:
We are happy that we successfully share with you this article review. As we use the 3uTools software, we learned that this software has many disadvantages. However, it also has a few drawbacks. Moreover, we enlighten you on what 3uTools is about, how much it can cost you, and its platform. Furthermore, this article review aims to show you the main features and functions of 3uTools. That is why we believe that we did not fail you on that part because we share with you everything that we need to know about this software. We have prepared an alternative for you, and we hope you will try it. Thank you for reading until the end. We will see you again at our next one!
Did you find this helpful?
316 Votes
YES

Thanks for letting us know!
No

Thanks for letting us know!
iCloud Activation Bypass Tools Review
Aiseesoft iPhone Unlocker
Get into locked iPhone iPad iPod without password or Apple ID.