Full Guidelines to Resize/Crop an Image
Image resizing can be intimidating, especially if you need to fit exact dimensions down to the pixel. This process requires an excellent job to gate the exact size of the Image you want to modify. However, some photo editing tools seem intimidating such as Adobe Photoshop, Adobe Illustrator, and more. That is why this article comes with the idea that will give you a guide to editing your photo properly and easily.
Furthermore, this article will also ease your worry about whatever device you have. That is because we will show you every possible medium device or technology you use to edit your photos. That means we will give you a guide to resizing your photo using software and online tools on iPhone, Android, Windows, and Mac. Indeed, this article is jam-packed with information that you will need. Be ready as we give you all the details you need to know on how to crop images easily. Please proceed and enjoy.

1. What is the Aspect Ratio for Images?
The ratio of an image's width to its height is what we refer to as the aspect ratio, and it is represented by two numbers separated by a colon, such as 16:9. The image has an aspect ratio of x:y and is x units wide and y units height. In cinematography, common aspect ratios are 1.85:1 and 2.39:1; in television photography, 4:3 and 16:9. And in still photography, 3:2. The most common cinema aspect ratios are 1.85:1 and 2.39:1. The most common photography aspect ratios are 4:3, the universal video format of the twentieth century, and 16:9, then the universal for HD television and European digital television. Other cinema and film aspect ratios exist but are rarely used.
The most common aspect ratios in still camera photography are 4:3, 3:2, and, more recently, 16:9. Other aspect ratios, like 5:3, 5:4, and 1:1 or square format, are also used in photography, particularly in medium and large formats.
2. How to Resize an Image Online
Suppose you want to crop photos for free in seconds. Adobe Express Online is the online tool that suits you. This online Crop image tool transforms images into the ideal size in seconds. That means we can expect an easy process with this tool. In addition, it came from Adobe which is why a high-quality result can be seen after. Let us see the instructions on how we can use it.
1.
We need to go to the official website of Adobe Express. From there, we can see the button for Upload your Photo in the middle of the interface. Please click it to continue.
2.
In this part, you will now see your Image in the editing corner of the online tool. From there, please adjust the Cropping Frame with your preference to cut unnecessary parts of the Image.
3.
After that, your Image must be ready for the saving process. Please click the Download button to finish the process.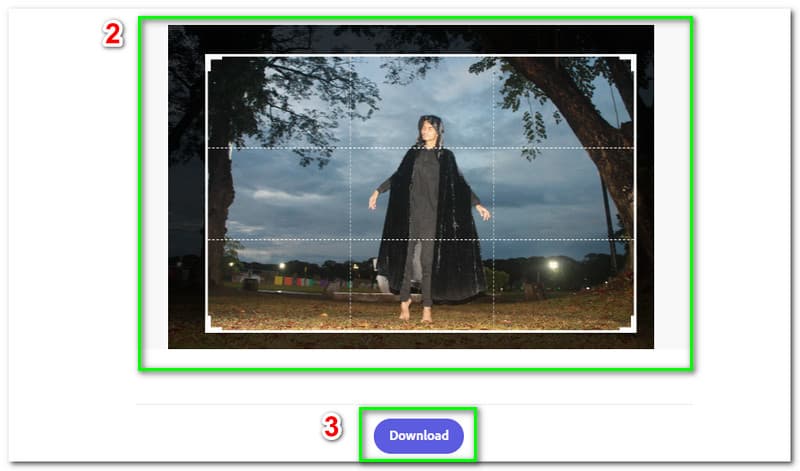 3. How to Resize an Image on iPhone
Image Size is a great iPhone photo-resizing app if you're willing to watch the occasional advertisement. This is one of the great applications we can use for modifying our images on the iPhone. Here's how to use the Image Size app once you've installed it: Open it on your iPhone.
1.
Tap the Photo icon, which makes it look like a mountain inside a box, in the top left corner of the app screen.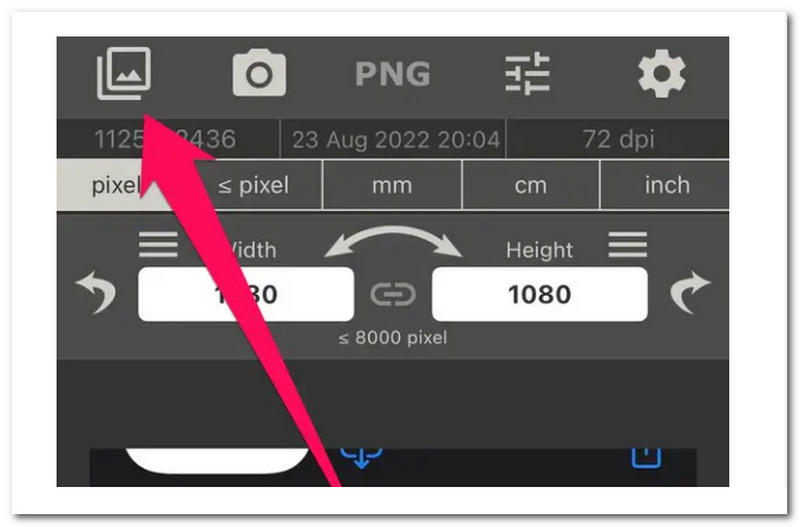 2.
Tap Allow Access to All Photos to give the app access to your photos. In your Photos library, tap the picture you want to resize. In the bottom right corner, tap Choose.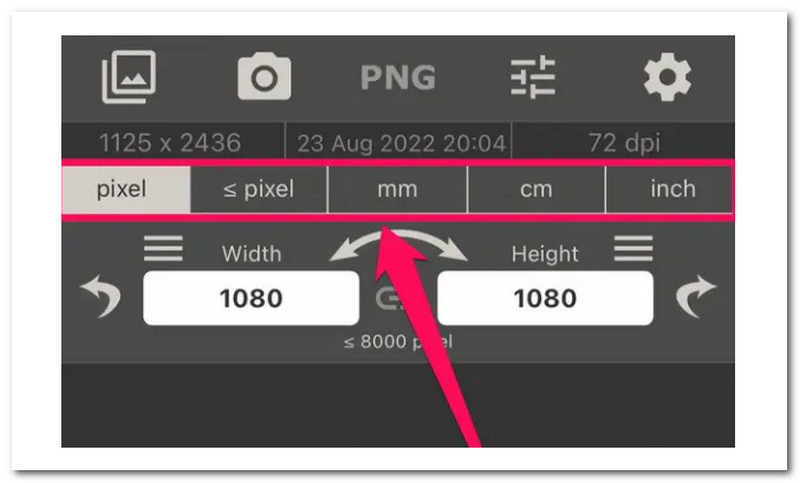 3.
The new image size will be shown at the bottom of the screen when you enter the new image size numbers in the Width and Height text fields.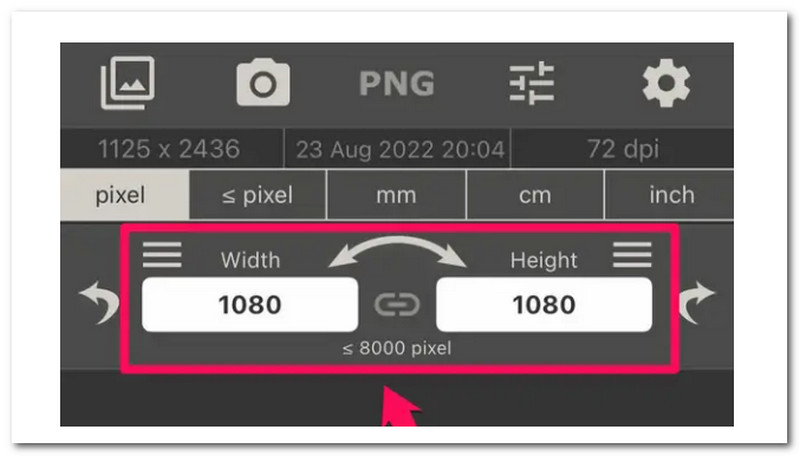 4. How to Resize an Image on Android
GIMP is a free image editor. It is available under GPLv3+ licenses for all platforms. GIMP has many features that users can use to edit their images. Scaling or resizing images is one of the features. However, some users unfamiliar with GIMP may struggle to find the appropriate options for resizing images or layers in GIMP. In this part, we will show you how to resize an image or a layer over another image in GIMP.
1.
Open the app on your cell phone, and then from the interface of it, you will see the photo you want to crop. Kindly choose a specific photo to proceed.
2.
Now, you can see the chosen photo on the editing portion of the app. Select the Tool icon below to see the Crop feature among the options.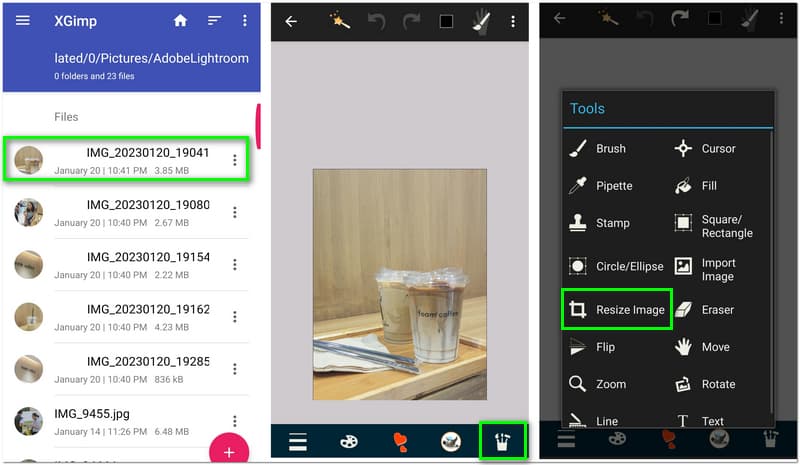 3.
At this part, you can now start to adjust the cropping frame on the portion of the Image that you want to see. This feature will allow you to eliminate the unimportant part of the Image.
4.
After adjusting the Frame, you can now click the photo to Apply the cropping process. Then, after a second, you can see your photo was cropped.
5.
If you are satisfied with the edit, you can proceed to finalize the Image by clicking the Three Dots above. Then a small option box will appear to see the Save button. Please click it and check your Image in your gallery.
5. How to Resize an Image on Mac
1.
Open Photoshop and select File to see the button for Open, then navigate to your photo on your Mac and select Open.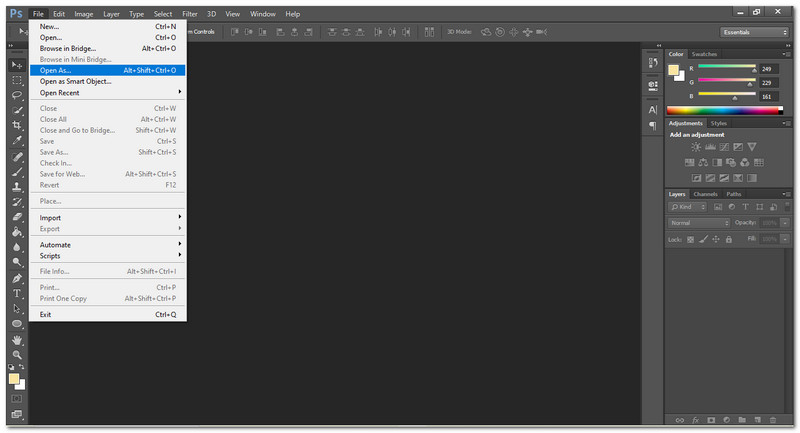 2.
By hitting C on your keyboard or using the toolbar, you can access the crop. When you do this, a menu will appear at the upper of your screen where you can set the crop tool's options.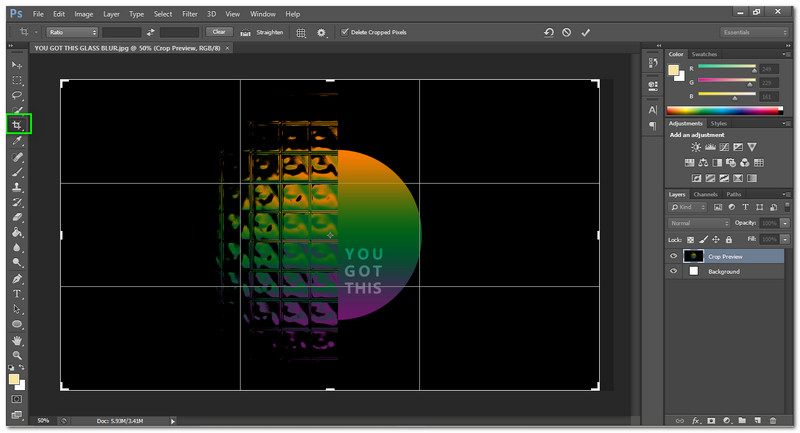 3.
After that, at the top of the screen, look for the W x H x Resolution menu. Then, select W x H x Resolution on the left drop-down menu and set it following your will.
4.
To save your image, select Save a Copy by clicking File. You can name the file, specify the save location, and format it in the Save as type area. JPEG and PNG are the two most used file types on the internet. Save a separate.psd (Photoshop file) version as well if you believe you would want to go back into your image and change it again later.
For more image resizer or copper tools, you can check the review here.
6. How to Crop an Image on Windows
To crop an image on a Windows computer, we can use Paint to make it possible. However, before you upload images, ensure those are the right size for the carton in which they will be placed. Use 825 px for the top, full-width banner; 580 px for the middle section; and 235 px for the gray highlight box. Here is how we can crop images on Windows using Paint.
1.
Launch the application, then launch the Image.
2.
Select the Resize and Skew Icon from the Home Tab. Remember, the original pixel size is shown near the bottom.

3.
Ensure the carton next to Maintain aspect ratio is checked, set the width, and click OK.
4.
Click the main tab, then Save as, and then JPEG. Save after entering a short descriptive name with no spaces. Your Image is now complete and ready for upload.

7. FAQs about How to Resize an Image
Is Photoshop required to resize images?
Certainly not. We've shown you how to complete the same process using a free online tool. Photoshop is an incredibly powerful application that anyone can use, from beginners to professionals. Although practically anything may be made into a visual reality, there is a steep learning curve. Don't be intimidated if you enjoy photo retouching and manipulation. Numerous free resources are available on the internet to help you learn your way around Photoshop.
Can I improve the appearance of my Image by enlarging it?
Unfortunately, the answer is almost always no. A given image contains a limited number of pixels. A 1600 x 900 image, for example, has 1.44 million pixels. They enlarged that Image to 3200 x 1800, resulting in a new image with 5.76 million pixels. The software must generate 4.32 million new pixels to fill out the new Image. Those pixels are created by dividing each pixel in the original Image into multiple pixels.
What is the best ratio to crop for an IG story?
Whereas pictures can be manually cropped and sized to fit a story, going full screen with a content sized at 1080px by 1920px is recommended (a 9:16 aspect ratio). This is true for both photos and videos.
On a PC, can you crop a PNG file and how do you do it?
Yes. Cropping a PNG image is possible on your computer. The process of making it possible is very easy. First, we need to choose a photo. Then after that, select Crop from the Picture Tools as we see the Format menu. After that, you can crop your image in a variety of methods, such as by dragging a cropping handle from the side, top, or bottom. To crop the entire image to the desired size, press Shift.
Conclusion
Those are the important things you need to know about cropping an image using different mediums. We are hoping this article helps you with your task. If you think this post is helpful, please share it with other users who need it. We also have an excellent guide and details if you visit our website now.
Did you find this helpful?
422 Votes
YES

Thanks for letting us know!
No

Thanks for letting us know!
AnyMP4 Video Converter Ultimate
All-in-one video converter, editor, enhancer upscaled with AI.