FCC Speed Test App Review: The Companion of Your Internet Connection
Many people nowadays have their home Wi-Fi at home. Some use it for their schooling, others for work, and sometimes it is just a personal use only. However, are you aware that a speed tester tool can check your Internet consistently? Yes, there is, and that is FCC Internet Speed Test tool. To give you some idea about this app, FCC Speed Test is compatible with Android and iOS. It can also provide you with great features that you will love. We have to remember that we need to check out the Internet connection most often to know if there is a problem. In this post review, let us find out FCC Speed Test offers.

1. Our Verdict
Pros

A large website with numerous features.
It provides accurate results.
It can run using WiFi and Cellular.
It allows you to monitor data usage.
It lets you run manual tests.
Cons

Sometimes it is slow in the speed testing process.
Overall Ratings
Speed:9.0
Easy to use:9.5
Safeness:8.5
2. What is the FCC Speed Test?
Price: Free
Platform: Android, iOS, Windows, Mac
Main Features
FCC Speed Test is an application you can use to speed test your Internet connection. In addition to this, in terms of features, you can fully benefit from the FCC Speed Test. Why? Because it is a concern for the users, they want to satisfy their users with the features they offer.
◆ Built-in GUI.
◆ Export additional data collected during a test.
◆ Use passive data like Cell ID.
◆ Signal strength.
◆ GPS location.
◆ Upload measurements.
◆ Download measurements.
◆ Latency.
◆ Pocket loss.
◆ Jitter.
FCC Speed Test Requirements
FCC Speed Test is the application for Android and iOS.
FCC Speed Test is caompatlbe with all Android OS versions, and you can download and use it freely.
To download and use FCC Speed Test on Apple devices, you should meet the following requirements:
iPhone: Requires iOS 12.0 or later.
iPad: Requires iPadOS 12.0 or later.
iPod touch: Requires iOS 12.0 or later.
Mac: Requires macOS 11.0 or later and a Mac with Apple M1 chip.
3. FCC Speed Test Review
What is the Use of FCC Speed Test?
FCC Speed Test is suitable for Android phones, and you can get it from Google Play, and for iOS, you can get it on the Apple App Store. It is an application that can measure broadband performance in five categories: upload speed, download speed, latency, jitter, and packet loss. To better analyze broadband performance, there are a few passive metrics that are recorded. One example of this is the signal strength of your connection. Moreover, you have to remember this, and the application tests can run regularly with android devices.
You must be happy if you are an Apple user since the FCC Speed Test works on your iOS devices. Let us look below at its functions when it comes to iOS.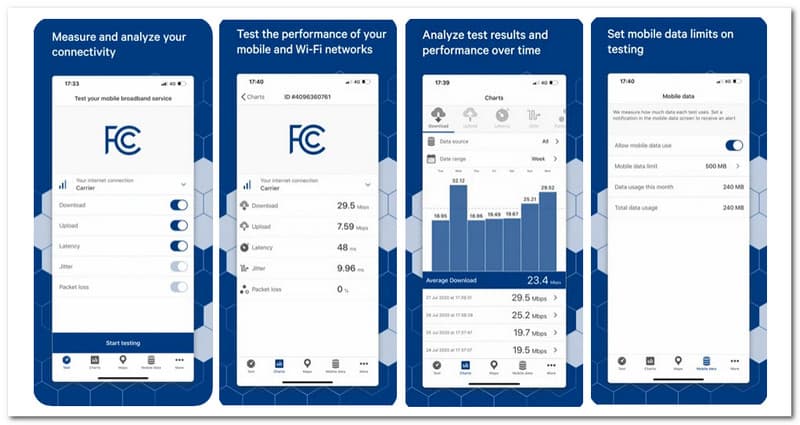 Set and Analyze your Connectivity
After launching the FCC Speed Test on your iOS device, the first part you need to do is go to the Test and test your mobile broadband service. You can see in the panel the Download, Upload, Latency, Jitter, and Packet Loss. If you can see the enable and disable button on the right side of the panel, you have an option to allow each one of them mentioned a while ago.
Test the Performance of your Mobile and WiFi Networks
After the tests, you will proceed to the Charts. You will see a chart full of accurate results in this next panel. With the screenshot provided, the Average Download was placed in the middle of the panel. The result is 23.4 Mbps. Moreover, other results are next to the bottom of Average Download.
Track Test Results and Performance with FCC Speed Test Map
One of the advantages of a speed test is the Maps or service location. With this feature, you can select a map that is pinned above for you to be able to view the result. In addition to this, you can zoom in and zoom out on the map. The great thing about this is you can search where your location is.
Set Limit with your Mobile Data while Testing
With a fantastic feature of FCC Speed Test that they have. They provided a part where you can limit your mobile data upon testing your connection. First, you must click the ON button, allowing your device to use mobile data. After that, You can now set your mobile data limit. Moreover, you can also see your data usage for the whole month and your total data usage. Take note-using mobile data is data-consuming upon speed testing. That is why you need to have a large amount of data.
What is Best For FCC Speed Test?
FCC Speed Test is best for looking at an app that collects broadband performance data. In addition to this, FCC Speed Test is best for checking upload measurements and download speed. Not just that, it includes latency, packet loss, and wireless performance. What's more? It is also best for Android and iOS users.
4. FAQ of FCC Speed Test
How much FCC Speed Test consumes data?
When set on default, FCC Speed Test consumes less than 100 MB of megabytes of data every month for automated testing. However, if there is any additional test you have done, it will also consume around 100 KB or kilobytes, which is for the packet loss test.
Is all my data safe with the FCC Speed Test?
Yes, all your data are secured and safe. The good thing about FCC Speed Test is they collect information about handset type and operating system method. Moreover, they also used privacy to measure the development by the FTC or Federal Trade Commission.
How can I disable running any background tests?
To disable the background tests on your devices, you need to go to the Test scheduler. Then, below the Settings, click the Allows periodic background test. However, you need to note that the program's success will depend on the background test to provide the public with complete information about the performance.
I want to see the specific result for my device. How can I do it using the FCC Speed Test?
To do that, click the Charts in the Menu. After that, you will see the daily summary of your test results separated from Download, Upload, Latency, and Packet Loss. Furthermore, you can see the list that summarizes your latest test results.
I want to do one test only using FCC Speed Test. Is that possible?
Yes. Just tap the ON/OFF button on the main Test Screen. Then, you will see a chance to choose a specific test that you desire—for example, the Latency, Jitter, or Packet Loss.
5. FCC Speed Test VS Google Fiber Speed Test
Google Fiber Speed Test offers a fast and reliable speed tester. In addition to this, it is convenient for every user because with just on tap, you can have an accurate result with your Internet connection. It can check your Internet connection up to 2000 MBPS. However, FCC Speed Test has much more features than Google Fiber Speed Test. In addition to this, it is not focused on speed testing but also different businesses.
Nonetheless, both are fast, reliable, convenient, and safe. We will have an article review about Google Fiber Speed Test. We hope to see you there again, soon!
Conclusion
We are now aware that the FCC Speed Test is free, fast, and safe to summarize everything. In addition to this, in this post review, we have learned the different types of functions of the FCC Speed Test. What else? We also compare FCC Speed Test and Google Fiber Speed Test, and we conclude that FCC Speed Test has many features to offer. Also, we hope that the questions and answers we provide are helpful to you. Till our next article, thank you for reading!
Did you find this helpful?
355 Votes
YES

Thanks for letting us know!
No

Thanks for letting us know!