Fast.com Review: A Internet Speed Tester Powered By Netflix
We are all familiar with Netflix, right? However, are you aware that Netflix powers Fast.com? This article review will show you the features and what Fast.com can do for you. To give you a background, Netflix is curious about how fast your Internet connection is, and they launched a new website, Fast.com. This speed tester will obtain more ideas about your Internet connection. Moreover, the goal of Fast.com is to assist you and find out why there is a problem with your Internet connection, especially with your Netflix connection. So, for that reason, let us learn more below while reading it.

1. Our Verdict
Pros

It has a clean interface.
It is easy to use.
It has an accurate result.
It is an excellent broadband test.
Netflix owns it.
Cons

It lacks many features.
Overall Ratings
Interface:9.0
Speed:8.5
Features:8.5
2. What is Fast.com
Price: Free
Platform: Browser, Windows, Mac, iOS, and Android
Main Features
One of the disadvantages of Fast.com is its lack of features and functions. Moreover, it is limited to use. But, we provide you with some of the features that we discover in Fast.com.
◆ Legit wifi speed analyzer.
◆ Intuitive interface.
◆ Test wifi speed.
◆ Wifi latency.
3. Fast.com Review
Interface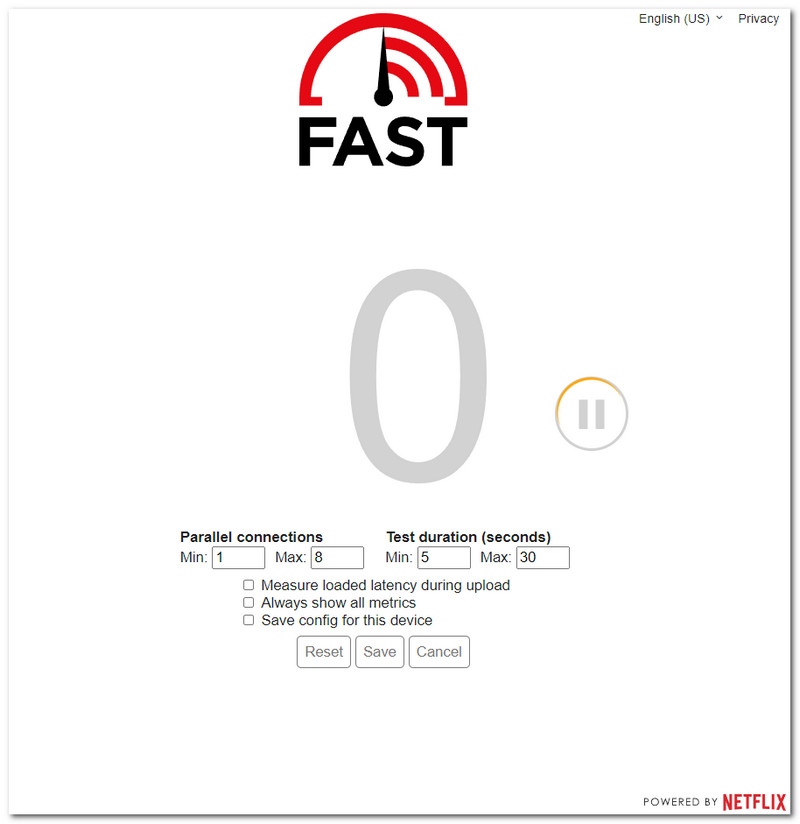 Fast.com has a clean interface, and it is easy to use. You can see the process, and it will show you if your internet connection is slow or doing great. In addition to this, you can conduct more info to see the whole Latency. Moreover, it provides numerous languages and feels free to select the language you want. Also, you can see that it is powered by Netflix below the right part of the interface.
Speed of Testing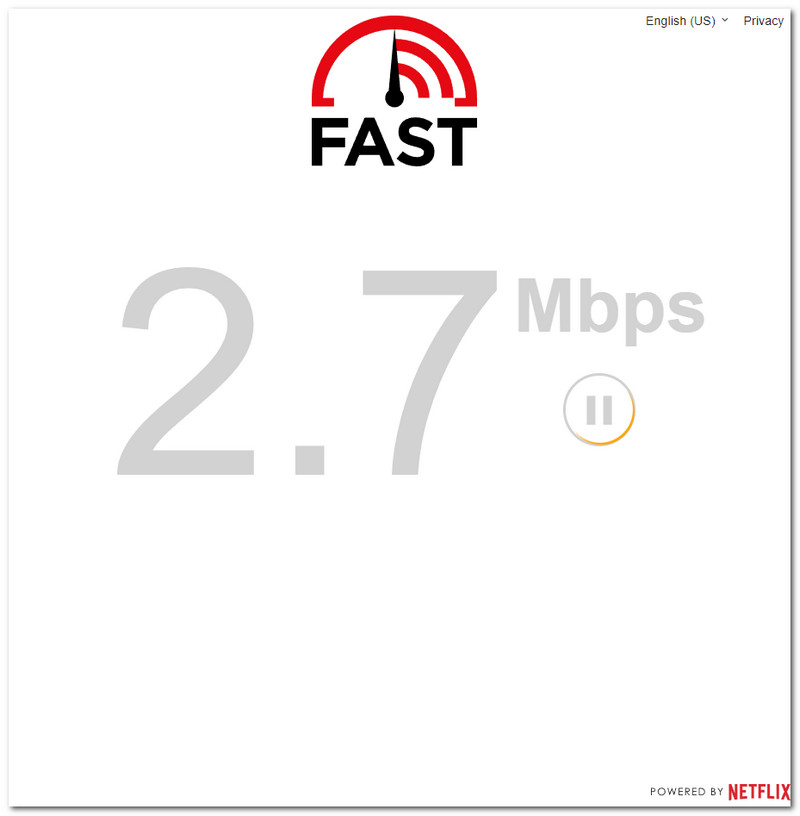 We desire to have an accurate result most especially when testing our internet speed. With that, in this article, we will tackle the reliability of Fast.com. While starting the testing process, you will see the running result from 0Kbps to the Mbps that your internet does have. Moreover, you can check your internet speed again by tapping the restart button.
Result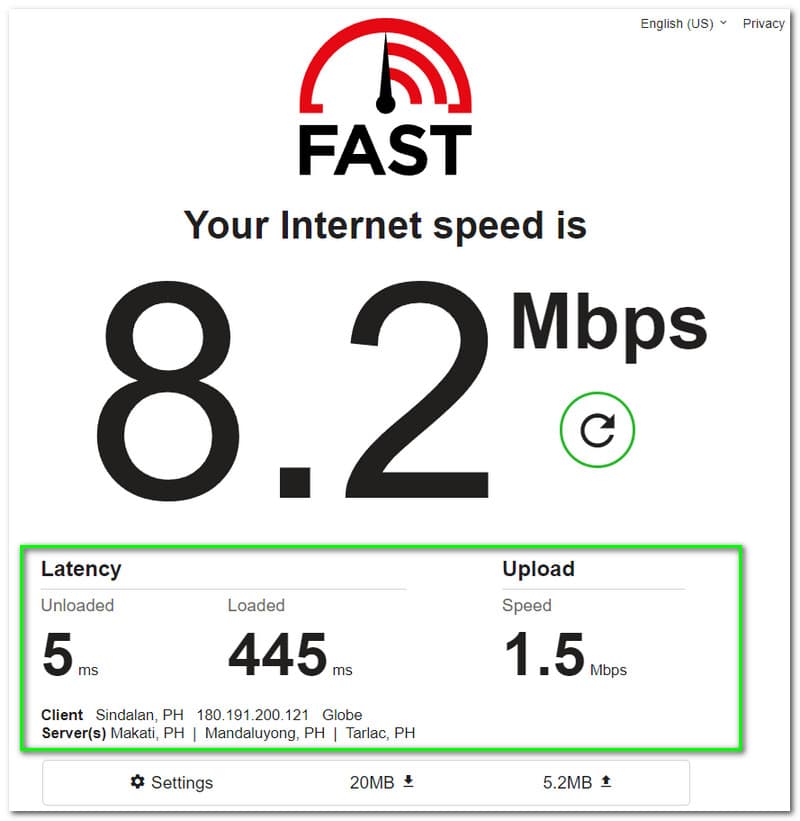 The process of testing your internet speed connection is just average. It is not as fast as you expect. Furthermore, after Fast.com shows you the result, you can click the Show More to obtain more ideas about your internet connection. To elaborate more to you, you can see the Unloaded and Loaded when it comes to the Latency. In addition to this, you will get to know the Upload Speed. Another information below is the Client, where you can see the location and the Serves available near you.
Settings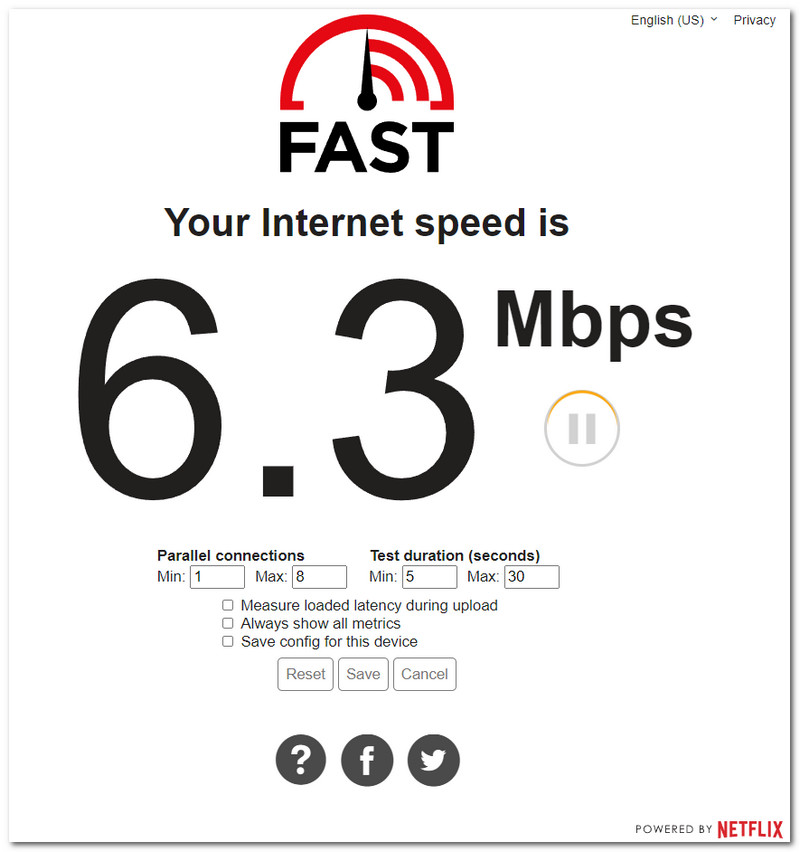 Going to the Settings, you can change the Parallel Connections to a minimum of 1 and the maximum of 64. Moreover, you can also adjust the Test Duration from a minimum of 1 to a maximum of 300. Furthermore, you do many things, such as enabling the measure loaded latency during upload. You can always show all the metrics, allowing you to save the configuration for this device. What more? You can reset everything by clicking the Reset. However, you can Save if you are satisfied. Or cancel if you are not happy.
Extra Information
Again, Fast.com is powered by Netflix. It is free to use, and this speed tester aims to measure how fast your Internet download is. In addition to this, you will get to know if your Internet service provider is doing great. But here is the question, why is Netflix unveiling Fast.com where there are a lot of speed testers that are also convenient and reliable? Well, Netflix has the answer for that. Netflix ultimately believes that advertising is contrary to its brand because Netflix wants its members to have fast and straightforward speed testing.
What is the Use of Fast.com?
Fast.com measures the download and upload speed. However, it can't measure everything happening to your Internet connection and other metrics such as jitter, unlike the Speedtest Net by Ookla. Fast.com is a simple Internet speed tester and cannot cover everything like other speed testers over the Web. Moreover, it works on every device, and your device must have a web browser, of course. To add, not just in your device but also in your laptop, computers, desktop, smartphones, and smart TV. The good thing about Fast.com is anyone can use this Internet speed test whether you are a subscriber of Netflix or even not. It is such a good deal, right? To know more, you can also calculate the speed of your Internet. Fast.com executes a sequence of downloads with Netflix services.
Safety
When it comes to the safeness of Fast.com, you can confirm that with the security of Netflix. Fast.com and Netflix protect your personal information in every loss, theft, and even unauthorized access. Fast.com assures your 100% security upon using their speed tester.
What is Best For Fast.com?
Fast.com is best for those looking for a speed tester, especially Netflix users and subscribers. Furthermore, it is also compatible with your internet connection, especially if you have no idea what is happening in your Internet network.
4. FAQ
Is Fast.com a good speed test?
Yes, it is. However, it lacks many features that you might need in the future. That is why we recommend you to try another speed tester because Fast.com is slower than the speed test. To add, Fast.com focuses on checking on how fast your Internet connection is.
Is Fast.com accurate?
According to my experience, yes. Fast.com allows you to give a result that is accurate and reliable. Moreover, since Netflix powers it, it has Netflix servers that you can use to check your Internet connection speed. To give you more information, Fast.com works not just in one way but two ways. It works on the browser and through its app.
Is Fast.com legit?
Yes, Fast.com is legit, and it is usable. According to the Web, Fast.com has a customer rating of 2.75 stars. This means some of the consumers are not satisfied with the service of Fast.com. However, it is legit.
5. Fast.com VS. Cloudflare Speed Test
As much as we want to focus on Fast.com but if we compare it to Cloudflare Speed Test, Fast.com will lose. Why? Let me elaborate some for you. We cannot deny that Fast.com is an easy-to-use and straightforward speed tester. However, it lacks many features, which have been mentioned in this article many times.
Conclusion
To end this post review, we are finally done introducing to you Fast.com. In addition to this, we also tackle how fast it can check your Internet and explain what you will see in the result. We also told you about Fast.com settings. Moreover, we hope you appreciate our thoughts about Fast.com and Cloudflare Speed Test. Overall, you still have the decision to decide which one you like to use. To end, you can visit Fast.com or give it a try. See you in the following article!
Did you find this helpful?
364 Votes
YES

Thanks for letting us know!
No

Thanks for letting us know!