How to Find Network Security Key: Methods and Definition of Network Security Key
As much as we want to protect our house and car keys, we also must protect our network security key. These days, there are many hackers that have different intentions when invading a network. For that reason, in this post, we will do our best to give you an idea of how to find your network security key and what we need to do to protect our network key. Moreover, let us make time to read this article post to become more familiar with it. Let us read now.

Part 1: What is a Network Security Key?
A network security key is another term for a password that unlatches your Wi-Fi or Hotspot. It can be a digital signature, or it may be a biometric data password. They use Network Security Key to give authorization and attainability to the wireless network and device the user requests to connect with.
Network Security Key is to secure your connection between the user and the serving network and even wireless devices such as a router and more. The main reason is to protect your network and devices from unwelcome access.
In addition to this, Network Security Key has different kinds, and they are used everywhere, especially in our daily lives. For example, money transactions, online banking, online shopping, entering the Internet service, or any network devices need a Network Security Key. Furthermore, see below the various types of the network security key:
◆ Wi-Fi Protected Access (WPA) is a key, and it uses integrity checks to help you maintain security.
◆ Wi-Fi Protected Access 2 (WPA2) is more secure than Wi-Fi Protected Access. Why? It is a key and uses advanced encryption standards and enterprise authentication servers.
◆ Wired Equivalent Privacy (WEP) is the most broadly used key. It provides the slightest encryption and security.
What is a Network Security Key for Hotspot?
A network security key for the hotspot is for mobile devices alone. Allow us to give you an example scenario about a network security key for a hotspot. For example, there is no available Wi-Fi connection in your location. Then, you have a friend that has a mobile data connection. With that, you can connect with your friend through mobile data using the hotspot. You can ask your friend what the network security key of their hotspot is, and then after you receive the password, you can now share from their mobile data and big thanks to the hotspot. So, that is how the network security key for the hotspot works.
What is a Network Key for Wi-Fi?
A network key for Wi-Fi is a password or a code needed to access a local area network. It is used to join a personal Wi-F- network. Moreover, it allows users to have a secure connection and avoid unauthorized network access.
Part 2: How to Find a Network Security Key?
You can easily find your network security key by going to your router straightaway. In these steps, we will find the Xfinity Network Security Key. To obtain an idea about it, see the steps below:
1.
Access your home router. Then, log in as an administrator.
2.
After that, it will show you your network SSID and the network security key on the main interface.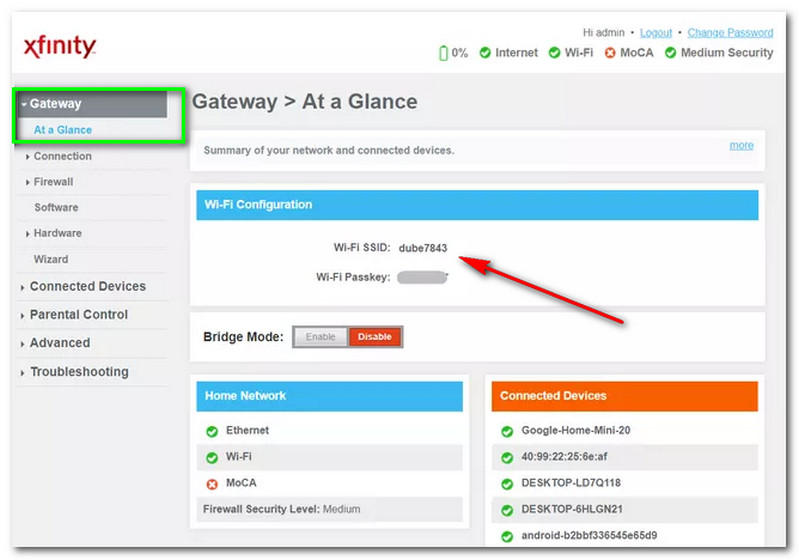 3.
Suppose it is not displayed on the main interface. You may find the Wi-Fi password by going to the Gateway, selecting the connection, and clicking the Wi-Fi, and after that, using the Wi-Fi settings screen will show you the network security key.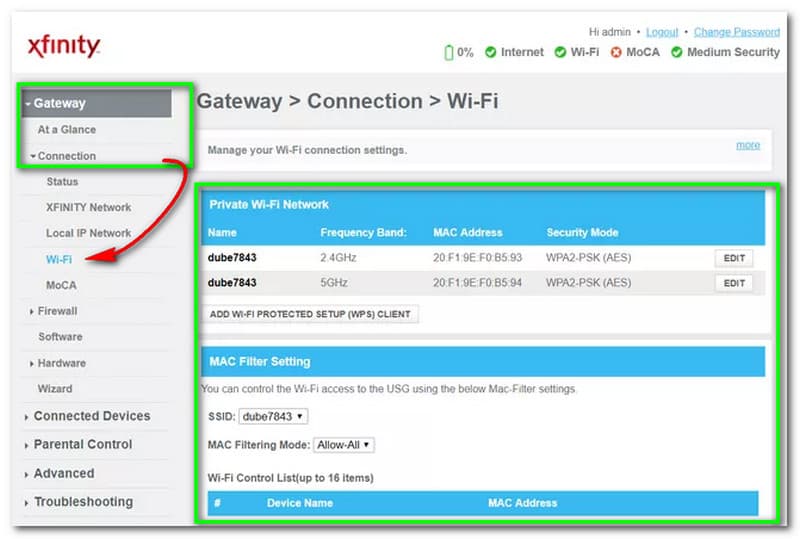 And that's it! The router has excellent help to have the fastest and effortless way to find the code, password, or encryption key.
Part 3: Is the Network Security Key the Same as the Password?
The question above is one of the most common questions users or readers ask. I also wonder if the network security key and password are the same. So, if you are also wondering about the two, let us discuss this in this article review.
The network security key is commonly used with switches, routers, and even modems, and every network SSID has rare and various types of security names such as WPA key, WPA2 key, and WEP key. In addition to this, just like for Windows, the network security key is a password in line with the network name so you can access the wireless network. Furthermore, the key is to have a unique combination of numbers and alphabet characters; an uppercase letter will also help.
On the other hand, upon accessing the Internet services from our mobile device, the network security key will be shown as the password upon activating the services. Therefore, both are just the same. However, with different terminologies yet it is all about securing your accounts.
Part 4: Tips of Keeping your Network Security Key Safe
Network security keys are essential because it keeps your accounts, network, and application secure. Moreover, we will provide you with tips to keep your network security safe. Please see them below:
Tip 1: Your network security key must have twelve characters or longer.
Tip 2: Your network security key must have an uppercase.
Tip 3: Your network security must have mixed numbers, symbols, and letters.
Tip 4: You must not use common substitutions such as zero for the letter O or a dollar symbol for the letter S.
Tip 5: You must not use easy keyboard paths like qwerty, asdfghjkl, and even abcdefgf or abc12345.
We greatly recommend you create a strong password. One technique for creating a strong password is making the sentence a password. To show you an example, MyFavoriteFoodIsChocolate, or MyDreamIsToHaveACar. Both passwords that are mentioned are strong. Take note, do not forget to add the tips mentioned above.
Part 5: FAQs
Why is Wi-Fi asking for a network security key?
Because it is a password, you need to connect to a wireless network.
What network security keys protect?
Network security keys protect your network safe from hackers. If you do not have a strong password, there is a tendency that your network will be hacked. Additionally, it protects users' identities and information.
How to optimize my network security key?
As mentioned above, you need to keep your network security key strong. You need to take care of your network security key, just like how you care for your house and car keys. Moreover, you can depend on companies that provide IT services.
Conclusion
To complete this post, we obtain an idea of the network security key. Also, we are now aware that network security keys and passwords are just the same; it is just that both have different terminologies. Furthermore, we also have an idea about a network security key for hotspots and Wi-Fi. We hope that you learn with the simple solution that we provide above, and we hope that the tips are helpful for you. To finish, we hope to see you again in our next article!
Did you find this helpful?
372 Votes
YES

Thanks for letting us know!
No

Thanks for letting us know!