Ookla Speedtest Net Review: The Way to Make Your Internet Connection Faster
Are you wondering about the situation of your internet connection? Do you want to know every part of its speed? Or are you aware of your IPS, whether it fulfills the rate they promised to you? One last question, do you want to know how fast your internet connection is? Well, to answer and to do all of that, you need to run an internet speed test, and in this article review, you will be familiar with Ookla Speedtest Net. Maybe you are aware. However, you do not know how to use it or how it functions. In this post, we will help you discover all of your questions, and we will try our best to answer all in this post. I know that you are excited to learn, so let us start reading now.

1. Our Verdict
Pros

It is easy to check the internet speed.
It calculates the nearest location automatically.
It has a graphical and appealing interface.
The results are accurate.
It is sharable using email and social media sites.
It lets you see the test statistics of the whole world.
Cons

Ads clutter on the screen.
The primary testing is located in North America and Europe.
It crashes sometimes.
Overall Ratings
Speed:9.0
Effectiveness:8.5
Interface:9.0
2. What is Speedtest Net?
Price: $38.92 a year
Platforms: Mac, Windows, iOS, Android
Main Features
When it comes to the quality and performance of the Internet worldwide, Speedtest Net by Ookla is perfect. Upon accessing your Web, you need first to connect with the ISP. Then, the work of the ISP will connect you to the Internet, Websites, and other services you are using. Moreover, Speedtest Net focuses on the connection of your Web and your ISP, which is the link.
The link serves as your basis for any potential of your Internet connection. With that, you can now speed test. Here are some of the features of Ookla Speedtest Net, please see below:
◆ Ookla 5G Map.
◆ Speedtest VPN.
3. Speedtest Net Review
Suppose that you want to check the speed of your internet connection, you can visit www.speedtest.net. Then, you can easily tap the GO button, and Speedtest Net will detect your downloads, uploads, and the status of your PING. After that, you can check the result history by clicking the Results beside the settings.
Result History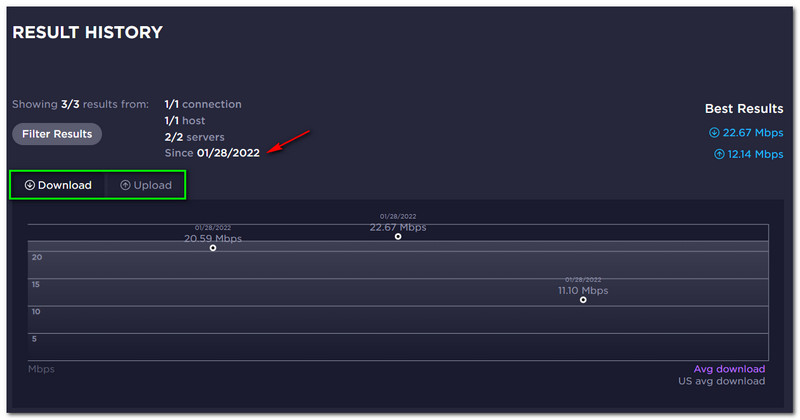 Speedtest Net lets you create an Account and enables you to customize your settings preferences and even manage your result history. It will show you the connection, host, and servers results. In addition to this, it provides you the date when was the last time you checked.
Individual Results

Speedtest Net app provides a table for your results by looking at the individual results. Included on the table are the dates and times. Next is the PING. It lets you keep track of your previous PING and your downloads and uploads. Also, you record the distance and the location or server. Moreover, you can also export the results by hitting the Export Results, and you will go directly to your Excel.
Speedtest Net For Android and iOS
You can ascertain how fast your internet is anywhere with the help of your Android or iOS. Let us know the differences between Windows and Mac in terms of features.
Feature Similarities of Windows and Mac
◆ Find out your download, upload, and PING.
◆ It provides real-time graphs that show the connection in terms of consistency.
◆ It lets you troubleshoot or identify the speed.
◆ It allows you to track the past tests providing detailed reports.
◆ It enables you to share your results quickly.
◆ Both have mobile carrier coverage maps.
◆ Both are available in 17 languages.
Features For Mac only
◆ It has measured jitter and packet loss.
◆ It can select a testing server anywhere in the whole world.
Ookla 5G Map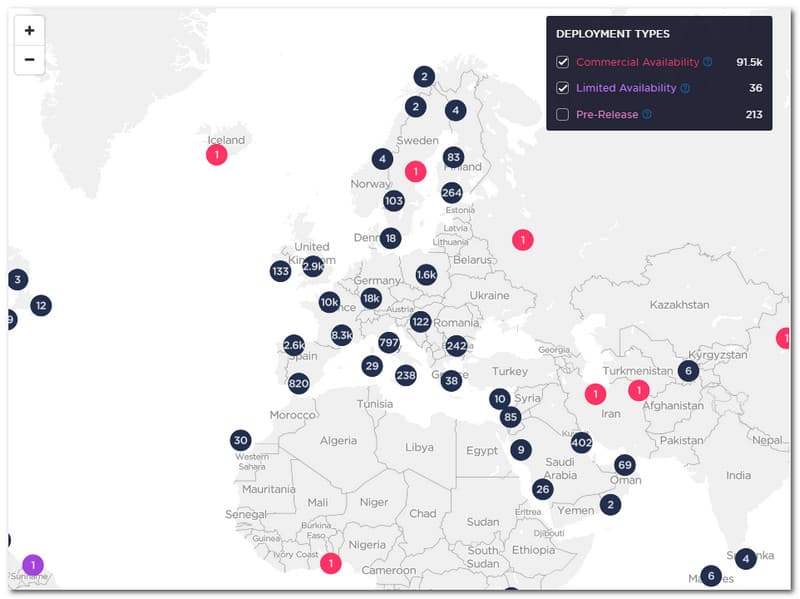 Ookla Speedtest Net provides a 5G Map that lets you track every deployment type and tracks 5G rollouts in every city all over the globe. The good thing about this is it is updated weekly from every verified public source provided by Ookla data. Moreover, it has three different deployment types:
1. The Commercial Availability, where the 5G network is present, can be purchased and used by the consumers.
2. The Limited Availability means that the 5G network is current. However, the devices are limited to select consumers.
3. The Pre-Release, where the 5G network is already placed, is still testing and unavailable to the consumers.
Speedtest Net Settings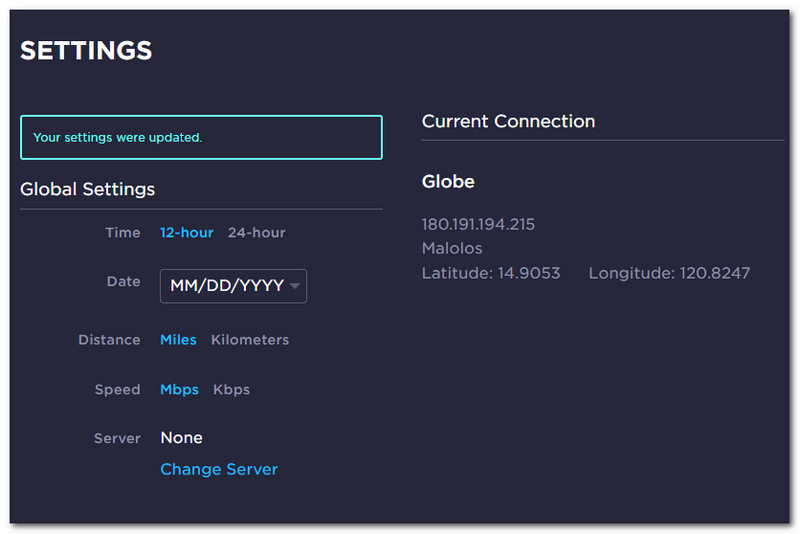 You have an option to change the Speedtest Net Settings. You can set the Time from 12-hour to 24-hour. In addition to this, you can select the Date starting from its month, date, and year. Also, you can change the Distance into Miles and Kilometers. As well as the Speed from Kbps to Mbps. It will depend on what you want. Moreover, you can change your server. To do that, click the change server and select the server close to you.
4. FAQ of Speedtest Net
Is Speedtest Net safe?
Yes. Speedtest Net is safe to use since they care about every user's information. In addition to this, they collect your personal information. However, they ensure you secure them all.
How reliable is Speedtest Net?
Speedtest Net is reliable because you can trust this app. It is also consistent with every test experience with every device.
How accurate is Speedtest Net?
This app enables you to ensure the accuracy of the network performance that is not sullied with external factors. Ookla Speedtest Net has a broad step to guarantee you its accuracy and consistency. Moreover, it is a very accurate way to measure your internet performance.
5. Speedtest Net VS Fast Com
Netflix powers fast Com, and it is an internet speed test. Moreover, it is simple to use, and it can show your internet speed in just a second. You can change its parallel connection as well as the test duration. Plus, you can save the result of your internet speed. However, Speedtest is much better than Fast Com since it is a speed test worldwide since Fast Com lacks advanced settings and metrics that you will need to check your internet connection speed. In this article review, we are now aware that Speedtest Net is by Ookla, and it is one of the excellent speed tests that anyone can use. Also, the best thing about Ookla Speedtest Net is that it has a strong reputation and is consistent and considered one of the first speed tests over the Internet.
Therefore, it is more popular than Fast Com. To add, Ookla Speedtest Net is consistent in adding new capabilities and features with so many years. They aim to make users happy with the result for every use. Overall, it is still your choice to choose what speed tester is the most suitable for you, especially in your place. Try them both to see the difference.
Conclusion
To sum it all up, we have shown you the pros and cons that you will get on Speedtest Net by Ookla. In addition to this, we provide you with its main features inside this article review. Moreover, we also show you the comparison of Speedtest Net for Windows and Mac and on Android and iOS. In addition to this, we hope that the information we provide about Ookla 5G map helps you with what you need. Plus, we offered you some questions and answers about Speedtest Net and a little comparison of Speedtest Net and Fast Com. To end, we hope that we meet your needs in this article review. Till our next article, see you!
Did you find this helpful?
398 Votes
YES

Thanks for letting us know!
No

Thanks for letting us know!