Xfinity Speed Test Review: The Great Speed Testing Tool to Check Your Internet
Having a poor Internet connection is very stressful, and your work is affected. On the other hand, the education business is also impacted when you have a poor bond, and the problem is you do not know what the problem is. For this reason, we guarantee you that this article review will help you with a problem you have. We will present to you the Xfinity Speed Test, and it is entirely free to use. To inform you a little bit, Xfinity Speed Test is provided with Comcast Internet Speed Test.
Moreover, it can also help you see how much bandwidth is available to your internet at the moment. That is why we provide an article review that might help you. So, let us read now.

1. Our Verdict
Pros

It is a reliable and speedy testing tool.
It has a modern graphics presentation.
It has a straightforward interface.
Cons

It crashes sometimes.
It has varying results.
It can slowly detect the latency and upload speed.
You need to sign up before using the Troubleshooting tool.
Overall Ratings
Speed:8.5
Safeness:9.0
Accuracy:8.5
2. What is the Xfinity Speed Test?
Price: Free
Platform: Mobile Devices, Windows, Mac
Main Features
Xfinity Speed Test is like other tools that provide Internet access and speed testing. Xfinity Speed Test tool aims to offer the user Internet access. However, it also provides the users with a speed testing tool to update what is happening with their Internet connection. Furthermore, discover the Xfinity Speed Test below:
◆ It offers Internet access.
◆ Upload speed.
◆ Download speed.
◆ Latency.
◆ Troubleshooting Tool.
3. Xfinity Speed Test Review
Interface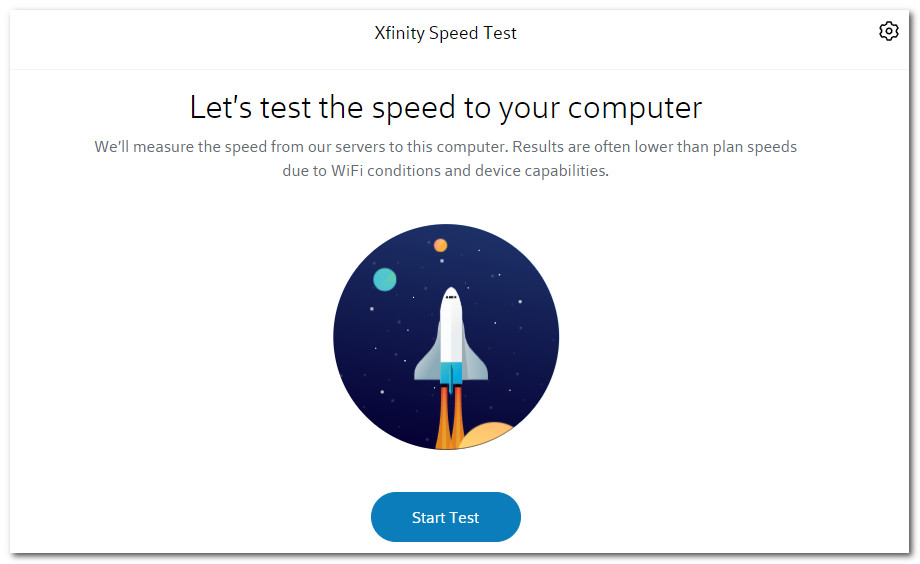 Xfinity Speed Test is one of the simple interfaces of speed testing I have seen so far. Why? Take a look at the screenshot that is provided in this article. It has a circle animated with a galaxy theme and Jet in the middle. Below that, you can see the Start Test, and you will proceed to check your Internet Speed. On the right upper side, you will notice the Advance Settings. Upon clicking that, you can change the Host. What does it mean? The Host signifies the location. Then, you can also change the Protocol. It has two options, IPv4 and IPv6. Then, proceed into testing your tool.
While testing your Internet connection, it will remind you that your distance in your router may cause inaccurate results. That is why you need to get near your router.
Xfinity Speed Test Results

As you can see in the screenshot that we provided, the details that Xfinity Speed Test shows you are the Download speed, Upload speed, Latency, Protocol, and Host. You will notice that the Download speed that we have got using Xfinity Speed Test is 15.1 Mbps. Moreover, the Upload speed we got is 224 Ms. In addition to you, you will also notice that the Protocol is IPv4. Again, you can change it to IPv6 if that is the need of your computer. Lastly, the Host is Pittsburgh, PA. Below, you can click the Help Me Improve, and you will learn some tips from Xfinity Speed Test.
Tips From Xfinity Speed Test
Xfinity Speed Test does not want to check your Internet connection without further information. That is why they provide the user with a simple tip before testing your Internet connection speed. If you are interested, let us proceed on taking a look at every information below:
Move closer to your Gateway
Just like the reminder while waiting for the results. Again, the distance may result from inaccuracy. The effortless way to improve Xfinity Speed Test performance, make sure you are near your router by moving the device you are using beside it.
Clear the way
What does this mean? It is easy. Just place your router off the floor. In addition to this, you need to prevent unnecessary noise from cabinets, drawers, and closets. While having an open space, you allow your Wi-Fi signal to travel and widen to have better coverage.
Avoid interference
Again, avoid loud noise. Place your router away from significant household types of equipment and electronic equipment that may cause blocking of your Wi-Fi signal and limit coverage.
Restart your getaway manually
To do it, you need to unplug the power cable. Then, please wait for a while and put it back in the plugin. For that reason, you won't be able to use the network. Suppose that you have Xfinity Voice. You cannot also receive and make calls, along with 911 emergency calls. All you have to do is wait until your Gateway is back online.
Relocate your Gateway
Relocating will help your Wi-Fi expand out from your Gateway in every direction. However, you need to ensure that you are using the best centrally-located cable to maximize your coverage.
Xfinity Speed Test Troubleshooting Tool
Xfinity Speed Test offers another feature, and that is the troubleshooting tool. These features will benefit you after trying all of Xfinity Speed Test Wi-Fi tips. You can check if your home's Wi-Fi connection is one of the reasons that causes the issue. To know the problem, try the Xfinity Troubleshooting tool, and it allows you to scan the system and check off the possible service problems. However, to use it, you need to sign up first with your email or phone numbers.
What is Best for the Xfinity Speed Test?
Xfinity Speed Test is best for the consumers of Xfinity Internet plans. Why? Because it will get more accurate results. Additionally, it is also best for testing your Internet speed. What's more? Xfinity Speed Test is best for people looking for a speed test tool with a simple and not exaggerating interface. Overall, it is for everyone who uses a speed testing tool.
4. How Do I Test my Xfinity Internet Speed?
To test your Internet or Wi-Fi speed, you just need top open this site (https://speedtest.xfinity.com/), then click the Start button, then it can show the texting result, where you can see your download speed, upload speed, latency, protocol and host information.
5. FAQ
Is Xfinity Speed Test reliable?
Yes, it is. In addition to this, it is a well-known speed test over the Internet that can test your Internet speed. Therefore, it is reliable, and you can rely on this tool since it is a good speed testing tool.
Where is Xfinity available?
Xfinity Speed Test is available in over 40 states across the United States, with Maryland Massachusetts having the most zip codes served by Xfinity Internet.
Is Xfinity Speed Test accurate?
Xfinity Speed Test is not accurate as of the other speed testing tool. Moreover, if you use their Internet access and follow every helpful tip above this article, it would help have an accurate result.
6. Xfinity Speed Test VS Test My Net
Xfinity Speed Test and Test My Net are both speed testing tools. However, the question is, which is better? Test My Net is better than Xfinity Speed Test with an honest review. Why? Because Test My Net focuses on testing your Internet connection while Xfinity Speed Test concentrates on their Internet plans and the Xfinity Internet Speed Test is just additional features for their users. Therefore, Test My Net can give you the best results on testing your Internet connection. Furthermore, we will provide a review about Test My Net soon. We will expect you there!
Conclusion
To summarize, what do you think about the Xfinity Speed Test? We hope you obtain an idea because we presented its advantages and disadvantages. Moreover, we also provide a helpful tip to have a better result. In addition to this, we discuss a piece of brief information about Test My Net. Overall, both speed testing tools are good. With that, we also want to read your feedback, and we will wait for your thumbs up! See you again with our following article!
Did you find this helpful?
338 Votes
YES

Thanks for letting us know!
No

Thanks for letting us know!