NetSpot Review: A Wi-Fi Analyzer and Troubleshooting for Mac and Windows
Do you agree that Wi-Fi is essential for us, especially when we are using it on our phones, computers, tablets, and other devices? For this reason, it is needed to have a dependent and robust WiFi signal, so you transfer all your data. There is no problem if you are in a one-room wireless router. However, what about across the office? Do you wonder if you will still have a connection? If you think you don't, we have a solution for that. There is an app called NetSpot. It offers you many features, including network sites survey and troubleshooting. Moreover, it is simple to use, especially if you are techy. So much with that, let us read more in this article review.

1. Our Verdict
Pros

It is a well-known WiFi analyzer.
It is strauighforward to use and easy to go.
It provides WiFi heatmaps.
It is cross-platform.
It gives smart places.
Cons

It has a professional native solution for Mac only.
It has limited features in the free version.
The mapping feature is complicated for beginner users.
Overall Ratings
Reliability:9.0
Features:9.5
Troubleshooting:9.0
2. What is NetSpot?
Price: Starts at $49.00
Platform: Mac and Windows
Main Features
NetSpot app is a well-known WiFi analyzer. You can also use this app for troubleshooting and finding the right place for your WiFi. Moreover, this application is not free to use, and you need to pay for it. However, it is worth buying because it provides you with many features that you can't imagine. In addition to this, every version of NetSpot adds additional features. In this part, allow us to share with you their features one after another.
◆It collects live WiFi Data.
◆It enables you to see channel info, transmit rate, vendor, etc.
◆It provides real-time charts.
◆It has Augments Surveys where you can locate WiFi issues.
◆It has 2.4 and 5GHz Bands.
◆It provides Compare APS that helps you analyze all WiFi networks.
◆It enables you to save historical data using CSV export.
◆You can find the needed network fast using Network Search.
3. NetSpot Review
Analyzing WiFi Coverage
Users can easily use NetSpot app since it is compatible with Windows and Mac. Analyzing WiFi coverage is effortless using NetSpot. With just a few clicks, you can set your office plan and start a network site survey whenever you are. To begin analyzing, spot your area on the map, and NetSpot will do the rest for you, like measuring the wireless signal immediately. In addition to this, no matter how wide your area is, NetSpot can gather WiFi data with that broad area.
Visualizing Wireless Network
Around here, using the NetSpot can measure your WiFi signal strength. This app is efficient in a situation like this. I know that you are familiar that without a WiFi signal, you cannot use its efficiently. Therefore, using Netspot will help you visualize every wireless network. Moreover, NetSpot will improve your WiFi signal strength. However, there are some reminders that NetSpot wants you to do. The first is optimizing the placement of your router. Next, eradicate sources that can interfere with the signal. Plus, it would help if you found an appropriate WiFi channel. Also, it would help if you secured your WiFi network. Following that, update and restart your router. With all of that, with the help of NetSpot WiFi map, you will determine all the blind spots.
Wireless Network Planning
To plan a wireless network, you must first monitor your WiFi signal and map WiFi coverage, and Netspot will help you with that. It will monitor a wireless network of any size, WLAN network, and more. With that, you can freely load a map, gather wireless site survey data, and enables you to build a whole heatmap of your network.
Troubleshoot Wireless Networks
One of the aims of NetSpot is to troubleshoot wireless networks. This app will help you with ongoing WiFi troubleshooting. It also troubleshoots WiFi routers, WiFi on Mac, WiFi connection, and WiFi sync. In addition to this, it has troubleshooting visualizations that can recognize connectivity and wireless interference issues. Moreover, it can also detect undue noise and more.
Discover Mode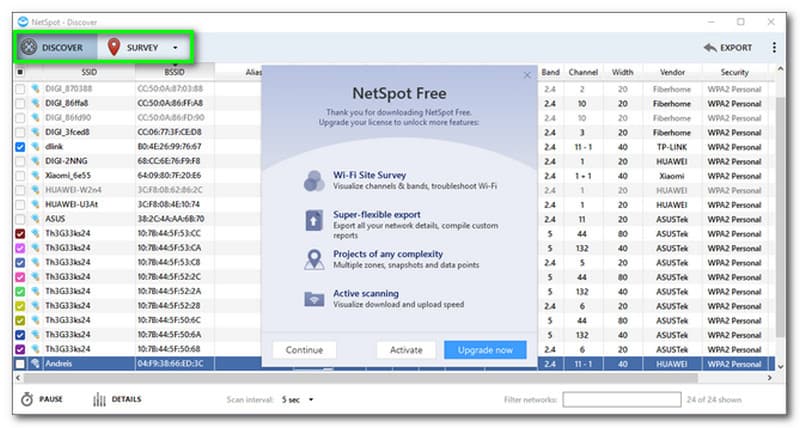 NetSpot is very sensitive to its surroundings in this mode, especially with WiFi networks. Moreover, it enables you to troubleshoot and ameliorate your network's capacity, performance, interference, noise, and more. Again, it provides live data, AP details, Real-time Charts, Augments Surveys, Compare APs, etc.
WiFi Surveys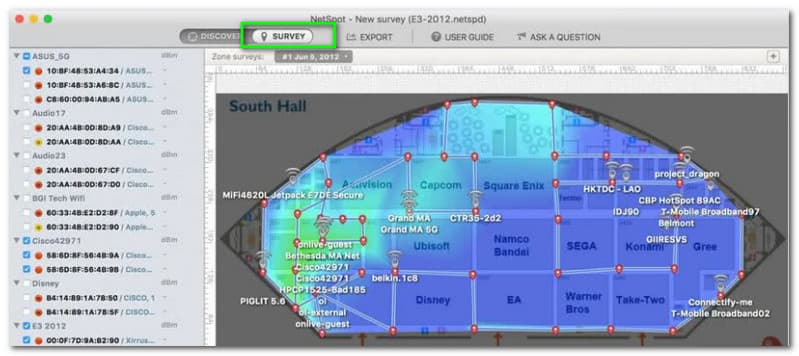 WiFi surveys include heatmaps, create an outline for your data map, and provide flexible, professional reports. In this part, we will tackle each area that WiFi Surveys have. Please see below to learn more:
◆ Multi-level Projects - enable you to create numerous zones to portray various regions, levels, floors, etc.
◆ Zone Variations - it lets you create different snapshots to compare WiFi configurations.
◆ WiFi troubleshooting - these are automated troubleshooting heatmaps.
◆ Hybrid Surveys - continuous surveys, either active or passive surveys.
◆ Data Export - it lets you export your project survey.
NetSpot For Android
NetSpot is compatible with Mac and Windows, but it also has Android. You can use your phone or tablet. With this, you can detect WiFi networks, discover problems, and find solutions. What's more? If you need an Internet speed test, NetSpot for Android can do that for you. It can test your Internet Speed with accurate results. However, to do that, you need to download speed. Furthermore, it can also identify WiFi issues such as finding the signal outflows, solutions for a WiFi channel overlap conflict, and more.
What is Best for You Using NetSpot?
NetSpot wifi analyzer is the perfect fit for IT professionals. Why? They can use NetSpot since NetSpot is compatible with techy people. IT professionals can communicate with the Engineers in terms of the plan. In addition to this, NetSpot is best for wireless service providers, hardware vendors, consultants, and WiFi deployment agents. Moreover, it is also best for a simple person who wants to troubleshoot their WiFi at home. Plus those home users who have an issue with their access points and furthermore.
4. FAQs of NetSpot ReviewIs NetSpot legit?
Is NetSpot legit?
Yes. NetSpot is 100% legit. Suppose that you are Mac or Windows user, you can use this app. In addition to this, you can visit their official website and obtain an idea from their main page.
Is NetSpot safe?
Yes, NetSpot is entirely safe to use for every user. Upon scanning it, they did not find any malware or spyware. The good thing about NetSpot is it does not require any unneeded permission with any hardware, and it only uses WiFi and network permission to scan and manage the WiFi issues you have.
Is NetSpot Free?
NetSpot has a free edition or version that you can use, and it is advantageous to home users. However, it has limitations that restrict you from creating visual maps and more. Nonetheless, if you purchase NetSpot, you will have full access to many features. It has NetSpot Home, NetSpot Pro, NetSpot Enterprise, NetSpot for Android and iOS.
5. NetSpot VS SpeedTest Net
SpeedTest Net is a Speedtest that is compatible with Windows and Mac. It has a version for iOS and Android. Moreover, it is suitable for speeding tests directly from your Mac and Windows. Also, you can download speed, upload speed, and more. SpeedTest aims to make every Internet connection faster by equipping data.
On the other hand, NetSpot offers you much more significance than that. NetSpot has a tool to map and identify your network strengths and weaknesses. You can start your network site survey. A simple thing to do is point the map, so you begin measuring the wireless signal immediately. In addition to this, it provides two ways to measure your WiFi signal, the Discover and the Survey.
Moreover, this app is a great way to search signals in every area, especially in a wide area like a company office. Also, it is perfect to use when you are troubleshooting your WiFi signal and knowing the problem right away! So, if you want to try NetSpot, you may do so. You can also try their Android and iOS versions.
Conclusion
To conclude everything, NetSpot is a great app to use! This article review has learned that NetSpot offers numerous essential Wi-Fi signals and even additional features. We also have an idea that NetSpot is worth buying for. We hope you learned its pros and cons. We provide some questions and answers. See you again in our next article!
Did you find this helpful?
368 Votes
YES

Thanks for letting us know!
No

Thanks for letting us know!