Reviewing Google Bard: Key Features, Fixing Errors, and Comparison with ChatGPT
For the last three decades, when we surfed the web or used a search engine, we typed in bits of information and received static results. A fairly consistent input-output relationship has grown increasingly complex as powerful artificial intelligence, data monetization, and schemes have entered the conversation. The next phase of generative AI is already enabling a new paradigm: computer interactions that resemble human conversations.
However, they are not humanistic discussions. Chatbots are not concerned with the well-being of humans. When we employ generative AI technologies, we are conversing with language-learning machines produced by larger metaphorical machines. The responses we get from Google Bard are predictive responses built from data corpora indicative of online language. These chatbots are highly engaging, intelligent, creative, and sometimes entertaining. In this Google Bard review post, let's dig deep into this Ai Chat tool.

1. What is Google Bard?
Google's experimental conversational AI chat service online, Bard. It is intended to function similarly to ChatGPT, with the main distinction being that Google's service will obtain its data from the internet. Sundar Pichai, CEO of Google and Alphabet, announced Bard on February 6 in a statement. Even though Bard was a brand-new concept at its unveiling, the AI chat service is powered by Google's Language Model for Dialogue Applications (LaMDA), introduced two years ago.
LaMDA is based on Transformer, Google's neural network architecture that it designed and publicly released in 2017. According to Google, GPT-3, the language model on which ChatGPT operates, was also created on Transformer. According to the announcement, the initial version of Bard will employ a lightweight model version of LaMDA because it takes less computer power and can be scaled to many people. In addition to LaMDA, Bard will use all available web information to deliver responses. Pichai stated that utilizing the web will deliver fresh, high-quality responses.
The usage of LaMDA stands in stark contrast to the majority of AI chatbots now in use, notably ChatGPT and Bing Chat, which employ an LLM in the GPT series.
2. How to Use Google Bard AI
1.
To begin, launch Chrome and navigate to the Bard website. You are not required to utilize Chrome. You can also interact with Bard via a mobile device like Android or iPhone.When you open Google Bard, you will realize it is not your regular search experience.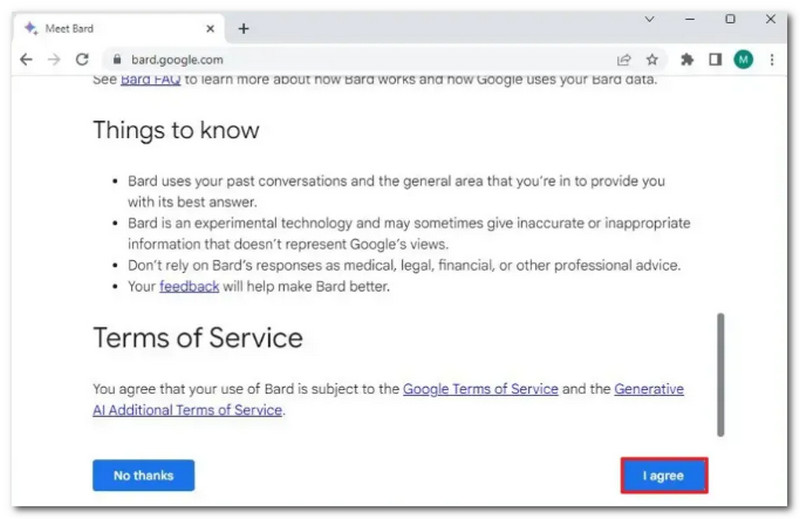 2.
Second, in the Enter a prompt here box, type a question as you would normally ask another person and click the Submit button (or press Enter). You may ask the chatbot almost anything and even submit a query from the PC using voice.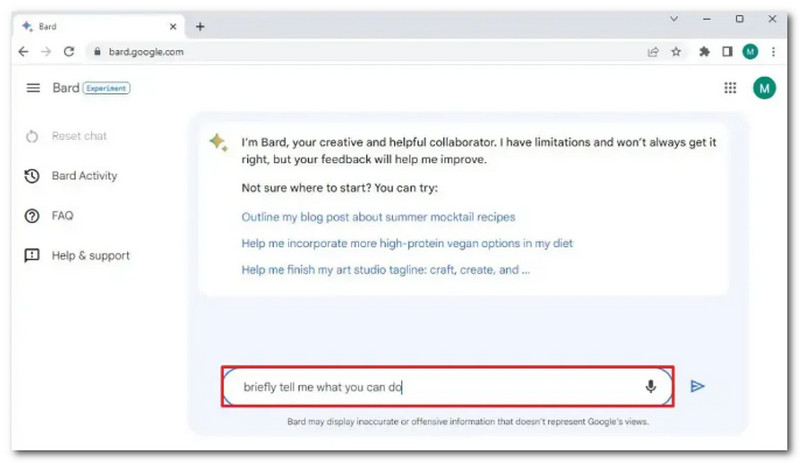 3.
When you submit a query, you will not see the chatbot analyzing the material or producing the answer like you would on Bing. Instead, you'll see the Bard, the two sparkles emblem with a spinning motion, indicating that the chatbot is considering, followed by the result.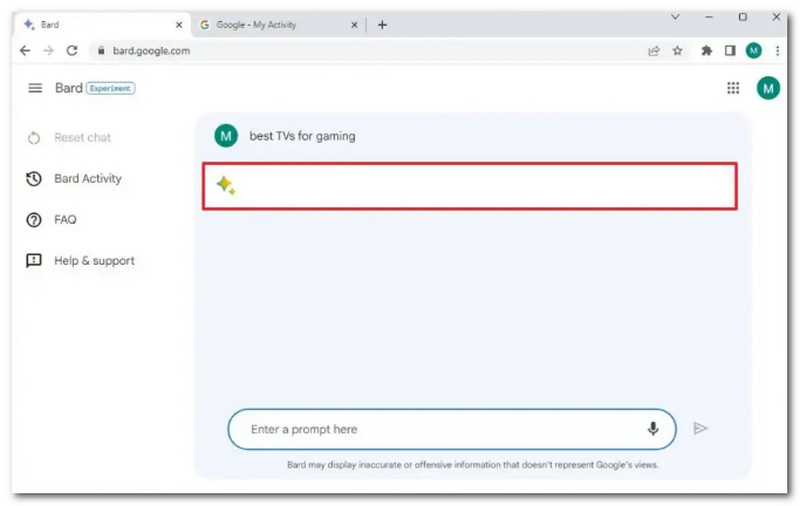 4.
Google Bard is also content-aware, which means the AI will remember your previous queries and allow you to ask follow-up questions without starting over.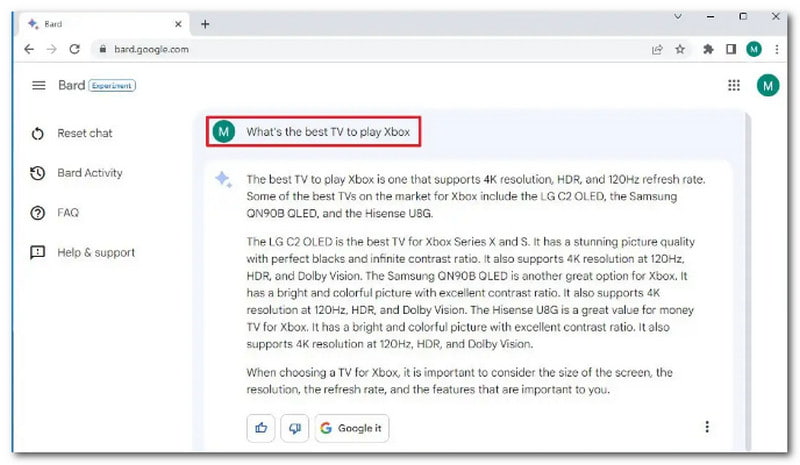 5.
To edit the question, click the Edit text button on the right side of the question. If you change the question, click the Update button to resubmit it, and the chatbot will respond again.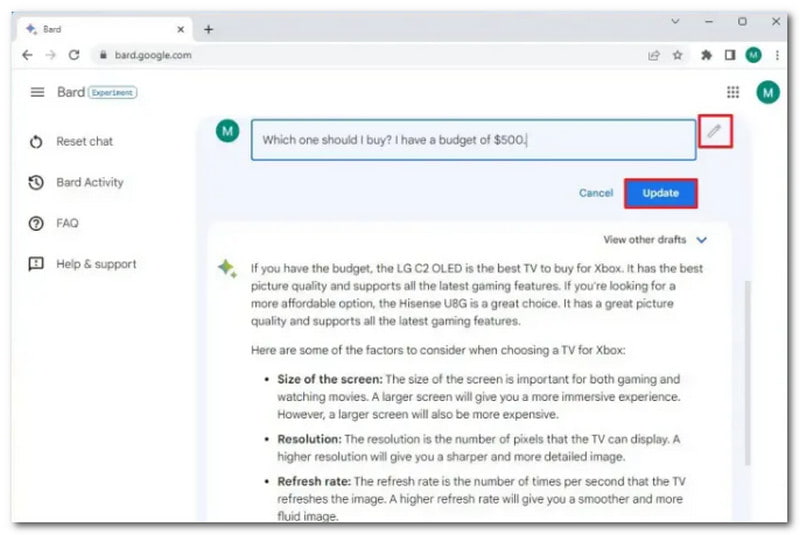 6.
You can rapidly switch between other response versions by opening the View Other Drafts drop-down in the answer. This function will be useful if you ask a question that displays a paragraph of text, and you can view the answer in bullet points from the drafts.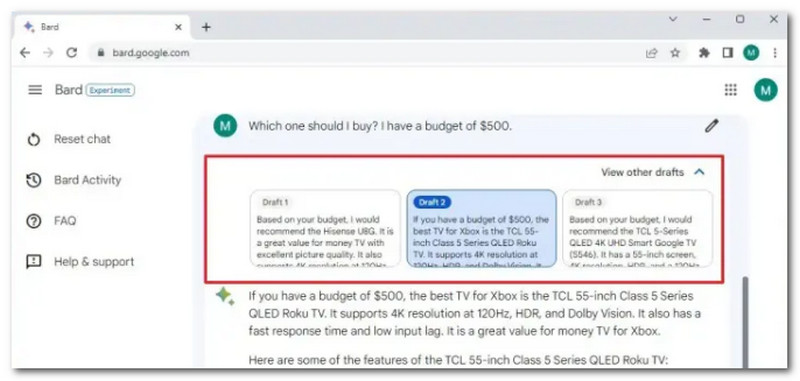 7.
The More button in the bottom-right corner of the response opens a menu that includes a Copy option for copying the answer to the clipboard.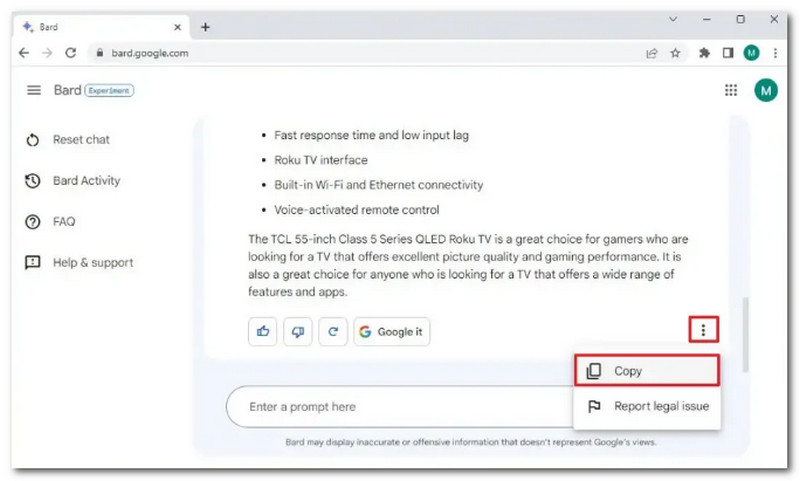 8.
You will also see many alternatives in the response, including a thumb up and down, which you may use to score the answer and help train the chatbot. The Regenerate button forces Bard to re-evaluate and respond to the question. This may be necessary at times to obtain the correct answer. Finally, there is the Google It button.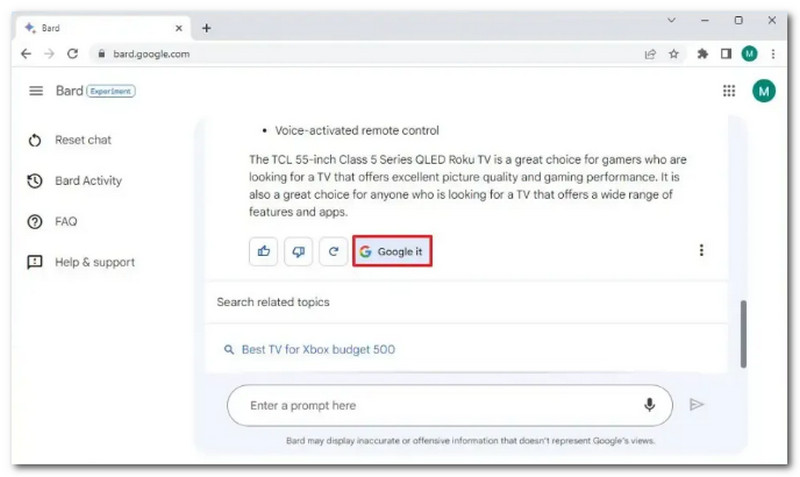 9.
If you wish to start a new conversation while forgetting about the old one, select Reset chat from the left navigation pane and then select Reset again.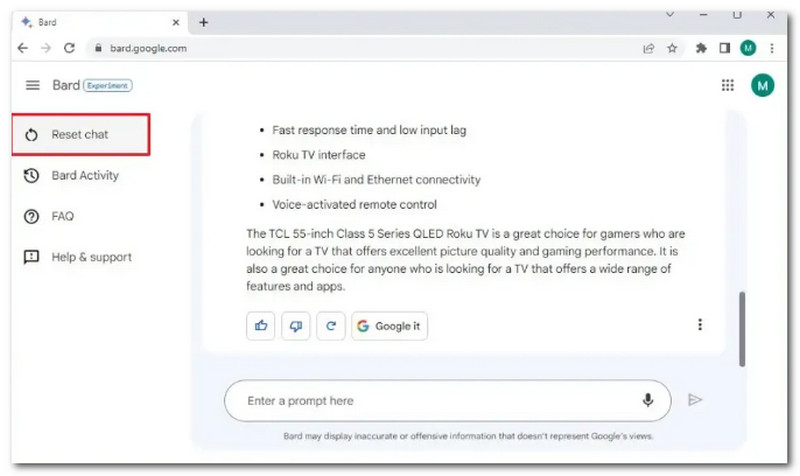 10.
Google does not record the questions you ask, but it saves the query intent as an activity. Click the Bard Activity option from the left navigation pane to view or remove your Bard activities.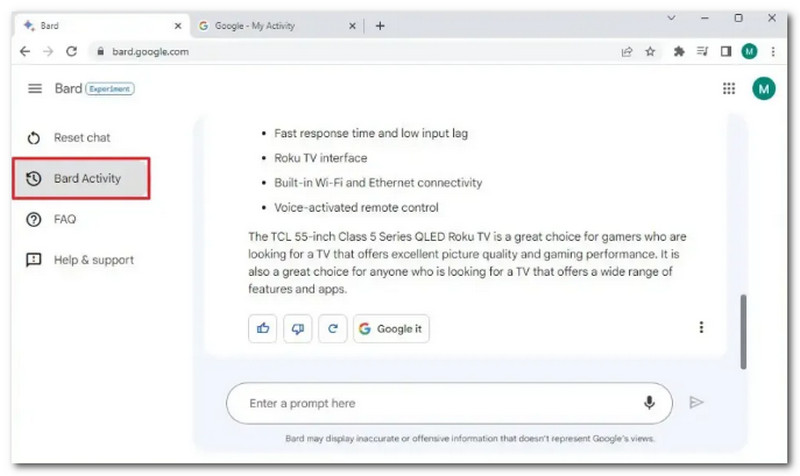 11.
Then, for each record, click the Delete button, or go to the Delete menu and select the range of history to erase. The All Time option will delete the complete history of your Google Bard actions.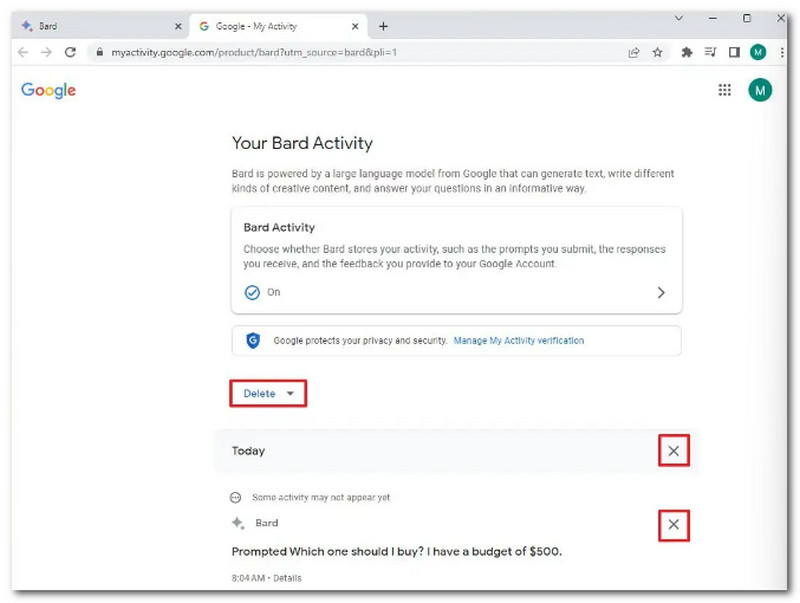 3. Google Bard Review
Google Bard Accuracy
By displaying inaccurate information in one of their AI-generated results, the early peek of Bard was a PR catastrophe for Google. Google wanted to avoid this at all costs, and it was most likely the cause for the delay in its rollout. After putting Bard through its paces, I discovered it was reasonably accurate. In the early phases, it didn't appear to be hallucinating at the same degree as Bing's AI. While this is a net win for the AI Chat, it wasn't particularly impressive. Many times, Bard responds to users with highly business comments. It was admitted that it lacked knowledge or claimed it couldn't answer questions because it was a Large Language Model (LLM).
We would say that Bard is accurate overall for an LLM, but judging accuracy becomes more difficult if it isn't answering many of the queries sent. Comparing the two is tough unless Bard attempts to answer more questions.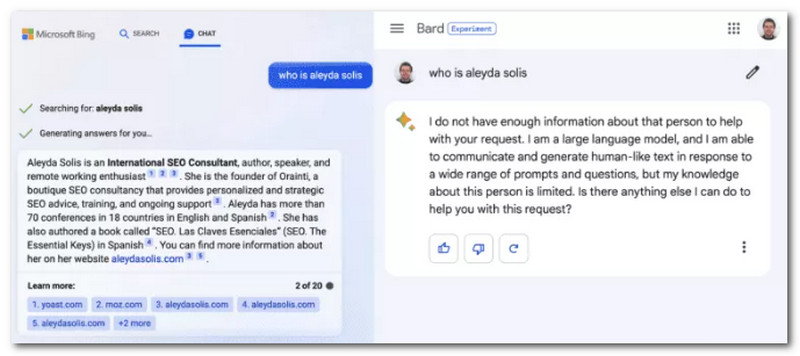 Google Bard Comprehension with Inquiries
One of the primary reasons Google's featured snippets have contributed significantly to their success in Search is their conciseness. The answers must be concise (40-50 words) and highlight crucial information. This was one of the reasons I felt AI Chat was reinventing the wheel in its early phases. Traditional search engines and AI Chat are attempting to deliver answers in a similar text-based fashion, with AI presumably providing better replies.
When comparing answer succinctness between Bard and other AI tools, Bard appears to produce longer replies by default, which often feel longer than needed. If a longer response is unnecessary, another AI Chat will deliver a shorter response.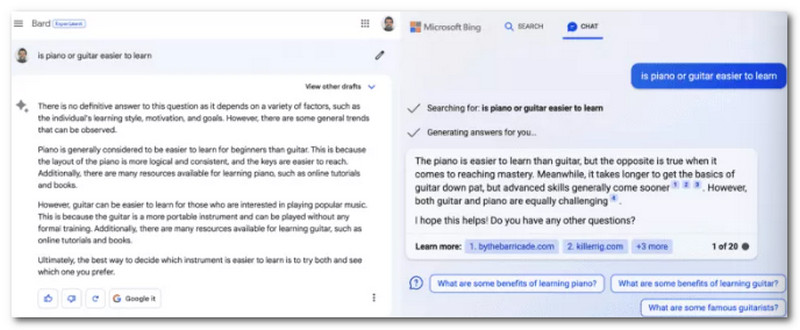 Google Bard's User Interface
Google Bard's user interface or UI immediately outperforms other AI Chat's dark and dismal design. The UI is colorful and carries the Google motif we've come to expect. Even though you're engaging with a new product, everything feels reassuringly familiar.
The layout is simple, and you're greeted with many new capabilities, like talking to Google Bard. However, you will still need to press enter and have the chance to examine all of the drafts Bard considered before delivering your first response.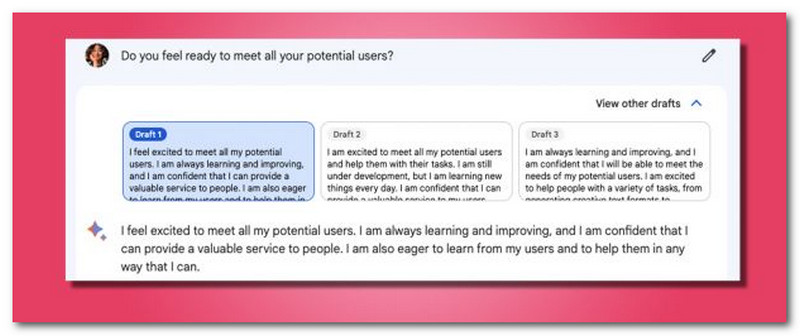 4. Google Bard Error
Google's Bard Fail and the Major Usability Problem With Conversational AIs. In the initial demo, Google's conversational AI Bard failed horribly by presenting incorrect facts regarding the James Webb Space Telescope. A blunder that cost parent company Alphabet more than 7% of its stock worth.
Google lost $100 billion due to a factual error made by the Bard AI Chatbot. When U.S. equities opened late Tuesday, Google plummeted more than 7%, wiping out approximately $102 billion in market value. This comes after Google's AI chatbot Bard provided erroneous replies to consumer questions during a launch event.
5. Google Bard VS ChatGPT
Because of the rapid growth of artificial intelligence, strong language models capable of producing text equivalent to that of humans have emerged. ChatGPT vs. Google Bard are two such models that have received much attention. These artificial intelligence language models analyze and generate text that mimics human speech patterns using natural language processing techniques. Please see the chart below for additional comparisons.
Google Bard

ChatGPT

Price
Free
Free
Free Trial
Not Applicable
A Free Version is available.
Company/Origin
Google
OpenAI
Platforms
Windows, macOS, Online, iOS, Android
Online, iOS, and Android
Easy to Use
Features
Customer Support
Key Features

Casual chat AI.
Multilingual tool.
Customizable replies.
Recognizing the situation.
Compatible with Other Google Products.

Conversational artificial intelligence.
Creating Personalized Content.
Capabilities in multiple languages.
SEO stands for Search Engine Optimization.
Other Platforms Integration.

Pros

Rapid response.
Trained on a variety of data.
In comparison to ChatGPT, it is smaller.
Additional resources may be required for fine-tuning.

Possibility of generating more natural-sounding talks.

Cons

Accuracy flaws
Personalization and fine-tuning.
It consumes less computational power.

It is difficult to train models to respond successfully to various topics.
6. FAQs about Google Bard
When will Google release Bard?
When did Google Bard become available? Google began providing access to Bard on March 21, 2023, allowing customers to join a waitlist. Google Bard was first unveiled in February.
What other artificial intelligence services does Google offer?
Google has created further AI services that have yet to be made public. Regarding AI products, the tech titan normally treads gingerly and does not release them until it is confident in their effectiveness. Google, for example, has created Imagen, an AI picture generator that, when released, might be a wonderful alternative to OpenAI's DALL-E. Google also has an AI music generator called MusicLM that it says it has no intentions to share now.
How do I join the Google Bard waiting list?
To join the Bard waitlist, go to the webpage, sign in with your Google account, accept the terms and conditions, and you're done.
Conclusion
That is the great Google Bard. We see above all the information we can use the tool. We learned that Google Bard is a legit and reliable tool to use as an AI chat tool. More than that, we see the comparison of Google Bard to Chat GPT. In addition, the post also offered a guide on how to use the tool and fix an issue if any occurs. With all of that, we are hoping that this will help you. If you know a friend you think needs it, share the information and let us help them too.
Did you find this helpful?
389 Votes
YES

Thanks for letting us know!
No

Thanks for letting us know!
AnyMP4 Video Converter Ultimate
All-in-one video converter, editor, enhancer upscaled with AI.