All about Jasper: Why Is It Such a Hit and Find Best Alternatives
With the upsurge in AI-powered chatbots and assistants in the application market, a technical revolution has brought an overturn to our daily life. Whether you are an office leader, freelance editor, SOHO worker or just a student, it is amazing to input your question in keywords and get an insightful answer and explanations within several minutes. Unlike typical search engines, you can gain more than valid information, and the internal logic and transition align with the human language system.
Jasper AI, with its powerful capability of creation, has sparked a storm of following by users among so many AI products. So why makes it such a buzz? Is there any free alternative to Jasper AI? This post will guide you into the highlight, performance, pricing and more features of Jasper by contrast with the top sellers. And the additional options in the end, will never let you down.

Our Verdict
Pros

25+ languages supported, including English, Chinese, German, Dutch and more.
Selective modes for the boss, marketing planner and regular post writer.
Capable of generating a natural long post with rankings for SEO.
A boosted writing speed for a draft. 2-5 times faster than ever.
Pre-designed templates for diverse categories of writing.
Almost no laggings or delay to give response to the wanted topic.
Automatic save the creation for each task you order.
Cons

Originality is not guaranteed 100%.
Inaccurate and fuzzy answers for specific questions.
Limited words and project folders with the starter plan.
Need manual guidance and correction, even in the boss mode.
Cookie-cutter content for similar topics.
Overall Ratings
Jasper, as a thriving AI writing assistant and chatbot online, has benefited users with an advanced algorithm to fast export readable and grammatically acceptable content for different uses. Although there are still problems with plagiarism and repetitive response at present, there is a promising future with its deeper learning and development.
Security9.0
Readability8.8
User Friendly9.2
1. What Is Jasper?
Jasper
Price: $49-$125 (Custom pricing for businesses supported)
Previous Version: Jarvis AI, Conversion AI
Year: February, 2021
Platform: Online tool
Jasper is an AI robotic copywriter to optimize the users' working efficiency and quality. With an advanced algorithm and GPT-3 technology, it enables users to give a specific command for content with different templates and modes for the best sales and pitches.
Jasper works more than a normal AI chatbot. Creativity and productivity seem to hold the key to Jasper's visibility. This multitasker is capable of dealing with diverse cases in advertising, marketing (AIDA and PAS included) and more, as you can expect. A top-notch resume, high-ranked Google search, and considerable traffic for quality articles would be within your reach easily.
What's more, to correspond with your custom needs, Jasper can generate a logical and solid framework that resembles a human language system. You can tap the potential of both the machine and yourself on critical thinking by proofreading and digesting the outline. The SEO-friendly design is also driven to help you save time and energy with better output.
Main Features:
◆ Apply to different occasions with commercial benefits.
◆ Superfast speed of draft writing.
◆ User-friendly for starters.
◆ Targeted templates for custom content.
◆ You can optimize the marketing with its affordable pricing plan.
◆ Third-party tools are supported to check for plagiarism, proofreading, translation and more.
◆ Offer extension products like Jasper Art, Jasper Chat, Surfer SEO and more as an AI-integrated family.
2. Jasper AI Review
Jasper AI Login
There is no limitation to accessing the trial version on Jasper. After locating yourself at http://www.jasper.ai, you can start the free trial with two selective accounts: Google and email respectively. Then there would be an optional survey on your personal info and your targeted plan in the workflow. Continue with the advanced plan as a creator, team or business, and you can start the free trial to explore the functions for different sections.
Users with the selected plan can log in to Jasper with their familiar account and enjoy the pro version directly.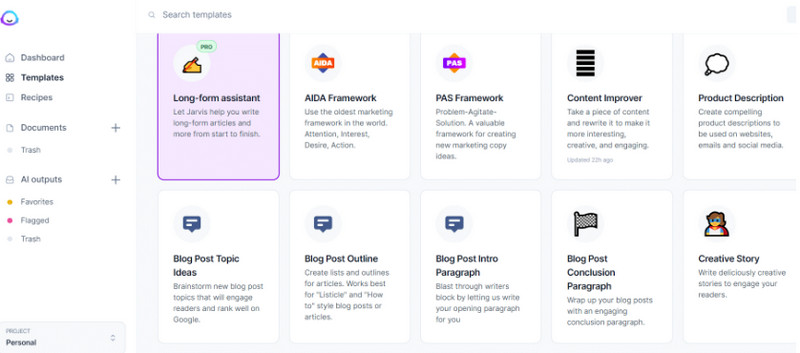 Jasper AI Pricing
Jasper AI offers customers a tiered pricing plan for different roles. The monthly and yearly billing would vary with different functions and memories.
For monthly payment:
Creator needs to pay $49 for a monthly bill with a single seat, brand voice and 50 memories. $125 for teams with three seats, brand voices and 150 memories. Custom pricing is supported for business use.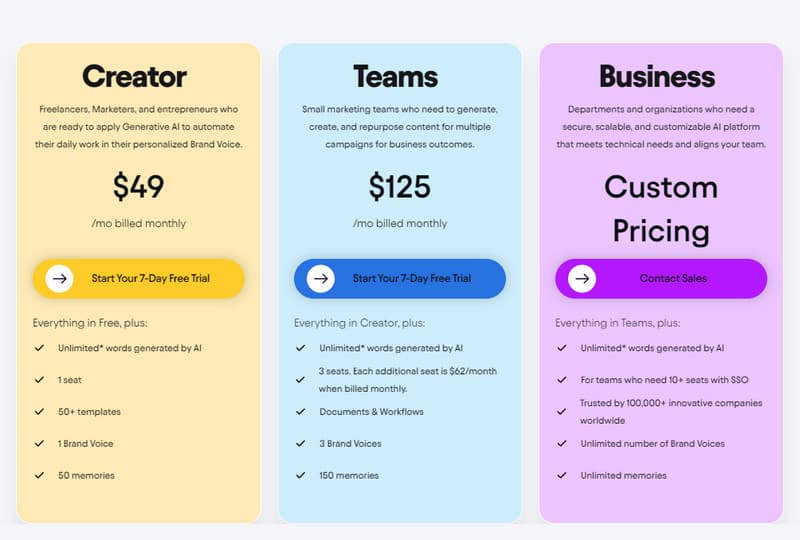 For yearly payment:
Creators, teams or businesses can fulfill the same target at a lower price: $39, $99 and custom price.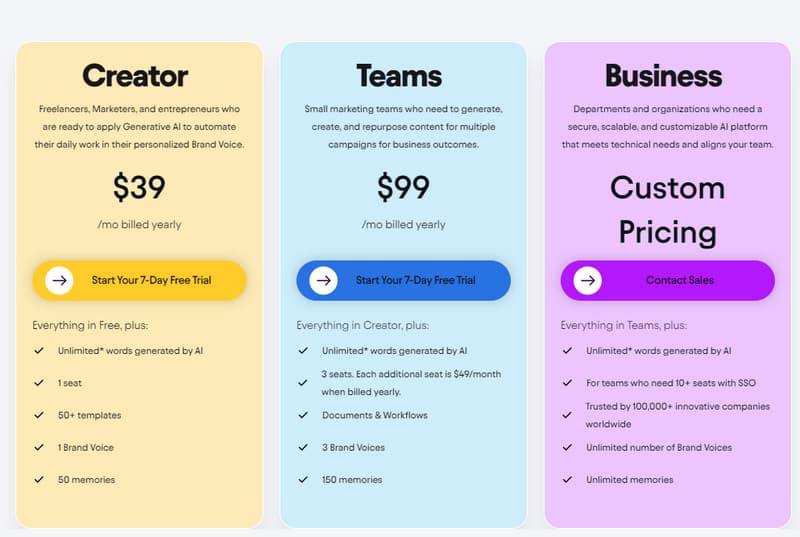 Jasper AI Accuracy
Like most AI chatbots and problem dealers, Jasper cannot self-examine rationality and moral concepts when it comes to problems that require life experience and human sense. You may read many stories by the users shared in the community that there is no explicit warning and tips to recognize the hidden danger and risks inside specific topics. So, we still suggest you double-check the accuracy of the given answer by Jasper.
Jasper AI Originality
To ensure the originality of content produced by Jasper, third-party tools are added for you to check and modify your final creation from the perspective of plagiarism, proofreading, translation and so on. You can take the tools below as a reference for Jasper AI cost
Grammarly: $12.00/month
Copyscape: $19.95/month (10 pages at most); $1.00/month (additional page. 500 pages at most)
Google Docs: Free
Quilbot: $19.95/month
Blend: $0.096 /word
Jasper AI Cohesion
Jasper can create logical and coherent articles in different templates. You can view the natural and acceptable transitions for each output and the clear layout. This feature stands out, especially for a long post, since the internal logic is attached more importance if your target audience is also using English or other languages.

3. Jasper AI VS Copy AI VS ChatGPT
Jasper AI

Copy AI

ChatGPT

Price
A tierced paid plan
Free
Free
Free trial
A 7-day free trial is available
A Free Version is available.
A Free Version is available.
Developer Company
Jasper.ai
CopyAI, Inc
Open AI
Platforms
Online, Desktop: macOS/Windows, Mobile: iOS/Android
Online, Desktop: macOS/Windows, Mobile: iOS/Android
Online, Desktop: macOS/Windows, Mobile: iOS
Accuracy
Cost-Effectiveness
Features
Customer Support
Key Features
Pros

Support various kinds of writing and long posts.
Auto-save each creation.
Quick response.
Apply to commercial and academic cases.

Enable users to customize content in a specific tone.
A user-friendly interface.
Offer templates for marketing and more uses.

Offer an interactive mode of conversation.
Multilingual.
Compatible with other platforms.
SEO-friendly.

Cons

Cookie-cutter answers for similar topics
Users need a fact check for accuracy.

Laggings and delays may happen.
Not strong enough to offer quality content for a long post.

Not memorable for the user's preference and habits.
Answers may be ambiguous for multiple topics.
4. 3 Jasper AI Free Alterntives
Option 1: Ask AI
Ask AI is a hot pick for users who have all-life questions. It can be an excellent alternative to Jasper with more vivid and close topics related to people's daily life. You can pick up stories, songs, scripts, food recipes and even scientific common knowledge here with its vast information base. This AI chatbot also serves as a writing assistant with GPT-3 technology. You can give your command and receive an outline or logical paragraphs at a fast speed. And this human-like system can also respond in the tone of your friend to optimize your experience.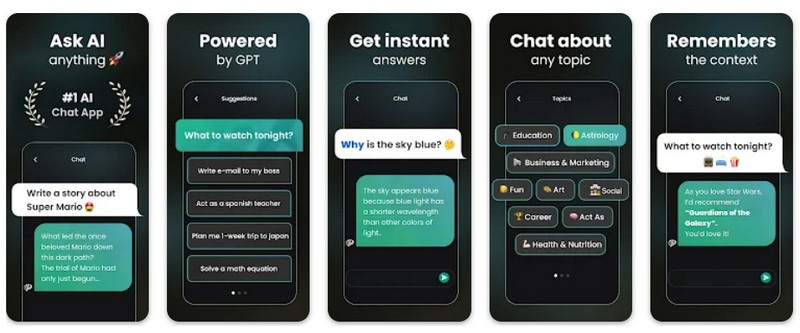 Option 2: Nova AI
You can also use Nova AI as one of the best AI chatbot apps. This GPT-4 based AI chatbot supports over 140 languages and has better capabilities in memorizing the chat history for custom habits. It helps users to collect ideas for essays, homework, media posts and so on. You can compose a personal song with its help and bring more imagination into this app. The best thing is that it can also function as a fine proofreader without charges on any third-party tool and give you useful tips to enhance and upgrade your creation easily.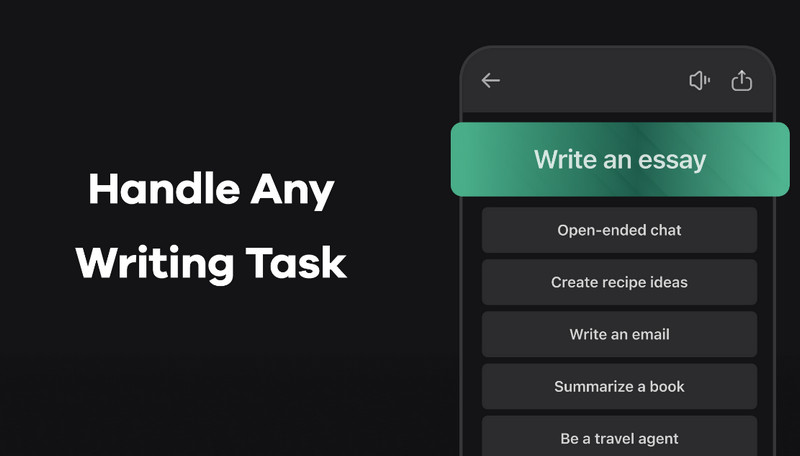 Option 3: Chatbot
This is also an AI-powered tool for interaction and problem-solving. You can get natural and friendly talks with valid answers with its help. Whether it's a random conversation or promotion issues in your work, you can always adopt this tool to enhance your word creation and make a difference. Just like Ryter, you can optimize the word and sentences with logical expressions. And it engages users in the chat-based design with selective roles and exports accurate and approved knowledge with an advanced algorithm. Besides, you can also use the new feature to recognize the picture content.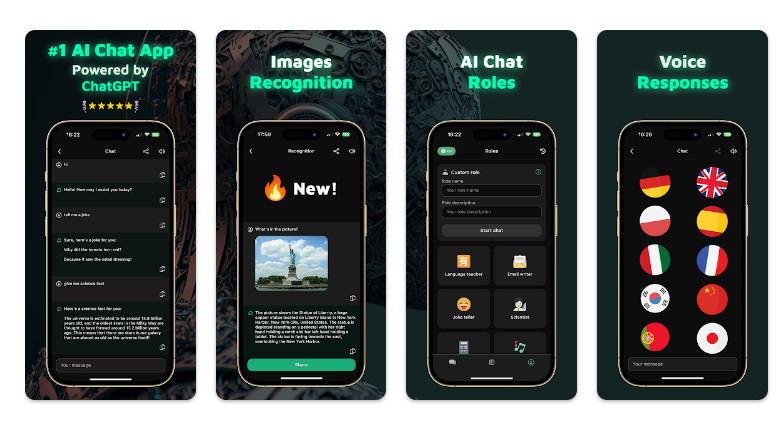 5. FAQs of Jasper AI
Can I use Jasper AI for free?
Yes, you can get a 7-day free trial to explore the writing function from the dashboard, templates, recipes and so on. After that, you can decide whether to go with the monthly or yearly billing.
Is Jasper AI using OpenAI?
Sure thing. Jasper AI is fuelled by GPT-3 (3rd generation of Generative Pre-trained Transformers) AI model of OpenAI and functions well as a copywriter for various users.
Can Jasper write an essay?
Yes. You can use Jasper as an effective writing partner to produce coherent and quality essays easily. It also supports a Long-form assistant in the Template section and Plagiarism Checker to help you better edit and enhance the compiled essay.
Conclusion
After going through all the details and comparisons about the Jasper AI tool, we believe you can have a better grasp of its feature and application. We have witnessed how far it goes to assist us with copywriting and content optimization in business, work, study, etc. But there are still room for improvement in the accuracy and humanistic designs for personalized creations. And you can resort to Jasper's alternatives above to explore more possibilities in AI. There are always updated reviews on exciting topics if you check our official website.
Did you find this helpful?
389 Votes
YES

Thanks for letting us know!
No

Thanks for letting us know!
AnyMP4 Video Converter Ultimate
All-in-one video converter, editor, enhancer upscaled with AI.