Reviewing Chatsonic: A Revolutionary AI Chatbot
Chatsonic is an AI chatbot that has sparked considerable intrigue and excitement across the globe. As a revolutionary AI software, it promises to redefine how we perceive and use online chatting platforms. The blend of technology and user-friendly interface positions Chatsonic as an appealing software.
Yet, like any other innovation, the question remains. Does Chatsonic truly deliver on its promises? This review will explore its performance and potential to help you decide if it is worth trying.

Part 1. What is Chatsonic AI
Chatsonic is an advanced conversational tool in online chatbots, messaging platforms, and mobile apps. It adopts the leveraging natural language processing (NLP) and machine learning. Thus, it can answer questions, create digital artwork, understand voice commands, etc.
Known as the best alternative to ChatGPT, Chatsonic overcomes some limitations. It enables real-time conversations about current events by integrating Google search. Apart from generating high-quality content for various platforms, Chatsonic can complete your tasks. It ranges from solving math problems to preparing for interviews. It also offers a new feature of responding to voice commands like Siri or Google Assistant.
Part 2. Chatsonic Review
Interface and Design
Chatsonic's interface and design are appreciated by its users. The platform's intuitive design allows you to generate different artwork styles easily. The interface is simple, clean, and easy to navigate. So, you can easily switch between various tabs to generate text, give voice commands, or create digital artwork.
The platform also has an in-built image generator that helps you customize images based on the texts. Meanwhile, you can open the Chatsonic enable memory if you need.
In sum, Chatsonic's interface and design are well-designed, making it easier for you to use and generate content.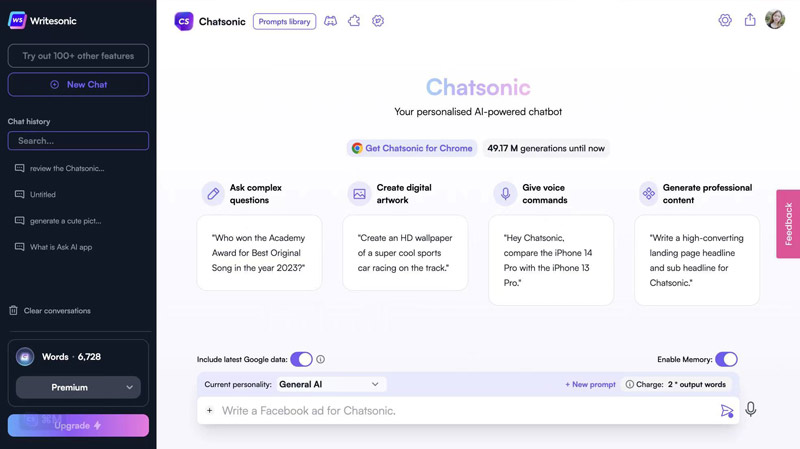 Chatsonic Extension
Chatsonic is like ChatGPT, but it provides lasted information instead of being limited to 2021 info. Chatsonic integrates with Google Search to create content with the latest information. And it has key features with internet access, references, AI image generation, and more.
Its extension is ChatSonic - ChatGPT with super powers, designed to save you time and effort. It can help you a lot, such as making working with Gmail, Twitter, LinkedIn, and the web more productive. Meanwhile, its Chrome extension lets you receive content suggestions from any location. And that makes it a powerful tool for various digital tasks.
Information Processing Capability
Users can receive real-time answers by inputting commands into the ChatSonic AI. The content generated by ChatSonic includes text, images, tables, and more. It supports input and output in 25 languages. And it has a strong capacity for processing information. Moreover, it provides the latest Google data, which has amazed many users. While generating information, it also provides related reference sources. This feature can reflect the authenticity and reliability of the data. Besides, if the information is inaccurate, you can modify it with the built-in Sonic Editor directly.
ChatSonic's information processing speed is insufficient. After inputting a question, you must wait for a moment. Then the results will be generated, which frustrates those seeking efficiency.
All in all, its information processing capability is top-notch. And it offers many choices for users to create high-quality content. If ChatSonic could generate content faster, it would attract more users.
Customize Chatsonic
Chatsonic offers customized settings to improve users' experience according to their specific needs. These settings can be accessed through the user dashboard, which can be found at the top of the main interface.
One of the key settings is the ability to choose the language in which Chatsonic operates. This feature allows you to use the AI writing assistant in your native language. That makes it easier to communicate and write.
Another important setting is the ability to adjust the level of assistance provided by Chatsonic. You can choose between a more hands-on approach, where Chatsonic provides many suggestions. Meanwhile, Chatsonic provides various writing styles, such as academic, creative, or business. It can ensure the writing suits your needs.
How Does Chatsonic Work?
Chatsonic is a creative AI writing assistant built by Writesonic. Chatsonic adopts advanced algorithms and natural language processing technology. The ability aims to provide accurate and original content for various writing tasks.
Chatsonic starts its work by analyzing the user's input and providing suggestions based on the context and tone of the writing. Users can adjust the different writing styles and even write in multiple languages. Besides, Chatsonic allows users to adjust the settings. This function makes it an excellent tool for bloggers or writers looking to improve their writing efficiency. Just access the Chatsonic AI website and explore more.
Part 3. 3 Best Chatsonic Alternatives
1. Jasper
Like Chatsonic, Jasper is one of the first AI content tools. It's a good alternative to Chatsonic if you are mainly interested in writing content. Jasper is an AI copywriter who helps you generate different content that stands out. It has a human-like conversation with a chatbot to assist you with tasks, research, and answer questions. It also lets you use AI to generate amazing art and images for ads, thumbnails, illustrations, and more in seconds.
Besides, it provides a powerful Library with various templates. More importantly, it supports the Chrome extension like Chatsonic to get the lasted information.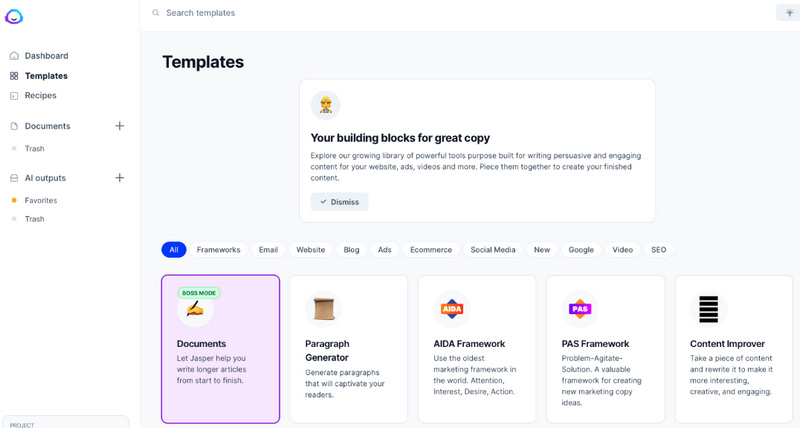 2. ChatGPT
ChatGPT is one of the best alternatives to Chatsonic. It is an advanced conversational AI system developed by OpenAI. Meanwhile, it represents the best cutting-edge language model and natural language processing technology. However, it's important to note that ChatGPT's responses are based on patterns and associations in the training data. And its knowledge cutoff was in September 2021 rather than the lasted information like Chatsonic.
ChatGPT can adapt to different conversational styles and topics. It can answer questions, engage in creative writing, offer suggestions, and more. Moreover, it can understand context, maintain conversation coherence, and respond coherently.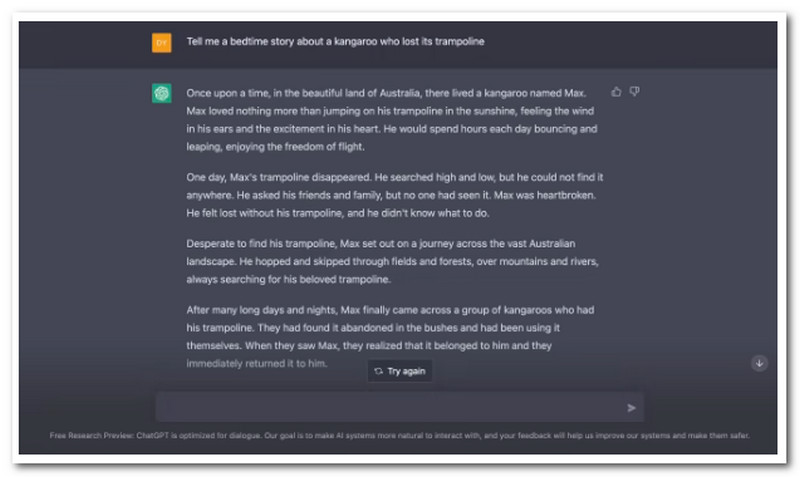 3. Ask AI
Ask AI is a free chatbot app that gives instant answers like Chatsonic. It uses ChatGPT and GPT-3 technology to offer various services. For example, it can provide translation services, personalized recommendations, and news updates on various topics. Thus, it becomes a popular choice for those seeking human-like chat experiences. Besides, Ask AI is a mobile app aggregating company knowledge and customer communications. This feature can let it provide the Chatsonic-like answers. It allows you to ask questions and answer concisely without keyword searches.
Overall, Ask AI is an exciting new technology. It offers mind-blowing answers in human-readable language.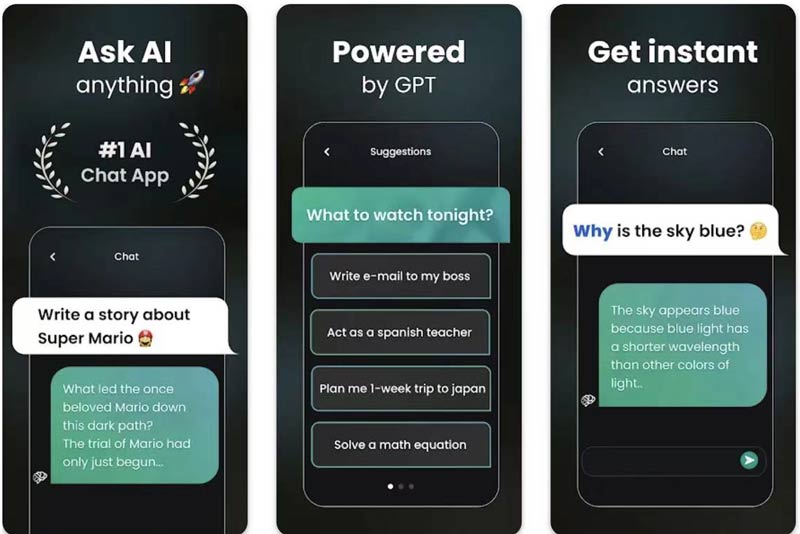 Features

Released on

Platform

Login

Safety

Languages supported

24/7 Live Support

Chrome extension

Knowledge cutoff

Deployment

Pricing Details
| | | | |
| --- | --- | --- | --- |
| Chatsonic | Jasper | ChatGPT | Ask AI |
| 2021 | 2021 | 2014 | 2023 |
| Online | Online | Online | Android and iPhone |
| Google account, Email, and Apple ID | Google account and Email | Email | Email |
| High | High | High | High |
| 25 | 30+ | All | All |
| No | Yes | No | No |
| Yes | Yes | No | No |
| Lasted | Lasted | September 2021 | September 2021 |
| SaaS, iPhone, iPad, Android | SaaS | SaaS | iPhone, iPad, Android |
| Free trial; Subscription-based, starts at $29/month | Free trial; Start at $39/month | Free version; The premium plan starts at $99/month | Free trial; premium plans starting at $19/month |
Part 4. FAQs of Chatsonic
Is Chatsonic free to use?
Chatsonic offers both free and paid plans. The free plan allows you to generate a limited number of monthly outputs. In contrast, the paid plans offer more credits and additional features.
Is Chatsonic safe?
Yes. Chatsonic is completely safe to use. It does not store personal data and ensures that all the generated content is original.
Can Chatsonic write academic papers?
Yes. Chatsonic can help you write academic papers. It can be a helpful tool to generate ideas and structure your thoughts, but the final output should be your work.
Conclusion
Using Chatsonic AI is a simple and quick way to generate different content with high quality. With its AI-powered capabilities, the AI generator can help you save time and effort when generating content or images. If you want to explore more features of AI tools, you can leave your ideas here.
Did you find this helpful?
391 Votes
YES

Thanks for letting us know!
No

Thanks for letting us know!
AnyMP4 Video Converter Ultimate
All-in-one video converter, editor, enhancer upscaled with AI.