Professionally-wise Analysis of ScreenFlow VS Camtasia: What is the Better?
ScreenFlow and Camtasia are two of the best screen recording software we can get from the market. These two software perform great in providing the features we need in the recording process. All of these recorders are very flexible in achieving our work. However, even though they are almost identical, we cannot prevent comparing them. That is why in this article, we will discover what the best between the two is. You only need one screen recorder. Therefore, we need to know what is the most suitable for you.
Therefore, to compare the two screen recorders, let us dig deeper into their features to know their ability. Without further ado, here is the ScreenFlow VS Camtasia.

Part 1. Summary
Overall Ratings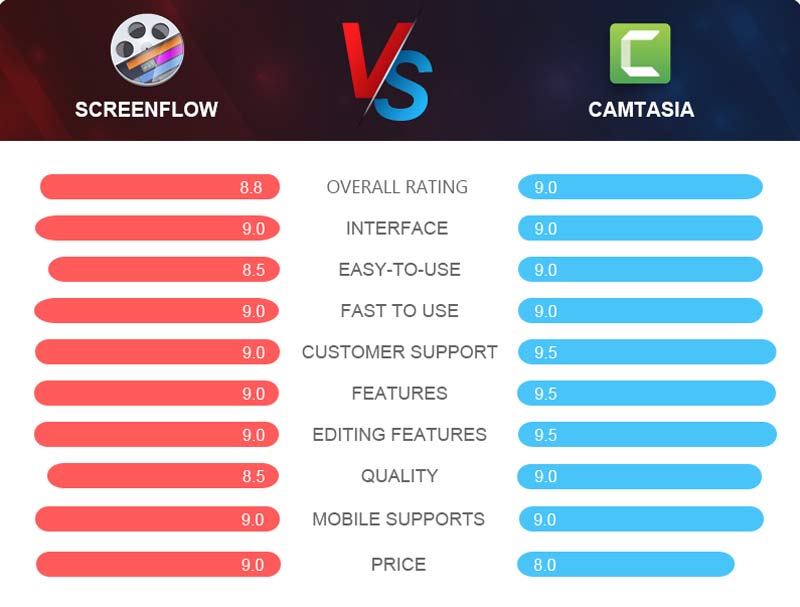 Unique Features
ScreenFlow is a great screen recorder for all the Mac computer users. It offers a great quality of recording outputs. It also allows us to play our recordings using any devices we have.
Camtasia belongs to the most flexible screen recording tool in the market. It possesses unique features such as Annotation, Cursorfx, Transitions, and more. It is excellent both for macOS and Windows.
Final Verdict
As an overall decision, we can say that Camtasia leads compared to ScreenFlow. This all-in-one media recording software offers almost every feature that we need. It is not just a recorder but also a modifier. This paragraph is not enough to unveil all of the reasons behind it. To make it short, Camtasia is the winner.
Camtasia Features
Here is a glance at the main features we can enjoy with Camtasia.
◆ Pre-built Assets
◆ Web Camera Recording
◆ PowerPoint Integration
◆ iOS Recorder
◆ Annotations
◆ CursorFX
◆ Video Table of Contents
◆ Audio FX
◆ Green Screen Functions
Part 2. ScreenFlow VS Camtasia - Screen Recording
ScreenFlow Screen Recording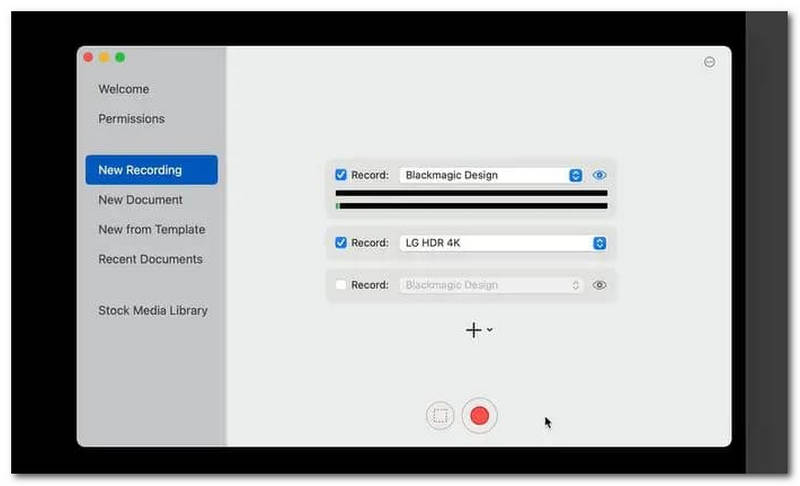 ScreenFlow is a great tool when it comes to screen recording. This screen recorder will allow you to adjust the video and audio settings. It is kind of similar to Camtasia. Aside from that, it also offers a quality audio recording output. It comes from both internal and external devices. However, the recording process here is more accessible than the other one.
Camtasia Screen Recording
Camtasia is another screen recording tool that can offer outstanding features, especially in recording. The great thing about it is its ability to give a clutter-free and smooth process of screen recordings. It also sounds great with the easy customization of the video dimensions, frame rate, and Project Settings. Camtasia's simple elements bring a wondrous process of recording for the users. That is why many users are consistently entrusting their work through Camtasia. It is fantastic media software for everyone.
Part 3. ScreenFlow VS Camtasia - Video Editing
ScreenFlow Video Editing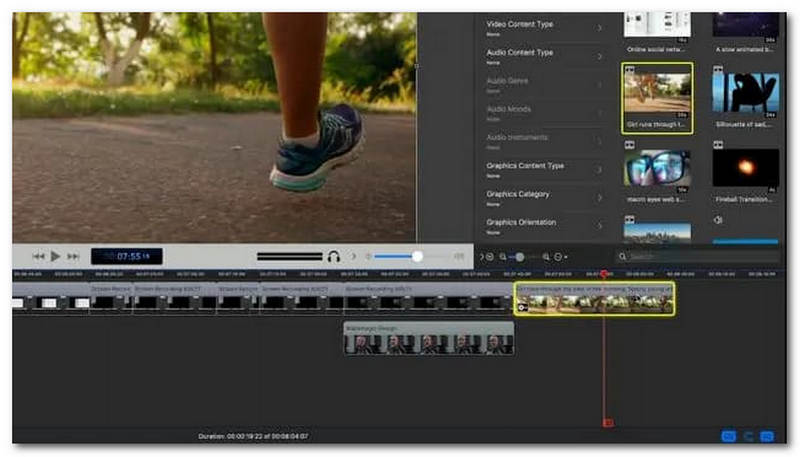 The video editing feature of ScreenFlow is a bit easy to use yet has a lot of limitations. It is devoid of some advanced features compared to Camtasia. Some infamous tools that it can offer are trim and crop tools. These tools are basic yet essential that users must have. These features will allow you to remove and adjust the clips you want to modify.
Camtasia Video Editing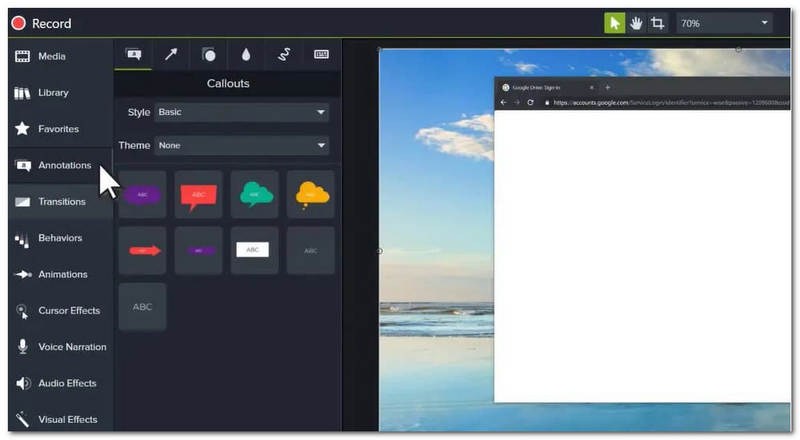 Camtasia is one of the most flexible media software nowadays. As proof, it can offer us tremendously, and plenty of editing features for our video and audio files. These functions are fantastic tools to use to make our media file look professional. These features are the Cursor FX, Audio Effects, Visual, Effects, Transition, and more. One of the great things about this tool is that it can give you numerous animations to modify your video. Other than that, it comes with super easy adjustments to the color grading of your video.
Part 4. ScreenFlow VS Camtasia - Interface
ScreenFlow Interface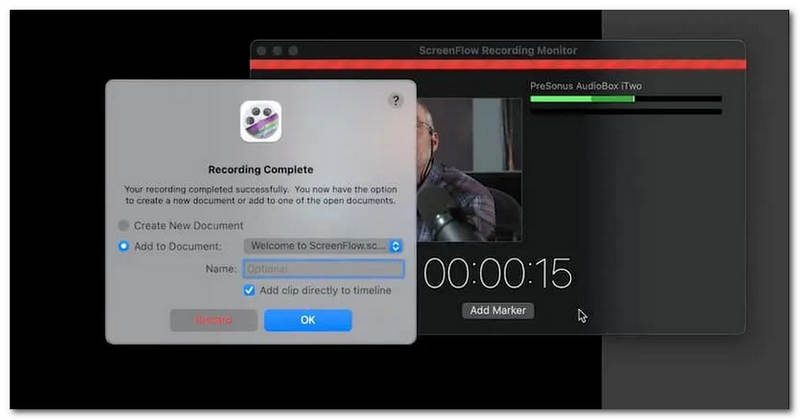 As we look into the interface of ScreenFlow, it can give us a classy and old-fashion style vibe. All the options are hard to access because all the options work under menus instead of giving us visible buttons or icons. Thus, the ScreenFlow interface is confusing. Overall, it is still fine and can provide an immense recording.
Camtasia Interface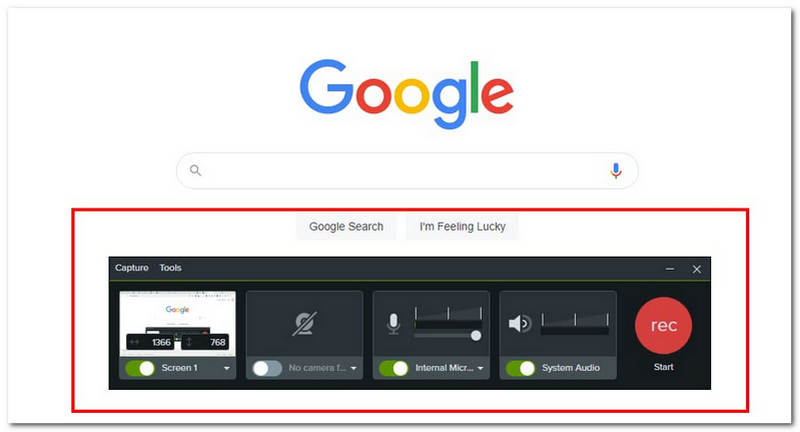 In terms of the interface of Camtasia, it has a smoother and more professional layout of the interface. The interface equips visible and transparent buttons for its functions. Thus, it allows users to experience a great recording or editing process.
Part 5. Best Alternative - Aiseesoft Screen Recorder
There are possibilities that you can find the two screen recorders above as overwhelming software. That may occur, especially if you are a new user or not yet familiar with the software. For that, we need fantastic alternatives to ScreenFlow and Camtasia. In line with that, this portion will give you the best alternative, and we want to meet you at the Aiseesoft Screen Recorder. This screen recorder can give you the powerful features you are looking for in your works. The best thing about it, all of these features come with a straightforward process. Please take a look at what we can get with this software.

Aiseesoft Screen Recorder
It is the most professional and powerful yet straightforward recorder we can use.
High-quality screen recording tools.
Region selection of recording.
Record audio from internal and external.
Smooth game recorder.
Editing features.
No watermarks.
Part 6. FAQs about ScreenFlow VS Camtasia
How much does Camtasia full version cost you?
The full version of Camtasia will cost you $299.99. As we can see, the full feature version is expensive, yet some users say it is cost-efficient software. That is because the Camtasia full version equips thousands of features that we can use.
May I record my gameplay using ScreenFlow?
ScreenFlow is one of the most popular screen recorders around the corner. That is why we can also use this recording software to capture your fantastic gameplay.
Does Camtasia offer video maker tools?
Yes. You can use Camtasia in doing a professional video. It offers different tools that you can use to make that possible.
Conclusion
The screen recorder is the best for giving us features, which is essential and beneficial for all. We can see all the features we can get and use them to help us do our work effectively. Yet, one screen recorder will stand out. Yes, we are talking about Camtasia. However, the decision is still yours, both tools are great, and it is undoubtedly a win-win situation for us. Try sharing this article with other people to know if they agree with the data above.
Did you find this helpful?
392 Votes
YES

Thanks for letting us know!
No

Thanks for letting us know!
Aiseesoft Screen Recorder
Capture every moment in desktop, browsers, programs and webcam.