Why is My Apple ID Not Active? Exploring Scenarios and Fixes
Access to Apple's products, services, and software ecosystem relies on an Apple ID. An Apple ID is the key to a world of convenience and integration, from iCloud storage and App Store purchases to customized settings and device synchronization. Users may get into the confusing situation of an Apple ID Not Active which can cause bewilderment, annoyance, and a feeling of being cut off from the digital world they have become accustomed to.
In this in-depth post, we examine the subtleties of the perplexing Apple ID Not Active notice, analyzing its significance, looking at the causes of its recurrence, and offering enlightening alternatives to deal with this problem. Kindly see the details below and discover all of these points and solutions. Apple Id that is not active.

Part 1. Apple ID Not Active Meaning
The term Apple ID Not Active is more than simply an error message in the linked world of Apple devices and services; it's a notice that something needs attention. When your Apple ID is marked as inactive, it means that the account it's linked to is unreachable or has some features disabled.
Different symptoms of an inactive Apple ID include being unable to login into iCloud, having trouble making purchases on the App Store, and having limited access to your specific settings. Also, being in this situation can be a problem in signing out your inactive Apple ID.
This circumstance might be frustrating since it effectively makes it difficult for you to take advantage of the seamless integration that Apple's ecosystem provides.
Part 2. Why Apple ID Not Active
Many situations, each with contributing variables, might result in the Apple ID Not Active status. To solve the problem and stop it from happening again, it is crucial to comprehend these causes. Let's examine the main reasons why an Apple ID could become inactive:
Security of Accounts and Suspicion
Apple emphasizes account security heavily to safeguard customers' private data and provide a secure online experience. Apple may temporarily suspend an Apple ID when there is a suspicion of illegal access or unusual activity to guard against possible breaches. This preventative step is in place to protect user's private information and delicate transactions.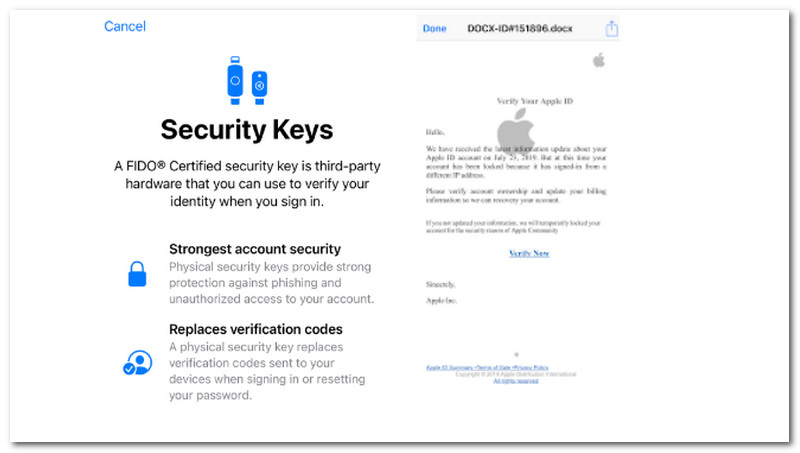 Issues with Forgotten Passwords and Recovery
Forgotten passwords are one typical reason for dormant Apple IDs. If you can't log in because you've forgotten your Apple ID password, your Apple ID will become temporarily inactive. Additionally, problems with the account recovery procedure, such as out-of-date recovery information or difficulties establishing ownership, may make it difficult to activate your Apple ID.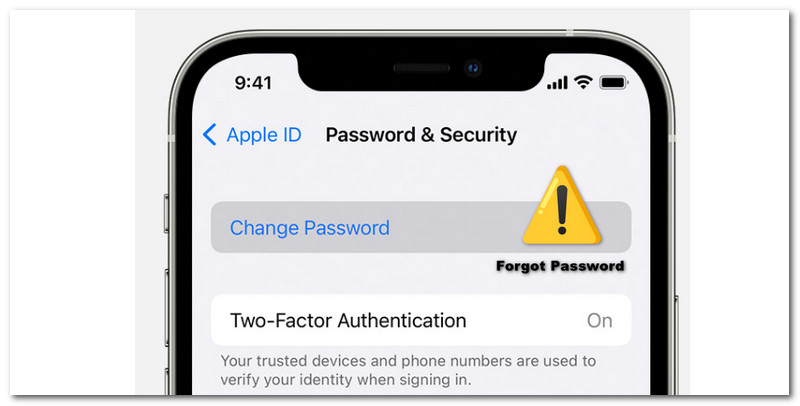 Maintenance of Accounts and Inactivity
Apple urges customers to routinely utilize their Apple IDs and associated services to ensure their accounts stay active and accessible. Prolonged inactivity can potentially result in an inactive Apple ID. An automated deactivation procedure may begin if the Apple ID is inactive for a prolonged time or unused. Using your Apple products and services consistently is essential to avert this situation.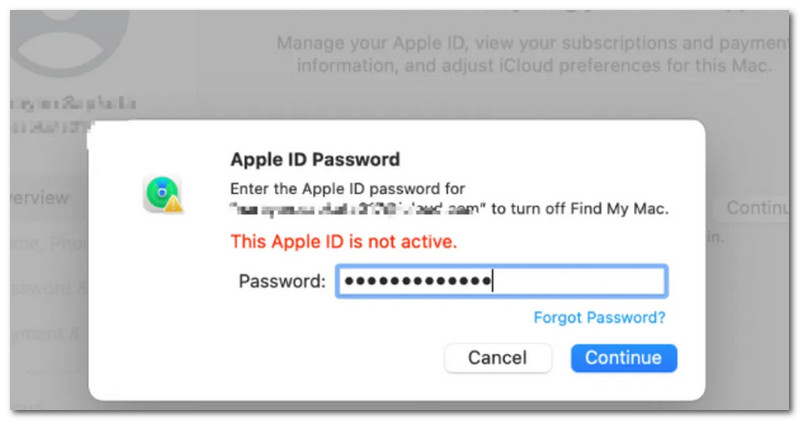 Billing and Payment Problems
Unresolved financial difficulties, such as outstanding balances or failed or expired payment methods, might lead to an inactive Apple ID. Apple may briefly disable your Apple ID until the billing difficulties are resolved if you owe money for previous purchases or have had billing troubles. Ensuring your payment information is true and current is essential to avoid such deactivations.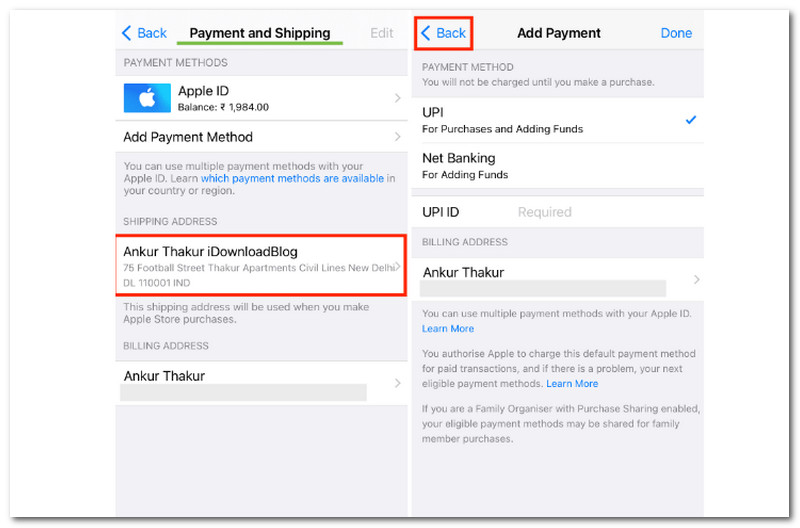 Part 3. How to Fix Apple ID Not Active
Method 1: Resetting Apple ID Password
When we input the Apple ID password, the message This Apple ID is not active usually occurs. Therefore, you can attempt to reset the Apple ID password and verify if it is successful. As your iPhone's settings are incorrect, we advise you to reset the Apple ID website.
1.
Log in using your Apple ID at appleid.apple.com. Then, in the Sign-In and Security section, choose Password.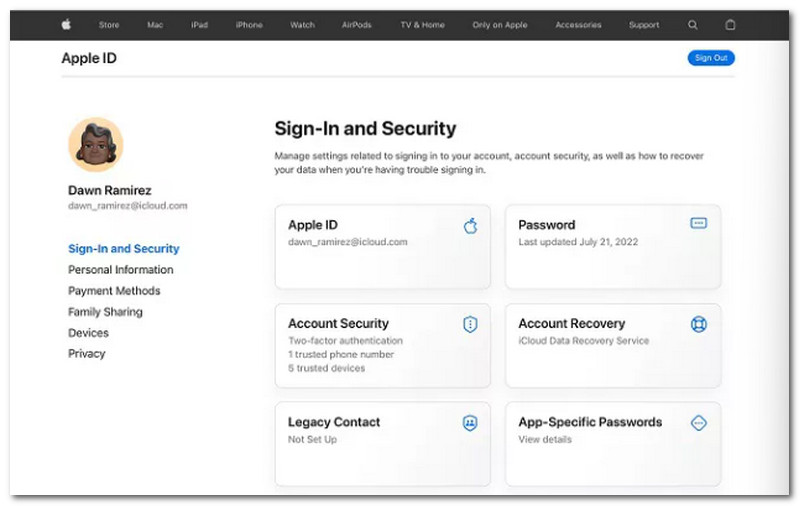 2.
Set a new password or enter the existing one for your Apple ID.
3.
After that, use the new password to sign in or out on your iPhone. The notification This Apple ID is not active might not appear right now.
That is an easy review of your Apple ID. Next time, please remember your password so that we won't experience the problem.
Method 2: Ask Apple Support for Help
You tried the above mentioned methods, but your Apple ID is still inactive. To report a problem, speak with Apple Support. If Apple designated your Apple ID as inactive for whatever reason, they may be able to help you get it back.

Method 3: Use Aiseesoft iPhone Unlocker
Aiseesoft iPhone Unlocker emerges as a versatile and powerful tool to address the predicament of an Apple ID Not Active. This software solution offers users comprehensive features designed to unlock and regain access to their Apple devices and accounts. Let's explore how Aiseesoft iPhone Unlocker can be a valuable asset in solving the challenge of an inactive Apple ID.
1.
On your computer, open iPhone Unlocker and select the Remove Apple ID option.
2.
Utilize a USB cord to link your iOS device to the PC. You will be prompted to press Trust when your device has been discovered.
3.
For the procedure to start, click the Start button. Wait for a bit; your Apple ID and iCloud account will be deleted if Find My iPhone is turned off on your iOS device. iPhone Unlocker will immediately start deleting your Apple ID if it is.
4.
You should touch your Apple ID in Settings, then select Password & Security. Go ahead and activate the Two-factor authentication option. Return to the application layer, and enter 0000 to confirm.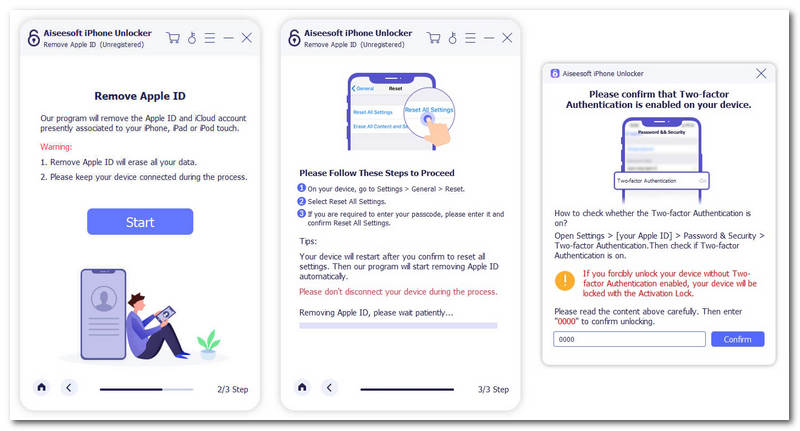 5.
The application will then automatically determine the model of your device. Here, you must verify the details of your iPhone.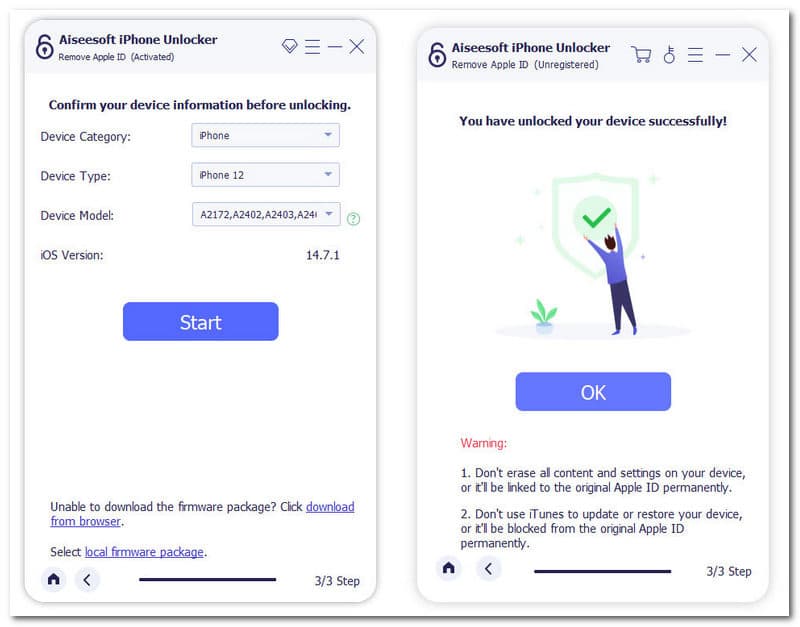 Additionally, downloading and verifying the firmware package will take a while. After the procedure, the Apple ID and iCloud account will be deleted from your device. You may now configure your device with a different or brand-new Apple ID. Overall, we can see that the process is very easy and effective.
Part 4. FAQs about Apple ID Not Active
Why is my Apple ID grayed out on my iPhone?
If your Apple ID appears grayed out on your iPhone, it could be due to poor network connectivity, problems with iCloud servers, or account-related issues. Try restarting your device and ensuring a stable internet connection. If the problem persists, consider checking your Apple ID settings or contacting Apple Support for assistance.
How do I activate my Apple ID?
To activate your Apple ID, ensure you are connected to the internet and follow these steps: Go to Settings on your device. Then, tap on your name at the top. Please select iTunes & App Store or iCloud, depending on your issue. Now, reset your Apple ID and password. Then, finally, please follow the prompts to complete the activation process.
How do I reset my Apple ID on my iPhone?
To reset your Apple ID on your iPhone, follow these steps: we need to go to Settings. Tap your name at the top as we select Password & Security or iTunes & App Store. At this point, we must choose to change or reset your password. Lastly, we can now Follow the details to reset your password and regain access to your Apple ID.
How long does an Apple ID stay active?
Apple IDs typically remain active as long as they are regularly used and maintained. Inactivity or account-related issues can lead to deactivation. Using your Apple ID regularly and keeping your account information current is recommended to prevent it from becoming inactive.
Can you recover a deactivated Apple ID?
Following the account recovery process, you can usually recover a deactivated Apple ID. This may involve providing verification information and following the prompts to reset your password. However, it's important to address the root cause of deactivation to prevent future issues.
Conclusion
Users might discover workable solutions in this article for the issue of This Apple ID is not active. They are not restricted to utilizing Aiseesoft iPhone Unlocker to erase their Apple ID without a password or changing their Apple ID password. Additionally, you can get in touch with Apple and request their assistance.
Did you find this helpful?
481 Votes
YES

Thanks for letting us know!
No

Thanks for letting us know!
Aiseesoft iPhone Unlocker
Get into locked iPhone iPad iPod without password or Apple ID.