How to Unlock Apple ID with iForgot.apple.com
Apple ID is the key that unlocks a world of services, devices, and experiences Apple offers. From accessing iCloud and the App Store to using iMessage and FaceTime, your Apple ID is at the core of your Apple ecosystem. However, the convenience of this unified identity can occasionally lead to challenges, a forgotten password, a misplaced trusted device, or even a locked account. This is where iForgot.apple.com is your reliable companion, offering a path to regain control over your Apple ID and the connected services.
In that situation, let's now use iForgot.apple.com to unlock Apple ID without complication. In addition, we will have a great alternative for you. Please see all of the details below.

1. What is iForgot.apple.com?
What is iForgot.apple.com
iForgot.apple.com is Apple's official account recovery platform, designed to assist users in regaining access to their Apple ID when faced with challenges such as forgotten passwords, locked accounts, or security concerns. It is a centralized hub where users can initiate account recovery processes, reset passwords, and implement additional security measures to safeguard their digital identity.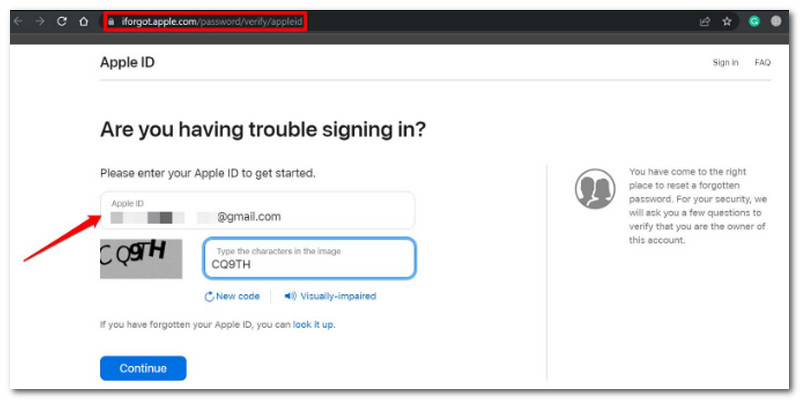 What can it do for you?
◆ Password Reset: If you've lost your Apple ID password, iForgot.apple.com provides a simple way to reset it. You may establish a new password that adheres to Apple's security requirements by following the procedures on the platform.
◆ Account Recovery: If your Apple ID has been locked or you have difficulty accessing your account, iForgot.apple.com can assist you. This procedure allows you to reclaim control of your account while protecting your data's integrity.
◆ Enhanced Security: Whether you need to update your trusted phone numbers, activate two-step verification, or set up two-factor authentication, iForgot.apple.com allows you to fortify your account's defenses.
2. How to Use iForgot.apple.com to Unlock Apple ID
Method 1: Two-Factor Authentication
Two-factor authentication is one of the simplest methods to retrieve your Apple ID. Before proceeding, ensure this function is enabled on your Apple account. If your iPhone is locked and you cannot enable two-factor authentication, proceed to the next alternative.
1.
Open your web browser and navigate to iforgot.apple.com unlock.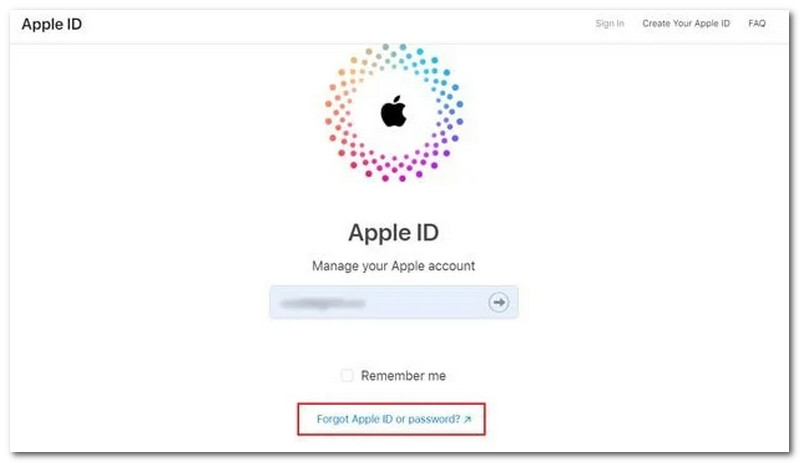 3.
Choose Did you forget your Apple ID and two-factor authentication on the following screen.
4.
Apple will deliver the code to a trusted device. Enter this code to create a new Apple ID password.
This is a great start for easing your problem. Most of the users have successfully reset their password using this method. However, some users report that it fails them. That is why we are giving you more in the next portion.
Method 2: Recovery Email
Unlocking a disabled Apple ID may appear difficult initially, but utilizing email is an excellent technique to regain your Apple ID. As we all know, the connectedness of our Apple ID and Email Accounts is a very important thing we can do, especially in times like this. Let's get started to see the whole process.
1.
Go to the iforgot.apple.com unlock page. Please provide your Apple ID's email address from there.
2.
Next, we must choose between Email Authentication and Answering Security Questions. In this scenario, we must select Email Authentication
3.
See the instructions on the screen to start the unlocking process.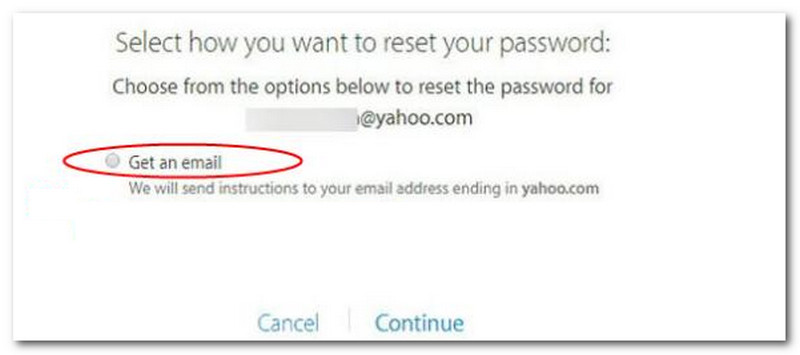 That is one of the easy ways we can use it. However, we must remember that this process suits those who connect their Apple ID to their Email. You cannot do it once it is not connected to your Email.
Method 3: Security Questions
Like the Recovery Email, Security Questions are a great medium for resetting our forgotten Apple ID password. For that, please see the step below in doing it.
1.
Navigate to the iforgot.apple.com unlock webpage. From there, please enter your Apple ID's email address.
2.
Next, we need to select between Email Authentication or Answer Security Questions. In this case, we need to choose Answer Security Questions.
3.
To begin the unlocking procedure, follow the simple instructions on the screen.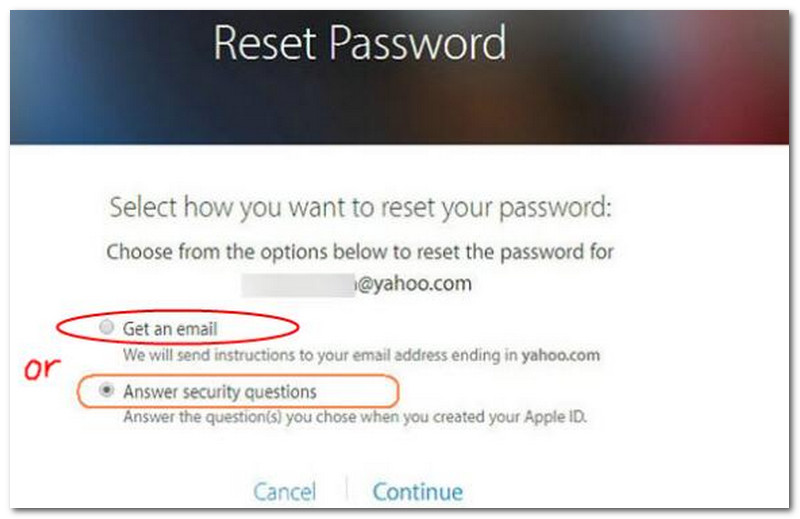 In this method, we must answer the questions properly to avoid any problems unlocking our devices. The key to this process is easy; we only need to remember the Security Questions we put up when our iOS is new. However, there might be huge problems when you forget it.
Method 4: Account Recovery
Finally, you may utilize the recovery key to resolve Apple ID difficulties while utilizing iforgot.apple.com to unlock iCloud. When you set up two-factor authentication, Apple provides a secret recovery key. If you still have access to this key, unlocking your Apple ID is a piece of cake. What you must do is as follows:
1.
Navigate to the Forgot Apple ID website and choose Forgot Apple ID or password.
2.
Enter the Apple ID and hit the Continue button.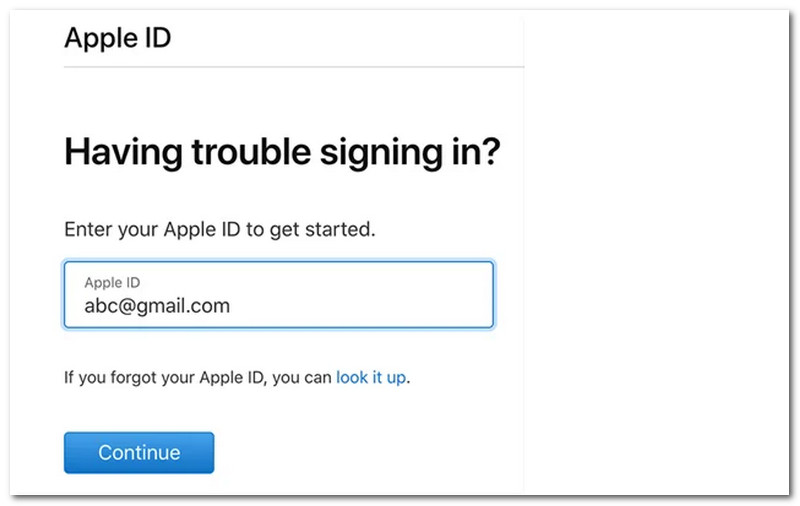 3.
Next, select the option that needs the usage of the Recovery Key.
4.
Finally, type the proper key into the appropriate box and create a new password.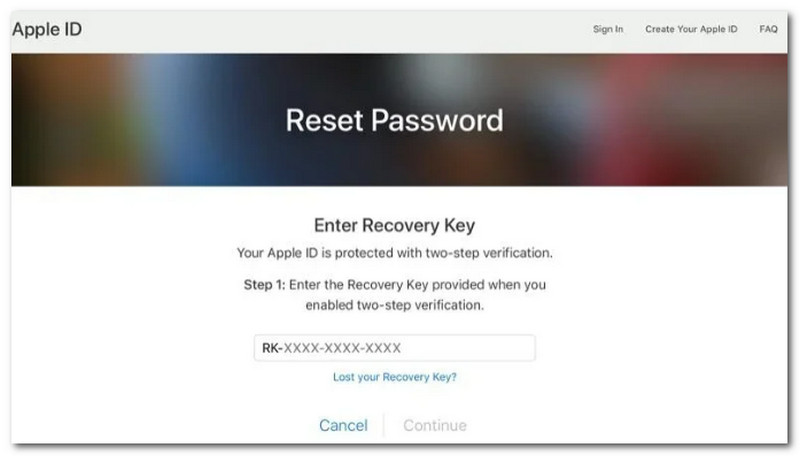 Like the processes above, this has a poor success rate since various factors determine the outcome. You must, for example, accurately answer the security questions. Likewise, you must memorize the 14-digit recovery code. Also, if you haven't already activated two-factor authentication and your iPhone is locked or disabled, it won't function. Overall, the procedure is quite sluggish.
3. iForgot.apple.com Alternative
However, there is also another question we need to answer. Some users still ask what to do if iForgot.apple.com is ineffective when they want to remove or recover their Apple ID. The answers to the question are very basic. Since we all understand that on their iPhones, everyone must check in to an Apple ID account. However, it is disastrous if the Apple ID is locked for many reasons. The good news is that Aiseesoft iPhone Unlocker can let you erase your Apple ID without a password from your iPhone. So you may log in to a new account and use your device regularly.
This tool offers the features we need and is very easy to use. We can now easily eliminate the problem using its Remove Apple ID feature.
1.
Select the Remove Apple ID mode in iPhone Unlocker on your PC.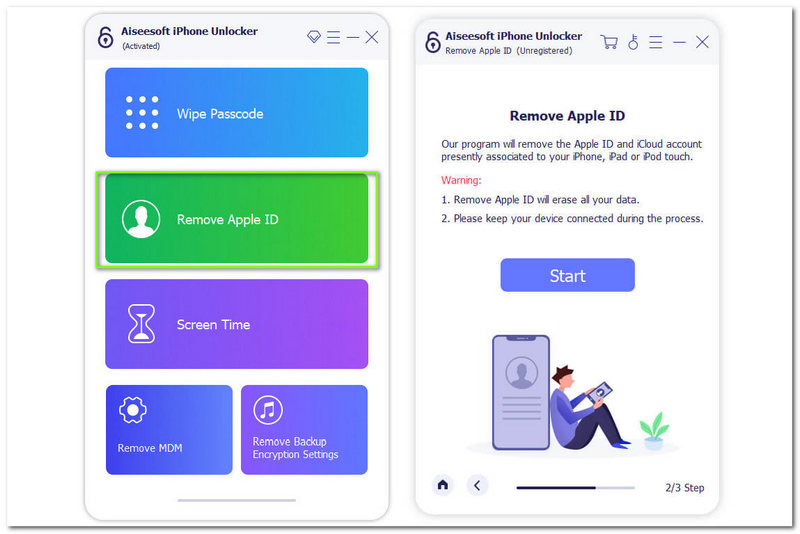 2.
Use a cord to connect your iOS device to the PC. After detecting your device, it will prompt you to hit Trust on your smartphone. To begin the procedure, click the Start button.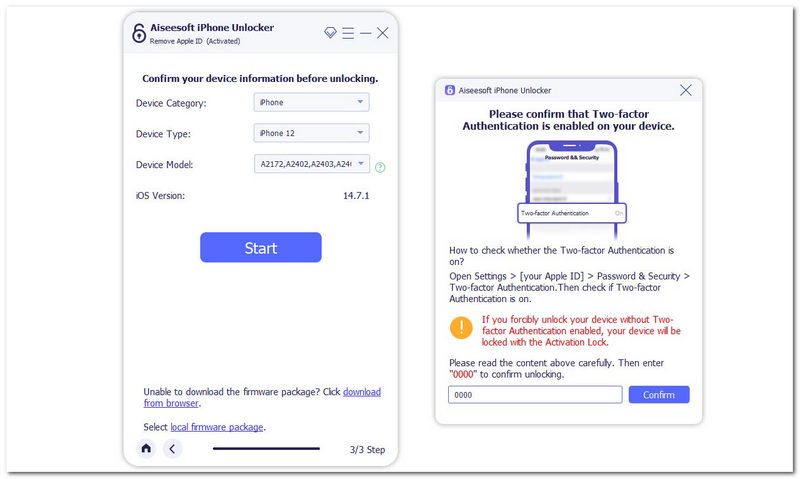 3.
Open Settings, choose your Apple ID and select Password & Security. Find and activate the Two-factor authentication option. Return to the application and confirm with 0000.
4.
Please confirm your iOS information. Then, choose the Start button to begin the firmware package download.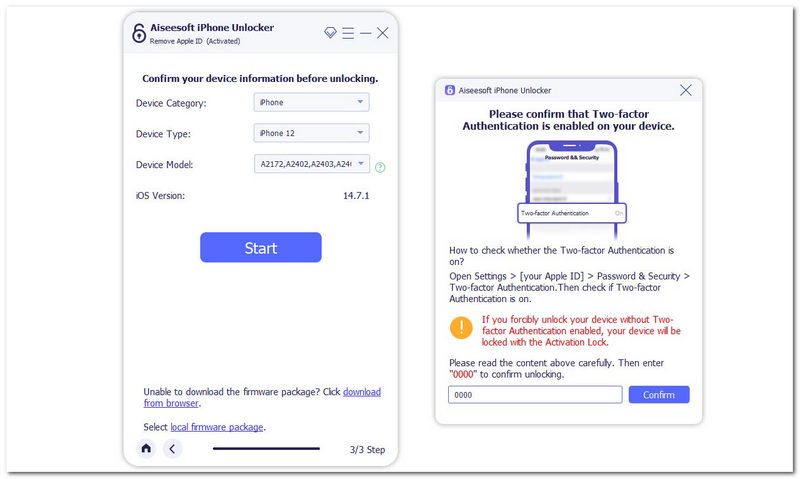 The procedure will now be completed in a fraction of a second. After you finish the process, your Apple ID and iCloud account will be deleted from your device. You may now use an existing Apple ID or create a new one to configure your device. All these easy steps will surely lead you to the success of removing your Apple ID even without removing the data on your phone. It is easy yet can result in an incredible outcome.
4. FAQs about iForgot.apple.com Unlock Apple ID
How to do 2-step verification without a phone?
When utilizing two-step verification for your Apple ID, a phone is typically used to receive verification codes. However, you can use an alternative trusted device if you can't access your phone. During the setup process, you would have designated multiple trusted devices. You can choose one of these devices to receive verification codes, ensuring you can access your Apple ID even without your phone.
How do I reset my Apple ID password without the trusted device?
Resetting your Apple ID password without access to the trusted device includes steps on the iForgot.apple.com platform. You can initiate the process by visiting the platform, entering your Apple ID, and selecting the option to reset your password. The platform will guide you through verification methods, such as using a trusted phone number or email address, to reset your password securely.
How do I get my Apple ID verification code without my iPhone?
If your iPhone is unavailable, you can still receive Apple ID verification codes through other trusted devices. When prompted for a verification code, receive it on a trusted device other than your iPhone. Additionally, if you've set up alternative methods like receiving codes via SMS or voice call, you can utilize those options to obtain verification codes without relying on your iPhone.
What if I can't get into my Apple ID?
If you cannot access your Apple ID due to forgotten passwords, locked accounts, or other challenges, iForgot.apple.com is your go-to solution. Visit the platform, follow the prompts for account recovery, and provide the necessary verification information. If you encounter difficulties during the process, Apple Support can further assist in regaining access to your account.
What if my Apple ID has been locked?
If your Apple ID has been locked, it may be due to security concerns or too many unsuccessful login attempts. In such cases, visiting iForgot.apple.com and initiating the account recovery process is recommended. You can unlock your Apple ID and restore access to your account by following the steps provided. This process typically involves verifying your identity and updating your security settings.
Conclusion
As we conclude this exploration of iForgot.apple.com, it's essential to recognize the bridge it creates between the user and their digital identity. The platform acknowledges users' challenges, providing a comprehensive solution that aligns with Apple's commitment to security and privacy. Also, we can see the incredible offers of Aiseesoft iPhone Unlocker in managing the situation. We can see that it is very effective in resetting your Apple ID Account without even deleting the data we have in our iOS.
Did you find this helpful?
399 Votes
YES

Thanks for letting us know!
No

Thanks for letting us know!