Yidio Review: Watch For Free Or Purchase and Rent Movies
In a world full of sites, one of the most famous sites is a movie streaming site. Many platforms now exist, and some users need clarification about what platform they should use. Worry no more because we are preparing to review Yidio, a well-known movie streaming site. Nevertheless, since it is not 100% free, we provide alternative sites you can use aside from Yidio. You can start reading now!

1. Overview of Yidio
What is Yidio?
This article will talk about movie streaming sites, and we will review Yidio. So the common question about it is, what is Yidio, and how does it work? It is a movie streaming platform that offers many TV shows, series, and movies.
It is not just a simple movie site because it can stream on your TV and works upon users searching and discovering movies on the official website. In addition, it will provide you notifications on what movie or series you can watch.
Furthermore, we do not want to publish this review about Yidio without sharing its advantages and disadvantages with you. That is why below, you will see them one by one. It is significant to know its advantages and disadvantages because you are becoming more familiar with the site more, even before using it.
Pros

Its user interface is interesting.
It lets you stream series and movies on Smart TVs.
It has many categories and Genres offers.
Cons

It does not let you watch unless you purchase the movie.
It offers minimal free movies.
Latest Movies of Yidio
◆ The Woman King
◆ After Ever Happy
◆ Dr. Seuss' How the Grinch Stole Christmas
◆ Spider-Man: No Way Home
◆ Black Panther: Wakanda Forever
◆ Charlie Brown Thanksgiving
◆ Charlie Brown Christmas
◆ Blue Lagoon: The Awakening
◆ Minions: The Rise of Gru
◆ The Boy in the Striped Pajamas
◆ The Fast and the Furious
◆ Madea Goes to Jail
◆ A Christmas Story Christmas
◆ Sonic the Hedgehog 2
◆ Where the Crawdads Sing
Free Movie from Yidio
◆ Toy Story 3
◆ John Wick: Chapter 3 - Parabellum
◆ Get Rich or Die Tryin'
◆ Last Seen Alive
◆ It's a Wonderful Life
◆ The Book of Eli
◆ The Family That Preys
◆ The Outlaw Josey Wales
◆ Rudolph The Red-Nosed Reindeer
◆ Dear Dumb Diary
Some users ask if does Yidio have viruses? Well, anyone is entitled to ask questions, especially if you are curious about the streaming site. To play it safe, you must not download movies on Yidio unless you purchased them.
Why? Yidio offers free movies, and those free movies are possibly copyrighted. Therefore, we do not encourage you to download movies from Yidio. But take note, you can download movies and watch them as much as you want if you buy them.
2. Review of Yidio
Yidio Interface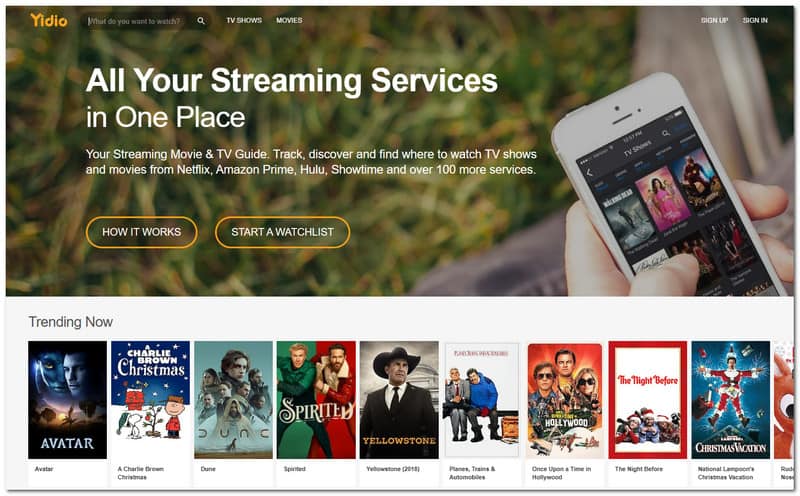 Yidio's user interface is simple, but it is interesting. How can we say that? If you are on the official site of Yidio, you will see the Search Bar and Search Icon. Aside from that, you will also see other options, like TV shows, Movies, Sign Up, and Sign In.
Below, you will see the How It Works button and the Start A Watchlist button. Upon scrolling down, you will see all the movies with different categories, such as Trending Now, Popular TV Shows, Popular Movies, TV Schedule, Free Movies, Just Aired Episodes, Watch Live Free, and Top TV Shows and Movies Streaming Services.
Again, it is simple, and it only has white color. Overall, its user interface is advantageous to many because it is user-friendly. Therefore, it is easier for everyone to use Yidio.
Preview of Yidio Movies and Series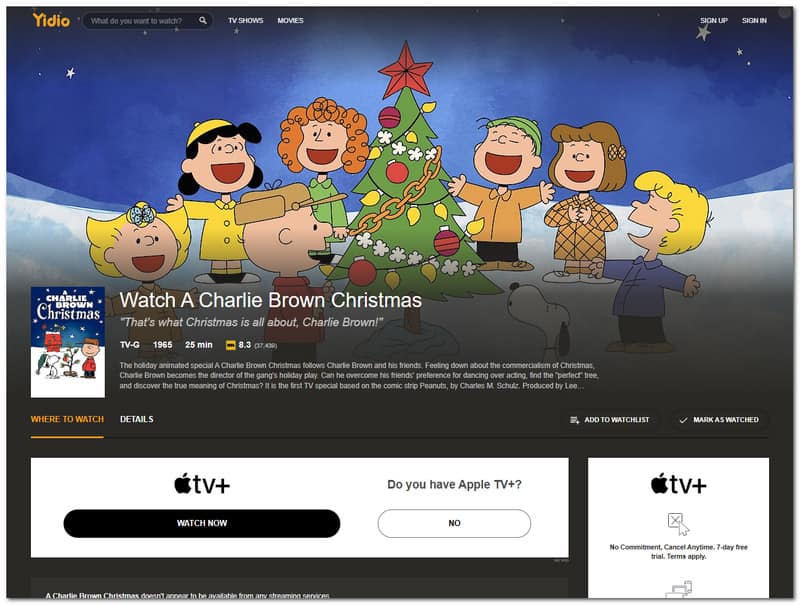 Before watching a series or movie, there may be times that you want to know its description. Luckily, Yidio provides a Preview and shows you the full description of the movies. If you look at the picture we uploaded, the movie's Title is Watch A Charlie Brown Christmas. Below, you will see the Year, Minutes, and Ratings of the movie.
Moving forward, you can start reading the Description of the movie, which ranges up to five paragraphs. It is more likely the movie's trailer but in paragraph form.
What else? You can click the Where To Watch button to see the available Smart TVs you can connect to. You can also click the Details to see the movie's Genre, Cast, Director, Release Date, MPPA Rating, Run Time, Language, and IMDB Rating.
There is more; you can click the Add to Watchlist button to add the movie you want to add to the Watchlist. Plus, you can also see the Mark As Watch button; it is a sign that you have watched the movie already.
Below, you can see numerous movies, like the Genre of the movie above. To conclude, Yidio provides a complete description of the series, TV shows, and movies you deserve to know.
Price of Yidio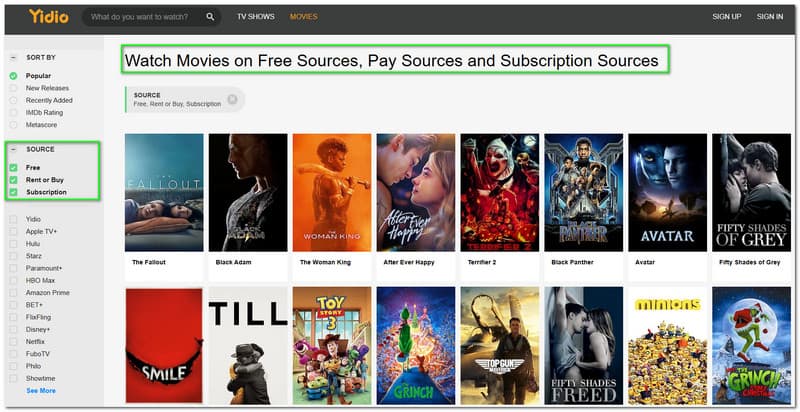 Another query about Yidio is how much does Yidio cost. To give you an idea, you cannot buy the entire Yidio official website. But Yidio offers a movie that lets you Rent or Buy movies. In addition, you can also subscribe to them.
Let us talk about the subscription first. Supposing you want a Yidio subscription, you can subscribe to them by paying $4.99 a month. In addition, you can also choose the $47.99 per year. With that, you can save up to $11.89.
Moreover, let us move on to buying and renting movies on Yidio. In the Source Category, there are three options: Free, Rent or Buy, and Subscription. If you want to see all the Free Movies, tick the Free small box. If you want to see all the movies that can be bought or rented, tick that option.
Furthermore, all the movies have different prices. Therefore, some movies are more costly than others, which will always depend on the movies and their quality. For example, all the movies that cost $4.99 are compiled. Same as with movies that cost $0.99 up to $3.99.
Lastly, if you already subscribed to them, but Yidio cancel subscription is all you want, you can contact Yidio customer support or Yidio customer service to help you with your concern. The good part is Yidio refund policy is possible, and you can check its Terms and Conditions on the Yidio official website.
3. Top 3 Alternatives to Yidio
SolarMovie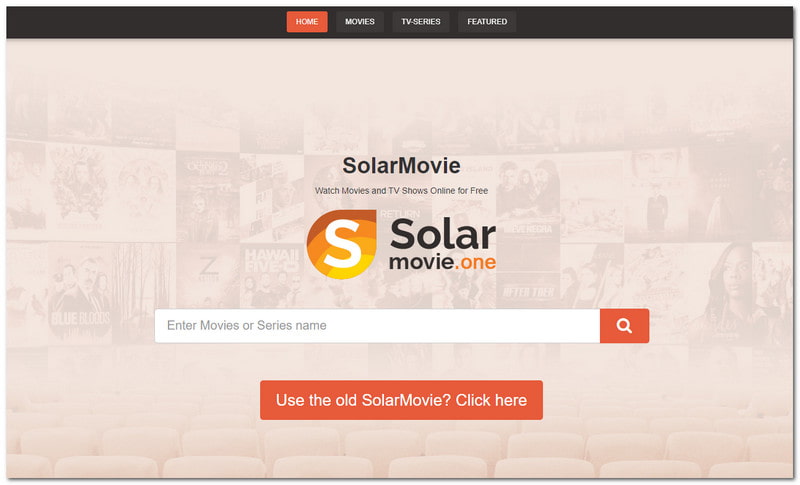 Pros

Its user interface is a manageable and excellent user interface.
It lets you find the movies quickly.
It also lets you download and stream in Hd quality.
Like Yidio's free movies, SolarMovie also offers free movies.
Cons

Without VPN, you cannot watch and download movies on the site.
It has uninteresting Ads that are not suitable, especially for children.
Its Ads contain viruses, and their safeness is not guaranteed.
SolarMovie is simple and manageable. It has colors black, white, and orange on its user interface. In addition, it is also simple to search for movies from SolarMovie. You will immediately see the Search Bar and Icon when you open its official website.
So, what is the reason why SolarMovie is an alternative to Yidio? It is simple because users love to watch free movies. In other words, SolarMovie offers more free movies than Yidio. That is the big advantage of SolarMovie. Also, do not miss the SolarMovie alternatives here.
AZMovies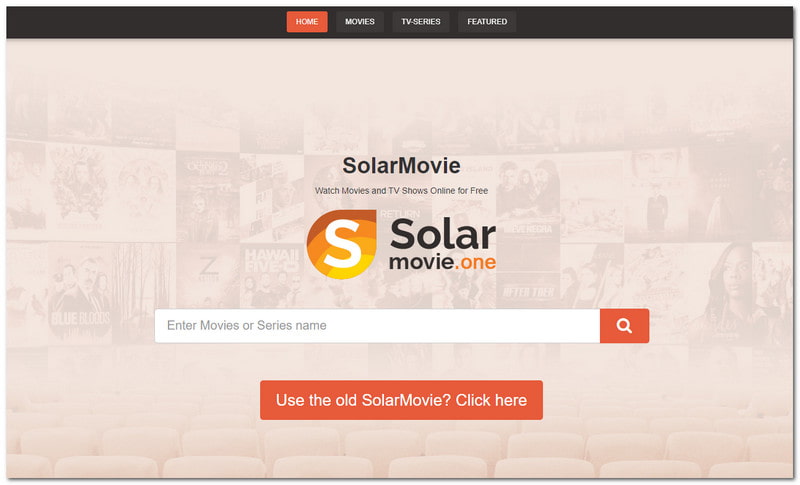 Pros

It has the latest movies to offer.
It lets you watch movies for free.
Cons

Its user interface is not too appealing, and it lacks options.
It offers limited categories to choose from and watch.
It needs to be clarified to watch a movie.
It has unending pop-up Ads.
Everyone loves to watch free movies. However, Yidio only offers a few free movies. Then, most of them are for rent, or they are needed to purchase. In that case, you might need an alternative to Yidio, and we suggest you use AZMovies.
Using this movie streaming site, you can watch movies for free anytime. Therefore, there is no money needed, unlike Yidio. Also, in AZMovies, you will encounter more latest movies because that is one of its advantages.
FMovies
Pros

It offers categories and Genres that are quick to find.
It also offers HD quality with numerous movies.
It provides Preview and shows you the trailer of the movie.
It does not oblige you to sign up.
Cons

Its safety is not guaranteed.
Its Ads have a window, and it will redirect you to it.
The reason why we are looking for an alternative to Yidio is that Yidio is not 100% free. For that reason, we can suggest FMovies, an exciting movie streaming platform, because it is a free site. In addition, you can enjoy all its Categories for free, such as Thriller, Drama, Suspense, Comedy, Romance, History, and more.
In addition, you need to remember that since it is free, you must be careful about its Ads that keep appearing on the entire site. But overall, FMovies is user-friendly, and its Search Bar is easy to find and access. Also, you can try the FMovies alternatives.
4. FAQs of Yidio
Is Yidio safe?
After reviewing Yidio, we can conclude that it is safe. But how can we come up with that? Since Yidio is not 100% free, it does not contain Ads that contain viruses. In addition, there are only minimal free movies; the rest are for rent and purchase. Therefore, it is a safe movie site platform.
Is Yidio legit?
Of course, Yidio is a legit movie streaming platform. It has a few free movies, and it also sells movies. In addition, you can access all the options you want to visit. Therefore, Yidio is legit, and it works perfectly.
Is Yidio free?
Yidio is not free at all. It offers a subscription plan for a month and for a year. Furthermore, it also offers movies that are ready to buy and rent. However, the good news is Yidio offers a few movies that you can watch.
How to watch free movies on Yidio?
It is easy to watch free movies on Yidio. To access its free movies, click the Movies button on the upper corner of the site. Then, you will see the Source Category in the left corner. Then, tick the Free, and Yidio will show you all the available free movies they provide. Then, start watching a movie.
Conclusion:
At last, we are done reviewing Yidio. Since we know that Yidio is not 100% free, we give you an alternative movie-streaming platform that is free to use, and you can watch movies anytime. However, since they are free, be ready for their Ads. If you want another review article like this, we can upload another one next time and we will see you there!
Did you find this helpful?
391 Votes
YES

Thanks for letting us know!
No

Thanks for letting us know!
Popular Movie Website Review
AnyMP4 Video Converter Ultimate
All-in-one video converter, editor, enhancer upscaled with AI.