5 Best Ways to Convert MOD Files to a New Format for Online, Windows, and Mac!
MOD files are particularly used for the background music in video games like Sugar rush, Super Mario, Mobile legends, and Call of duty. Besides, MOD files are also used in the Demoscene that focuses on creating audio-visual presentations. This thing aims to showcase visual art and appreciate musical skills. However, despite the fascinating characteristics of MOD files, you need to know that you may encounter some issues with the compatibility of your devices or media player. In accordance with that, we present you with different software that will enable you to convert your MOD files into a format that is compatible with your devices. Different amazing MOD file converters that can offer various features for you.

Part 1. Why Do You Need to Convert MOD Files?
As mentioned above, you may encounter different issues in playing MOD files with your computer or any device. Some of the audio players that support MOD files are no longer being developed or in the worst case, most of them are not working anymore on these modern and high technology operating systems. Sometimes, a video won't open, or the file is distorted. If that is the case, converting MOD files to any format is important so that you can still play it with any audio player and with any device.
To help you find the best MOD Converter for you, we gathered the best 3 converters that can be included in your list. Just continue navigating this article.
Part 2. Optional MOD Converters (Pros & Cons)
1. Tipard MOD Converter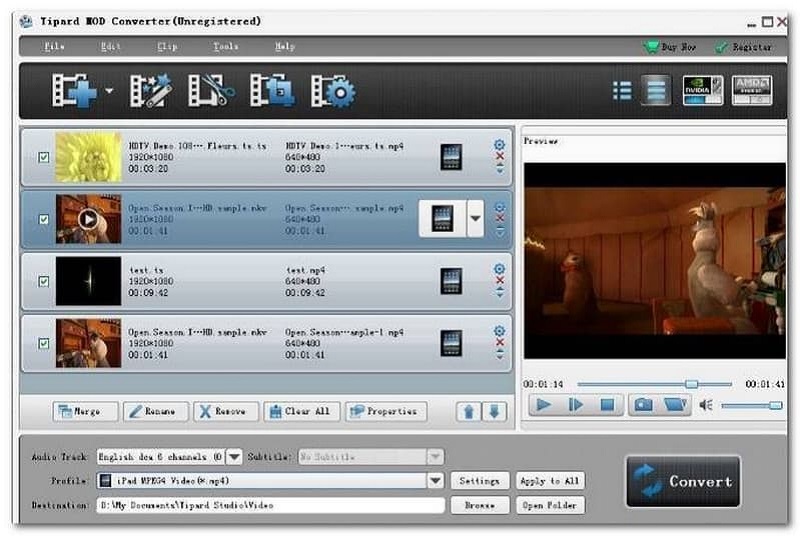 Tipard MOD Converter is the best definition of accessible MOD converter. It allows you to convert your MOD files to a new format by installing the converter on your computer, even on your iOS, Android devices, and other multimedia players. In terms of the supported file formats, a few of them are MP4, AVI, FLV, MKV, MOV, MP3, and more video and even audio formats. Besides, this converter offers powerful editing functions to polish your converted MOD videos with ease. Overall, this is a great converting tool that is available for Windows and Mac. You can get this video converter for as low as $16.00 one license per month and $31.50 one license for a lift time.
Pros

The licenses are twice affordable compared to other MOD converters.
Offers the basic and essential features that a MOD converter should possess.
Flexible and faster conversion speed.
Has built-in editing tools.
Cons

There is a concern with the quality of the converted files.
2. Movavi Free Video Converter
Movavi Free Video Converter is one of the easy-to-use and fastest MOD converters that we tested. Besides, this MOD converter will give you various features that will help you with your converting experience. What makes it the best, it has a very smooth profile that will allow you to switch or convert MOD to MP4 with ease. Furthermore, its interface does not give you a complicated atmosphere because of its smooth and organized functions and profiles. Overall, the Movavi is the most suitable, effective, and efficient MOD converting tool for it is free and can offer what is necessary.
Pros

A free converting tool that can convert your MOD files into a new format.
The user-friendly and easy-to-use file can be learned in a short period.
Cons

There is a little issue when it comes to pixilation and compression in the final output.
There is minimal distortion when it comes to the audio.
Does not allow you to download videos from the site.
It lacks some of the basic features and functions such as trim before adding the videos.
3. ConvertFiles.com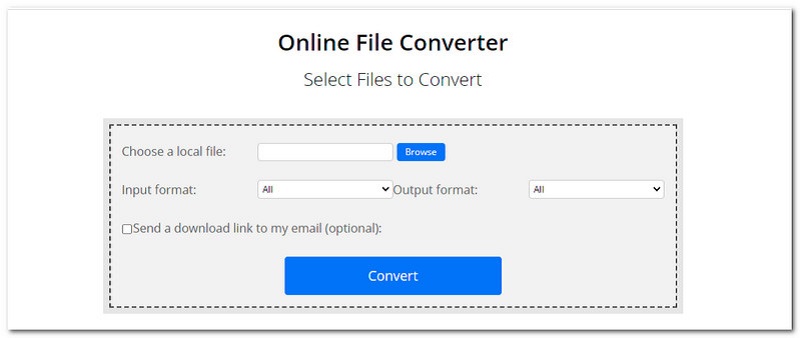 If you are looking for an online MOD convert, ConvertFiles.com is the one you are looking for. This converter will allow you to convert MOD videos using your website on any platform including Windows and Mac, as long as you have a browser. This is a free converter that is suitable for those people who are looking for an instant process of conversion. However, the site is bombarded with advertisements, posters, and videos that may annoy people. Overall, as an online converter that offers you the basic features and can convert in a minute without payment is a great choice that should be listed on your list.
Pros

Free online converter.
Accessible to the mass.
Convert with ease.
Cons

Advertisement posters sometimes prevent you from converting your videos efficiently.
Some users are not satisfied with the quality of the converted videos.
4. CloudConverter

CloudConvert is also one of the incredible online MOD converts that supports more than 200 file formats including, MP4, AVI, MOV, and other popular formats. Besides, this tool is suitable if you wish to convert MOD files to MOV or MP4. Furthermore, CloudConverter will enable you to control the quality, size, and resolution of your videos.
Pros

Free and accessible online MOD converter for everyone.
Effect and useful in converting your videos.
Fast converting and uploading speed.
Cons

Confounding to learn at first.
It is hard to convert MOD files with big file sizes.
Chaos sometimes occurs when converting.
5. Aiseesoft MOD Converter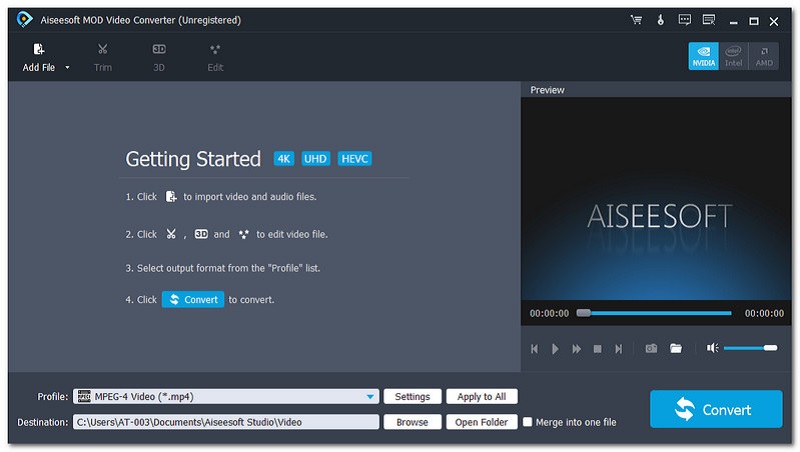 Talking about the best MOD converter, Aiseesoft is about to get the crown. It offers you everything you are looking for in a MOD converter. Through this software, you can convert MOV to MPEG2, MP4, WMV, AVI, and MOV. Besides, you will not waste even a single second in using this converter for it can convert your video faster than any converter and hassle-free. Furthermore, it comes with built-in video editing tools that are perfect to make your converted videos more attractive!
To prove to you how easy-to-use it is, here are a few steps to direct you in converting your MOD File to a new file format like MP4.
1.
1. After you open the Aiseesoft MOD Converter, you will now see the full interface and settings. Click the Add file at the top left portion of the interface.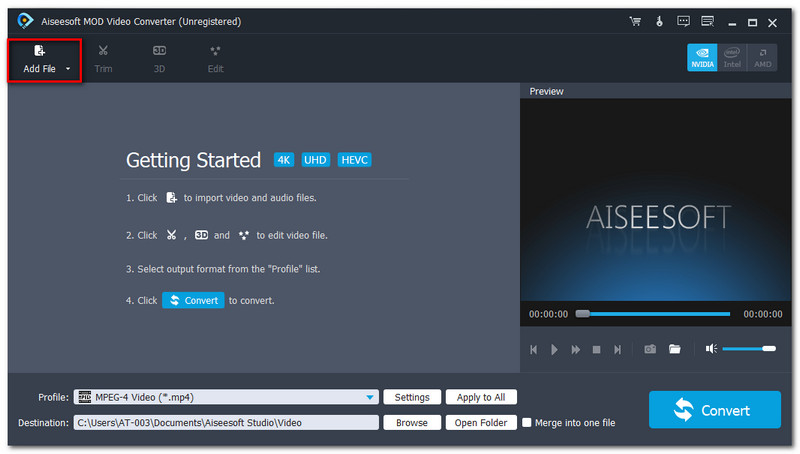 2.
A new window will appear where you can see the location of MOD files that you want to modify. Select the MOD file you wish to convert and click Open.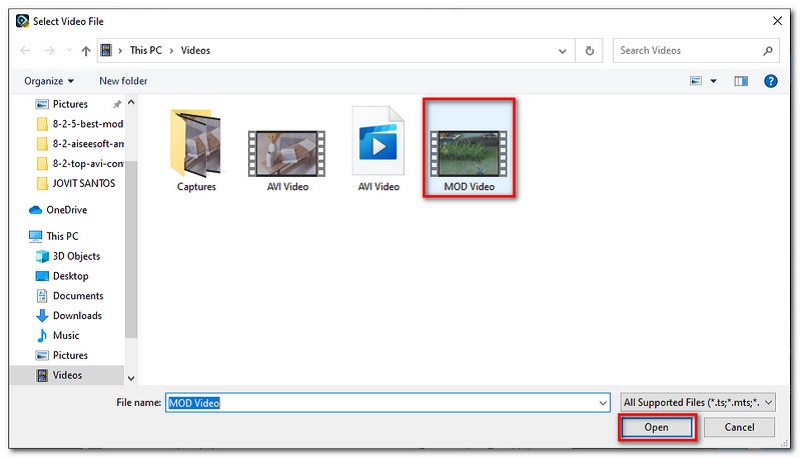 3.
After that, you may now modify the format of your video by clicking the icon ON the right side of the video added.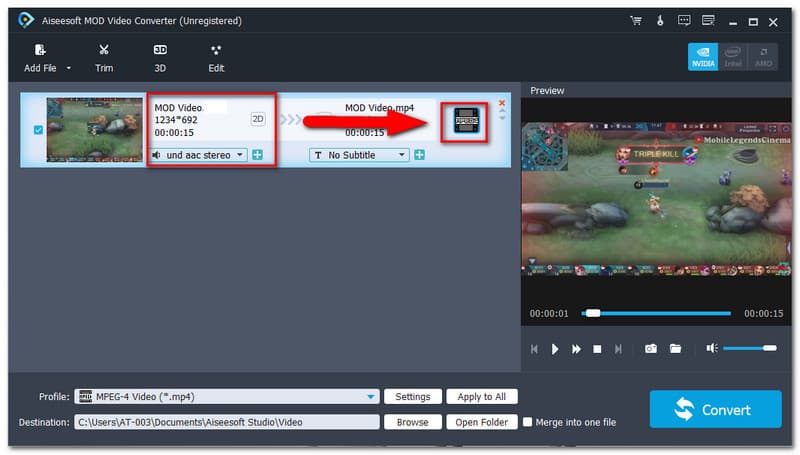 4.
Next, select your preferred file location to save your converted MOD file at the bottom portion of the interface.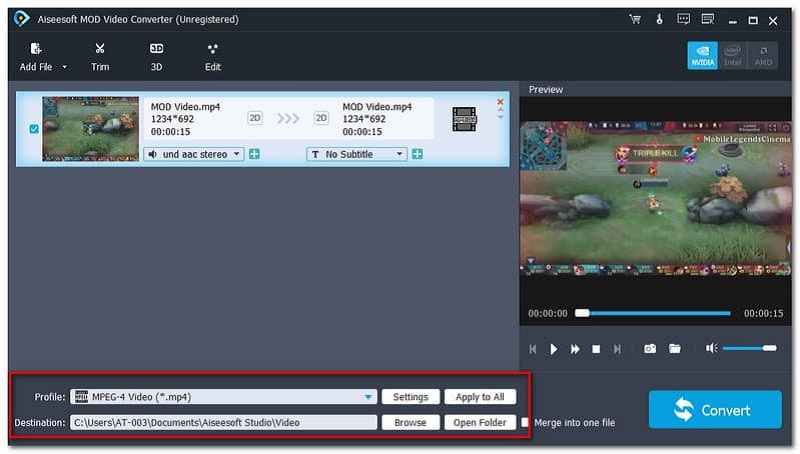 5.
Lastly, select the Convert button to start the transformation. Wait for a second and the video will automatically be saved.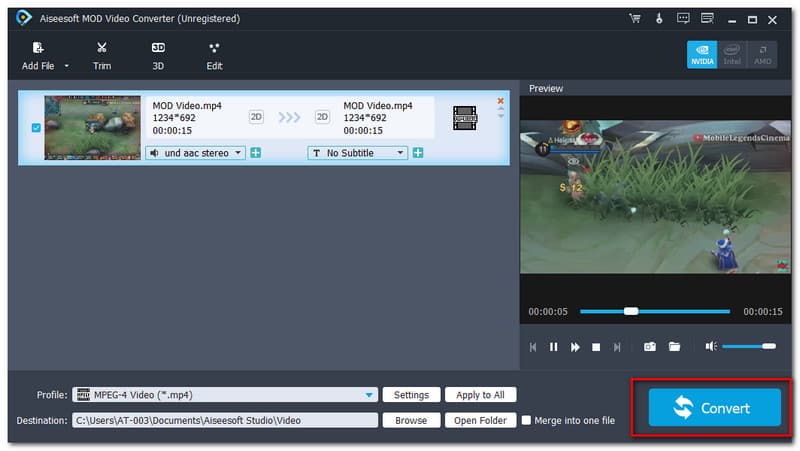 Part 3. FAQs about MOD converter
Is ConvertFiles.com safe?
As we tested the converter and in accordance with the user, it is a safe and effective converter you can use in modifying your MOD files.
What app can open MOD files?
Some of the Android devices, iPhone model, and computer can play MOD Player. You can use XMP Player, Vivid Tracker. and MilkyTracker to play MOD in your devices.
What is MOD format in the video?
MOD files are particularly used for the background music in video games. Besides, MOD files are also used in the Demoscene that focuses on creating audio-visual presentations.
Conclusion
To conclude, converting your MOD file is now easy because there is a lot of software to use in making the conversion possible. If you are looking for the best MOD Converter, you choose from the 5 converting software above. However, we highly recommend the Aiseesoft MOD Converter for it can offer everything you are looking for. Try it now!
Did you find this helpful?
220 Votes
YES

Thanks for letting us know!
No

Thanks for letting us know!