7 Leading Online MP3 Music Player for an Extreme and Extraordinary Playback
Music cannot be played without the presence of a player software. Sometimes, listening to your favourite music using an online music player can bring a lot of benefits for us. One of the biggest benefits of an online audio player is to save a huge space on your system storage. Therefore, choosing the best online player requires attention and standards to consider so that your sound trip experience will be extraordinary. Lucky, you do need to do a lot of research, because we already did the research for you. That is why, in this article we prepared the seven of the most leading music players online. Taka a review of their main features, rating, pros, and cons!

Part 1. Best 7 Online Music Player
FVC Free Video Player

Overall Rating: 4.6
Price: Free
FVC Free Video Player has taken its spot as the best online music player that you can easily utilize you're your sound trip and more. This online music player can be used in just three easy steps. Download the FVC launcher once, open the music you like, and get ready to dance while listening to your favourite music. Since we already talked about its overview, it is about time to talk about its features. Let us start to mention its ability to play your music with an amazing playback process. This is possible because FVC Free Video Player possesses a high quality technology that will help us listen to music with lossless quality. Therefore, for that being said, there is no doubt why FVC Free Video Player is one of the best online music players nowadays.
Pros

Smooth playback of your audio.
Can be accessed with ease.
Less complicated to use.
Experience a quality music playback.
Customizing Playing Process
Cons

It requires internet connectivity.
Jango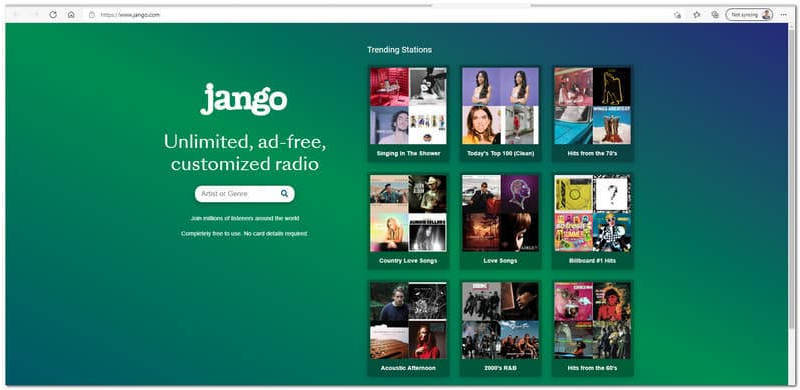 Overall Rating: 4.6
Price: Free
Another best music player for online use is the Jango music player for web. This player has a fascinating interface and web designs that can be a factor of making the experience of listening music immense. Through this online software, you may now search readily available playlists of the songs you love like country, pop, hard rock, and more. Although, it requires an account so that you may enjoy choosing music without hindrances and freely. One of the disadvantages of using it as a guest is that all the music is played shuffle and choosing specific tracks is not allowed. Therefore, if you want an interrupted experience, you must create an account. In fact, creating an account is not that hard and actually helpful for you. As a verdict, we can really say that this can offer fantastic things for us. If you want to experience it and to discover more, go to their website now.
Pros

Minimal interface and web design.
Readymade playlists are available.
Amazing features offered.
Cons

Delay in process sometimes.
Buffering sometimes occurs.
Stingray Web Player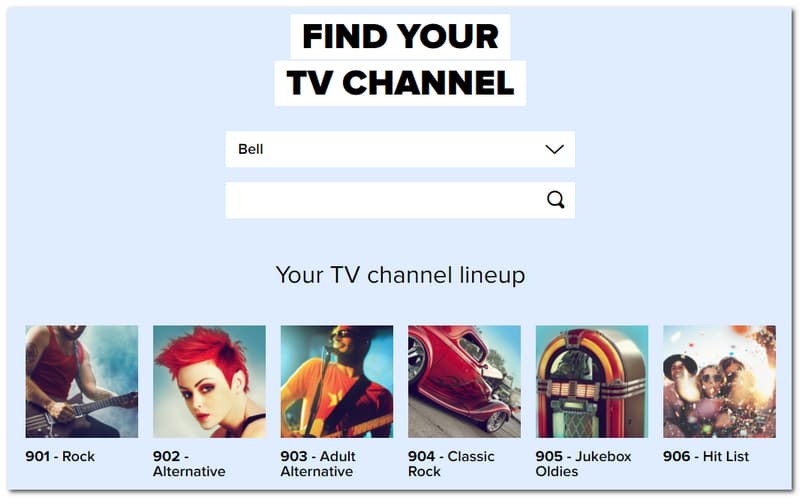 Overall Rating: 4.6
Price: Free
Let us play music using your web browser through Stingray Web Player, one of the professional music players that can be accessed to the internet for you. This online software will surely help you to tune out like a boss and entertain effectively. In accordance with their web site, Stingray Web Player can offer an easy and breezy way to listen to music online. In addition, its accessibility is just fantastic because you can always use it anytime and anywhere, at home, at work, in the coffee shop while writing poems or stories with a cup of coffee around. Through Stingray Web Player your favourite music will be one click away. Setting a line-up is also available. Furthermore, an application version is also available to download via App Store and Google Play Store. Overall, we can really say that Stingray Web Player deserves to be included in the list of being the online music player through website usage.
Pros

Professional interface.
Organize online software.
Necessary information is presented on the web.
Cons

It requires an account to stream and listen.
Overwhelming to use at first.
Amazon Web Player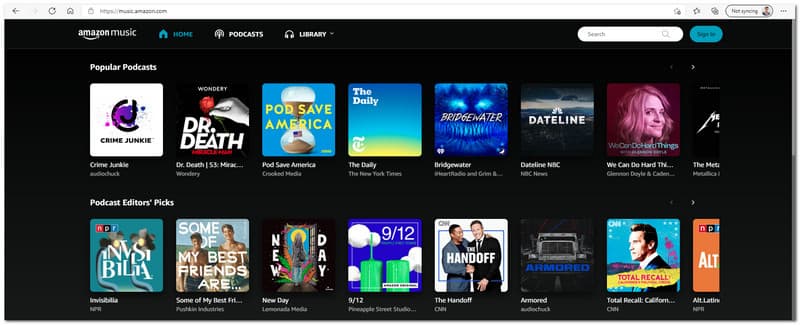 Overall Rating: 4.6
Price: Free
Amazon Web Player is one of the best music players online that can give you amazing abilities. Knowing that it was created by Amazon Corporation, one of the biggest rivals of Spotify music in the market now. We would like to assume that it is a common knowledge that Spotify and Amazon have already created and built their names in the industry that comes with a great foundation. However, despite all of that. Amazon can offer more through their web player. The online software also provides the features and functions that we can get to their Desktop software. Amazon Web Player is literally made to make listening more accessible to the public. Various functions are also offered prior in listening to music there are still a lot of things to mention about. However you may do the favour in discovering it. Try it now.
Pros

Top music player in the market.
Affordable and free.
All music is available.
Super smooth playback.
Minimalist interface.
Cons

Overwhelming to use at first.
It requires an account to sign in.
YouTube Web Player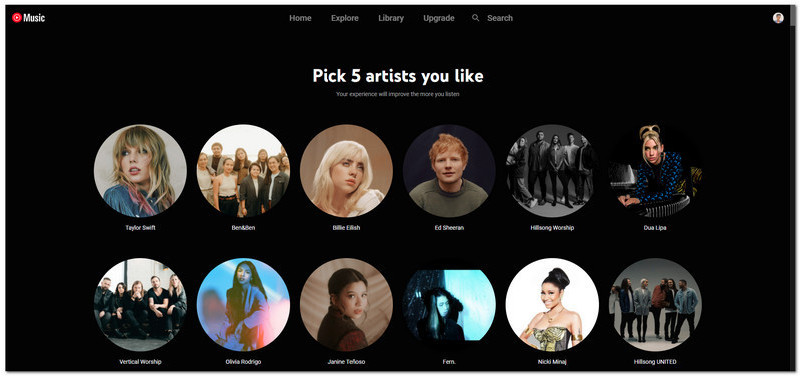 Overall Rating: 4.6
Price: Free
We know YouTube has already built its name as the most leading application for streaming videos online. This software is one of the most trusted and go-to solutions for users who are bored at a specific time. Other than being an application that can be downloaded on your mobile phones it can also be accessed using your browser. As time flies, YouTube also developed an application that you can use in streaming music only.
That is why YouTube Web Player exists because of the high demand in the music industry nowadays. Truly, the company of YouTube is making sure that it always gives the best function to all of us. This player is a little bit similar to Spotify, Apple Music, and ITunes players that possess a very professional interface and provide a very smooth playback processor. In addition, ads are available in a free version. Purchase the premium one to enjoy music uninterrupted with Youtube Web Player. For that being known, there will be no place for doubts why Youtube Web Player is one of the best players of all time.
Pros

Proven and trusted by many for a long time.
One leading player ever since.
Playback is extremely incredible.
Using an ultra-powerful processor.
Cons

Ads availability in the free version.
Apple Music Web Player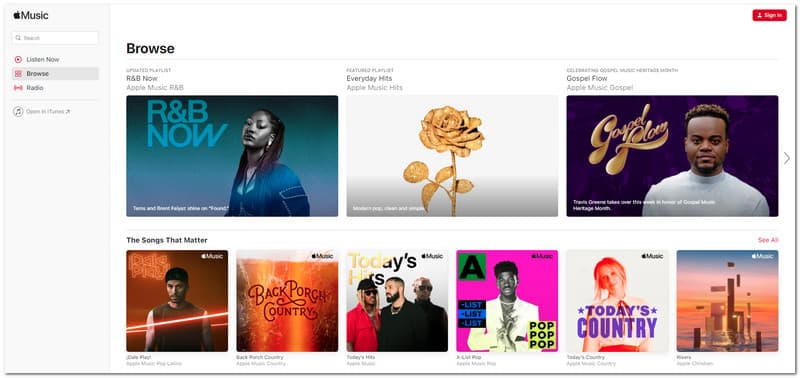 Overall Rating: 4.6
Price: Free
Apple Music Web Player is also one of the top three performing music players in the market. As we know, Apple Corporation has always provided incredible software that can be utilized in different aspects of computers. In connection with the functions of Apple Music Web Player, this software offers almost everything that a desktop software version can do. To mention a few of the features that apple music can provide is the unstoppable listening music plus the adding to queue actions. Overall, Apple Music does not need an explanation why it is the best, because it has been the best for a long time now.
Pros

Used by many, especially iOS users.
Very effective player.
Cons

Need to sign in.
Spotify Web Player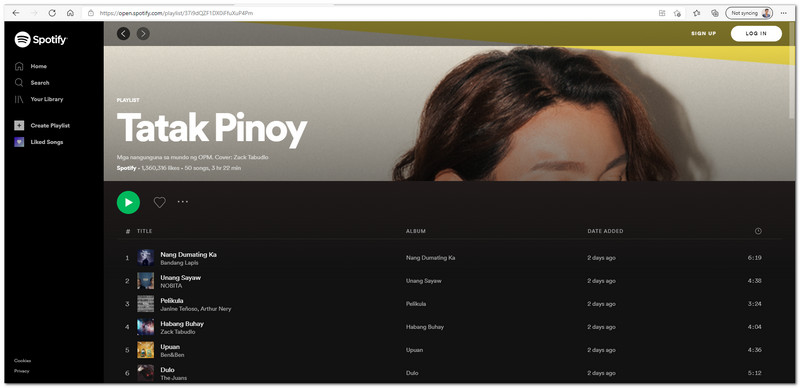 Overall Rating: 4.6
Price: Free
Spotify Web Player is last on the list, but definitely the least. This is one of the most infamous praising players alongside Apple Music, iTunes, and YouTube. The level of competition of this music player is truly amazing. It makes sure that all of the features they offer will always be essential to the users. Also, if you watch karaoke, you use this through turning on the lyrics show option. Other than that, the short silence after the music to the next one can now be alleviated here through the use of the crossfade tools that supports fading time from 1 to 12 seconds. In addition, you do not need to worry about what song will be played next because you can set it by adding to the queue the songs you wanted to hear. For that being said, Spotify Web Player does not regret its use in listening to music. Try their premium for a fantastic and uninterrupted listening experience.
Pros

Functions, features, and tools are all organized.
Solid music playback.
Easy to understand.
Not confusing to use.
Premium accounts are affordable and cost efficient.
Cons

As are available with basic accounts.
Part 2. Comparison of Top 7 Online Music Player
Online Music Player
FVC Free Video Player
Jango
Stingray Web Player
Amazon Web Player
Youtube Web Player
Apple Music Web Player
Spotify Web Player
| | | | |
| --- | --- | --- | --- |
| Fast player | Smooth Playback | Ads Availability | Sign-up Required |
| Super-fast | Super-smooth | Not Available | |
| Fast | Smooth | Not Available | |
| Fast | Smooth | Not Available | |
| Super-fast | Super-smooth | Not Available | |
| Super-fast | Super-smooth | Available | |
| Super-fast | Super-smooth | Not Available | |
| Super-fast | Super-smooth | Available | |
Part 3. FAQs of Best Online Music Player
What disadvantage can I get when I create an account in utilizing an online music player?
There is definitely an advantage when you listen with an account. First and foremost, it is common knowledge that some music players will not allow you to play music. While others offer extra features when you listen with an account.
Is there such a thing as a completely free online music player?
Yes, FVC Free Video Player offers an absolutely free service. The only thing you should bear in mind is that you must be ready to play music files on your device. Despite that, it is a great online music player on the web.
Is Spotify Web Player limited compared to the Spotify application?
There is no huge difference when you are using Spotify Web Player and Spotify software, these two offer the same features and functions. The only difference is the medium that you are using in playing music.
Conclusion
Therefore we can conclude that there may be a lot of desktop music player software that can give you various fantastic features and functions. However, utilizing an online music player is also beneficial and really effective in playing your favourite soundtracks. That is why, we gathered the seven of the most fascinating and efficient online audio players for you. The only thing you need to do is to read the review comprehensively for you to choose that will suit you the most. You may also help a friend who is looking for an online music player that they can use in many ways. Share this article now to them.
Did you find this helpful?
236 Votes
YESThanks for letting us know!
NoThanks for letting us know!
Best Picks of Music Player
Best Picks of Online Audio Player