Elmedia Player Review: The Advanced Audio Player for Mac
Are you a Mac user that is looking for a music player that has an amazing sound quality and provides you with advanced playback? That's good! Continue reading this article because we will talk about Elmedia Player functions, how much do we need to spend, and what numerous features it can offer. In line with that, we will also review the platforms that are suitable in this software. Also, let us tackle if it is safe for the users who want to use it and what are the benefits they can get if they will purchase the Pro version or one of their plans.

1. Our Verdict
Pros

Easy and simple to use.
Fix and sync audio and subtitles.
You can stream YouTube without ads.
Fast HD, FHD, and 4K video download.
Offers free trial.
Sync subtitles to video.
Cons

Video resolution reduces at times.
2. What is Elmedia Player?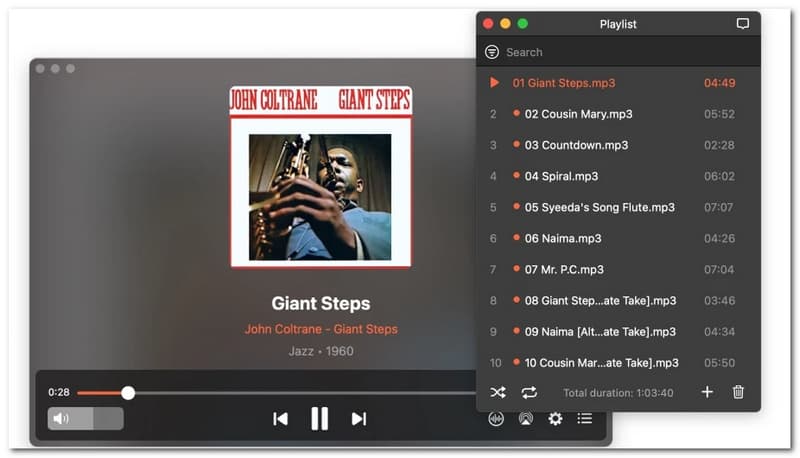 Elmedia player is a good audio player for Mac with many codecs included. It can play songs in formats such as MP3, WMV, OGG. While making use of Elmedia for your audio, you can get access to the audio equalizer, playback speed setting and more.
Price
You can enjoy using Elmedia Player for free, yet if you want to appreciate other features that Elmedia Player Pro can offer here are the three (3) plans you can purchase. For personal uses it costs $19.95. If you want to enjoy it with your family it costs $39.95. Moreover, if you will use it for business purposes it costs $29.95. However, you can get the Elmedia Player lite version for $12.99 from the Mac App Store.
Platform
Unfortunately, Elmedia Player is available only for Mac users. It has a free trial on its own official website and if you want to continue using it, pay for the Pro version later.
Main Features
Here are the features that you can enjoy using free version:
● Create your playlist.
● Watch and play online videos you like.
● Play videos in different formats.
● Rotate, pause videos.
● Can fit an image into the screen.
● You can adjust playback speed.
● Sync audio to video.
Features you can already access in the paid version.
● You can download online videos.
● Deinterlace the video.
● Extract MP3 from YouTube videos.
● Stream local files to Chrome/DLNA-enabled devices, to Apple TV's, to other devices with Airplay.
● Advance looping.
● Utilize the picture-in-picture mode.
● Male precise screenshots.
● Record a series of screenshots.
● Tune every little thing.
● Options for a multi-monitor set up.
3. Elmedia Player Review
Safety
Elmedia Player is completely safe. After downloading this software to your Mac it will never create any changes to your Mac. It does not include any bundleware or adware. It does not have any harmful bugs or vulnerabilities, either. You do not have to worry as long as you download it from an official source.
Price
Elmedia Player is free to use. Since it is free, it has limited features only. Prices of Pro version in three (3) different licenses.
| | |
| --- | --- |
| Personal | $19.95 |
| Family | $39.95 |
| Business | $29.95 |
It also has choices. You have to pay an additional $9.95 to add a lifetime upgrades guarantee, and pay an additional $15.00/year to add an urgent support plan.
Enhanced Playback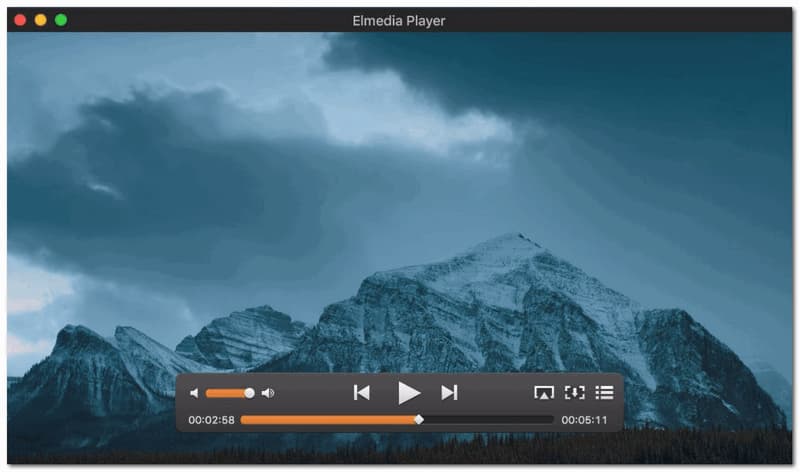 Elmedia Player provides hardware acceleration. What does it mean? It is for lightning-fast playback of HD videos. Users can mirror, flip, rotate, or change the ratio without skipping a frame. Furthermore, this software offers a more refined, polished user interface that focuses on media first.
Interface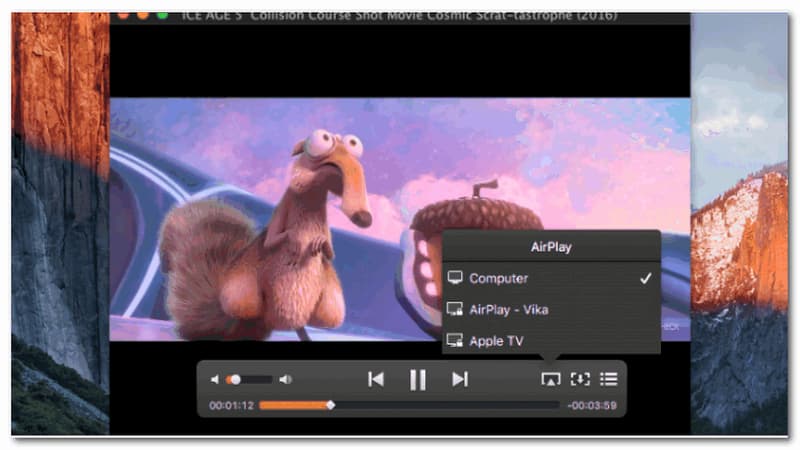 Surprisingly, the interface of Elmedia is quite tidy. There are the video titles and various frequently-used tools such as built-in browsers, playlist, stream to, volume control, play and settings are put on the interface. Also, it is unique and stylish with a salient color scheme and the use of it is to help users to focus on their current tasks.
Other Features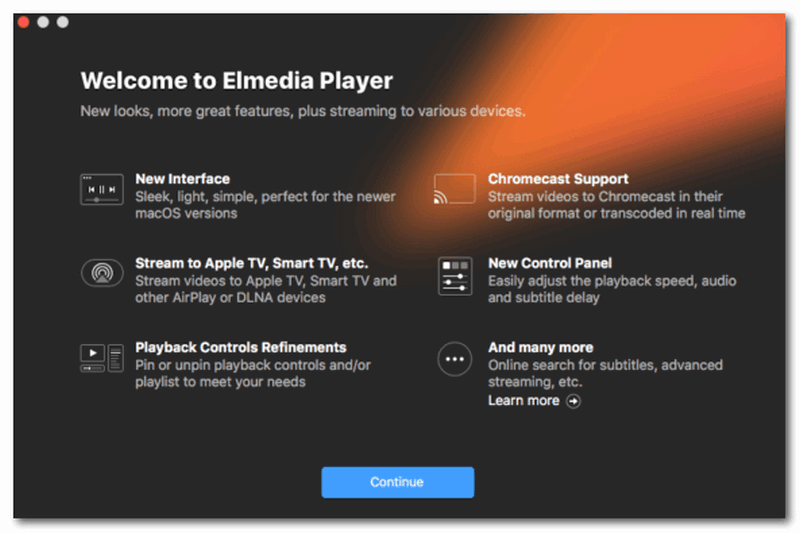 It is all built in
It has advanced sound control settings. You can safely keep it playing in the background even though you are editing clips or enjoying video games.
External tracks
Add different audio tracks on the top of your movie clip. Also, you can watch the same video in a different language, or you can choose a better dub for your movie.
Audio Equalizer
With its 10-band graphic equalizer, the sound of your audio can be manually tuned based to your liking. In addition to this, you can try the artfully composed presets. Amazing right?
AC3/DTS through S/PDIF
To set up passthrough for hardware decoders, use the player's settings - AC3 or DTS for surround audio.
Audio Visualizer
It comes with numerous options. With Elmedia Player, experience music in many ways that you have not tried before.
Sync the sound
With a simple option, just change the audio delay if you want to desynchronize audio and can be counteracted.
4. FAQ
Is Elmedia Player free for Mac?
The basic features are free such as video, audio, subtitle playbacks, universal format support, playlist, and more.
When to upgrade to Elmedia Player Pro?
If you are not content anymore with the basic features of Elmedia Player free version, you can now purchase the Elmedia Pro Version. It will provide you and it will help you especially if you use it for school, or business purposes.
What format can Elmedia support?
Elmedia Player is compatible with all common video and audio formats together with AVI, FLV, SWF, MKV, WMV, MOV, MP3, MP4, DAT, FLAC, and more.
5. Best Alternative - AnyMP4 Blu-ray Player
AnyMP4 Blu-ray Player is the best alternative and it is an effective Blu-ray and DVD Playback software. When it comes to movies, it has the most advanced Blu-ray technology and it is known as the professional Blu-ray Player that can play movies on PC. Also, it can play the movie, video or music with a high-quality. Furthermore, this software can provide you with impressive sound quality in a Blu-ray playback.
Conclusion
Summing up, we then have an idea of how Elmedia Player works. We also get to know what features it can give to the free users and what numerous features and other features it can offer who obtain the Pro version. In addition to this, when we decided to purchase it, we are now familiar with its price and what plan it can offer. As we have shown in this article, Elmedia Player is safe so try it now! However, you can also try AnyMP4 Blu-ray Player and download it for free.
Did you find this helpful?
382 Votes
YES

Thanks for letting us know!
No

Thanks for letting us know!
AnyMP4 Blu-ray Player
Make Blu-ray, DVD, and video playback easier on computer.