Spotify Review: The Outstanding Audio Player Compatible With All Devices for FREE!
Seems boring while traveling to work right? Feel so tired while working out? Or maybe you want an audio player for partying and you just want to relax? Make your life easy with Spotify! With this application, it's easier for you to find the right music or podcast. There are a lot of features that we will review as we go on. We will also talk about the advantages that you can get at the disadvantages so that you will be much more aware of this application.

1. Our Verdict
Pros

It is easy to use.
No commitment needed.
Compatibility.
It offers a tier.
Easily download playlist, songs and podcasts.
It has outstanding quality.
You do not have to wait for new releases.
It has different Spotify Premium membership plans.
Cons

It is expensive.
Not obtainable in other countries.
A lot of Ads for free.
There is a limit when using it.
Dark Mode is the only theme available.
Overall Ratings
The fact that this application is user-friendly, and it is extra helpful to the users. You can create folders for the playlist and download the playlist and songs quickly. Enjoy songs with excellent audio quality.
Easy to use9.0
User-friendly9.0
Smooth playback8.5
2. What is Spotify?
Spotify is one of the well-liked music players providing millions of songs, podcasts, and other content from creators all around the world. Its basic purposes like playing music are entirely free, but you can also upgrade it to Spotify Premium. In addition to this, you can access all the playlist, learn more about new music, and you can share tunes with your loved ones and friends.
Price and Subscription
You can download Spotify and use it for free but with limited features only. However, if you want to appreciate it completely, you can upgrade it by purchasing it. The Spotify Premium costs $2.55/month. They also offer Spotify Premium Mini for $0.14/day, Spotify Premium Student for $1.28/month, and Spotify Premium Family for $3.83.
Platform
Spotify is convenient on a wide range of devices, counting phones, tablets, computers, speakers, smart TV's, as well as on cars. It is compatible for Windows, IOS, iPhone, Linux, MeeGo, Open Pandora, Os X, Roku, S60, Sonos, PlayStation 3 and 4 and Android devices.
Main features
Get to know what features Spotify Premium can offer. Take a look of the list below:
● Return deleted playlist.
● Play and listen to an album, playlist, podcasts or other content without ads.
● Download songs or podcasts of what you like and play it offline.
● Love the amazing sound quality.
● Take control playback from anywhere.
● Share music with Spotify codes.
3. Spotify Review
Spotify Playlist, Music Catalogue and Spotify Podcasts
As we review, Spotify music catalogue is used to search to discover specific albums, artist, playlist, tracks, genres, moods, podcasts and more.
Spotify: Web Player and Mobile App
Web player on Spotify can be used as a way to listen on Spotify wherever you are if you don't want to download the application. Basically, it is a website and the moment you log in, it will allow you to use all the features Spotify has. Using Spotify on a web player is possible. Nonetheless, it is better if you can use Spotify on your mobile applications.
Spotify: Sound Quality
The sound quality level of Spotify will depend on your preference, what device you are using and how fast your internet is. In addition to this, it will also depend if you are using Spotify for free or if you purchase the Spotify Premium. If you are using free Spotify, it will play at 128kbps. If you have Spotify Premium, music will playback at 256kbps. To completely enjoy listening to music, turn the music quality up, to hear the finer details.
Spotify: Easy to Use
Spotify is user-friendly, well-organized and easy to access. It is more flexible and easy to connect with more devices.
Spotify's Playlist Folders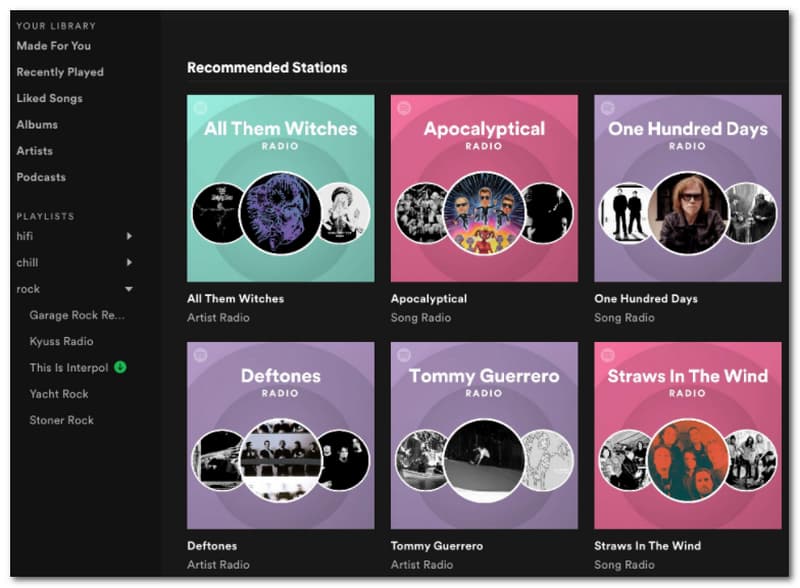 In your Spotify application on the desktop, start organizing your albums, songs, and podcasts by creating a folder and you can name them whatever you like. Be mindful that creating playlist folders on your Spotify on your phones is not possible.
Download Playlist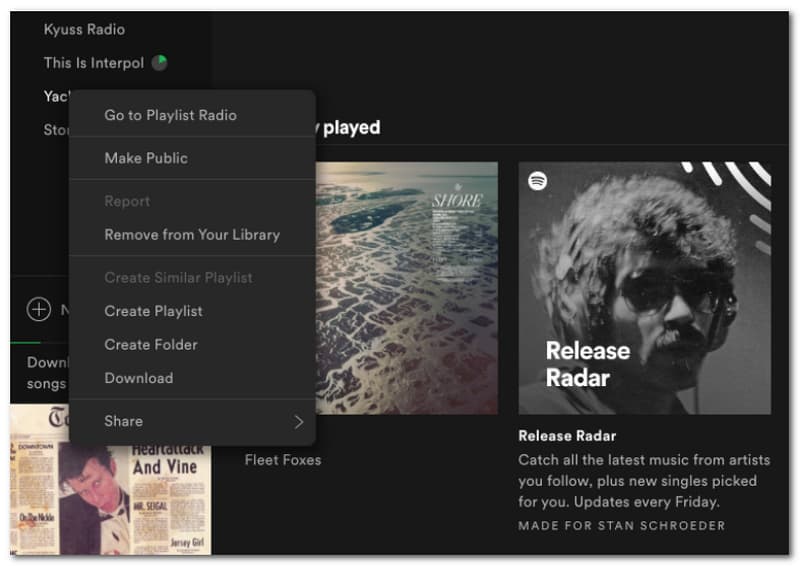 Everything in your playlist will be downloaded, yes you read it right. You just have to download the whole playlist and enjoy listening!
Speak to Spotify
This feature is available only in the U.S. By saying "Hey Spotify" you will go to its voice search. If you already have this feature, you have to set it up on Spotify's settings. Here are a lot of features that you might enjoy!
4. FAQs of Spotify Review
Does Spotify have lyrics?
Spotify is partnered with Genius and yes Spotify provides lyrics with many songs but take note that lyrics are not applicable to all songs.
Who owns Spotify?
Spotify started in 2018, but there are some reports that its main shareholders are co-founders Daniel Ek and Martin Lorentzon, Baillie Gifford, Tencent Holdings Ltd., Morgan Stanley, and T. Rowe Price Associates.. At the end of 2019, they collectively owned approximately 65% of the company.
What is the difference between Spotify Web Player and Desktop App when it comes to features?
Both are almost comparable in many ways nevertheless, you need to keep in mind that there are still some big discrepancies. How? Well, when it comes to the music quality they are different. If you are a Spotify application user, you will get up to 320kbps bit rate meanwhile if you are a web player user, you can get the 256-bit rate at best for premium users.
5. Alternative to Spotify Music Player - AnyMP4 Blu-ray Player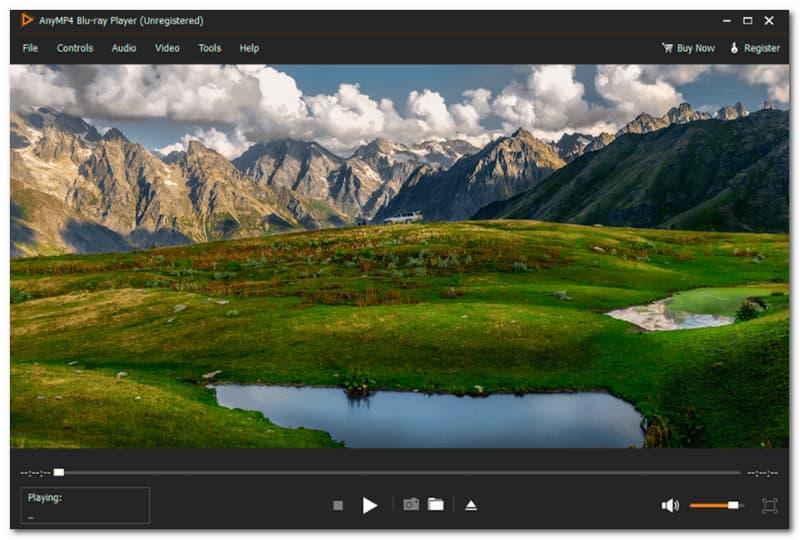 The most suitable alternative for Spotify is AnyMP4 Blu-ray Player. It is an all-in-one player that plays Blu-ray movies, videos, and playback. Unlike Spotify, AnyMP4 Blu-ray has a lot of features to offer. It can play the movie with high-quality sound and also high-quality pictures. In terms of playing DVD videos, it supports many formats. The best thing about this application is that it supports sound 5.1 (Dolby Digital, DTS). With the help of a 5.1 audio system, you will appreciate sound quality as if you are inside the cinema.
Conclusion
To finish, we discovered a lot with Spotify. We learn about how it works and on how we can play it on a web player. Also, we learn the difference between Spotify and Spotify Premium. Moreover, if you don't want to use Spotify, you may download AnyMP4 Blu-ray player.
Did you find this helpful?
135 Votes
YES

Thanks for letting us know!
No

Thanks for letting us know!
AnyMP4 Blu-ray Player
Make Blu-ray, DVD, and video playback easier on computer.