Presenting to You The One and Only Vidmore Player: Providing Superb Media Playback Features
If you used to store both video and audio files I am pretty sure that you desperately need an eminent and effective media player that will enable you to playback all your media files on your computer. That is why we have looked for you the best media player that can offer you fabulous features and media playback settings. For that reason, please allow us to introduce to you the one and Vidmore Player that lets you playback media files with high-quality video and audio. Hence, within this article, you will be able to know and discover its exciting offer to you because we have already studied and reviewed its main purpose and features. In addition, as we would like to provide you the detailed information about Vidmore Player we have also looked for its pros and cons, price listings, what file formats does it support, and what is the most relevant alternative media player similar to it. Consequently, this article review will truly give you the guts to consider Vidmore Player as the most outstanding among the other media players.
1. Our Verdict
Pros

Offers free download
Friendly user interface.
Supports common video and audio file formats.
Supports playing Blu-ray movies and DVD files.
Compatible with Windows and Mac computers.
Provides high-quality audio output.
Provides video editing settings.
Support any subtitle type.
Cons

Uncustomizable skin interface.
The free version offers limited features.
Overall Rating
Before we can proceed with the other functions and features of Vidmore Player. Let us first have its overall rating. So, this media player is actually the best and most excellent one because it can support and smoothly play common media file formats on your PC. The good thing about this software is that it allows you to download it for free however with limited features offered. On the other hand, you can actually purchase the software so you may enjoy its full offers.
Easy to use10
Smooth Playback10
Interface9.5
2. What is Vidmore Player?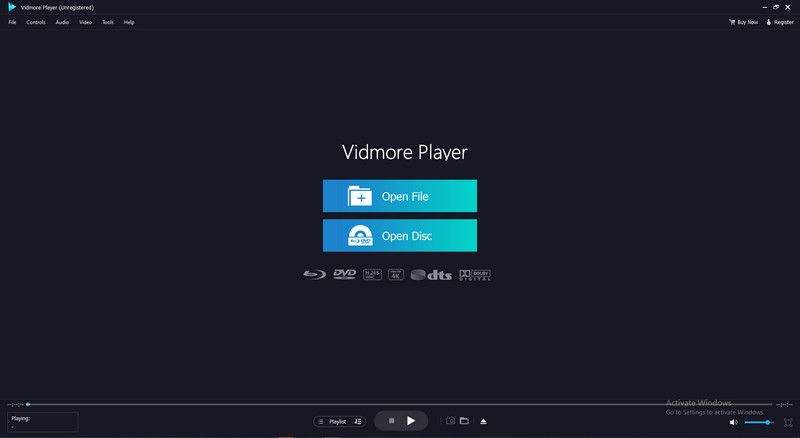 Vidmore Player is considered the world's most outstanding Blu-ray player that can support Blu-ray and DVD discs, folders, and ISO files with navigational menu support. In addition, it also supports other common video and audio file formats losslessly. Another thing, aside from playing media files, it also lets you view your photos with high image quality. The good thing about this blu-ray player is that it is equipped with advanced audio decoding technologies such as Dolby, DTS, AAC, TrueHD, and more. As a result, you can playback your music and movie with excellent audio effects. Furthermore, it also provides a snapshot feature where it enables you to capture your favorite part of your movie. Lastly, it also allows you to create your own playlists to keep and store all your media files in it. The following statements below will give you an idea of how profitable this Blu-ray player is.
Price
Let us now evaluate the price listing of Vidmore Player. In some cases, you are looking for a costless media player because you are having some financial issues or maybe you just want to try it first to see if it's really effective as a Blu-ray player. Well, this software enables you to use it for free because of its free download offer. On the other hand, if you want to use its full blast features you may purchase the tool for only $29.95 monthly/1 PC or Mac. Also, you can purchase the 1-year license for only $39.95 per 1 PC or Mac as well. Both licenses can be renewed monthly or yearly. However, if you want a long-term use you may purchase its lifetime license for only $59.95 supporting 3 PCs or Macs. And the good thing about it is that it offers a 30-day money-back guarantee. So, what are you waiting for? Order it now so you may not miss its offer. You can purchase the software via VISA, MasterCard, American Express, Wire Transfer, and more.
Platform
Vidmore Player is absolutely suitable for both Windows and Mac. Therefore, you don't need to look for other media players that are perfectly compatible with what device you are using because this Blu-ray player can actually be used on both popular devices, specifically Windows and Mac.
Main Features
Main Features of Tipard Blu-ray Player
Can play Blu-ray disc/folder/ISO files.
Can easily play DVD disc/folder/ISO files with the navigation menu.
Able to play all your 4K UHD/1080p HD videos on your computer.
Can play popular video and audio file formats.
Seamless playback photos with high image quality.
Provides a snapshot feature.
Simple but comprehensive interface.
Can play 4K UHD and 1080p/720 HD videos.
Provides high-quality audio output.
3. Vidmore Player Review
User Experience
Personally, when I knew that the Vidmore Player offers a free download. I was so excited to use it because I had the chance to try this fabulous Blu-ray player without any payment. But with its free feature, I manage to playback my audio and video files on my PC without experiencing any trouble. Also, when I tried to play a DVD file using this software, I'm glad to say that I played the movie smoothly. What I love about this software is that the media files are automatically saved in it. That's why when I accidentally remove the software I manage to playback the movie again.
Media Format Support including Blu-ray and DVD Support
What's more interesting about this Vidmore Player is that it can also play Blu-ray and DVD audio and media file formats aside from playing common media file formats. With that being said, I highly recommend this Blu-ray player for playing your movies and music from your collected Blu-ray and DVD discs/files providing you a perfect video and audio quality. In addition, the table below will let you identify what file formats it supports.
Vidmore Player Supported Media File Formats
Audio File Formats
WAV, MP3, AAC, and M4A.
Video File Formats
MP4, MPG, M4V, TS, MTS, M2TS, MXF, RM, RMVB, WMV, ASF, MKV, AVI, 3GP, F4V, FLV, VOB, etc.
DVD File Formats
DVD discs/folders/ISO files.
Blu-ray File Formats
Blu-ray discs/folders/ISO files.
Playback Settings
Since Vidmore Player allows you to playback different media file formats, it also enables you to adjust the screen size of the player whether it be full-screen size or normal screen size. Furthermore, you can also adjust its volume allowing you to increase and lessen the volume. In addition, you may also play, pause, fast forward, and backward your media files. Another thing, it provides a snapshot feature allowing you to capture your favorite part of your video while playing. Also, it has tools for effects to enhance the quality and color of your movie, choose a skin and language depending on your preference.
What is it Best for?
The Vidmore Player is 100% beneficial for those people who have a lot of to collected Blu-ray and DVD discs because this media player allows you to play your Blu-ray discs such as BD-5, BD-9, BD-25, BD-50, BD-XL, BD-R, BD-RE, Ultra HD Blu-ray, Blu-ray disc, Blu-ray folder, and Blu-ray ISO file. It also enables you to play DVDs like DVD-ROM, DVD-R, DVD+R, DVD-RW, DVD+RW, DVD-RAM, DVD-DL, DVD disc, DVD folder, and DVD ISO file. For that reason, you don't have to search for other Blu-ray players because Vidmore Player can meet all your concerns.
4. FAQ
Does Vidmore Player support HD video playback?
Certainly, yes because it can play 4K UHD/1080p HD videos on your computer.
Vidmore Player vs VLC, which one is better?
Vidmore Player and VLC are both media players. But the first media player is far better than the latter because Vidmore Player can directly support HD videos while VLC can only support local and common media file formats.
Can I use the Vidmore Player on my Mac?
Certainly yes, because this Blu-ray player is suitable for both Windows and Mac computers. Henceforth, you can download or purchase the mac version on your Mac.
5. Best Alternative - AnyMP4 Blu-ray Player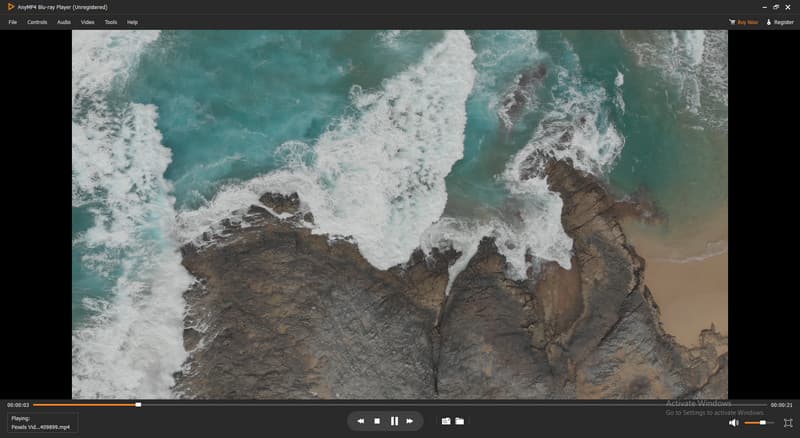 Price: $59.00/lifetime license
Platforms: Windows and Mac
Overall Rating: 4.5
If ever you want to try another excellent Blu-ray player that is close to Vidmore player. We highly recommend you AnyMP4 Blu-ray Player. Like the Vidmore Player, this Blu-ray player can also play almost all media file formats, Blu-ray, and DVD dis/folder/ISO files and it also lets you seamlessly play and listen to your music providing an excellent video and sound quality. As a result, this is also perfect for watching Ultra HD movies because it can also play 4K UHD and 1080p/720 HD Blu-ray videos. With its media playback settings, you can actually enhance the video, its volume, and a lot more.
Conclusion
Finally, we got to know what Vidmore Player can offer to you in a deeper and clearer way. Thus, we really hope that we have provided you with the best information which declares that Vidmore Player is the best Blu-ray player for your media files from your file folder, Blu-ray and DVD discs. With its free download, I'm pretty sure that after using it, you will soon purchase the upgraded versions because of its superb offers and features. If you are convinced that Vidmore Player seems flawless and perfect, please don't ever forget to share it with your friends.
Did you find this helpful?
274 Votes
YES

Thanks for letting us know!
No

Thanks for letting us know!
Vidmore Player
Best media player for Blu-ray, DVD, 4K video and audio.