Reviewing GOM Player for a Safety Utilization in Playing Your Video Files
Uninterrupted watching video can be possible if the player that you are using has no advertisements. Who wants to watch a lot of ads? No one. In fact, there are actually a lot of video players that do not include advertisements when you are using it. One of these is the infamous GOM Video Player. That is why in this article, we will review this software, you can see how it works, what it can offer, and what it is the best for. Without further ado, let us start analyzing the specs, features, and performance of GOM as a video player.

1. Our Verdict
Pros

Supports a wide range of file formats.
Offers subtitle finder for your video files.
Provides codec search tools.
Trusted and tested by many users.
It gives unique features for video players.
Cons

It includes potentially malicious malware when installing.
The interface is a bit messy.
Overall Rating
It is an incredible media player that can bring an amazing experience of watching your videos. GOM Player also offers unique features like the ability to support 360-degree videos. Overall, it is a great choice for a video player.
Interface:8.3
Functionality:8.6
Quality:8.8
2. What is a GOM Player?
GOM Player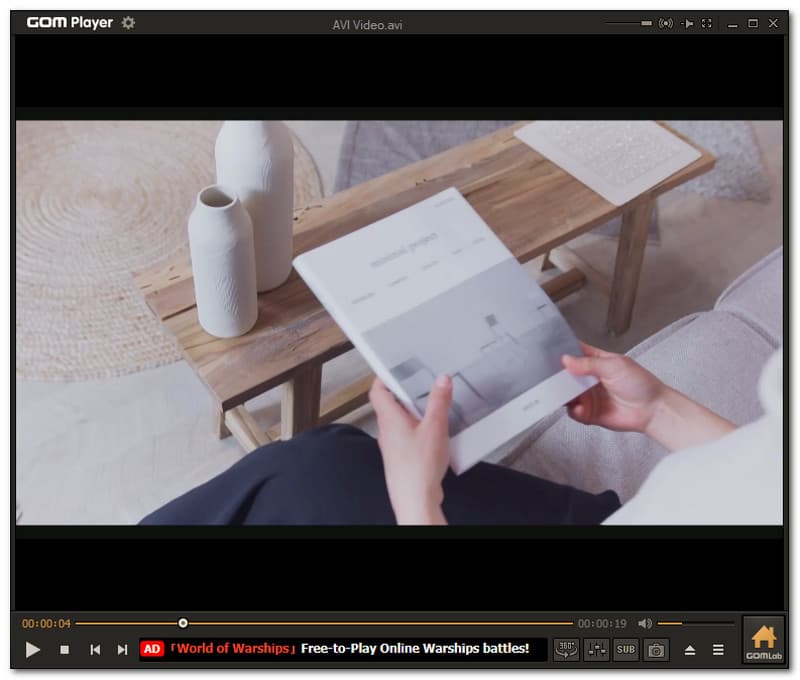 GOM Player was labeled as the number one global free video player for a long time now. As an overview, this player supports numerous file formats such as AVI, MP4, MKV, FLV, WMV, MOV, and more. In fact, if you are a Windows user you are lucky because this player is capable of finding codec and playing damaged media files as long as you are a Windows user. Download or install GOM Player now for free. Overall, this is a great video player that will enable you to play your video file as smoothly as possible. We will dig more about GOM Player as we continue this article. Just hold on.
Price:
$15 unlimited for lifetime with one time payment (VAT Included). The payment transaction can be done via PayPal and 2Checkout. Just provide the information needed, and you are good to go.
Operating System:
Microsoft Windows 10, Windows 8, Windows 7, Mac OS X 10 or higher. System Requirements: 2 GB RAM or higher, HDD 200 MB or more.
Main Feature
● Capable in playing all media formats with a smooth playback.
● Able with installing all the codecs you will need for video playback.
● Downloading of subtitles in GOM Player is allowed through the subtitle data room instantly.
● It supports 360 degree VR video playback.
● No ads in playing video.
● Seamless UHD 4K video playback function for free.
● GOM Player also supports 1080p codec.
Supported Formats
This video player is also known to be the best software when it comes to supporting a wide range of files. Other than supporting video and audio files, it also supports playing subtitles. For that being said, we shall now present the supported file formats of GOM Player including the formats for subtitles. Take a look at the chart below.
GOM Player Supported File Formats
Video Formats
AVI, OGM, MKV, MP4, K3G, IFO, TS, ASF, WMV, WMA, WMV, MOV, MPG, M1V, M2V, VOB, M4V, 3GP, 3GP2, RMVB, RM, OGG, FLV, ASX, DAT, and more.
Audio Formats
MP3, M4A, ACC, OGG, FLAC, WAV, WMA, RMA, ALAC, and more.
Subtitle Formats
SMI, SRT, RT, SUB, VTT, DVD ASS, PSB, TXT, SBV, VOBSUB, and more.
3. GOM Player Review
User Experience
In terms of its user experience, GOM Player is one of the software that possesses a very simple interface with a super easy to access navigation menu. Through the simple design and organized menu, it allows the users to use it hassle-free.
Support 360-degree Videos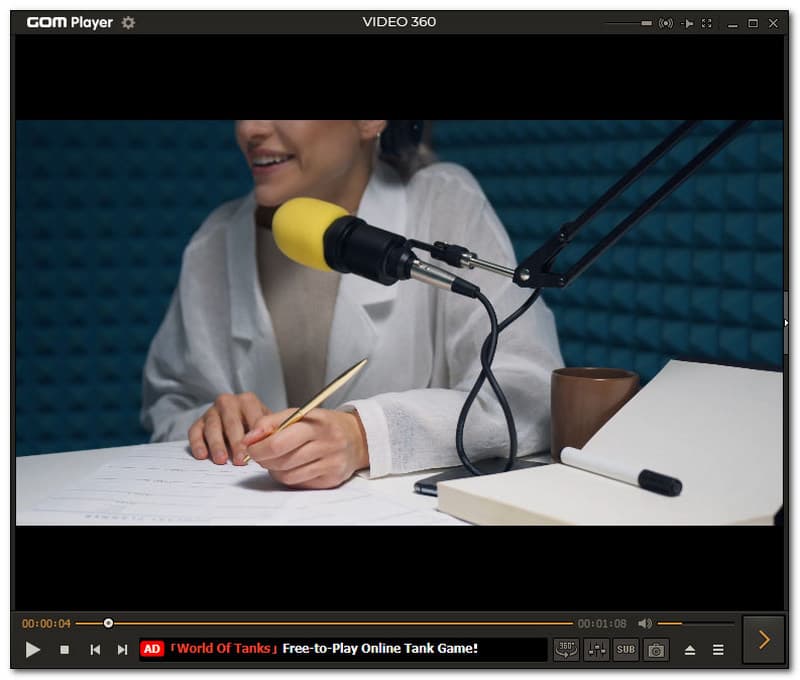 The best thing about GOM Player is its ability to support 360-degree videos. This function is one of the best features it can offer. Through the technology that supports 360, it is now easy to enjoy your video like you are on it. It is common knowledge that having a 360 degree video can bring an extraordinary watching experience for us. This feature also comes with smooth playback.
Safety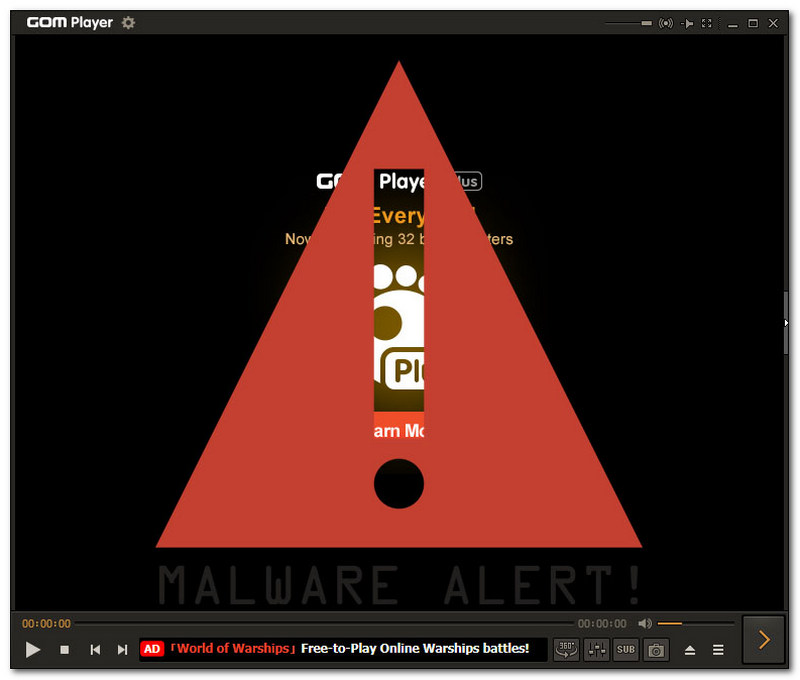 It is one of the common questions: how safe is it to use? Well, as we tried to install it the device suddenly became alarmed. Therefore, it means that it poses a potential unwanted malware that can harm your device. There are also a lot of reports coming from the users experiencing the same issue However, the developer is still fixing it. Hoping that it will be fixed as soon as possible.
Built-in Codecs
Other than the tons of amazing features presented above, well let us add more by mentioning its built-in codecs. Yes, GOM player has a built-in codec that will enable users in playing a wide variety of media file formats. These include DivX, XviD, and more.
What is GOM Player Best For?
Gom Player is the best for playing 360-degree videos. It is an immense experience having this kind of video. Other than that, even the simple thing can be the best too. Therefore, this player is also the best in a lot of aspects. Like GOM Player for high quality mode, skin pack offer, and more.
4. FAQ
Does GOM Player play Blu-ray?
The GOM player does not support Blu-ray movie playback. Unless your GOM Player is just lacking a codec, you may install the codec you will need to play Blu-ray movies.
Are the malicious malwares fixed when installing GOM Player?
As time passes by, the developer of GOM Player is continuously upgrading to make sure that their software can perform well. In the latest version, we found out that the bugs are fixed. However, malicious malwares are something that can occur unexpectedly. That is why GOM Player is continuously upgrading for that.
Why should I purchase GOM Player Plus?
GOM Player Plus is the full version player that offers the full feature that can be beneficial in playing your movie files. Some features that it does not offer with the free version are- subtitle, language modification, subtitle sync controls, and screen capture.
5. Best Alternative - Vidmore Player
Vidmore Player is an all-in-one media player that can perform well in playing your media files in any format. It is capable of playing your videos with super high-resolution. In fact, it is labeled as the world's number 1 Blu-ray playing software and also for video files like MP4, MKV, AVI, MPEG, WMV, and more. In addition, it provides an amazing multimedia playback that you can completely control. These include, choosing your subtitle, adjustments of images effects, quick navigation, smooth playback and more.

Vidmore Player
It is an all-in-one video, audio, Blu-ray and DVD player for Windows and Mac.
Play any video files with smooth playback.
Support a modifiable subtitle track of our movies.
Multiple parameter settings for customization of video effects.
Easy to utilize navigation menu.
User friendly playback settings.
Conclusion
To end this post with a take away, we reviewed GOM Player in many aspects. We found out how good it is in terms of playing our video files. Also, how generous it is in providing unique features that can make the experience immense. For that being presented, the final judgement is not yours. Is GOM Player amazing? What do you think? Well, if you are still looking for more, you may try Vidmore Player as an alternative for a great playbcak of your file. Also, if you find this post helpful, you may share it with others so that they will know about it, too.
Did you find this helpful?
325 Votes
YES

Thanks for letting us know!
No

Thanks for letting us know!
Vidmore Player
Best media player for Blu-ray, DVD, 4K video and audio.