Vocaroo Review: An Online Audio Recorder That is Suitable Especially for Students
We can use an audio recorder to record our voice. Then, we can have an opportunity to send a voice message to others and will be able to download and listen to it. But have you heard of an audio recorder that focuses on educational purposes? Yes, you read it right! We want you to know more about Vocaroo. It is an audio recorder tool that anyone can use. It is the best tool, and it provides a high-quality output. The question is, does it offer many features? Let us know in this post review. Do not worry because we will join you in reading this article. So, let us read now.
1. Our Verdict
Pros

It is an online tool.
It supports many languages.
It is free to use.
It does not allow you to sign up or log in.
It is fast on uploading your audio recording.
It supports various formats.
Cons

It has limited features.
It has pop-up Ads.
Overall Ratings
Features:8.0
Easy to use:8.5
Safety:8.5
Accessibility:8.5
2. What is Vocaroo?
Price: Free
Platform: Online
Main Features
Vocaroo is a user-friendly online tool that lets you record your voice with high quality. Anyone can use it and again, it is more suitable for educational purposes. Teachers can use this online tool to communicate with their students, same with the students. Moreover, here are the features of Vocaroo offers. Please catch a glimpse below:
◆ It allows you to record your voice.
◆ It enables you to upload your audio.
◆ It lets you share your audio-recorded files.
◆ It supports various audio formats.
◆ It allows you to remove background noise.
◆ It allows you to adjust the volume.
3. Vocaroo Review
Interface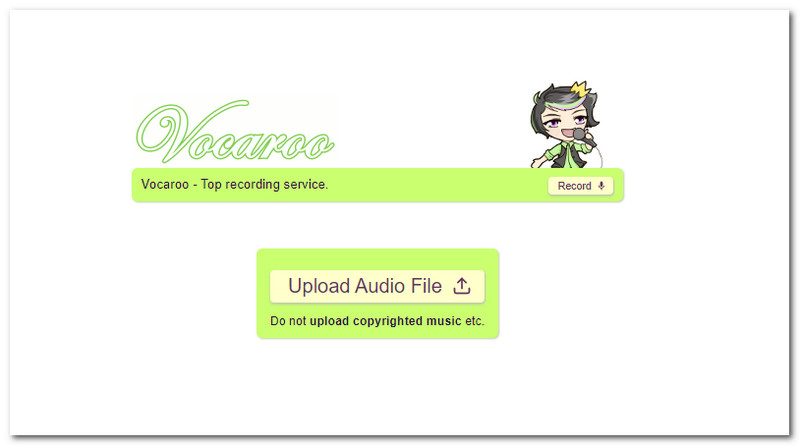 Vocaroo is an online voice recorder software. Therefore, you do not need to download and install anything. On its official page, you will see Vocaroo and the cartoon character that holds the microphone on the right side. Below, you will also know the Record. Moreover, Vocaroo has a light green color, and it is lightweight.
Vocaroo Voice Recorder
Suppose that you will use Vocaroo, which will collect your data. Vocaroo collects your data like your IP address and web browser, email address, and mobile number. It will only collect what was mentioned a while ago for debugging purposes. Or if you will register using your email and create a Vocaroo account. Or if you choose to use your mobile number to log in for a Vocaroo account.
However, do you wonder how Vocaroo collects and uses your data? Allow us to give you an idea. They collect your data to manage your Vocaroo account if you create one. Moreover, to identify and debug if you experience technical error using Vocaroo and send you updates and news about Vocaroo.
Tips to Know Your Rights using Vocaroo
Tip 1: Ask Vocaroo about the copies of your data.
You have the right to ask or request copies of the personal data that you have provided them.
Tip 2: Ask Vocaroo to correct your account if you accidentally submitted incorrect information.
You have the right to add information if you submit incomplete information.
Tip 3: Ask Vocaroo to delete your data.
You have the right to request Vocaroo and delete the information you provide to them.
Tip 4: Ask Vocaroo to restrict processing.
You have the right to request Vocaroo and demand to restrict the processing of your personal information.
Tip 5: Ask Vocaroo to restrict processing.
You have the right to request Vocaroo to object to processing your data.
Tip 6: Ask Vocaroo to transfer data portability.
You have the right to request Vocaroo to transfer the data they collected from you.
Easy to Record Audio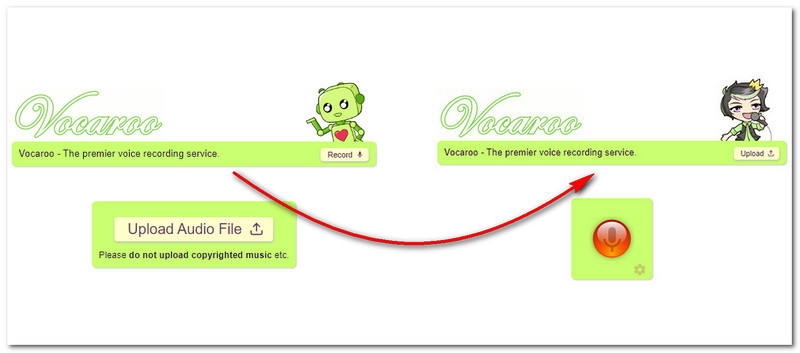 It is easy to record using Vocaroo voice recorder. One of the advantages of Vocaroo is you do not have to download and install Vocaroo since it is an online tool that anyone can use. If you are on the main page of Vocaroo, click the Record on the right side under the robotic cartoon. Next, tap the Microphone icon to start the audio recording process. Additionally, before the recording starts, it lets you remove the background noise and enable the auto-adjust volume. After that, if you want to stop the audio recording, tap the Stop button. Then, you have the freedom to play your recording. In addition to this, if you do not want what you recorded, you can repeat the recording process.
Save and Share Your Record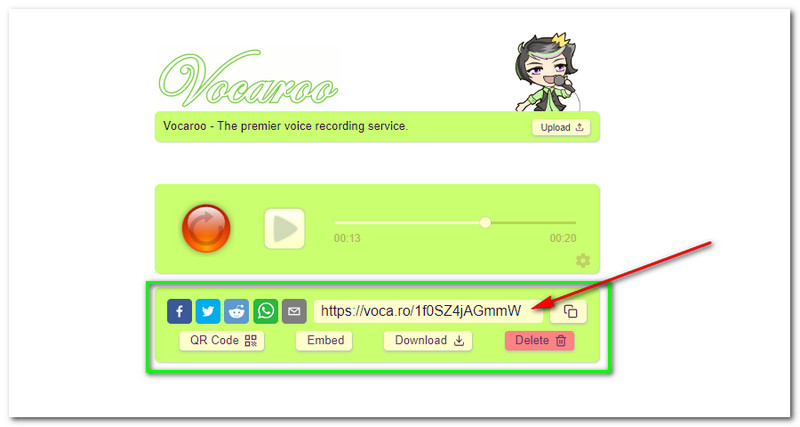 Vocaroo allows you to share your recording. What is the use of this? Since Vocaroo is made for educational purposes, they let every student and teacher share their audio-recorded output file using their social media accounts and emails. Vocaroo provides the link to your recorder file and lets you copy it to the clipboard. So, the question is, how can you share it with your teacher, classmates, and others?
On the left side of the link, you will see Facebook,, Twitter, Reddit, What's Up, and Email. Please choose one of these, but you can also use them all to share your recording. Then, log in using your account on Facebook, Twitter, etc. Moreover, Vocaroo provides a QR Code to scan it. Also, you can copy embed code download and play it on your computer.
Upload Audio File
Uploading your audio file to Vocaroo is so fast and easy. To do that, click the Upload Audio File. But, it would help if you took note that uploading copyrighted audio is prohibited. Make sure that you will upload an original audio file. Furthermore, you will proceed to the next part.
As you notice the screenshots that we provide, Vocaroo allows you to play, stop, and adjust the volume of the uploaded file. It also enables you to share your uploaded audio file like what you have read on the upper part.
4. FAQs for Vocaroo
Is Vocaroo safe?
Vocaroo is safe to use. It collects some of your data as required. However, they ensure every user protects and secures their personal information. In addition to this, Vocaroo gives you the right to demand the submitted data.
I recorded using Vocaroo, how long does my recording last?
Your recorded audio files that you shared on websites, links, social media, emails, etc., are available for a few months, and to be exact, they will last for three months unless you delete your recordings.
What is the meaning of Vocaroo?
It is an essential learning online tool to record your audio using a web browser. Furthermore, Vocaroo supports standard audio formats such as RA, AU, 3GA, GSM, MP2, AAC, AIF, AIFF, M4A, AMR, WMA, FLAC, OGG, and MP3.
What are similar sites like Vocaroo?
Based on our research, here are some of the sites like Vocaroo. Clyp, SpeakPipe, WWChat, Audioboo, Chirbit, Voice Share, etc.
5. Best Alternative - AnyMP4 Screen Recorder

I know what you are thinking. Yes, Vocaroo offers minimal features. It focuses only on recording, uploading, and sharing audio. But, Vocaroo has excellent help for you! However, the problem is Vocaroo is limited in many ways. Here is some good news for you. Vocaroo's alternative is AnyMP4 Screen Recorder. The advantage of this recorder software is AnyMP4 Screen Recorder is a well-known recorder software over the Internet.
Regarding audio recorders, AnyMP4 Screen Recorder is one of the leading software because of its features and quality. Additionally, you can use AnyMP4 Screen Recorder to record audio and offer a video recorder, game recorder, and phone recorder. You can take a snapshot, unlike Vocaroo, because its only aim is to record audio.
Furthermore, Vocaroo is free to use, and AnyMP4 Screen Recorder offers a free trial. All in all, both tools are safe, but we highly recommend you use AnyMP4 Screen Recorder for a better result! Do not hesitate to purchase it since AnyMP4 Screen Recorder is worth buying!
Conclusion
To conclude, we have an answer to our question above. Vocaroo only offers limited features, yet it is still an excellent online tool. In this post review, we hope you will use the pros and cons as a basis for using Vocaroo. In addition to this, you can depend on the overall ratings. Moreover, you already have an idea about Vocaroo features, and we assume that all the tips, questions, answers that we share will benefit you. Do not forget to try the Vocaroo alternative. So much with that, we will see you in our next post!
Did you find this helpful?
271 Votes
YES

Thanks for letting us know!
No

Thanks for letting us know!
Top Review for Audio Recorder
AnyMP4 Screen Recorder
Capture every moment in desktop, browsers, programs and webcam.