Ezvid Review: The Easiest Way to Record Your Entire Screen for Free
Every user wants a free screen recorder. Who wouldn't, am I right? We all enjoy free software that we can use because it will save our money for purchasing a tool that is not worth buying. But here is the question: Do free video recorders have the same features as payable software? In this article review, we will talk about Ezvid. Let us know if it will give the user the satisfaction of using this software even if it is offered free. Also, we need to ensure that this tool is safe to use, especially for young professionals. Are you excited to read now? Me too, so let's get started.

1. Our Verdict
Pros

It has a straightforward interface.
It is free to install and use.
It has no watermark at the end of your video.
The text speech works very well.
You can pause your recording.
It can duplicate and delete a project in one click.
Cons

Slow progress upon installing.
The recording process is limited to up to 45 minutes only.
It does not let you save on your PC directly. You can only upload it on YouTube.
It does not have enough editing features.
It only captures a full screen.
It provides inappropriate stickers on the drawing tools.
It crashes sometimes.
Overall Ratings
Interface:8.5
Easy to use:9.0
Features:8.5
2. What is Ezvid
Price: Free
Platform: Windows
Main Features
Ezvid is a free video recorder for Windows users. It allows you to capture everything on your screen. However, it has a feature that can record a minimal part of your computer. Moreover, it is an easy-to-use recorder software, yet you can create a high-resolution movie. Furthermore, Ezvid is not just an easy-to-use software, but it is also fast. It is designed to strengthen the speed while the users are recording their screen. Not only that but also in video editing. More and more, let us tackle the features of Ezvid below:
◆ It can record your entire screen.
◆ It allows you to draw and edit while recording.
◆ It has editing features.
◆ It provides a face cam.
◆ It has voice synthesis.
◆ It offers voice recording.
◆ It has speed control.
◆ It has auto-save functionality.
◆ It is a built-in YouTube upload.
◆ It lets you add great audio FX.
◆ It can record your screen and voice at the same time.
3. Ezvid Review
Interface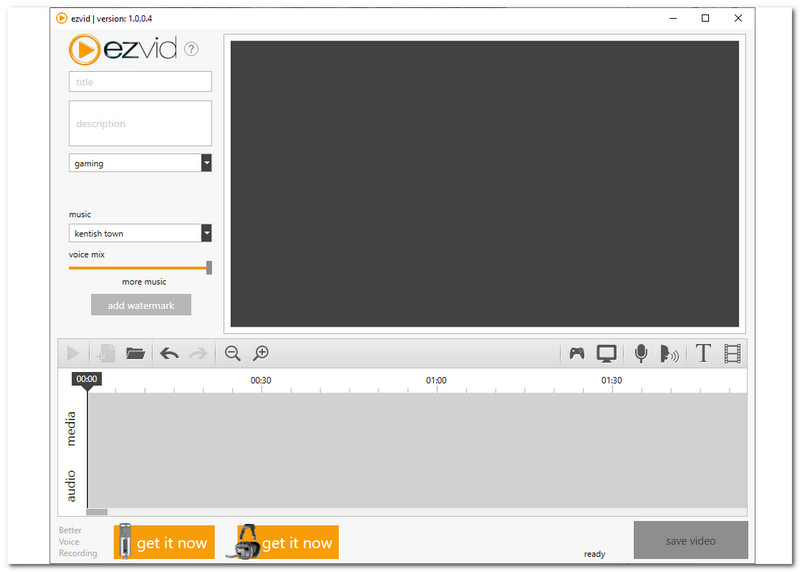 Ezvid has a straightforward interface. The color is plain white and a little bit of light gray. As you can see on the left side, it is the logo and the name of the software. In the middle part, you can type the title and description you desire and choose from the available categories such as education, entertainment, Music, etc. Then, you will also see the Music.
Moreover, on the right side of the Ezvid interface is a rectangular shape: the playback screen. Furthermore, it is the Parameter Setting for editing on the bottom part. Overall, it is simple to use.
Capture Screen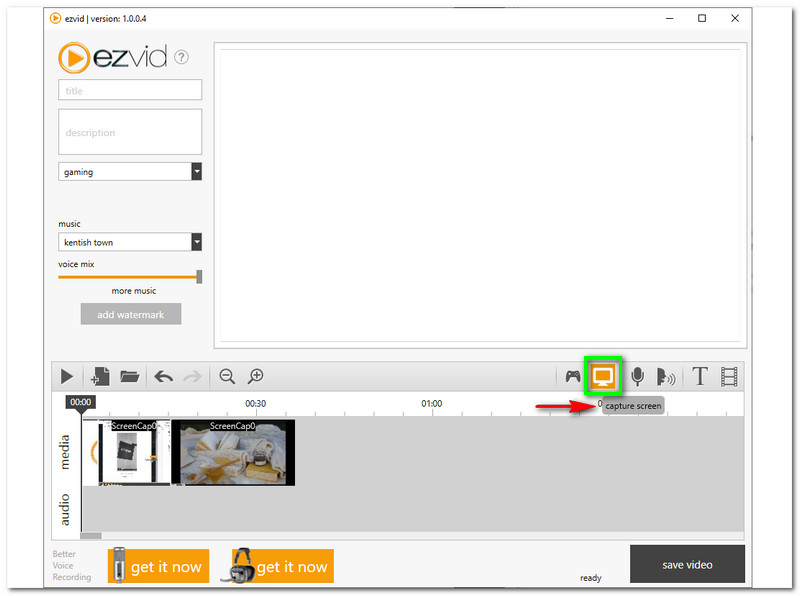 It is fast and easy to capture your screen using Ezvid, and it lets you record your entire screen. You will notice the Capture Screen between Game Recording help and Record Voice to record your screen. When you start hitting the Capture Screen, a square box will appear, and it reminds you that you only have a limitation in capturing your screen. The incredible thing about Ezvid is that a floating bar will pop up when you start recording your screen. In addition to this, you have an option to draw while recording your screen. After that, it will add your file on the parameter setting below.
Drawing Tools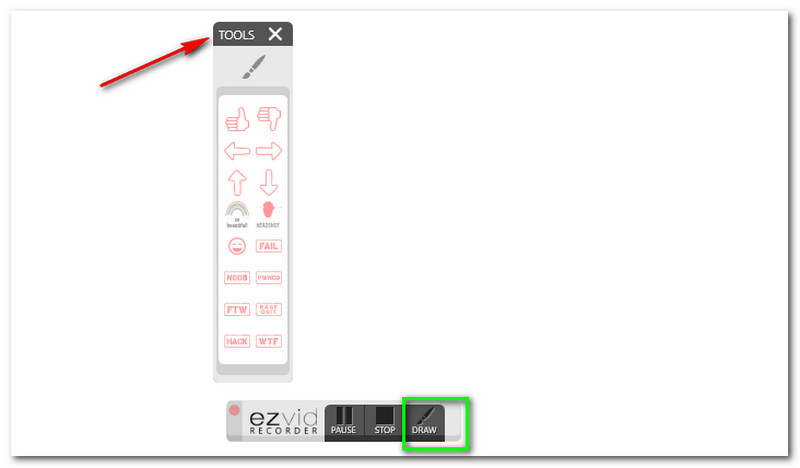 It is what we were talking about a while ago in the upper part of this article. However, there is one thing that we do not like about the drawing tools of Ezvid. Ezvid provides inappropriate stickers, and it is not good to use them for educational purposes, especially for students. Nonetheless, it also offers good stickers such as thumbs up, thumbs down, arrow, smiley, etc. In addition to this, you can use the available brush to draw while recording your screen. You can underline and encircle what you want to emphasize on your recordings using the meeting.
Speech Synthesis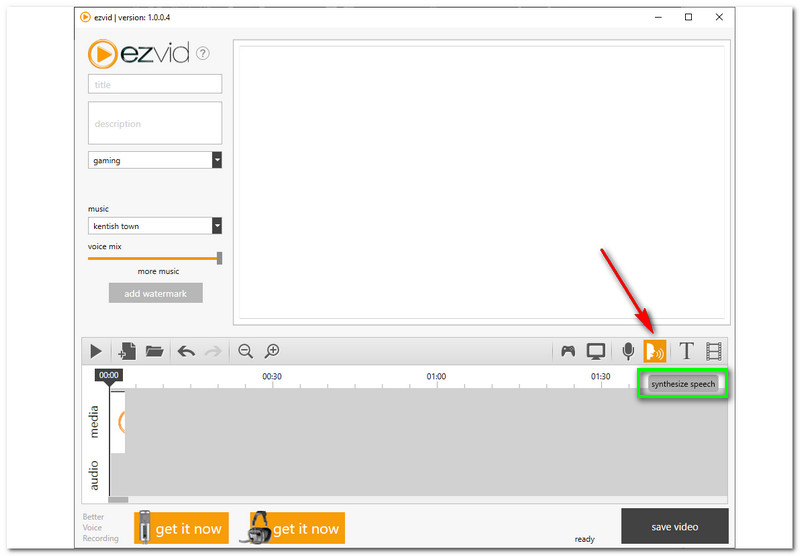 The unique feature of Ezvid is Speech Synthesis. The use of this feature is to let your computer narrate your video. You can see this feature on the left side of the Ezvid interface. Then, it would help if you made a text slide before synthesizing the speech. If all is okay, Ezvid will immediately make your computer speech. It is a great feature, especially if your content shows a tutorial.
Game Recording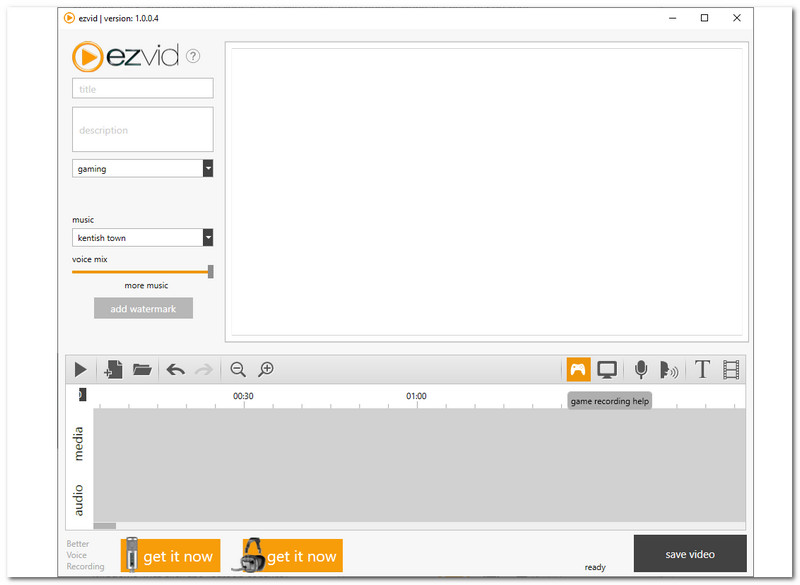 Recording Minecraft using Ezvid is popular, especially on YouTube, since Ezvid is a built-in YouTube upload. Also, many are using this tool even on every viral game. Ezvid allows you to capture your screen while playing games. Upon clicking the Game Recording, you will proceed to the small box panel. After that, it will let you search on Google for what game you're playing. Then, while you are playing, you can record your entire screen.
Ezvid Video Editor
The incredible thing about Ezvid is it is a built-in video editor. It is a tool that lets you add video and photos. In addition to this, it allows you to add text, effects, images, slides, and more. Also, you can change voice and make speed changes and furthermore.
Advanced Settings of Ezvid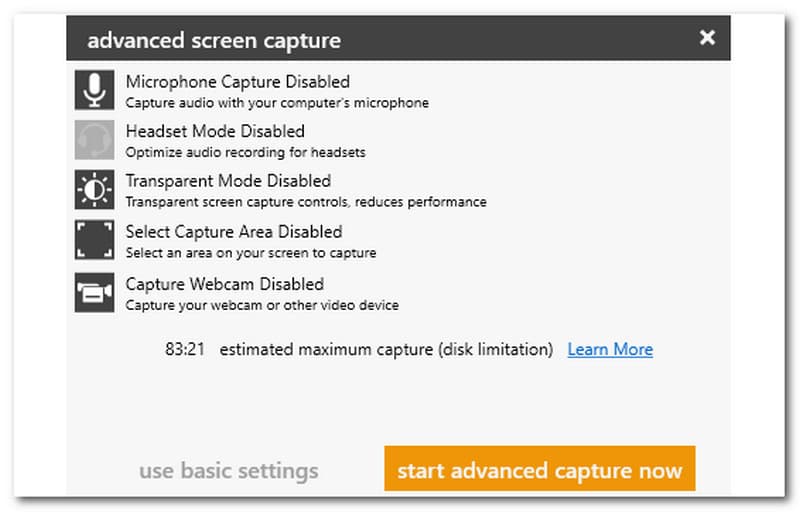 Ezvid offers an advanced setting when you capture your screen. You have an option to enable or disable the Microphone Capture, Headset Mode, Transparent Mode, Select Capture Area, and Capture Webcam. When you disable the Microphone Capture, you cannot enable the Headset Mode because both are connected. However, if you disable the Headset Mode, you can still allow the Microphone Capture.
4. FAQs of Ezvid
Why can not Ezvid capture my voice using the microphone?
First, check your computer, and there is a program called the sound recorder. After that, open the sound recorder and give it a little try to record using the microphone. If this option still does not work, they could be a problem with your audio setup. To do that, open the control panel. Then, look at your sound settings.
How can I import media, and what are the available video formats I can use on Ezvid?
If you want to import your media, click Add Media or drag your file from your computer to the Ezvid panel. Ezvid supports WMV, MOV, GIF, BMP, JPG, and PNG formats.
I want to hide the capture controller of Ezvid, how can I do it?
Hiding an Ezvid capture controller is possible. Once you hit the Capture Screen, you can select Advanced Settings. Next to that, click the Transparent Mode Enable.
Is Ezvid secure with your provided information?
We search for information relating to the safety of Ezvid, and according to them, they collect some of your information if needed. They also said they do not sell every user-provided information to third parties. In addition to this, they also make every effort to ensure embedded content to their page uses the same level of encryption to protect every user's information.
Is Ezvid free?
Yes. Ezvid for Windows is a full functional video editor and screen recorder. You can use it to create videso for YouTube, Facebook, and other popular video sharing websites.
Is Ezvid safe?
Yes. Ezvid is a software company established in 2009, and creates its Wiki. Ezvid Wiki are also popular in the video wiki. But the ads in this website may direct you to unsafe places. So you should take care of its ads.
4. Best Alternative - Aiseesoft Screen Recorder

As we review Ezvid, we know it provides inappropriate stickers that users can use on their videos and publicly share. As concerned citizens, we do not want that to happen. If you are a parent, you do not want your child to use improper sticks to their project, especially if they are students. For that reason, we will introduce to you the best alternative for Ezvid, Aiseesoft Screen Recorder. You can use this software, and it is safe to use whether you are a student, average person, v-blogger, teacher, business person, and more. It also provides so many features with various options. It also has helpful editing features. Aiseesoft is not free. However, it is worth purchasing. In addition to this, it offers a free trial. Overall, Ezvid is an excellent video recorder. But, we highly recommend Aiseesoft Screen Recorder for a better result!
Conclusion
To conclude, we encountered that some parts of Ezvid are not safe. Therefore, it is not safe for everyone. In addition to this, we share with you its pros, cons, features, and other additional features. Plus, we provide questions and answers that can help you as you use Ezvid. We hope that you will appreciate the best alternative that we share. That's all, see you again in our next article!
Did you find this helpful?
263 Votes
YES

Thanks for letting us know!
No

Thanks for letting us know!
Best Video Recorder with Audio
Aiseesoft iPhone Unlocker
Get into locked iPhone iPad iPod without password or Apple ID.