ActivePresenter Review: A Fantastic Software to Create your Projects and Record Your Screen
Having software that has a video recorder is excellent. What is much more perfect is having a recorder software with eLearning that can help you with your teaching, if you are a teacher, your projects and activities, a student, your reports, a businessperson, and more. Without further ado, we will introduce you to ActivePresenter. Do not worry; anyone can use this because it offers a trial. Also, you can purchase it. In this article review, we will discuss some of its features and more. Let us not waste our time, and let us read now.

1. Our Verdict
Pros

It offers an educational discount.
It has a professional-look interface.
It can export a video with numerous file formats.
It offers multitudinous different creations of the presentation.
It provides high-quality output files.
It provides a free trial without a limitation.
Cons

You cannot import a video unless it is created using ActivePresenter.
It is expensive.
It has a watermark upon exporting your video.
Overall Ratings
Features:9.0
Easy to use:9.0
Reliability:8.5
2. What is ActivePresenter?
Price: ActivePresenter Standard is $199.00 and ActivePresenter Pro is $399.00.
Platform: Windows, Mac
Main Features
ActivePresenter is a video recorder, video editor, and eLearning authoring software that provides many features. The good thing about this software is that they care for every student using their tool because ActivePresenter gives an education discount. Moreover, it is suitable for everyone. Let us see other ActivePresenter features below; please take a look:
◆ It allows you to create a blank project.
◆ It lets you record a video.
◆ It records software simulation.
◆ It has a responsive project.
◆ It can import PowerPoint.
◆ It enables you to customize hotkeys.
◆ It has a script editor.
◆ It provides a flexbox.
◆ It offers themes and templates.
◆ It has image editing.
3. ActivePresenter Review
Interface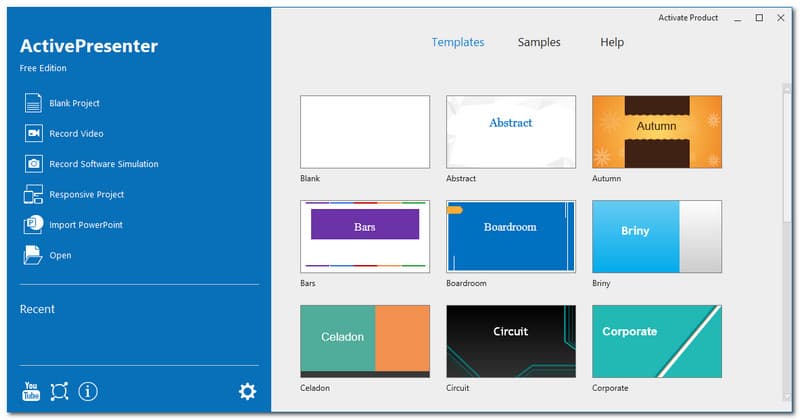 ActivePresenter has an intuitive and streamlined user interface. It has numerous Templates that you can use for free. Also, it provides Samples that you can base on. Looking at the left side of the interface panel, you will see all the available features you can use, like creating a Blank Project, Record Video, and more. Apart from its excellent interface, ActivePresenter provides a light and dark theme. The dark theme helps you work efficiently at night and in a low-light room or environment.
Record Video Project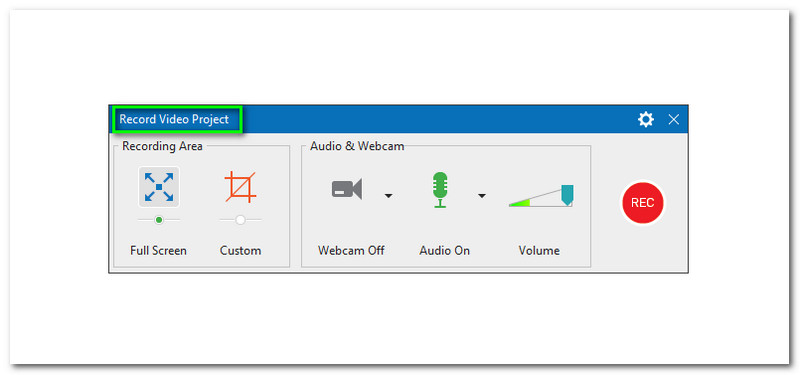 One of the features of ActivePresenter is the Record Video Project. It allows you to record your Full Screen or record in Custom mode. In custom mode, you can choose from the available sizes from 400 x 300 to 1920 x 1080 with full HD. Or, you can customize the size. To do that, click Customize, and a small box will appear. Then, create a name for your customize size and set the Width and Height you like, and Add it to the Presets Sizes so that if you want to use the customize size again, all you have to do is click it right away. After that, tap OK.
Furthermore, the unique feature of ActivePresenter is it has a Lock to Application and enables it. Then, click on the application that you want to record. What's more? While recording your screen, you can turn ON the Webcam, if any, as well as the Audio. Plus, you can adjust the Volume. At the end of the panel, you will see the REC if you click it. It will start the recording process.
Preferences - General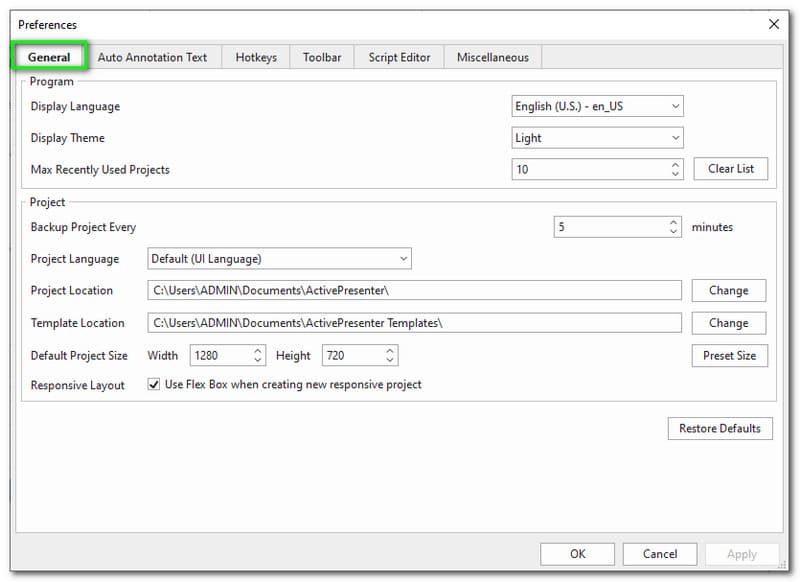 In this part, we can customize everything in General. We will elaborate on each of them for you. To start on the Program in General, first on the list is the Display Language. ActivePresenter provides eleven languages that you can choose from. You can amend the Display Theme to Light and Dark to mention it again. Also, you can set the Maximum Recently Used Projects from 1 to 15. But, if you want to disable this feature, set the number to 0. Going to the Project in General, you can change the minutes of your Backup Project. You can set it from 1 minute to 60 minutes. Nonetheless, if you want to disable this feature, set it to 0. When it comes to the Project Language, ActivePresenter provides many languages, and you can freely choose from them according to your language.
In addition to this, you can also change the Location of your Project and Template. And, you can remain your Project Size default or change it with the available Preset Size. Lastly, Use Flexbox when creating a new responsive project by enabling it. After all the customizations, tap OK or Apply.
FlexBox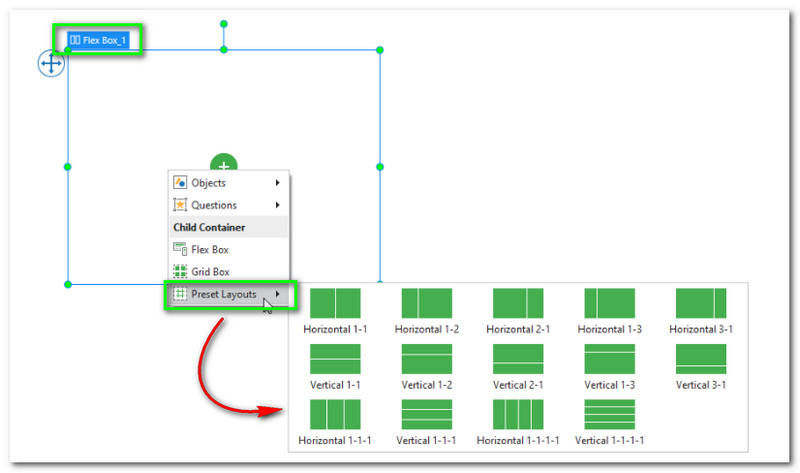 ActivePresenter has a FlexBox, and it is a helpful feature, especially when you want to create a Responsive Project. We search on what FlexBox means, and it is a container that can hold objects. What does it mean? It is a linear layout, which could be horizontally and vertically. With that said, FlexBox is recommendable for arranging items, even if it is on a single column or a single row. Responsive Project provides many preset slide layouts. However, suppose that the available presets do not have what you desire. You can make one! If you want to learn how to create a Responsive Project using FlexBox, please see the simple steps below:
1.
Launch the ActivePresenter. On the left side of the panel window, you will see the Responsive Project. Then, click it.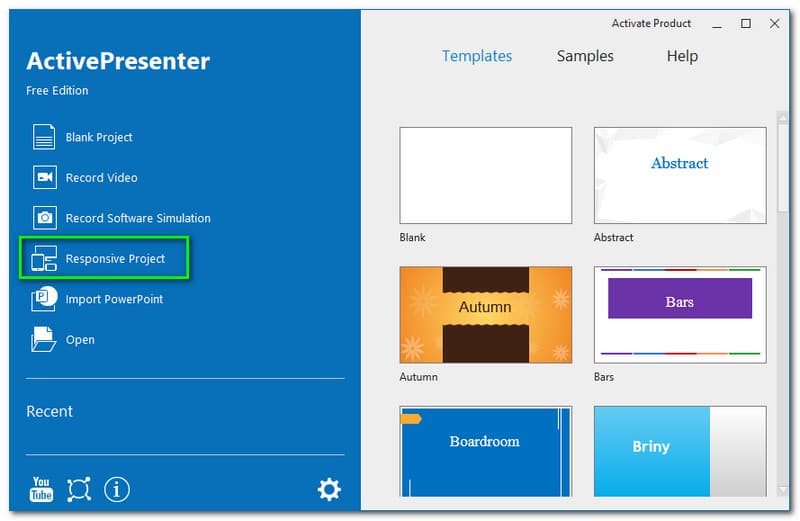 2.
Click the New Slide on the upper part of the panel. Then, select the Blank. After that, you will see the blank slide.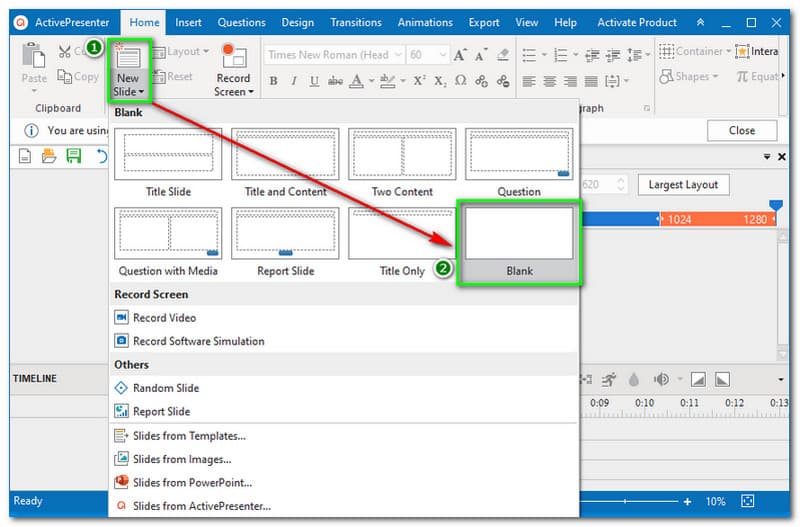 3.
Next to that, go to the Insert beside Home. Then, click the Container placed on the left side of the interface and choose FlexBox.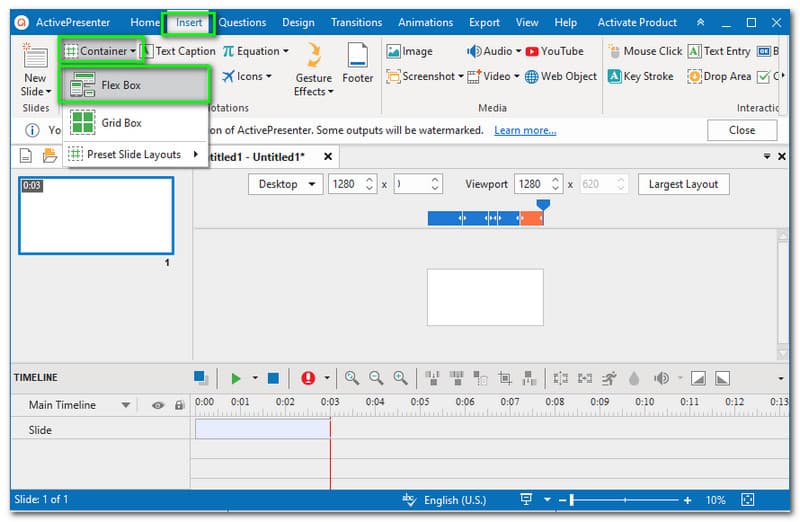 4.
After adding FlexBox, you can add objects, questions, shapes, text captions, equations, images, videos, and more.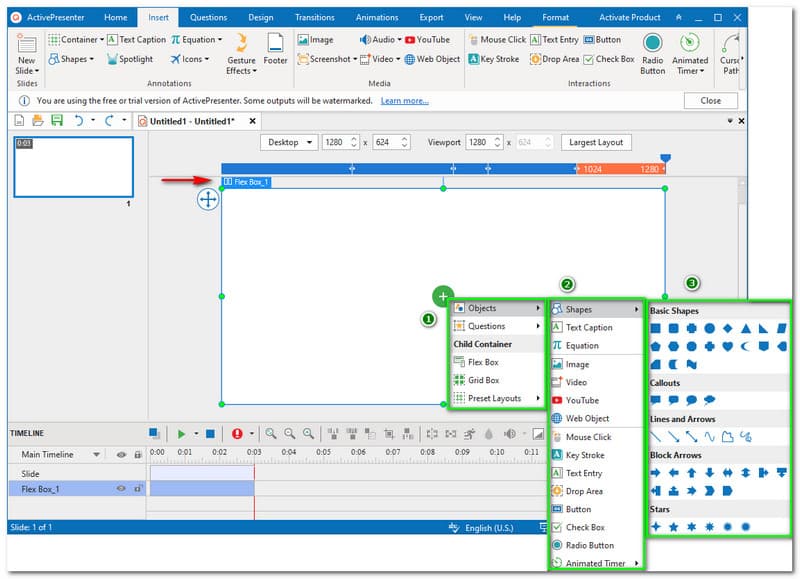 5.
Following that, you can customize your flexbox by right-clicking the FlexBox. Then, click the Event Properties, and another part will appear on the right side of the panel and start customizing your Flex Child.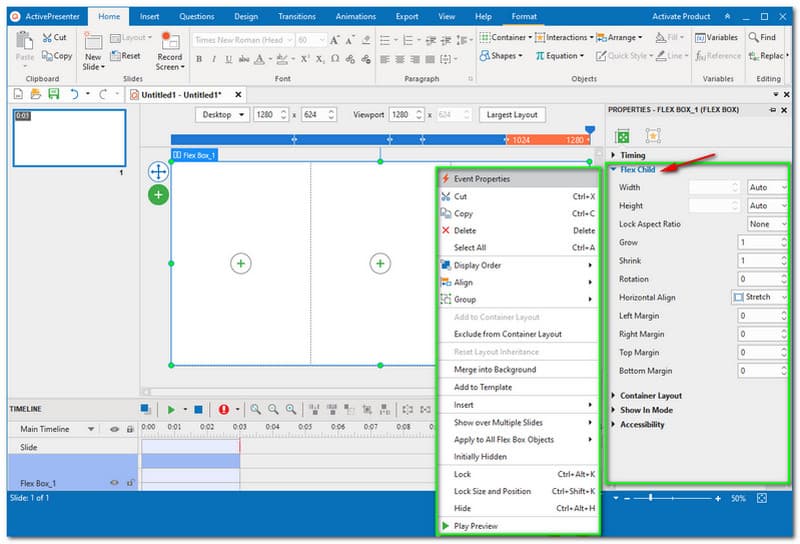 6.
After that, you can add what you want to your Responsive Project and save it to your computer.
Edit Images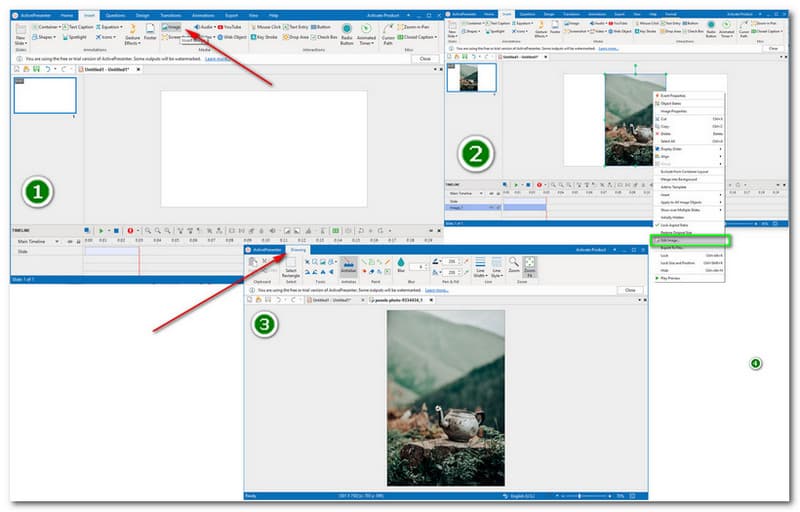 ActivePresenter lets you edit your images. It has two types of photos. First, you can add pictures by taking screenshots or adding existing images from your computer. As you notice from the screenshot we provided, we chose to add images from our computer. Furthermore, on the upper part of the window, you can scale the image and change the Width and Height. You can also enable the Lock Ratio. Also, you can crop and add images as well as shapes. You can also Paint your image using Air Brush, Flood Fill, Pencil, and more. To know more, you can try ActivePresenter.
4. FAQs of Active Presenter
Is ActivePresenter safe?
According to ActivePresenter, every user's data is essential to them. However, they will not transmit any of your data over the Internet. Additionally, ActivePresenter guarantees that all your data is secure.
What is the difference between ActivePresenter Professional and ActivePresenter Standard?
First of all, ActivePresenter Professional is much more costly than ActivePresenter Standard. In addition to this, it has many features that ActivePresenter Standard does not have. To be specific, these are HTML Export, Interactivity and Branching, and more. So, if you have enough money to buy an ActivePresenter Professional, that is good to hear.
Is there any limitation to using the free ActivePresenter?
The excellent news about ActivePresenter is you can use it for free and use every feature with no limitations.
5. Best Alternative - AnyMP4 Screen Recorder

There is no doubt that ActivePresenter is an excellent tool for Windows and Mac. It also prioritizes educational purposes, and it offers a lot of features. However, other users are considering using an alternative. So, the ActivePresenter alternative is AnyMP4 Screen Recorder. Do you want to know why? Please see the comparison table below:
| | | |
| --- | --- | --- |
| ActivePresenter | VS | AnyMP4 Screen Recorder |
| | Video Recorder | |
| | Audio Recorder | |
| | Game Recorder | |
| | Phone Recorder | |
| | Webcam Recorder | |
| | eLearning | |
| | Affordable | |
| 8.5 | Easy to use | 9.0 |
As shown in the table above, AnyMP4 Screen Recorder is still the best when it comes to recording. Moreover, if your goal is to have an excellent recorder, we recommend AnyMP4 Screen Recorder immensely.
Conclusion
ActivePresenter fulfills your needs. However, we are also aware that it is costly yet worthy to buy. Moreover, if you constantly use PowerPoint, Responsive Projects, creating reports, etc., you will enjoy this software. But in terms of recording tools, AnyMP4 Screen Recorder will always be the best!
Did you find this helpful?
321 Votes
YES

Thanks for letting us know!
No

Thanks for letting us know!
Best Video Recorder with Audio
AnyMP4 Screen Recorder
Capture every moment in desktop, browsers, programs and webcam.