XRecorder Review for a Smooth and Clear Audio Recording Outputs
Recording very smooth and clear audio using your phone is now possible. That is why you cannot understate the ability of your mobile devices because there are a lot of applications you can use. For that, we want you to know that it is possible if you are planning to record podcasts or song covers on your mobile device. In line with that, one of the great audio recorders from the Google Play Store is the excellent Screen Recorder - XRecorder. This application possesses extraordinary features that are beneficial for recording video or audio. That is why we will be having in-depth reviews of its components in this article. Please take a look at every detail of this application. We can use this information to know if it is suitable for us. In addition, we also have a great alternative to XRecoder if you are still looking for more. Without further discourse, we shall now unveil the capabilities of XRecorder.

1. Our Verdict
The recording application is an excellent tool for a handy recording experience of our audio. It is very effective and efficient to use. However, please take a look at its pros and cons to balance the review.
Pros

It is rich in recording features.
It offers a free version.
It offers a free version.
The application is continuously upgrading.
It has very responsive customer service.
Cons

Some bugs occur sometimes.
The last version is chaotic and a bit confusing.
Some features are clunky.
Overall Ratings
As we look at the overall ability of XRecorder, we can say it is a great recording tool for our mobile phones. It has a significant amount of features that can give us a smooth and precise audio recording process. This feature also gives us the most quality outputs we need for our task or grind. In addition, the recording tool is also safe to utilize. It is very keen when we talk about viruses and malicious malware. That is why many users are constantly choosing XRecorder rather than any other tool because it gives us the quality process we need.
Functionality:9.0
Quality:9.0
Safety:9.3
2. What is XRecorder?
XRecorder
Price: $3.99
Platform: Android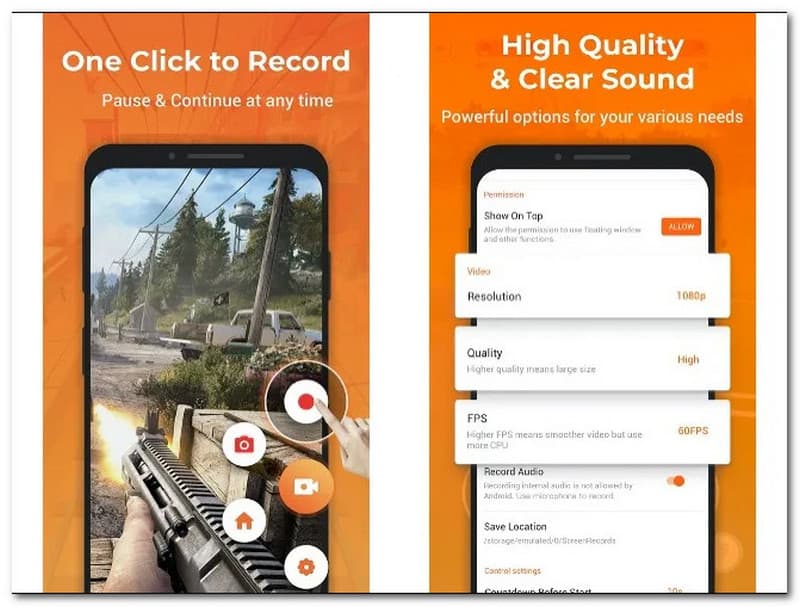 XRecorder is a beneficial screen recorder among Android users. It is also a practical audio recorder, for it can capture your internal and external audio with high-quality outputs. That means, through XRecorder, an audible and smooth sound is now achievable. In addition, it also offers recording features that can help you in recording your Gameplay experience. This feature also comes with high Frames per second or FPS. All of this recording ability comes with high-quality resolutions and clear audio outputs. This excellent recording application is from InShot Incorporated. That is why we expect it to give us an immense recording process. Overall, even though XRecorder is for screen and video recorder, we cannot deny its ability to provide smooth and precise audio results.
As a piece of extra information, you can also get the XRecorder Pro APK for more additional features like the advertisements free recording process, removal of watermarks, and hiding recording output list. Get it now for as low as $3.50 from Google Play Store.
Main Features
Regarding its functionality of XRecoreder, this recorder also possesses many beneficial features to its users. It can also be why there is a constant increase in the number of its users. Kindly take a look at what features it provides for everyone.
◆ Internal and external audio recorder ability.
◆ Noise cancellation features.
◆ Gameplay recording tool.
◆ Full HD quality.
◆ No limitation in recordings.
◆ Facecam recording tools.
3. XRecorder Review
Interface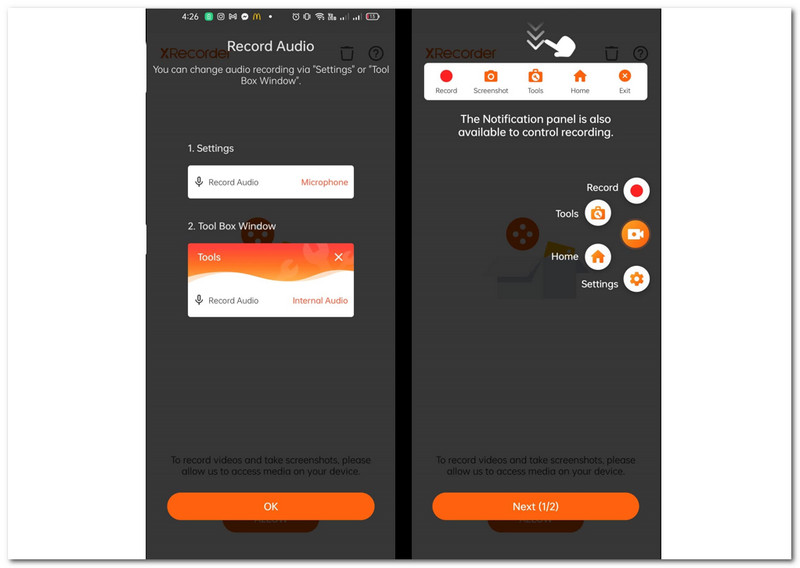 If we review its interface, we can see a straightforward design. It matches its color palates and is preset, bringing a warm atmosphere when we are recording. It has a floating icon bar that makes sense, especially when recording whole-screen activity on your screen. This interface helps us to prevent interruption with our recording process. Overall, the interface is excellent and beneficial for a smooth recording process.
Recording Features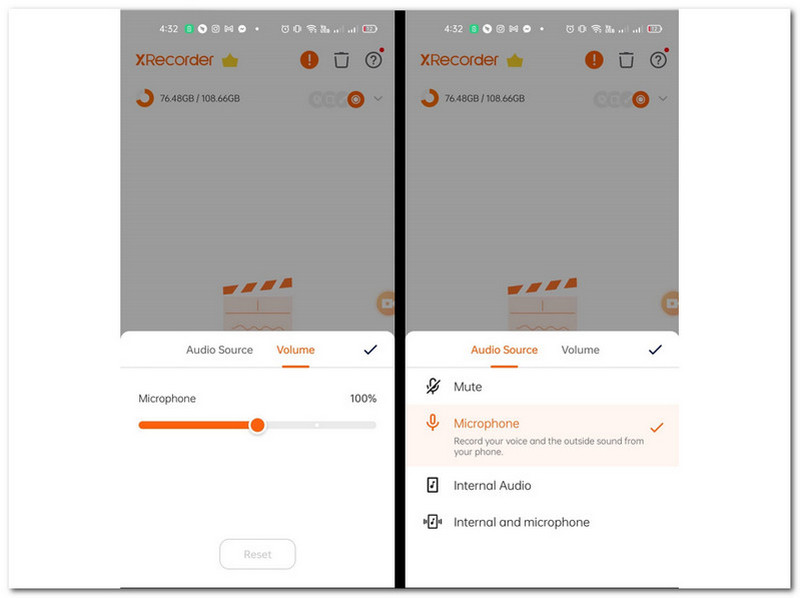 Reviewing its recording features, we can mention a lot under it. XRecorder possesses the ability to record total HD recording outputs. This recording comes with clear and smooth sound quality audio. As you know, this recording application can also record your internal and external sound simultaneously. In addition, the tool can allow us to adjust and maximize the volume of the sound coming from our microphone. These features are significant elements that can record our audio using XRecorder.
Video Editor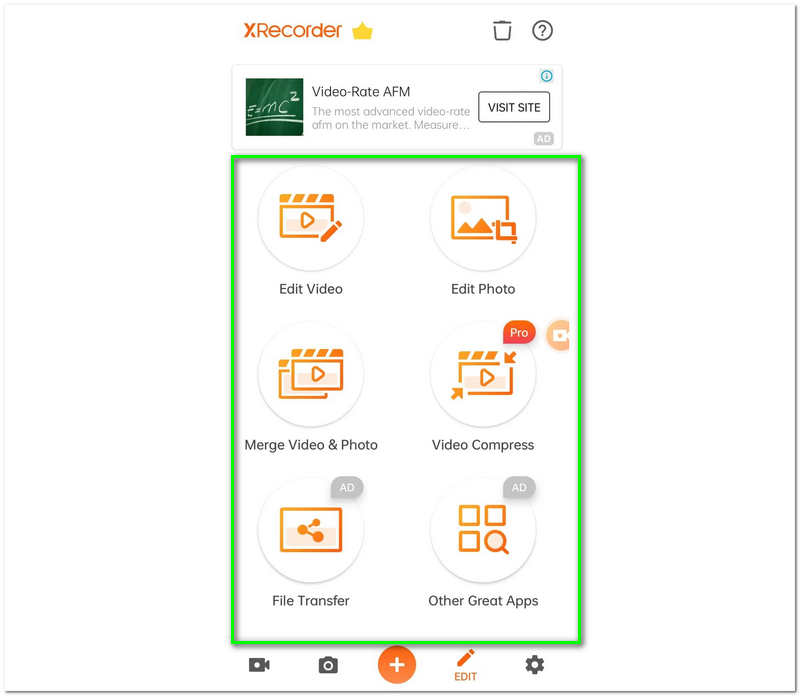 Other than the ability of Xrecorder in recording our screen and audio, it also provides valuable editing tools for our recording outputs. This editing tool includes trimming, splitting, volume adjuster, and more. Overall, this feature offers great help in making our recording more professional and presentable.
Is XRecorder App Safe to Use?
As we talk about its safety, we can say XRecorder is the utmost protection in terms of privacy. That means utilizing XRecorder will indeed be safe. Do not worry about viruses and malicious malware. That is because of the developers who make sure the service is excellent. In addition, this application also secures all of the information on your recordings. This detail is also why many users have been using it for a long time now.
User Experience
ADigging deep into the user experience of XRecorder, we can see various comments that say a lot of good things about the recording application. These comments include the effectiveness of its recording in terms of audio and visual quality. In addition, we can also see how useful the editing and extra features are in making our recording better. However, we can have some negative comments, and the customer service is very responsive and makes sure to solve the problem.
User Experience
◆ Edit video and photo.
◆ Video and photo merger.
◆ Video compressor.
◆ File transfer.
◆ Customization of the floating bar.
◆ Gameplay recording software.
4. FAQ about XRecorder Review
Does XRecorder give high-quality outputs?
Yes. XRecorder possesses different features that help us give the best-quality audio outputs. Indeed, this application is capable of recording total HD recording outputs. This ability includes the resolution of your video and the clarity of your audio in the video. Overall, XRecorder is suitable for capturing any recordings using your mobile devices.
May I record with WebCam using XRecorder?
XRecorder also provides Facecam features. It is a great function that we can use in capturing your face and reactions with a bit of overlay window. You can also drag it to the place you prefer any size you want. For that feature, an immense tutorial video is possible. Thus, all of these are possible if you now utilize Screen Recorder - XRecorder.
Can I use XRecorder to add background music with my raw audio recordings?
The latest version of XRecorder is not yet offering the feature of adding background music. However, the developer is making what they can do to give this feature for the next update. In addition, they also give us some video editing like transition, adding stickers, and volume adjuster features.
Does XRecorder notify Snapchat?
XRecord does not notify Snapchat when starting a screen recording. But Snapchat will detect when a screenshot or screen recording happens, and send the notification to the person you are in chat with.
How to record video in XRecorder?
1. Download XRecorder app on your phone. Once installed, you will see a floating menu on the right-hand side of the screen. 2. Tap the Record button to start the video recording. 3. While recording, you can enable the external voice recording. 4. Finally, tap the record button to stop the video recording. The video recording files will be listed on the XRecord home interface.
5. Best Alternative- Aiseesoft Screen Recorder
It is fantastic to know how amazing XRecorder is to record our audio as smoothly as possible. However, there are times that we need more features. In line with that, only desktop recording software can offer that. That is why Aiseesoft Screen Recorder is here to help. It is a flexible tool that we can use as a great alternative to XRecorder. You may download it now for more discovery of its features.

Aiseesoft Screen Recorder
Aiseesoft Screen Recorder is the leading software for recording high-quality outputs.
Record your voice using the microphone.
Mirror and record using mobile devices on PC.
Edit your recording outputs.
Audio optimizations.
Real-time editing while recording.
Conclusion
Having Screen Recorder XRecorder is a fantastic recording tool we can use in many aspects of your recording journey. We can see its features that are very beneficial with our recording task. Moreover, we can also see that XRecorder is safe to use. That means an effective and efficient recording process is now possible with our mobile devices. But, if you need more functions, you can also use Aiseesoft Screen Recorder is a great alternative. It can also offer great features and functions that XRecorder cannot provide. In addition, please do not forget to share this article for others to get to know more about the recorder. You may also visit our website to review the fantastic audio recorders in the digital market.
Did you find this helpful?
255 Votes
YES

Thanks for letting us know!
No

Thanks for letting us know!
Top Review for Audio Recorder
Aiseesoft Screen Recorder
Capture every moment in desktop, browsers, programs and webcam.