Screencastify Review: A Great Online Tool for Teachers, Students, Businesses, and More
Having a recorder tool can help you with your educational and business purposes. That is why we are introducing to you Screencastify. It could be the solution to your needs for a video recorder. It allows you to create and edit your video, share it on your Google Drive, YouTube, and more. And most significantly, you can now assess educational learning. Furthermore, in this post review, we will appreciate the simplicity of Screencastify and its features. Let us start digging this article more, and allow us to begin learning from Sceencastify.

1. Our Verdict
Pros

It is easy to learn and use.
You can use it for free.
It is affordable.
It enables you to save your file with different format types, your Google Drive, and more.
You can publish your file on your YouTube channel if any.
It allows you to edit for free.
Cons

To use Screencastify, you need to sign up for your Google account.
The free trial can record for 5 minutes only.
It has a watermark.
It takes too much time to add a video
The maximum number of videos you can create on a free version is ten videos only.
Suppose that you are using the free version. You have a limit of ten videos on your account.
Overall Ratings
Use Friendly:9.0
Convenient:9.0
Interface:9.0
2. What is Screencastify
Price: $49.99
Platform: Online
Main Features
Screencastify is an online tool that lets you record your computer and edit your videos in just a second. Moreover, you can use it for free. In this part, we will show you its numerous features: Please see below:
◆ It offers editing features.
◆ It can capture your desktop, any browser, and your Webcam.
◆ It can record your audio using the microphone.
◆ It provides annotations using pen tools, mouse effects, and stickers.
◆ It is built into your Google Drive.
◆ It provides a Watch Page to monitor the views of your videos.
◆ It lets you create a video assignment.
3. Screencastify Review
Video Recorder
The main feature of Screencastify is the video recorder. It is a great feature to record your screen, allowing you to customize it. You need to set Screencastify in the Chrome extension to record your screen. I think that you need to see some of the steps. So, let me elaborate on it for you.
ScreenCastify is user-friendly and to use this software, you need to sign in using your Google account and set Screencastify on the Extensions browser. Then, you will see the Screencastify - Screen Video Recorder. Then, it will let you choose with the three options such as Browser Tab, Desktop, and Webcam. So, to start the recording process hit the Record button. After the recording process, Screencastify will take you to the Video Details where you can open your file and proceed to Screencastify Edit. With that, you can start editing or customizing your video. Furthermore, under this part, we will review editing your videos. If you are interested, continue to the next part. Also, you will know how you can export your video files.
Edit Your Videos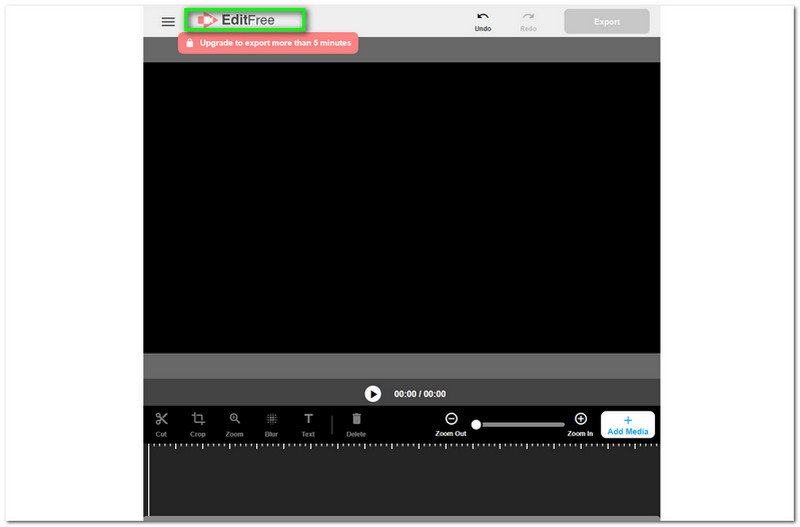 Screencastify allows you to edit your videos for free. Once you sign in to your Google account in Screencastify, you can now edit your videos for free. Add your video by hitting the Add Media. Then, Screencastify lets you from your computer, Google Drive, and even add Title only. After loading your video, you can start editing. Screencastify allows you to cut, crop, zoom in, blur, and add text. If you do not want to adjust or add something and are satisfied with what you edit, click the Export, and it will give you a choice if you want to export your file in MP4 format or export to Screencastify. To provide you with a hint, exporting your file as an MP4 file will save it to your Disk or computer, and if you export your file to Screencastify, it will be held on your Screencastify account. Then, you can type the TitleTitle of your video and click Save.
Watch Page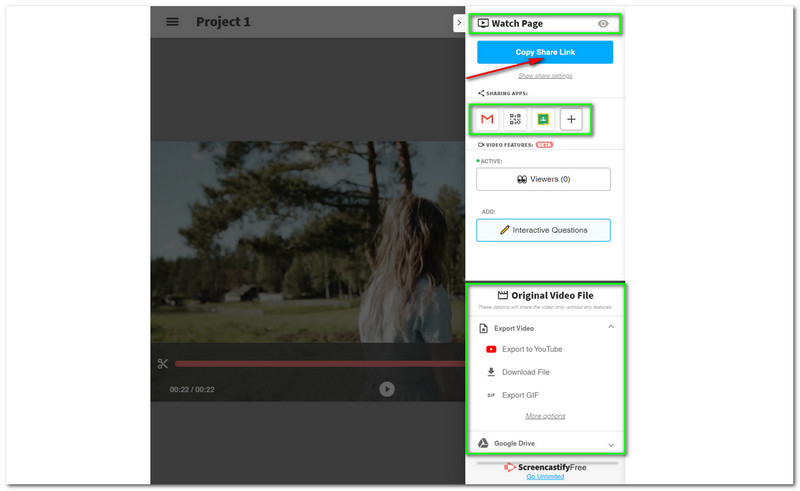 After the editing process, you can check the Watch Page. It is a feature that allows you to see the views of your video. Take note: it is only applicable if you export your video on Screencastify. Going back, you can also share your videos and send them using Gmail to your Classroom, and you can generate a QR code. Plus, you can add a sharing option like Wakelet and Remind.
Furthermore, you can add Interactive Questions too! What's more? On the bottom part, Screencastify lets you export your videos to YouTube. It also allows you to Download your File, and you can Export it as GIF. Amazing, right?
Other Options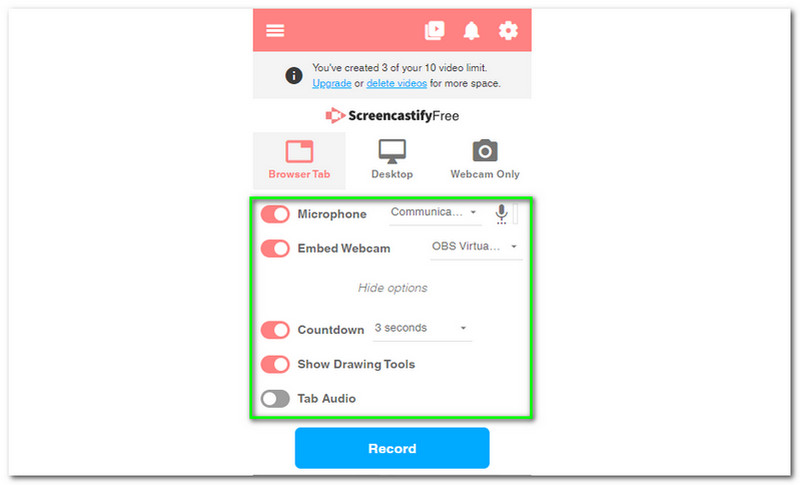 Here are the other features that you need to know that Screencastify offers:
Microphone - enable the microphone and choose with the available audio such as Microphone (Realtek(R) Audio, Communications - Microphone (Realtek(R) Audio), and set it on Default.
Webcam - once you enable the Webcam, it has one available option: the OBS Virtual Camera.
Moreover, Screencastify allows you to set a Countdown on the recording process from 3 seconds to 10 seconds. Also, you can show the Drawing Tools by enabling it and the Tab Audio.
Sign In with Google on Screencastify (Cons)
One of the disadvantages of Screencastify is you cannot use it without signing your Google Account. With that, it is important to sign in so you can use Screencastify. Do not worry because it will not take too much time. All you have to do is go to the Screencastify Submit and sign in with Google. Then, click your account and allow it to be used on Screencastify. Then, you will have a free account. That's how simple it is. However, you need to take note that having a free account is limited to creating ten videos only.
What is the Best for Screencastify?
Screencastify is the best online tool for video recording. This recorder software aims to help every teacher create informative videos for their students. Also, to involve their students to engage with every activity. Plus, every teacher can effortlessly check a student's understanding by creating an interactive question using Screencastify. Not just that, it is also best used for work. How? Employers can create a learning video for their employees to help their employees be more equipped. On the other hand, students can also use this to create a creative project, and employees can use this for making a professional report. In short, Screencastify is best for all users.
4. FAQs of Screencastify
Why are the Drawing Tools unavailable on my browser tab?
If drawing tools are not available while recording, you need to check the other options. You will see that when you launch Screencastify on the Extensions of your browser. Then, click the Show more options. After that, enable the Drawing Tools by tapping the ON button.
Is Screencastify free?
Screencastify is not free. It costs $49.99. However, it offers a free version but with limitations. If you want to use Screencastify fully, do not hesitate to purchase it to have unlimited access.
Is Screencastify safe to use?
On the privacy center of Screencastify, they leave a message about the safety of their users using their online software. According to Screencastify, they do not own every user's video, and they will never show any pieces of information to anyone. Therefore, using Screencastify, even the free version, is safe to use.
5. Best Alternative - Aiseesoft Screen Recorder
Screencastify is an online tool that anyone can use. However, some users want to use downloadable software because it will not cause you the hassle. Furthermore, the Screencastify alternative is Aiseesoft Screen Recorder. It is an overall recorder software, and it offers a video recorder, audio recorder, game recorder, webcam recorder, phone recorder, and much more. In addition to this, it has a Task Schedule feature. The use of this feature is to set a date and time for your next recording.
What's more? You can take a snapshot, and Aiseeoft Screen Recorder allows you to edit your file with excellent quality. So much for that, download Aiseesoft Screen Recorder and try it for free!
Conclusion
To complete this article, allow us to conclude in this part. Screencastify is a perfect online tool, and there is no doubt about that. Nonetheless, in this review, we provide an alternative software. Feel free to try it. Again, both software is excellent and powerful. However, there is still one who stands out. To end, we hope that you learn of every information that we provide like price, features, and more.
Did you find this helpful?
189 Votes
YES

Thanks for letting us know!
No

Thanks for letting us know!
Top Review for Audio Recorder
Aiseesoft iPhone Unlocker
Get into locked iPhone iPad iPod without password or Apple ID.