Smart Recorder High-Quality Voice Recorder Review: Features, Price, and Platforms
Do you need to record your audio that comes with a high-quality output? However, the problem now is you lack a computer or laptop? Do not worry, because you can still record audio even by using your mobile device. There are numerous audio recording applications for mobile phones, especially Android users. One of these great portable audio recorders is Smart Recorder. This Recorder is a super-smart application that will allow you to record audio with ease from the name itself. Aside from that, this software is also capable of providing super-high-quality output. Thus, it is just the right thing to call it the most suitable mobile Recorder for you. Let us dig deeper about it through this review.

1. Our Verdict
Smart Recorder is one of the most suitable recorders for different media personalities. We believe it is performing great in giving so many features for its users. It has existed for a decade now. It also provides excellent service consistently.
Pros

A screen recorder for mobile devices.
It provides a smooth process of recording.
An offline audio recorder.
It has a minimal file size.
It offers impressive and essential features.
It has high ratings and reviews from users.
This audio Recorder is straightforward to use.
Cons

It does not offer a version for Windows operating system.
Some crashes sometimes occur without reason.
Few users are requesting additional features.
Ads are available with the software.
Overall Ratings
The Smart Recorder is a fantastic recording application that provides a quality output for everyone. All of the features it possesses come with excellent performance. In addition, all of these facts prove why many users are still trusting and using this audio Recorder. Hence, you can download Smart Recorder now for a great experience of recording audio.
Quality:9.1
Performance:9.0
User-experience:9.0
2. What is a Smart Recorder?
Price: Free
Platform: Mobile Application and macOS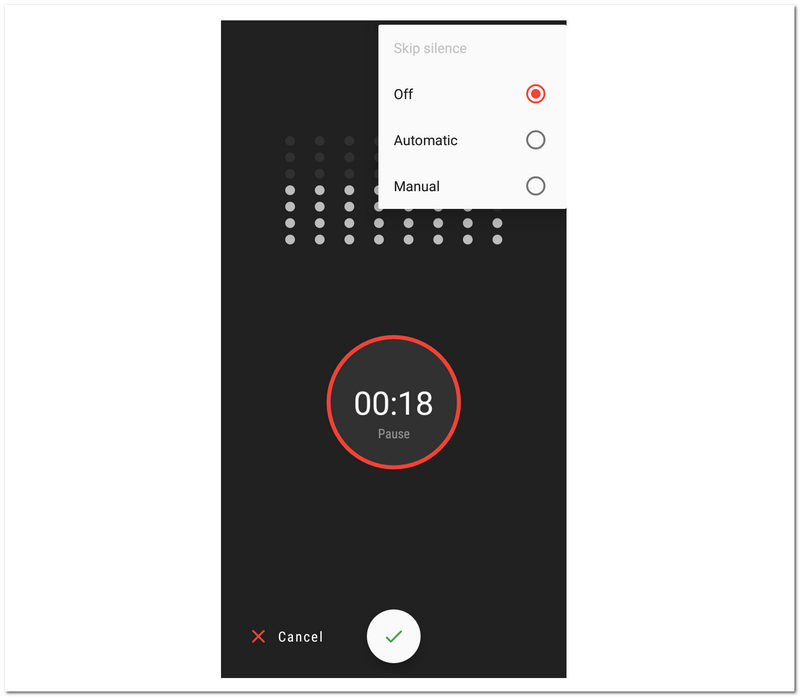 Smart Recorder has been the Smart Voice Recorder since 2012. The rebranding of it symbolizes how continuously improving it is. In regards to its ability, it provides high-quality audio outputs. Thus, a clear and audible sound. In addition, it offers fantastic features for free such as the Smart Recorder transcription services. Get it now with Google play store for free to experience more.
Main Features
Even though it is just a mobile application, it does limit us with features. It offers an excellent function for high-quality recording outputs. Check out its offers to say how suitable this converter is for you. Without further ado, here are the tools we can enjoy.
◆ Record unlimited audio.
◆ Clean interface.
◆ Skip the silence on the recording.
◆ Quick parameter settings for reviewing outputs
◆ Secure and clean recording place.
◆ Share recording via different media tools.
3. Smart Recorder Review
Interface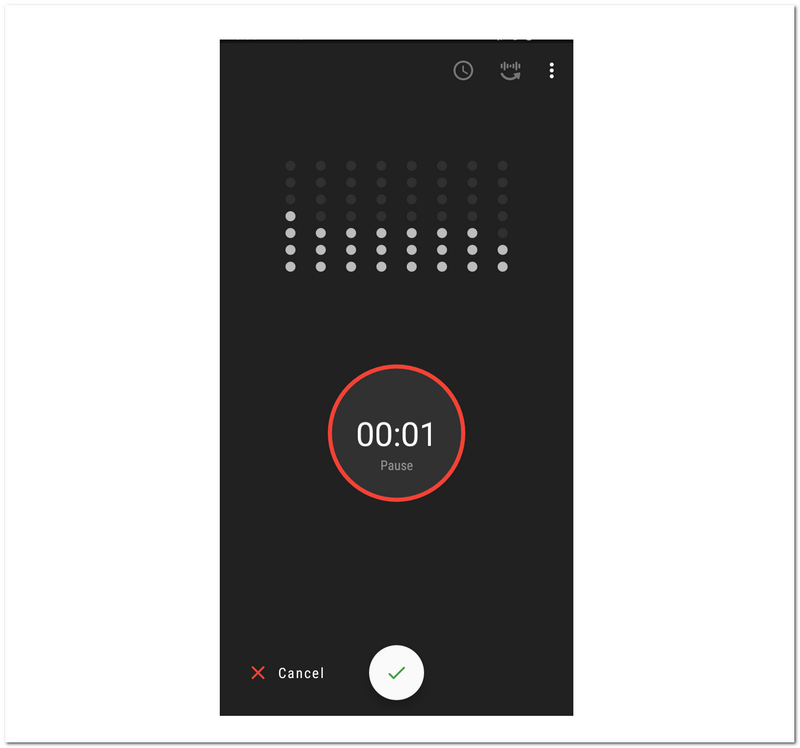 If you look at its interface, we can say that it is straightforward. Thus, an overwhelming experience of recording your audio is not welcome here. This recorder possesses a minimal interface design. The black and red color allows users to experience an uninterrupted process. We can also notice the super fewer icons in the interface. You can see the recording button and the recordings folder. Overall, the main point of the interface is to bring a straightforward process of recording your audio.
Skip Silence Recording
In addition to the beneficial features of Smart Recorder, we have the skip silence recording. This feature will automatically remove all the silent parts of your recording. This recorder helps remove non-sense portions of your recordings in most short words. As a result, you may now get a professional and clean recording for your work.
Live Audio Spectrum Analyzer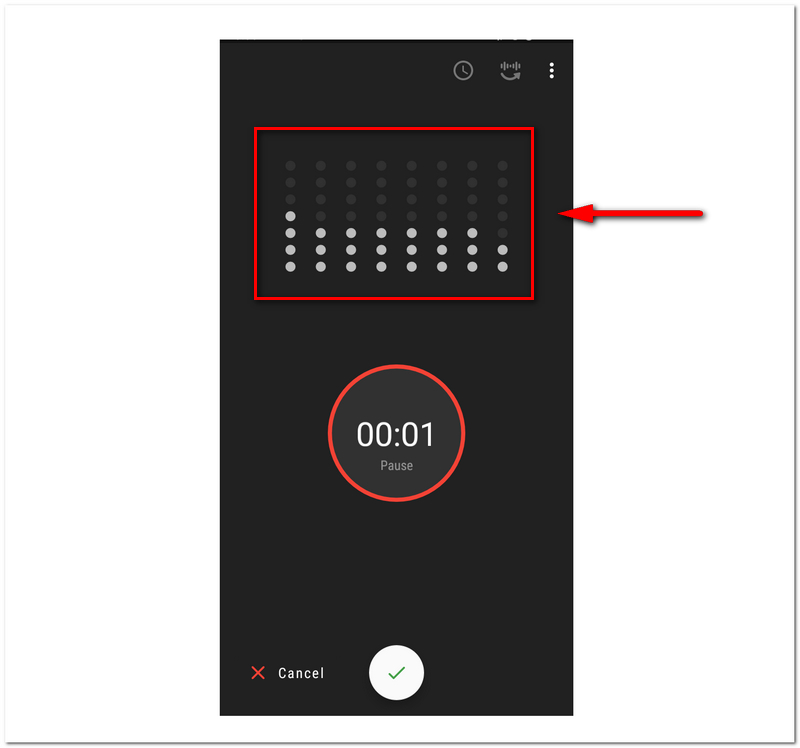 On the other hand, Smart Recorder also possesses a very helpful Live audio spectrum analyzer. Through this feature, you can now see the level of sound you produce while recording. The spectrum analyzer is just easy to see and understand. It will appear the moment you have started recording your audio. You will see this in the middle portion of the interface at the top of the recording scale.
Recording in Background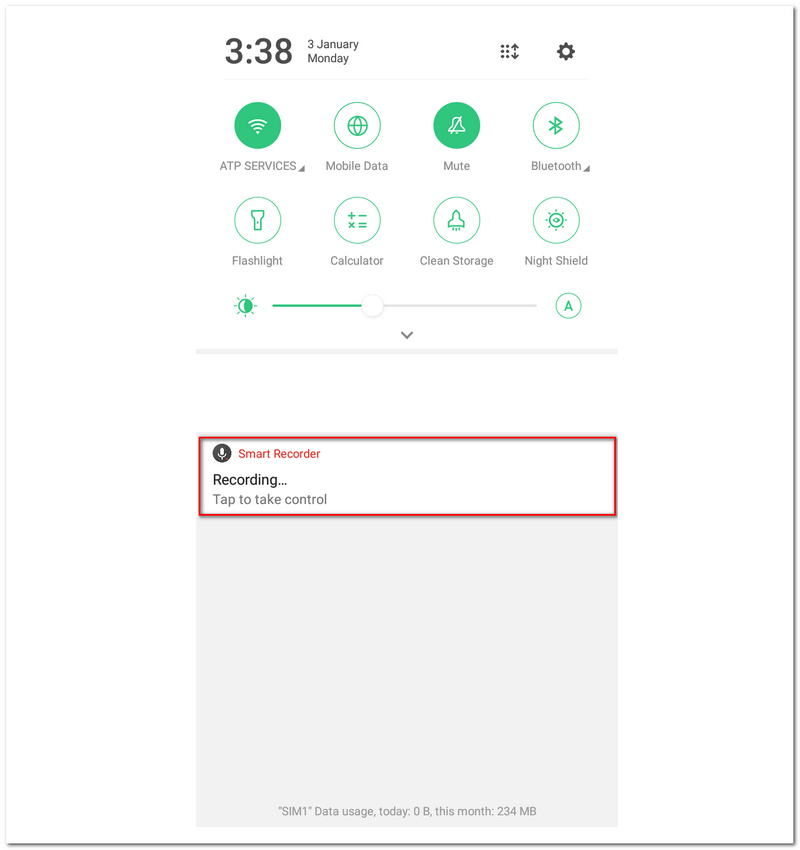 As media enthusiasts, most of us are fans of multitasking. For example, you are a journalist. Smart Recorder is one of the most suitable audio recorders for you. This function will allow you to record even in the background. Thus, going into different applications like notes or email while recording in the environment is possible with Smart Recorder. In addition, this feature is also proof of how this Smart Recorder software is very flexible and adaptable to our works.
Clean Recordings Folder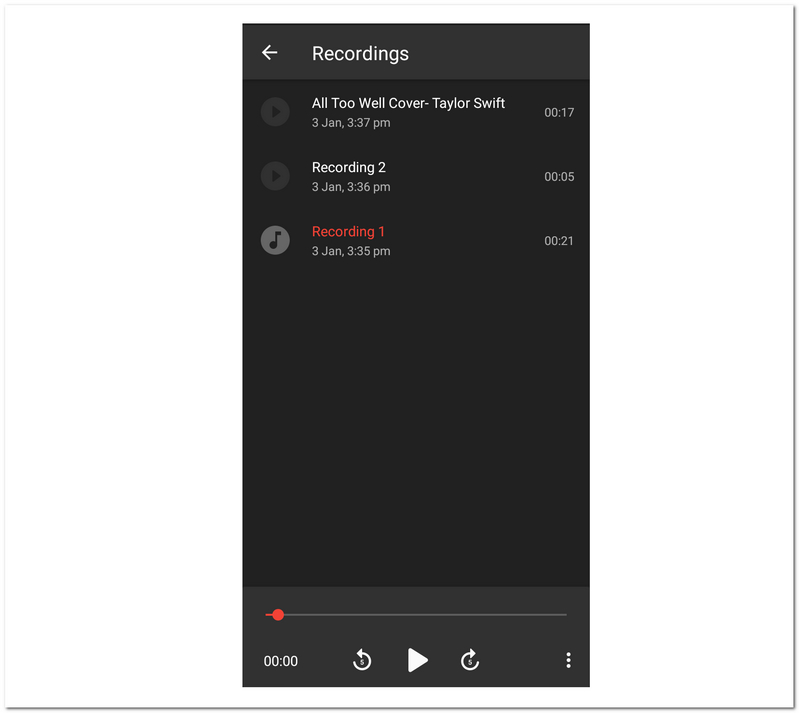 Aside from the helpful recording features, Smart Recorder also possesses extra features. One of these is its clean recording folder. In this portion, you can see all of your recordings, their proper names, and information. In that case, finding your recording immediately with its folder is now possible. In addition, a playing scale of your audios is also present in this folder. That means it is a double function with just one feature. We can hit two birds in one stone because we already have an organizer and a player simultaneously.
4. FAQs of Smart Recorder
Is there an availability of the Smart Recorder Windows 10 version?
Unfortunately, Smart Recorder does not offer a version for Windows 10. It is mainly for Android devices. However, there is an available Smart Recorder Mac version.
Does Smart Recorder have the ability to record phone calls?
Smart Recorder offers impressive features. However, recording phone calls is impossible. It is impossible because some elements of our devices will block the Recorder from doing it. It is a necessary action to protect our privacy.
Does the Smart Recorder possess a huge file size?
No. Smart Recorder is a storage-friendly application. It only possesses up to 24 MB in total storage. That already includes the data and cache of the application.
5. Best Alternative- AnyMP4 Screen Recorder
It is sad to think that Smart Recorder does not offer a version for your Windows computer. However, you do not have to worry because we have an alternative. Please welcome, AnyMP4 Screen Recorder. This software is an all-in-one recording software. It can record your audio from your desktop or from the microphone you are using. Aside from that, it also offers extra features such as a screen recorder and gameplay recorder. All of those features will prove how excellent AnyMP4 Screen Recorder is for you. You may try it now for your Windows or macOS devices.

AnyMP4 Screen Recorder
An all-in-one screen recorder for an immense recording experience.
Audio recorder.
Screen and gameplay recorder.
Built-in media editor.
High-quality outputs.
Intuitive interface.
User-friendly.
Conclusion
In conclusion, Smart Recorder is just a simple audio recording application, especially for Android users. It can offer simple yet quality recordings. However, it is limited in terms of other features, and it does not even provide a version of the Windows operating system. Therefore, AnyMP4 Screen Recorder is the most suitable alternative to it. For it can offer more capabilities rather than the Smart Recorder.
Did you find this helpful?
395 Votes
YES

Thanks for letting us know!
No

Thanks for letting us know!
Top Review for Audio Recorder
AnyMP4 Screen Recorder
Capture every moment in desktop, browsers, programs and webcam.