Review of the Exception GiliSoft Audio Recorder: Digging Deep to its Features
A powerful audio recorder will give you a lot of benefits. Aside from recording audio, it can also give you the ability to listen to your favorite tracks. However, to make it possible, allow yourself to assess the most suitable audio recording software for you. Try to check GiliSoft Audio Recorder. This audio recorder might be good for you. Thus, join us in this review to know if it is perfect for you. GiliSoft Audio Recorder is an audio streaming recorder working directly with our sound card. An exciting feature, right? Let us discover more about this recorder as we continue with this review.

1. Our Verdict
This audio recording tool is an easy-to-use audio recorder for any PC. It can offer a smooth recording experience of any internal and external sound. GiliSoft Audio Recorder is most suitable, especially for new users who do not need extra features.
Pros

Easy-to-use audio recorder.
Simple and clean interface.
It can offer high audio quality outputs.
It is an award-winning audio recording software.
It is continuously upgrading.
It is a safe go-to solution for audio recorders.
Cons

It does not offer a free version or free trial.
The audio recorder is a bit expensive.
The downloading and installing process is complicated.
Overall Ratings
GiliSoft Audio Recorder offers the basic features yet essential functions for an audio recorder. It is still a helpful recording software even though it does not provide extra features.
Features:8.6
Functionality:8.4
User-experience:8.5
2. What is GiliSoft Audio Recorder?
GiliSoft Audio Recorder
Price: $24.95
Platform: Windows and maccOS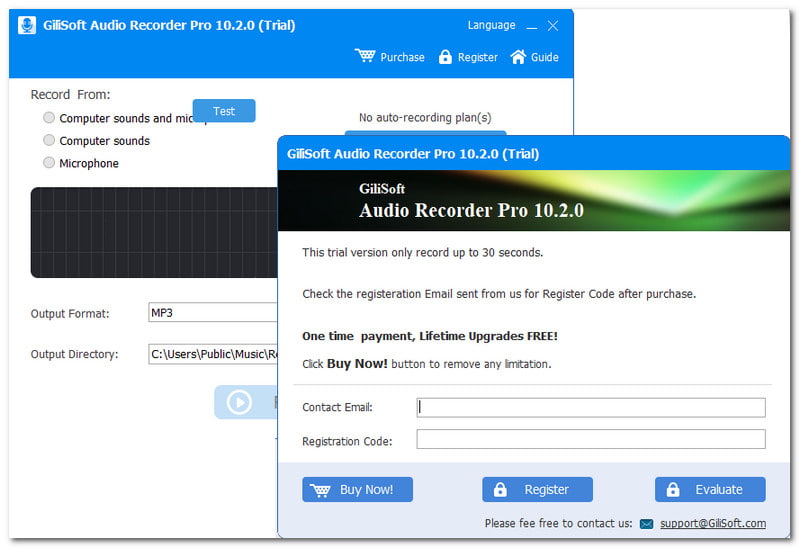 GiliSoft Audio Recorder is a practical audio recorder for your sound card or external devices. It is fantastic in giving us the most beautiful quality for audio outputs. That means you may now expect clear and audible sounds after your recording process. This audio recording software is suitable for some users like students and educators. It is advantageous, especially nowadays with online classes. You can also use this in fulfilling your final requirements, such as recording your podcast or music cover. Overall, the primary purpose of GiliSoft Audio Recorder is to help us grind with recording an excellent quality of audio recording outputs.
Main Features
Some people may say that GiliSoft Audio Recorder is just offering a few features. That might be real. However, we can't still disregard its ability to provide practical tools in recording our audio. In line with that, here are the features from GiliSoft Audio Recorder that we can enjoy.
◆ Recording MP3, WMA, and WAV directly.
◆ Simultaneously recorder for computer sound and external devices.
◆ Built-in timer for scheduling your audio recordings.
◆ It offers voice activation for silence detection too.
◆ It has built-in preview features.
◆ The software supports multiple sound cards.
◆ Flexible parameter setting.
◆ There are no limitations for recording.
3. GiliSoft Audio Recorder Review
Interface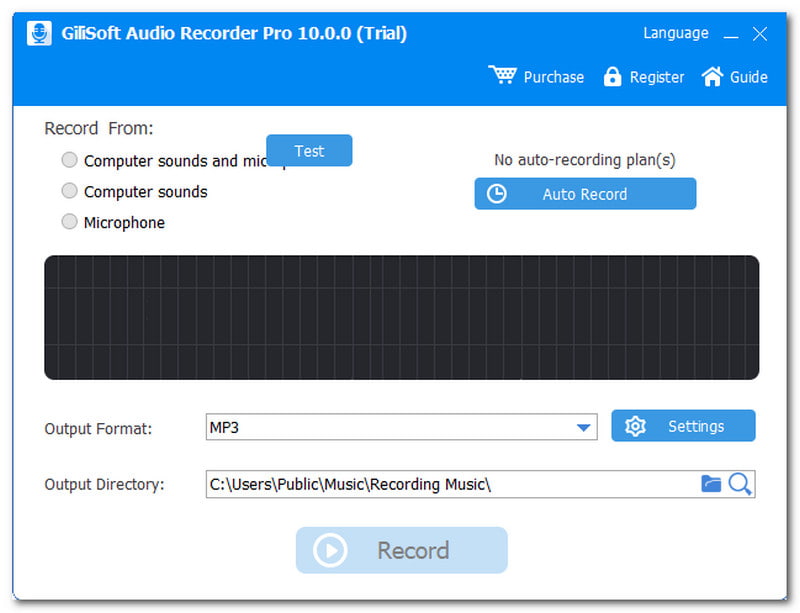 The interface of GiliSoft Audio Recorder is adorable. It possesses a straightforward design and layout. The color palette brings a smoother audio recording experience. On the other hand, what makes it more appealing is the proper placement of every icon and button we need to utilize. In addition, the text fonts with the white color are very complimentary with the total theme of GiliSoft Audio Recorder. Thus, we can say that the interface has unusual and unnecessary elements. Overall, the interface is a great asset of this audio recorder.
Voice activation System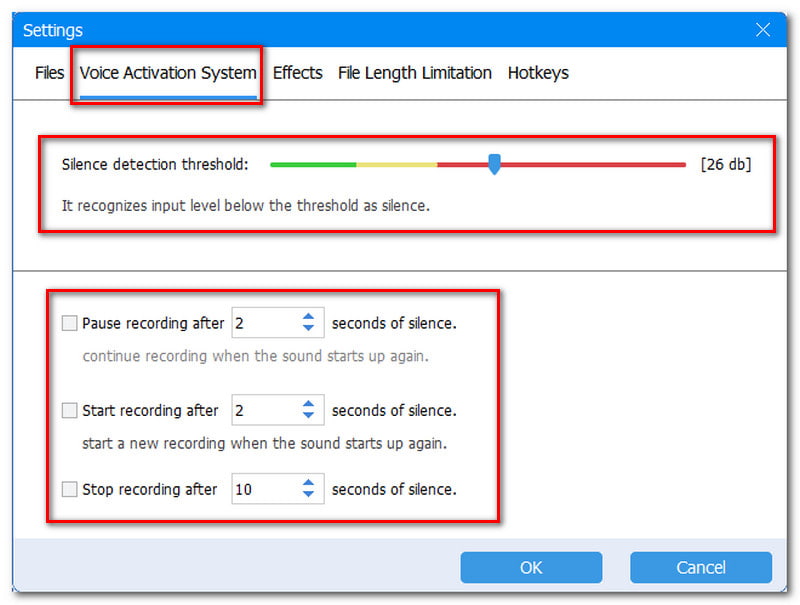 One of the exciting features of GiliSoft Audio Recorder is the Voice Activation System function. This feature will offer you a silence detection threshold. It is a function that recognizes the input level under the point as silence. In addition, you can also modify and control when you will pause, start, and stop your recording. This feature is just easy to use.
Easy Modification of Recording Files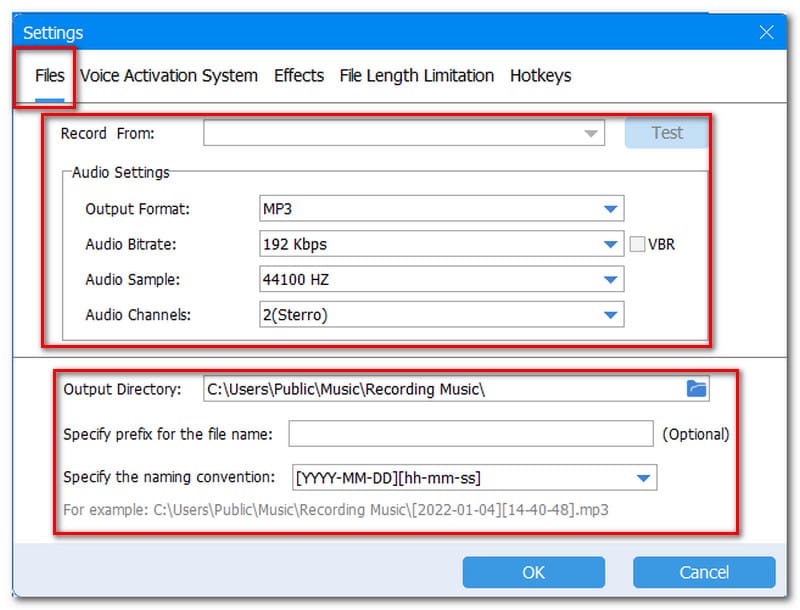 Under this feature, you can easily modify the information of your audio recording files. That includes the output format, audio bitrate, audio sample, and audio channel. In addition, you may also set the output directory, prefix, and naming convention of your audio files. All of these functions are all in your control.
Audio Recording Effects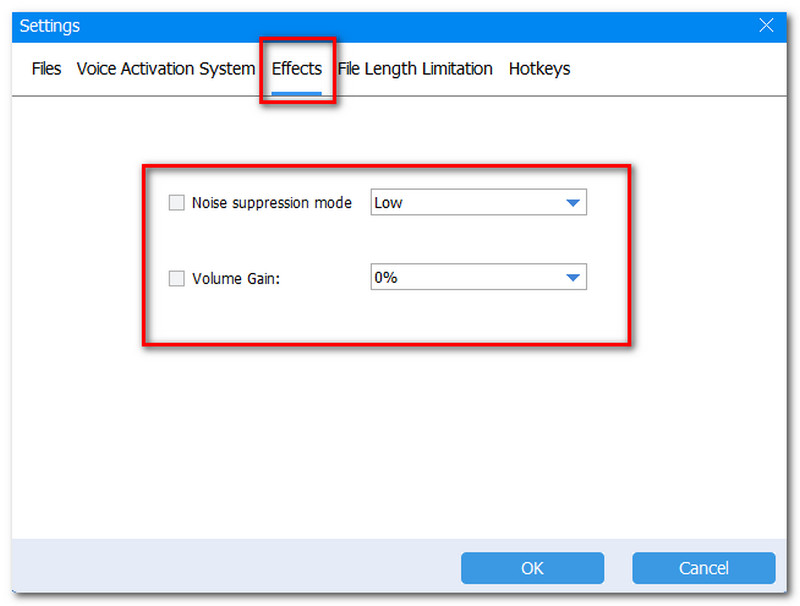 In addition to the remarkable feature of GiliSoft, Audio Recorder is the tool for modifying the effect of your audio. In this feature, you can now easily set the noise suppression mode of your audio output. The option box includes low, moderate, and high levels. Another tool under the Effect feature is the adjuster for Volume gain. This tool will permit you to adjust the volume gain of your audio recording from -90% up to 500%. Likewise, you need to click the option box to modify the Noise suppression.
Is Premium Worth it?
Many users are asking if the premium version of GiliSoft Audio Recorder is worth it. As an answer to that, many of us can agree that the premium version of this audio recorder is very worth it. We all know that the free version does not offer us the main features. Thus, if that is the case purchasing the premium version will be worth it.
4. FAQs of GiliSoft Audio Recorder
Does GiliSoft Audio Recorder offer a free trial?
Yes, it offers a free trial. However, the free trial of GiliSoft Audio Converter will not allow you to record audio for free. The free version will allow you to navigate the features of GiliSoft Audio Recorder. That is why the free version is not adequate.
How do I record from the Microphone with GiliSoft Audio Recorder?
Recording our audio from the Microphone using Gilisoft Audio Recorder is just as easy as three steps. First, insert your Microphone into your device, then choose the Microphone. After that, you can now speak to your Microphone. Remember that you should see a speech waveform on the windows. This display is the confirmation of your recording. Next, it is now the time where you can choose the Formats or adjust the Audio Quality (Bit Rate). Select the Settings button. Lastly, press the Record icon to start the recording process.
May I record audio from speakers and Microphones simultaneously with GiliSoft Audio Recorder?
Yes. Recording the sound from your speaker and Microphone is possible. All you need to do is correctly set the settings before the recording. Just select the Computer sounds and Microphone under the Record From portion.
5. Best Alternative- AnyMP4 Screen Recorder
It is sad to know that the free version of GiliSoft Audio Recorder has a considerable limitation. It just allows you to navigate the software. An alternative that can offer a free version is necessary for us. Especially for the broke users. In line with that, here is AnyMP4 Screen Recorder with its unique features. This audio recorder offers an excellent function for recording your audio. The fantastic thing about it is that it provides a free version that is still rich in features.

AnyMP4 Screen Recorder
AnyMP4 Screen Recorder is the most user-friendly recording software nowadays.
High-quality audio recorder.
Mic noise reduction.
Recording schedule.
Screen recorder.
WebCam recorder support.
Conclusion
To sum it up, we talked about the price, platform, and main features of WonderFox HD Video Converter Factory; we also talked about its safeness and free conversion. Moreover, if this article review helped you, kindly share it with your friends. See you in our next article!
Did you find this helpful?
396 Votes
YES

Thanks for letting us know!
No

Thanks for letting us know!
Top Review for Audio Recorder
AnyMP4 Screen Recorder
Capture every moment in desktop, browsers, programs and webcam.