A Thorough Review of FVC Free Video Player: Pros, Cons, Price, Speed, and Features
Our computers have limited storage, therefore utilizing free software that can be accessed through a web browser is essential in many ways- you will do your grind whatever things you need to do and you will save your storage. Did you know, there are also free video players that have the ability to play your files using the web for free? That is why in this article we will review the FVC Free Video Player, one of the best media players that can be used with a browser. We will dig deep about its main features, pricing list, system requirements, speed, and more. Without further ado let us start the review.

1. Our Verdict
Pros

It supports playing numerous media file formats.
User friendly and recommended for the new users.
Smooth playback in all supported files.
Offers tools that can adjust effects.
Support high-resolution playback of your videos.
Can offer a 3D Video Playback using the right 3D glasses.
Easy to control the playing process by just dragging.
Cons

It requires an internet connection to play.
Limited features compared to desktop software.
Overall Rating
It is amazing to think that there is still software that possesses both being cost-efficient and effective at the same time. That is why FVC Free Video Player is one of the online software that got a high rate among the users, for it can really help you in playing your media files. It also offers high-quality playback, incredible features, and functions even though it is just free and an online media player software. Therefore, it really deserves honor from the user of it. In the latter parts of this post, we will see why it is rated high by the user.
Easy to use9.5
Smooth Playback9.5
Safety9.5
2. What is FVC Free Video Player?
FVC Free Video Player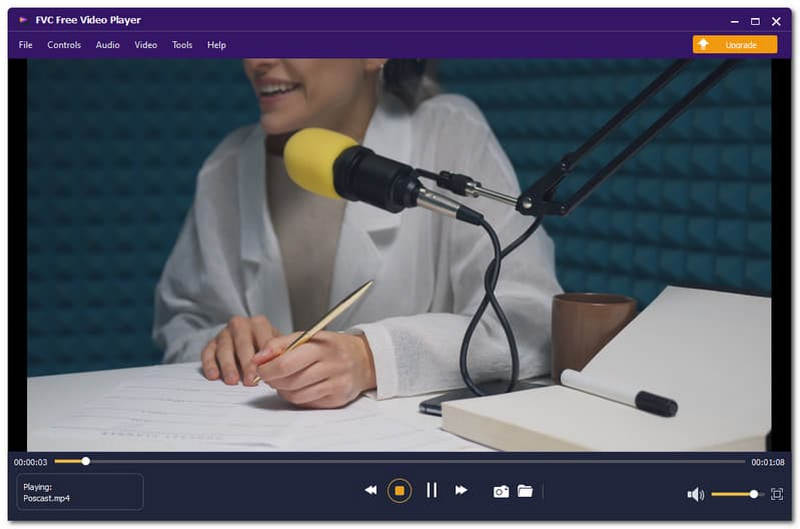 FVC Free Video Player is a fascinating media player that has the ability to play a lot of media file formats with smooth playback. This online software can be accessed via going to their official website. It also has the ability to play 3D videos and all audio file formats. Other than that, it also supports optional audio tracks and subtitles, and customizable playback effects. All of these functions and features are offered for free by FVC Free Video Player. For that being said, we all now know why it is one of the best for the users.
Price
The best thing about FVC Free Video Player is it is accessible for everyone. Unlike other media players that are very expensive like $30 dollars and up just to enjoy the full version of their service. This is a free player that you can utilize in playing your video and audio files just using your web browser. All you need to do is to go with their website and after downloading the launcher, you may now enjoy your videos or audios without purchasing any plans or licenses.
Supported Operating System
This free media player is a web player, which is compatible with your Windows computer with an OS of Windows 11, Windows 10, Windows 8, Windows 7, Windows Vista, Windows XP (SP2 or later). It is also compatible with your Mac computer with an OS of MacOS 10.7 and above. It only requires you a 1GHz Intel/AMD CPU or above and also 1GB RAM or more. Other than those things, there is nothing more you need to have.
Main Features
● Play all the popular video and audio formats with ease.
● Capable of playing 4K and 1080 HD videos for the immense watching experience.
● Offers audio tracks and subtitles.
● Easy to customize playback effects.
● Offers a tool that will allow you to screenshot while playing the video.
3. FVC Free Video Player Review
Safety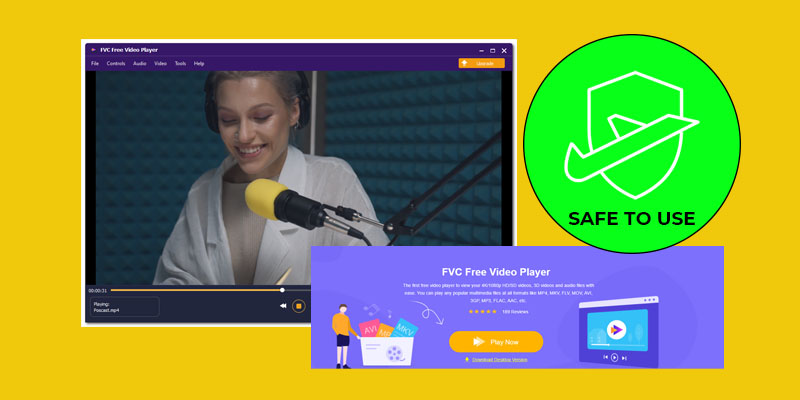 Since then, a lot of people are asking if it is safe to use an online player just like the FVC Free Video Player. In terms of FVC, the developer is making sure that all the files of their customer are safe and secured. It possesses a technology that can also protect your computer devices from any malicious malware. Therefore, we can say that it is safe to use. So you do not need to worry about any troubles in utilizing an online media player such as the FVC Free Video Player.
Support Media Formats
Even though it is limited in features compared to the desktop software out there. FVC Free Video Player still supports a wide range of file formats, especially your video and audio files. Try to look at the chart below that presents all the audio and video files that FVC Free Video Player supports.
| | |
| --- | --- |
| Video | MP4, AVI, FLV,WMV, 3GP, MXF, MKV, MOV, and more. |
| Audio | MP3, AAC, FLACC, OGG, WAV, AIFF, ALAC, and more. |
Speed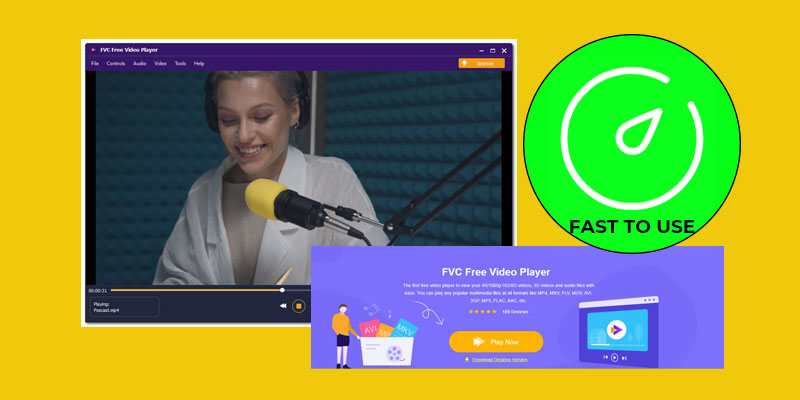 Many users can prove how this FVC Free Video Player is very effective as a Media Player. Others use this to play their videos or clips. While some play utilizing this to play music. The important question now is, how to speed the FVC Free Video player can offer for all the users. To answer this honestly, as we tried and used the online player. We are amazed that it possesses incredible speed. It is capable of playing your video with very smooth playback for an extraordinary experience of watching and listening to your files. Therefore, the speed of the FVC Free Video Player is truly fantastic. You just need to bear in mind that you have a fast internet connection speed to utilize the online media player successfully.
4. FAQ
Is FVC Free Video Player accessible with Google Chrome?
Definitely, actually, you can use almost every web browser in playing your media files. Therefore, it is really allowed to use Google Chrome together with Microsoft Edge, Firefox, and more.
Is there an availability of a watermark while playing my files?
FVC Free Video Player will not modify your files. It does not have the ability to add watermarks to your videos. Therefore, you may now enjoy playback of your original video files without any disturbing watermarks on them.
Am I allowed to change the video/subtitle track while playing foreign movies?
Yes, it is allowed. All you need to do is go to the Video tab and locate the options portion that will enable you to modify your video/subtitle track.
5. Best alternative - Vidmore Player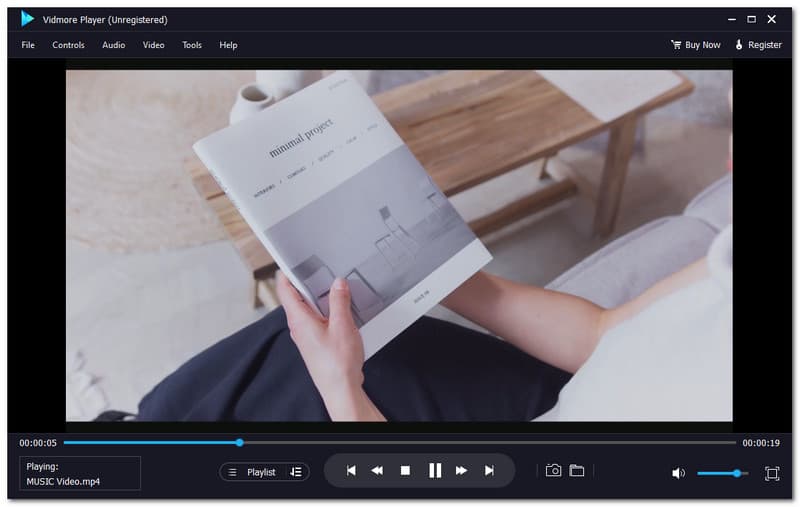 Vidmore Player is another interesting media player that you can use by installing with your desktop. Unlike the FVC Free Video Player, Vidmore is quite different from it. From the kinds of software and medium, you need to use it. Vidmore Player is a bit rich in features and functions. In fact, it can offer almost everything you need or everything you are looking for in a media player. A lot of users, websites, and media enthusiasts defined CVidmore as one of the best media players in the market nowadays. For that being said, let us try to know the reasons behind this statement.
This amazing player has the ability to play almost every audio and video file format with ease and with smooth playback. Also, the developer is making sure that their software will truly be effective in all aspects when it is used by the users. It offers a quality image playback with a matching great sound process. Other than that, it has also a tool that supports a subtitle perfect for your movies that are in the foreign language. As long as your subtitle is in the SRT, SSA, and ASS file formats. In addition, it also possesses a tool where you can adjust your video effects such as hue, brightness, contrast, and saturation using its less complicated multiple parameters.
Therefore, Vidmore Player is software that can really give you an amazing experience in watching, playing, and listening to your different media file formats. Without mentioning its ability to play DVD and Blu-ray Disc. Overall, users, websites reviews, and media enthusiasts are right in saying that the Vidmore Player is one of the best media players in the market.
Conclusion
In the end, despite the fact that there are a lot of media players, desktop software is competing in the market nowadays. We can still say that free and online media players are still beneficial in many ways. In this article, we reviewed the things, functions, and features that we can get in using FVC Free Video Player. We found out that this software is a great definition of cost-efficient and effective player for all of us. Therefore, we would like to hear your thoughts about FVC Free Video Player, and do not forget to recommend it to a friend who is also looking for an accessible media player.
Did you find this helpful?
182 Votes
YES

Thanks for letting us know!
No

Thanks for letting us know!
Bluraycopys Free Blu-ray player
Freeware to play Blu-ray, DVD and standard video and audio.
Freeware