What is an MPV Player?: A Thorough Review of its Features and Details
MPV Player is one of the best media players in the market nowadays. Despite its name, this media player is not developed just to play your MPV file formats, although it is somehow connected. But this software is also capable of playing a lot of media files in any file formats. In line with that, we will review MPV Player to know more about its features, functions, system requirements, and more. Knowing a software like MPV Player is beneficial especially for the new users. This will help you alleviate confusion in using it.

1. What is an MPV Player?
MPV Player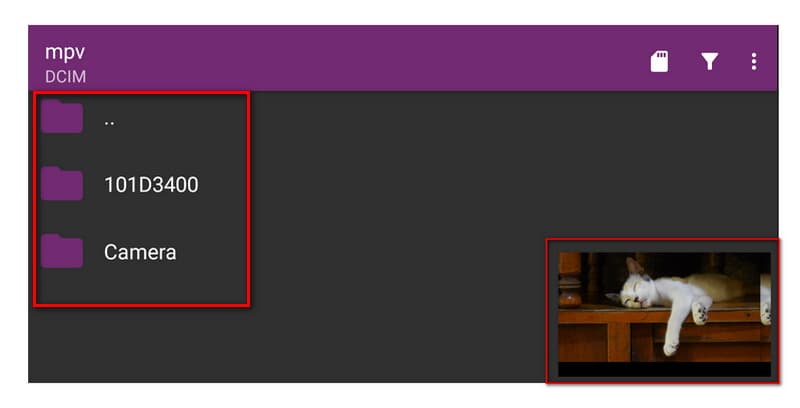 MPV Player is included to the player that is free to utilize, open source, and cross-platform media player in the market. As an overview, it supports a wide range of media file formats, like video, audio, and even subtitles types. In terms of its playback, it has a great performance with high quality video output. MPV Media Player also offers tons of features that are really beneficial in playing our media files like audio and video files.
Price
It is a free and open source video and audio player. All you need to do is download the installer proper with their official website. For that, you may now enjoy its full features without paying even a single dollar.
Platforms
MPV Player supports various operating systems with just a few system requirements. This player is compatible with Windows 10, 8, 7, Vista, and XP (64-bit and 32-bit), Mac, and Linus operating systems. In addition to that, it also requires a good performing Central Processing Unit (CPU). For that, you are good to go in using it without experiencing troubles. Furthermore, downloading MPV Media Player on your Android phones. It is actually the best use in mobile phones. As long as you have 2 GB RAM or more and a suitable storage, you will definitely enjoy it.
Main Features
Despite the limitation of MPV Player in terms of offering features, we cannot still disregard offers that are also essential for a media player. Anyway, take a look at the basics yet beneficial that it can offer.
● Scripting that is supported by wiki.
● It does not provide a real GUI.
● This possesses a small controller at the ridge of the video.
● Provides a super high-quality video output.
● Adding subtitles with MPV Player is also easy.
● It is also capable of video scaling with popular quality algorithms.
● Extra features are also offered like color management and frame trimming.
● Hardware and video decoding.
● There are a lot of gesture-based for volume and brightness control.
● Offred advanced video settings like scalers, debanding, interpolation, and more.
● Open URL function.
● Floating video playback is allowed.
2. MPV Player Review
Pros

Offering the essential and beneficial features.
Provides high-quality video output.
Free and open license software.
Easy to adjust subtitles within the video you are playing.
Much better than other players according to some users.
Support numerous file formats including subtitle types.
Compatible with various devices.
Cons

It is complicated to install.
The website is chaotic.
It is hard to understand.
Tools are vague to utilize.
Bugs are occurring sometimes.
There is just a little information about it.
Interruption and pause in switching from foreground to BG playing.
Overall Ratings
As we reviewed the MPV Player, we found out that their website is a bit messy and chaotic. We also had a hard time finding its installer and it took a long time before we installed it. Although, as we tried it, this is not bad to try, yet we cannot disregard the fact that they need to improve in terms of their technical setup.
Ease:8.1
Features:8.2
Interface:8.5
Customer Service:8.2
Media Formats
This media player is performing well in supporting tons of media files formats. That is why it is a great choice for the user who is looking for a video player for their diverse video files. It also supports popular video files such as MP4, AVI, WMV, ASF, MPEG, MPV, M2V, MTS, DPG WebM, AMV, DivX, and more. Therefore, with MPV Video Player you do not need to worry about the compatibility of your video files because you can play any video with MPV Media Player.
Customisation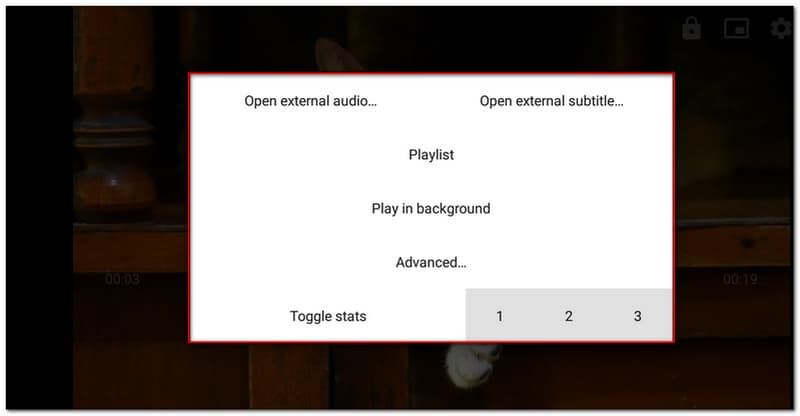 MPV Player possesses a very simple parameter that will allow you to customize your MPV Video Player instantly. Through the customization settings, you may also customize how you want to watch your video and how you want to see your playlist in order. As a highlight, the customisation office allows you to adjust the brightness, saturation, audio, and aspect ratio of your video files while playing.
Playback Settings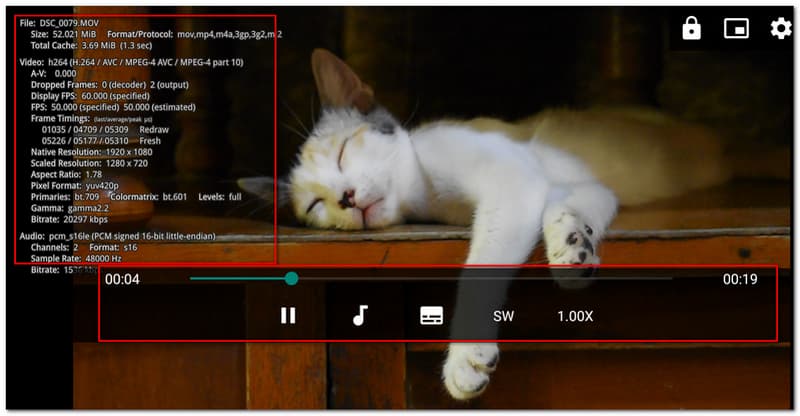 In terms of the playback settings of MPV Player, it offers very simple settings that can be easily used in playing your video files. You will see to the main interface the basic yet most important settings for the playback of your video. These are the, pause, audio adjustments, subtitles, the mode of your video, the speed of your playback, and more. These settings can be utilized in just one click away.
Interface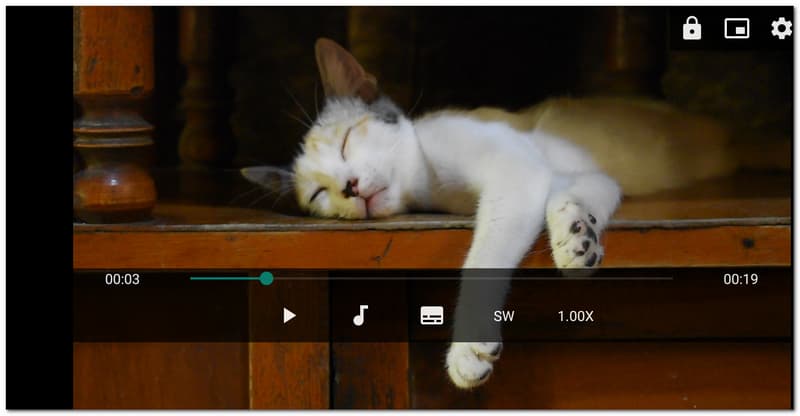 Talking about its look and design, this video player has a very simple and clean interface. It comes with a violet and black color palette. Although it is a bit confusing, because you do not support or show the thumbnail of your media files. Therefore, you will really need to know the name of your video file so that you will prevent playing the wrong files. However, once your video is already playing, the interface is very pleasing with the eye. It will allow you to enjoy an immersive playback of your video.
What is the Best For?
MPV Media Player is the best in a lot of things. Despite its simplicity and freeware software, it still offers numerous features and functions that are beneficial for many media enthusiasts. That is why in portion, we will run down some of the things that made it the best for the user.
3. FAQs
What device is recommended to use for utilizing MPV Player?
As we reviewed the tool, MPV Player is highly recommended to use with your mobile device, especially Androids. It is easy to use with Android phones, unlike with Computer devices, it is very complicated to download and install.
What is a MPV file format?
MPV file formats belong to the video files formats, this contains elementary streams or in simple words raw video data. It can also contain video data that is stored with MPEG-2 compression. It can be renamed as an MPG sometimes, beneficial in playing it with common video players.
Are the bugs with MPV Player already fixed?
With the latest version released of MPV Player- 2021-10-10-release. What is new about it is that the miscellaneous bugs are fixed by the developers so they can offer the best experience with its users.
4. Best Alternative- Aiseesoft Blu-ray Player

Aiseesoft Blu-ray Player
One of the most powerful video players that can offer an immense experience of watching your video file.
Smooth playback video high up to UHD 4K.
Wide range of supported video file formats.
Possess a super-fast loading speed.
Friendly user parameter settings.
Advanced technology for video playback.
Conclusion
To sum it all up, we discovered that MPV Player is a great player both for computer devices and mobile devices especially Windows, Mac, and Android. It offers tons of features that are essential for the users. However, despite the things that it can offer, it still possesses flaws that really need to be fixed immediately. Despite all that, we found out that the developer is doing their best in improving their media player. In fact, if you want to have a flawless media player you may use Aiseesoft Blu-ray Player as an alternative for a great payback of your video files.
Did you find this helpful?
263 Votes
YES

Thanks for letting us know!
No

Thanks for letting us know!
Aiseesoft Blu-ray Player
A universal media player for Blu-ray, DVD, video and audio.