MPlayer Review: Is It Worthy of Downloading Freeware
Anyone loves to watch a movie right? Well, who does not? That is why we are looking for a media player that will satisfy your needs not only in video playback but also in playing music. So, what are the things we need to consider when we are looking for the best media player that suits us? In this article, we will provide you with a review and you will learn what MPlayer offers when it comes to its features and functions. In addition to this, the pros and cons of MPlayer will give you an idea so you can learn more about MPlayer.

1. What is MPlayer?
MPlayer is one of the popular movie players for GNU and Linux. It supports various video and audio formats and is highly flexible even if it is mostly used for viewing videos.
Price
MPlayer is safe and 100% FREE. Therefore, you can enjoy all the features available whenever you want.
Platform
MPlayer is available for Windows, Linux, and OS X. Versions for OS/2, Syllable, AmigaOS, MorphOS, AROS Research Operating System, a port for DOS using DJGPP are also available.
Main Features
● Wide-range supported output drivers.
● It supports software or hardware scaling.
● Supports displaying through some hardware MPEG decoder boards.
● It has an on-screen display (OSD) for status information.
● Big antialiased shaded subtitles and visual feedback for keyboard controls.
2. MPlayer Review
Pros

No need for additional codecs.
Easy shortcut keys.
Multiple forks.
No bugs and no lag in the video display.
Good theme available.
Works via CLI and has multiple frontends.
100% Free.
Cons

It lacks a built-in visualizer.
Not enough documentation on the use and configuration.
Does not support directory playback.
May download the malware.
An audio delay is reported from users.
Overall Ratings
MPlayer is simple and very versatile.
Easy to use:8.5
User-friendly:8.5
Smooth playback:8.5
Video Acceleration
There are a lot of ways to speed up the playback of 1080 H.264 files in MPlayer. All you have to do is first, you need to use the newly added VDPAU. What is VDPAU? It is a royalty-free application programming interface (API), which means that it is a connection between computer programs. Going on, it also allows the newer Nvidia video cards to decode the video without using much CPU. Second, use MPlayer with the experimental multithreaded FFmpeg-mt branch, which also allows you to use the multiple cores/CPU. Third, use the multithreaded CoreAVC codec with the CoreAVC-for-Linux project. To inform you, the CoreAVC decoder costs $15 USD for Linux only. Fourth, FFmpeg has added some optimizations from the x264 project. To completely utilize these, you will need to make sure a recent version of YASM is installed and detected by the latest SVN MPlayer when compiling. Lastly, multithreaded may cause artifacts but do not worry, it will allow you to play larger files in real-time in all OS and CPU supported.
Capabilities
MPlayer allows you to play a wide variety of media formats, any format supported by FFmpeg libraries. Also, it can save all the stream content to a file locally. There is a companion program called MEncoder, it can check for the system-wide configuration file, can take input stream, file, or a sequence of picture files, and transcode it into several dissimilar output formats.
Media Formats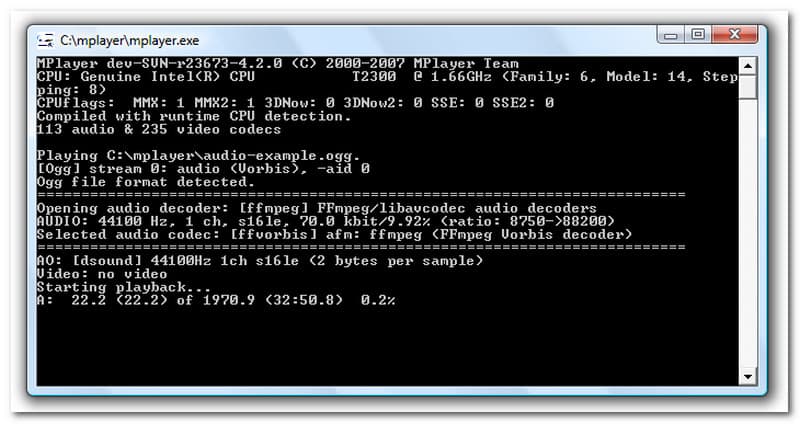 Here are the formats that MPlayer can play. Please see the chart below:
Physical media
CDs, DVDs, Video CD's, Blu-ray discs.
Container formats
3GP, AVI, ASF, FLV, Matroska, MOV (QuickTime), MP4, NUT, Ogg, OGM, RealMedia; Bink.
Video formats
Cinepak, DV, H.263, H.264/MPEG-4 AVC, HuffYUV, Indeo, MJPEG, MPEG-1, MPEG-2, MPEG-4 Part 2, RealVideo, Sorenson, Theora, WMV, Bink.
Audio formats
AAC, AC3, ALAC, AMR, DTS, FLAC, Inter Music Coder, Monkey's Audio, MP3, Musepack, RealAudio, Shorten, Speed, Vorbis, WMA, Bink.
Image formats
BMP, JPEG, MNG, PCX, PTX, TGA, TIFF, SGI, Sun Raster.
Subtitle formats
AQTitle, ASS/SSA, CC, JACOsub, MicroDVD, MPsub, OGM, PJS, RT, Sami, SRT, SubViewer, VOBsub, VPlayer.
Available Plugins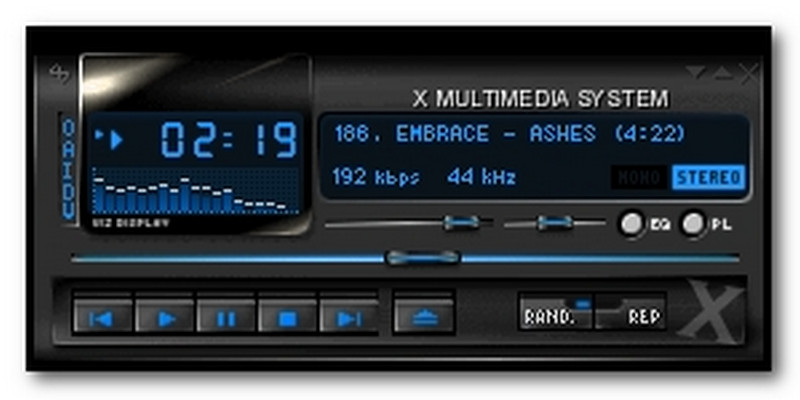 There are two available plugins for MPlayer, the X Multimedia System (XMMS) which is an audio player for Unix-like systems released under a free software license. The other one is the Avisynth and is a frameserver program for Microsoft Windows. In addition to this, it acts as a non-linear video editor controlled entirely by scripting without a graphical user interface (GUI). Moreover, it imitates an AVI video file or WAV audio file as seen by the VFW downstream application, which is typically a media player, video editing software, or encoder.
Interface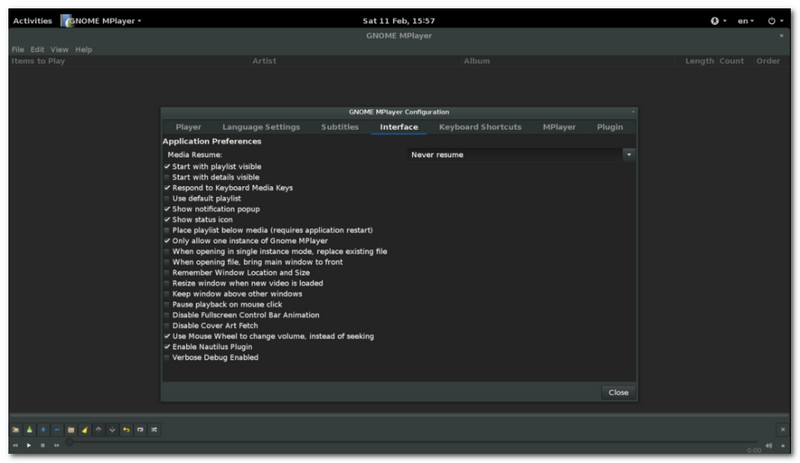 Mplayer has only a command-line interface (CLI) which means it is the process that commands a computer program in the form of lines of text. In addition to this, there are a couple of front-ends available and it uses graphical user interface (GUI) widgets or GTK, QT, or other widget libraries. However, when not using these front-ends, MPlayer can still display a video in a window without visible controls on it, and also it is controlled using a keyboard.
3. FAQs
I am having trouble getting my subtitles to display, what can I do?
You have to make sure that you have installed fonts properly. Go through the steps in the Fonts and OSD part of the installation section again. In case that you are using TrueType fonts, confirm that you have the FreeType library installed. Other things include checking your subtitles in a text editor or with other players. Moreover, you may also try converting them to another format.
How can I create (S)VCDs?
The newer versions of MEncoder can directly generate MPEG-2 files that can be used as a base so that you can create a VCD or SVCD and are likely to be playable out of the box on all the platforms. For example, you want to share a video from a digital camcorder with your computer.
How can I become an MPlayer developer?
MPlayer always welcomes coders and documenters. You have to read the technical documentation to get the first grasp. Then you should subscribe to the MPlayer-dev-eng mailing list and start coding. To add, if you want to help out with the documentation, join the MPlayer-docs mailing list.
4. Best Alternative - AnyMP4 Blu-ray Player
There is no doubt that AnyMP4 Blu-ray is the best alternative for MPlayer because AnyMP4 Blu-ray Player has numerous features that MPlayer does not have. It has easy control of Blu-ray/DVD/Video Playback, and this Blu-ray Playing software has a clear and great user interface and it is also easy to use. What's more? It has custom playback progress that lets you adjust the playback progress with the hotkeys like forwarding, backward, play, stop, and pause a media file. In addition to this, you can adjust the audio effects. The benefit you can get is it lets you adjust the volume and choose an audio track, audio device, and audio channel to suit your ears. Plus, it has professional visual effects, takes snapshots, hardware acceleration and you can also customize the languages.
Conclusion
To conclude, we have shown what you can get in this article. Also, we get to know the features it has, and the advantages and disadvantages help us to discover more about MPlayer. At the end of the day, we always want the best for ourselves. If you do not want to consider MPlayer as your media player, you may try AnyMP4 Blu-ray Player for a great experience.
Did you find this helpful?
269 Votes
YES

Thanks for letting us know!
No

Thanks for letting us know!
AnyMP4 Blu-ray Player
Make Blu-ray, DVD, and video playback easier on computer.