Delivering an Extensive Amarok Player Review: The Most Outstanding Audio Player for Music Playbacks
Music is one of the most committed companions that a man could ever have because it sets your mood and sometimes eases the pain in your heart. And to completely experience this one, your music files must be played with an effective audio player. For that reason, we have searched for you Amarok Audio Player that enables you to smoothly playback your favorite music. Furthermore, to completely discover its availability we have also provided and surveyed for you the review of this music player, including its great features and audio playback settings, its pros, and cons, interface, playlist management, what music format it supports, and what is the best alternative audio player to it. Consequently, you will get to realize if it is a relevant and powerful tool for your audio and music files.

1. Our Verdict
Pros

Absolutely free and open-source audio player.
Supports almost all music file formats.
Offers different and upgraded versions.
Offers excellent audio playback features and settings.
Cons

Complicated interface.
Overall Rating:
First of all, we would like to give you the background of the Amarok Media Player so you can have an idea of how effective this audio player is for your collected music files. Therefore, this audio player will let you smoothly playback all your music files for free on the device you are using. Though the interface is a bit difficult to master at least it still provides superb features.
Easy to use:9.0
Smooth Playback:9.5
Interface:9.5
2. What is Amarok Player?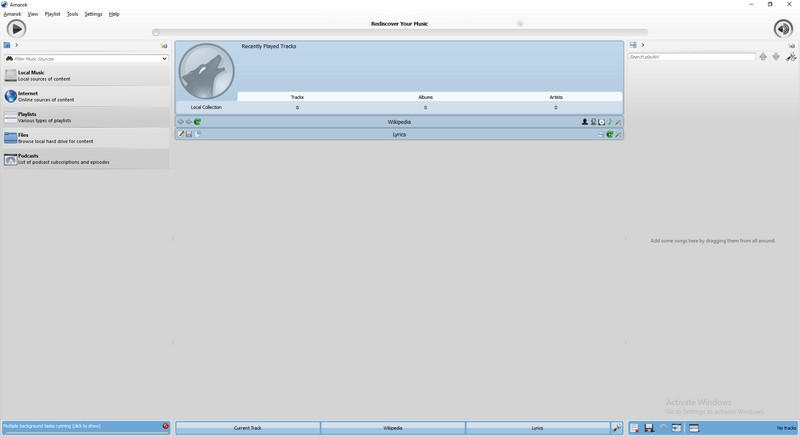 As we would like to inform you that this audio player is an absolutely free and open-source player. Amarok Audio Player provides an excellently intuitive interface. With that being said, you can use this player on Unix-like, Windows, and macOS systems. Furthermore, this software allows you to use its other updated versions such as Amarok 2.9 Beta, Amarok 2.9.0 Hibernaculum, and Amarok 2.9.71 Alpha or Amarok 3.0 Alpha. With these versions, you can truly experience its different features and audio playback settings.
Price
Well, like the other audio player, Amarok Audio Player will let you play all your music files losslessly without any payment because this software is 100% free. You can download it directly on your Windows, Linux, or Mac computer.
Platform
Amarok Music Player is software that can definitely be played on various platforms such as Linux, Windows, and Mac. As a result, you can play and listen to your favorite audio and music files without having any trouble.
Main Features
● Provides album widgets to display the current audio files.
● Offers three main windows panes like playlist browser, collection, and player window.
● Provides intelligent Playlist support or Dynamic Playlists.
● Can integrate with other online services.
● Provides collection filters like newest songs, highest rated, most played, etc.
● Amarok can be utilized via D-Bus.
3. Amarok Player Review
Interface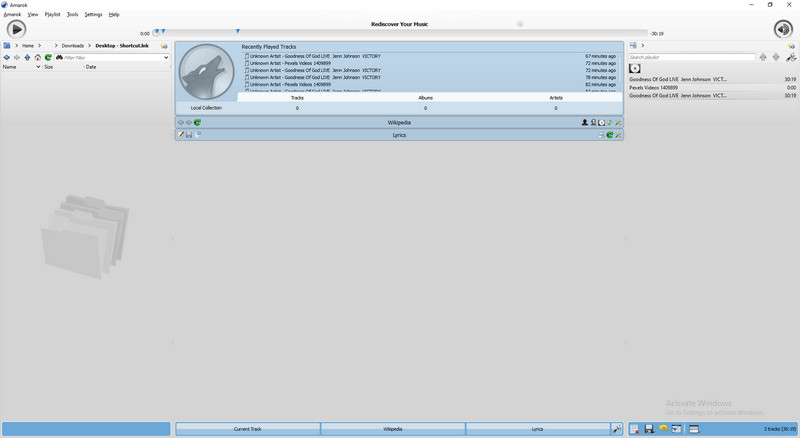 Moving on to the best part of this article wherein you can gather detailed information about Amarok Audio Player. To start, let us first criticize its interface. So the Amarok Player, though it offers a bit confusing and complicated interface for first-time users it still offers the best and unique audio playback settings. Also, because of its clean interface with a white-grey color palette combined with the sky blue color palette. It enables you to view and sight all its functions audio playback settings easily.
Supported Music Formats
Since this is an audio player, let us find out what music file formats Amarok Music Player supports. As we would like to give you detailed and specific information, the table below is provided. Hence, you can easily identify what audio files can be played using Amarok Player.
Audio File Formats: FLAC, Ogg, Opus, MP3, AAC, WAV, Windows Media Audio, Apple Lossless, WavPack, TTA, and Musepack.
Playlists Management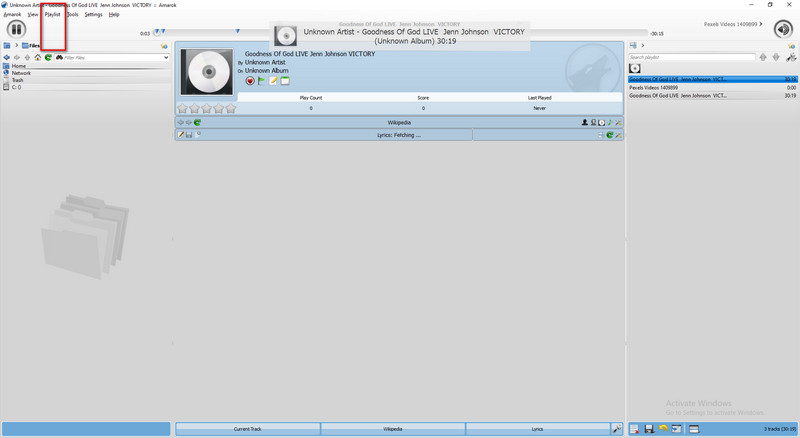 As we have analyzed the interface of the Amarok Media Player, here you can find the playlist setting where it enables you to add media and stream files. Furthermore, the playlist setting allows you to export and save your created playlist to your file folder. Thus, as it allows you to create your own music playlists, it enables you to clear, remove, synchronize and upload them without any difficulty. Since this setting has a playlist layout, you can actually merge all your playlist in one place.
Last.fm Support
Just in case you want to play and listen to online radio streams, Amarok MP3 Player can do it for you because aside from playing common audio and music files, like the other audio players, Amarok Player can also absolutely play online radio streams over the internet. In line with that, it can also support any radio file format so you are able to enjoy listening to your favorite FM radio stations. And finally, the good thing about this software is that it supports the Last.fm streams so you can directly listen to them without requiring you to install LastFMProxy.stream.
4. FAQ
How can I use Amarok on my computer?
To use Amarok on your computer, kindly go to the settings Configure Amarok Script option so you can open the Amarok Add-on Installer window. After doing so, you can browse your music collection using the cover Manager wherein you can find the album art.
Amarok Player vs. VLC: Which is better?
Both players can serve their purpose. However, since Amarok is best for playing audio files, this is better than VLC. Besides, Amarok Player offers more unique features than VLC.
Is the Amarok software part of the KDE project?
Certainly, yes. Because Amarok Player is part of the KDE or K Desktop Environment project.
5. Best Alternative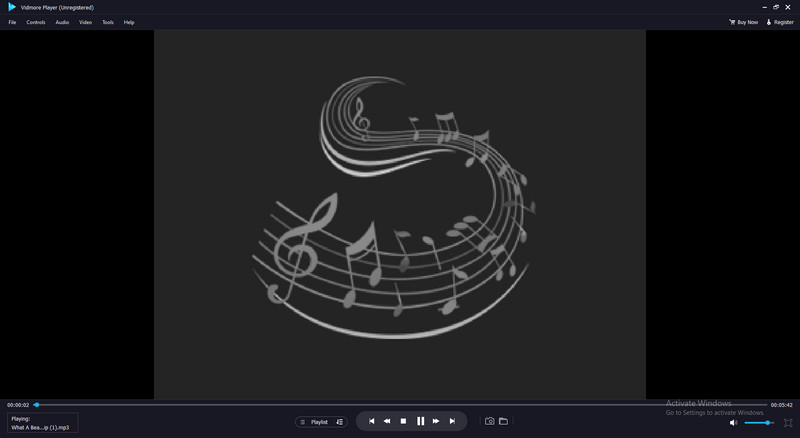 Price: $19.95
Platforms: Windows and Mac
For instance, if you are not satisfied using the Amarok Player and you are now looking for another audio and music player that enables you to seamlessly playback your music files providing good audio quality. I would like to suggest Vidmore Player.
For your information, this is not just good for playing all your video, movie, Blu-ray, and DVD disc/folder/ISO files because it can totally play your favorite music files providing a perfect and high-quality audio output. In relation to that, you can also play all your music files from your file folders, DVD, and Blu-ray discs. With that being said, Vidmore player can support common audio file formats such as AAC, AC3, AIFF, AMR, AU, FLAC, M4A, MKA, MP2, MP3, OGG, WAV, WMA, and many more.
The good thing about this software is that it is equipped with advanced audio decoding technologies including Dolby, DTS, AAC, TrueHD, etc. For that reason, you can really enjoy playing your favorite music files. Before you can experience it, you must try it first. Thus, this software offers a free version so you can use it without any payment.
Conclusion
For the concluding part, since you had the chance to evaluate the Amarok Player. You can now decide if this software is the best fit for your audio files. In line with that, we offered you the best Vidmore Player as an alternative to Amarok Player. Lastly, if this information is beneficial to you, kindly share it with others.
Did you find this helpful?
327 Votes
YES

Thanks for letting us know!
No

Thanks for letting us know!
Vidmore Player
Best media player for Blu-ray, DVD, 4K video and audio.