PassFab 4Winkey Review: An Effective Windows Password Recovery for Windows and Mac
There is so much hassle if you want to log in to your Windows. Yet, the problem is you are continually typing your password, but it does not work! It seems problematic, right? Especially if you do not have enough time to finish a task. For that reason, I know that you will need software that will help you. We are introducing you to PassFab 4Winkey. It can recover your Windows with just a few clicks! Take the opportunity to grab this solution. Read this review now!

1. Our Verdict
Pros

Users can create the password reset using Windows and Mac.
Users will not lose data upon using PassFab 4Winkey.
It can recover Windows passwords with all the versions of Windows.
It has three different kinds of subscriptions.
It provides a money back guarantee.
It offers free tech support.
It gives various languages.
Cons

It requires you to download an ISO file to make a boot disk.
Overall Ratings
Interface:9.0
Features:9.0
Easy to use:8.5
2. What is PassFab 4Winkey
Best for: People looking for a professional Windows password Recovery yet manageable to use.
Price: PassFab 4Winkey cost for Standard is $19.95, Professional costs $29.95, Enterprise costs $39.95, and Ultimate costs $69.95
Platform: Windows and Mac
Main Features
PassFab 4Winkey is a reliable Windows password recovery tool. It is reliable for resetting a Windows password, whether for local accounts, domain accounts, or even administrator accounts. To know more, please see the features of PassFab 4Winkey below:
1. It can recover and delete Windows passwords for local accounts, domain accounts, and administrator accounts.
2. It allows you to make and delete your Windows account with no login.
3. It also allows you to make a password recovery disk through another working computer.
4. It lets you boot your locked computer using USB Flash Drive for password recovery.
5. It is supported with CD, DVD, and USB Flash Drive.
6. It lets you remove and reset admin and guest local account user passwords.
3. PassFab 4Winkey Review
Interface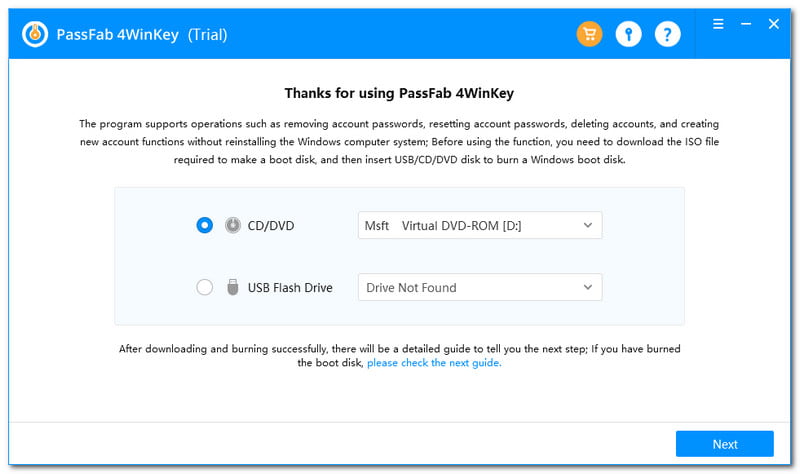 PassFab 4Winkey has a simple yet powerful interface. In addition to use, you will already recognize that it is manageable to use while looking at it. How can we say that? As you look, you will already see the Thanks for using Passfab 4 Winkey. Below that, it has some information about the software. Then, in the middle part, it enables you to choose from CD/DVD and USB Flash Drive. The good thing about this software is when you tap the Please Check The Next Guide, you will proceed to the next tutorial step. In short, it has a user-friendly interface. Moreover, it has colors blue and white which makes it look more clean and straightforward.
Functions of PassFab 4Winkey
Choosing between CD, DVD, and USB Flash Drive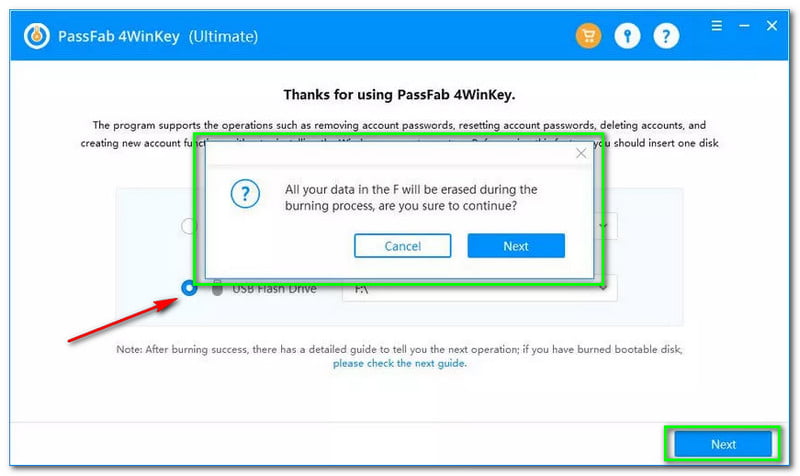 After downloading and launching the PassFab 4Winkey, choose the desired method. You have two choices; CD/DVD and USB Flash Drive. If you select the CD/DVD, insert CD or DVD into your desktop. However, if you choose the USB Flash Drive, you can insert your USB Flash Drive into your desktop. Then, suppose that you have already decided, a small rectangular notice will appear, reminding you that all your data on your CD, DVD, or USB Flash Drive will be erased upon the burning process. Then, it will give you a choice if you desire to continue. If yes, click Next. If not, click the Cancel button.
Boot Menu

When you are in the Boot menu, there are many boot options that you can select for the boot device. If you take a look at the first photo, you will see the Please select the boot device, and you can see here that we choose the USB: IT117204 USB. Then, we will proceed to the second photo, which is the Bios Setup Utility. It has many options such as Main, Advanced, Power, Boot, Security, and Exit, but choose the Boot. In the middle part, you will see the Boot Device Priority.
Select your Locked Account to Unlock your Computer

Following that, PassFab 4Winkey will allow you to select Windows System. Then after the selection process, you need to choose an account to unlock, and you have four options: Remove Account Password, Reset Account Password, Delete Windows Account, and Create a New Account. After clicking from the methods, a new rectangular box will appear again, and it says that your account has been reset. Then, it will ask you to reboot the desktop. To reboot your computer, hit the Reboot button.
4. FAQs of PassFab 4Winkey
Is PassFab 4Winkey safe to buy from their official webpage?
You don't need to bother about that since it is safe. PassFab 4Winkey makes sure that every user's privacy is guaranteed by them, especially if you are browsing and downloading their website and buying their online products.
I purchased a PassFab 4Winkey. Why did I not receive an email?
PassFab 4Winkey will automatically send an email after the purchasing process. Nonetheless, if you do not receive an email, it is because of the unstable network. If it was not the reason, please contact PassFab 4Winkey immediately.
Is PassFab 4Winkey free?
No. However, it offers a free trial and allows you to make a Windows password reset disk without paying anything.
5. PassFab 4Winkey VS iSumsoft Windows Password Refixer
In this part, let us see the difference between PassFab 4 Winkey and iSumsoft Windows Password Refixer. We all know that both software is excellent, yet we still believe that one will excel. Let us see the comparison table below:
| | | |
| --- | --- | --- |
| PassFab 4Winkey | VS | iSumsoft Windows Password Refixer |
| Standard: $19.95 Professional: $29.95 Professional: $29.95 Enterprise: $39.95 Ultimate: $69.95 | Price | $19.95 |
| Windows and Mac | Operating System | Windows and Mac |
| | Supported by CD, DVD, and USB Flash Drive | |
| | 30day Money Back Guarantee | |
| | Free updates | |
| 9.0 | Speediness | 8.5 |
| 9.0 | Interface | 9.0 |
| 9.5 | Safety | 9.0 |
We see that PassFab 4Winkey excels on the comparison table. However, we cannot conclude that iSumsoft Windows Password Refixer is not excellent. Both have the power to recover Windows Passwords, and both have their uniqueness, especially with their features and how they function.
Conclusion:
To conclude, we discuss every part of PassFab 4Winkey. We know how much this software is, and we also know that it offers different kinds of versions such as Standard, Professional, Enterprise, and Ultimate. Furthermore, we hope that you learn so much from this review, do not forget to give us a like, and please do comment!
Did you find this helpful?
213 Votes
YES

Thanks for letting us know!
No

Thanks for letting us know!