Windows Password Reset Disk Review: Reliable For Windows Users
Passwords have a big part in our lives since they protect our data, whether our social media accounts, email accounts, or even Windows password accounts. That is why we must be cautious of our passwords. But, what if you forgot it? Oh no, that is big trouble! But do not frown. We got you with that situation! We are presenting to you Windows Password Reset Disk, and it can recover your Microsoft Windows password account and even your PIN. To know more, read now!

1. Our Verdict
Pros

It is safe to use.
It has many features to offer.
It provides steps to recover your password.
It is easy to use.
Cons
Overall Ratings
Safety:9.0
Features:8.5
Functionality:9.0
2. What is Windows Password Reset Disk
Best for: Retrieving a forgotten Microsoft password account with free to use.
Price: Free
Platform: Windows
Main Features
Microsoft Windows has a built-in feature: the Microsoft Windows Password Reset Disk. It lets you reset your password if you accidentally forgot it. In addition to this, this software has a lot to offer, so if you are interested in knowing about them one by one, please see the bulleted features on the bottom part:
1. It helps you to reset your forgotten Microsoft password account.
2. It lets you change your password.
3. It also enables you to create a password reset disk.
4. It allows you to reset a local password account.
5. It can run from a CD, DVd, and USB Flash Drive.
6. It can reset your PIN.
7. It can also manage your accounts on your PC.
3. Windows Password Reset Disk Review
Reset your Microsoft Account Password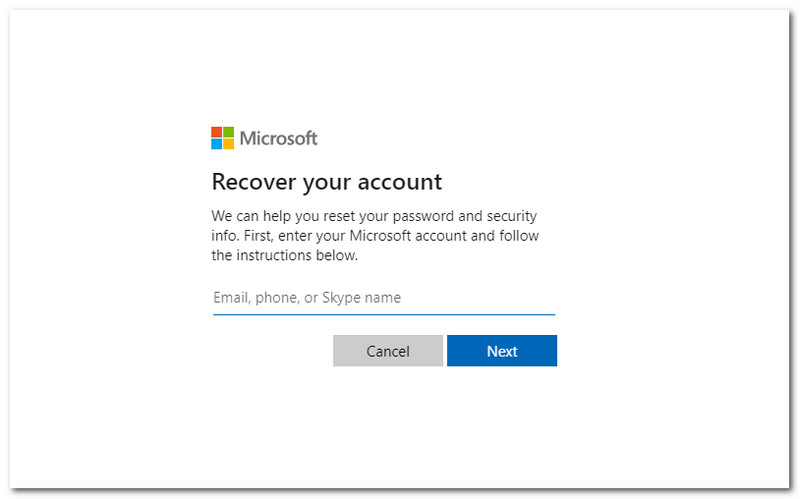 Suppose that you enter your password on your Windows and your password is incorrect, you will see a message like this: Your account password is incorrect. If you don't remember your password, reset it now. So, to reset your password, go directly to the Reset Password and enter your username. Then, hit the Enter button. After that, you need to verify your identity. It is a must for your extra protection since entering your accounts. After you enter your email, you will receive a verification code. Then, type the verification code. After the verification process, you can now reset your password. Type your new password, then click the Enter button.
Creating a Password Reset Disk on Windows 10
If you are using a local account in your Windows 10, you must create a password reset disk using a USB Flash Drive. To create a password reset disk, you have to make sure that you are signed in using your local account. Remember that this will not work with the Microsoft-connected versions. After that, you can now begin plugging the USB Flash Drive into your computer. Creating a password reset disk will not reformat your USB Flash Drive. However, you need to back up your data on your USB Flash Drive before continuing the following process. Then, on the taskbar, you will see the search box, and you need to type the Create Password Reset Disk and choose the Create a Password Reset Disk from the options. Then, select the USB Flash Drive and click the Next button. Following that, type your current password and click the Next button. After the Wizard is wholly done, tap Finish. After all the process, you can now remove your USB Flash Drive. It would help if you took note that you do not have to create a new disk when you change your password, despite changing it many times.
Reset your PIN in Microsoft Windows
Passwords and PIN are different, and PIN is a group of numbers that you can choose yourself. Using a PIN is easy and quick. It will also secure your account like a password. If you forget your PIN and want to reset it, read this continually. To reset your PIN, you need to ensure that you are connected to your internet. The changes must sync to your Microsoft account. Click the Start button. Then, choose Settings. After that, click Accounts. Next to that, select Sign-in Options. Then, you can now select the PIN. Then, select Change PIN. After that, you need to enter your old PIN to change and create a new one.
4. FAQs of Windows Password Reset Disk
Why can't I reset my password using Windows Password Reset Disk?
Maybe because you no longer have access to your security contact information. Also, it could be because you did not set up the identification recovery and the verification alternative process when you created your account. To fix that, try to check if you have an incorrect account and password.
What can I do if I cannot my account recovery is not approved?
This implies that the support agents of Windows Password Reset Disk cannot do with the account recovery form. They do not have the authorization to send you a password reset link nor provide you another solution to access and change your account details. You can do about it to fill up the form again correctly. After that, create a new Microsoft account and add security and recovery features to your newly created account.
Is it possible to add accounts to manage my accounts on my PC using Windows Password Reset Disk?
Yes, you can add and even remove an account. It allows you to add people to your PC, add people to work or school, add accounts used by apps, and add people to a family group.
5. Windows Password Reset Disk VS Ophcrack
We cannot deny that Ophcrack is one of the best Windows password reset. Nevertheless, Windows Password Reset Disk is considered the best, also. So, to know which is the best between the two, let us base it on its price. Windows Password Reset Disk is free, while Ophcrack costs $25. Therefore, users tend to choose free software with the same functions. Who would not have wanted free software, right? Thus, we conclude that Windows Password Reset Disk is better regarding the price. But still, let us lay down Ophcrack features below:
According to what we reviewed, Chntpw is better than John the Ripper. Why? Because they use John the Ripper for hacking techniques. On the other hand, Chntpw or Offline NT Password and Registry Editor are only used to recover your Windows Password. Nevertheless, let us still see some features of John the Ripper in the bulleted form below:
1. It works on Mac, Linux, and Windows.
2. It can crack LM hashes and NTLM hashes.
3. It offers free tables for some Windows versions.
4. It has a brute-force module for easy passwords.
5. It also provides a real-time graph to identify passwords.
6. It has an audit mode and CVS export.
7. It is a free and open-source tool.
Conclusion:
There is no doubt that the Windows Password Reset Disk is reliable, and it will not disappoint you in recovering your Microsoft Windows password accounts. In this review, we hope you learn so much about the Windows Password Reset Disk functions. Also, we try to compare Windows Password Reset Disk to Ophcrack. If you want to learn more about Ophcrack, we have a review also about it. Feel free to read it! We are expecting your likes, till our following article review!
Did you find this helpful?
258 Votes
YES

Thanks for letting us know!
No

Thanks for letting us know!
Tipard Windows Password Reset
Reset all types of password for Windows 11/10/8/7 with USB and CD.