PCUnlocker Review: A Software That Can Help You To Reset Windows Password
One of the worst things that will happen to you is forgetting your Windows account password. If you think you must reinstall Windows after failing to remember your Windows password, you are mistaken. All you need is the fastest and most convenient password recovery software. That is why in this review, we are suggesting to you PCUnlocker. It helps you reset your Windows password in just a few clicks! To be astonished more, continue reading, and we will guarantee you that you will learn so much with this review post.

1. Our Verdict
Pros

It is compatible with any Windows version.
It is easy to set up.
It is fast in resetting passwords.
It offers free technical support.
It allows you to create new admins accounts.
It lets you boot the utility from DVDs, CDs, USB, and even PXE.
It only requires minor system requirements.
It is easy to install.
Cons

It does not offer a free trial.
It consumes time in creating bootable media.
It provides a demo, yet it does not provide actual functions.
It requires you another tool and PC to burn PCUnlocker to bootable media.
The Standard and Professional still have limitations.
Overall Ratings
Interface:9.0
Easy to use:8.5
Efficiency:8.5
2. What is PCUnlocker
It is best for Windows users who want to reset their Windows password without reinstalling the Windows operating system again.
Price: Starts at $19.95
Platform: Windows
Main Features
PCUnlocker is a professional tool that helps every Windows user reset their forgotten passwords. In addition, it has the power to recover access to your locked computer. The good thing about using this tool is that you do have to install the Windows operating system again. Moreover, below, you will see all the features that PCUnlocker has; please see them one by one:
◆ It has the power to rest, remove, and bypass user and administrator passwords.
◆ It can enable expired, disabled, and locked-out accounts.
◆ It can change consent and create any user account as an administrator.
◆ It lets you make a new local administrator account.
◆ It can recognize product keys for offices, Windows, etc.
◆ It has the ability to eliminate log-on accounts.
◆ It lets you bypass your Windows password without modifying the old password.
3. PCUnlocker Review
Interface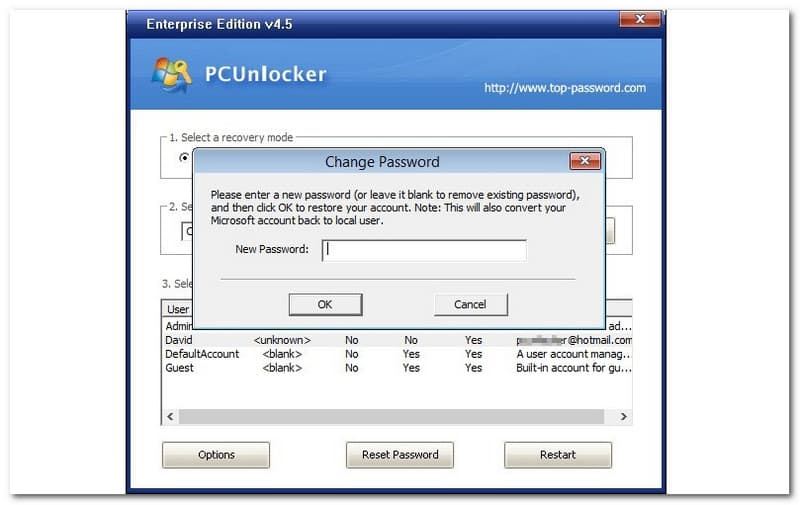 PCUnlocker has an excellent graphic interface. In addition, it is professional, yet it is user-friendly. Like the other typical and straightforward software, PCUnlocker has a color of blue, light blue, light grey, and white. Nonetheless, it is not as aesthetic as others, but how it functions matters most. Moreover, after launching PCUnlocker, a small panel will appear. It lets you enter a new password. Please take note, and you can leave it blank to remove the existing password. After that, click the OK button for you to restore the account. Another notice will convert your Microsoft account back into a local user.
Create using a Bootable CD, DVD, or USB Flash Drive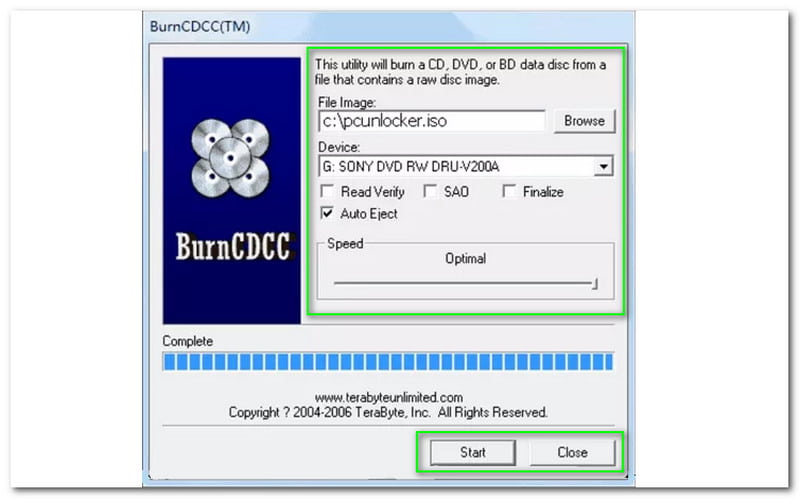 In this part, we use another tool, BurnCDCC, to create a bootable CD, DVD, or USB. To do that, burn the ISO image using BurnCDCC with a blank CD or DVD. Also, it lets you burn it to your USB flash drive using ISO2Disc. As you notice, it allows you to browse a File Image. Then, select a Device. You can enable the Read Verify, SAO, Finalize, and Auto Eject. Also, you can adjust the Speed. Then, after the completion, click the Start button.
Bios Set-up Utility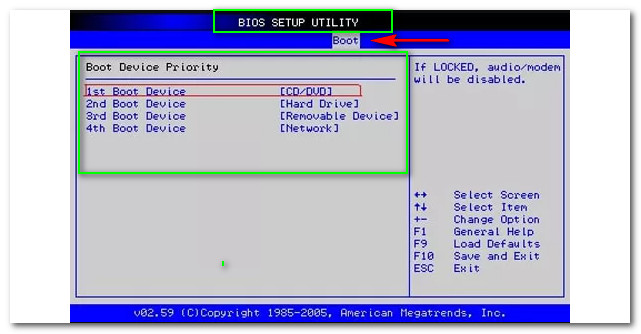 Now, you can insert the bootable disk into your locked PC and start to boot it. Right after your PC is turned on, you can check the boot screen to see the setup keys such as Delete, F8, and F2 so you can enter the Bios Set-up Utility. After that, choose the Boot button like what you see on the screenshot. Then, set the 1st Boot Device to make a bootable CD or DVD. In addition to this, you can tap the F1 to Change Option, F9 to Load Defaults, F10 to Save & Exit, and ESC to Exit.
Reset Windows Password and Active Directory Password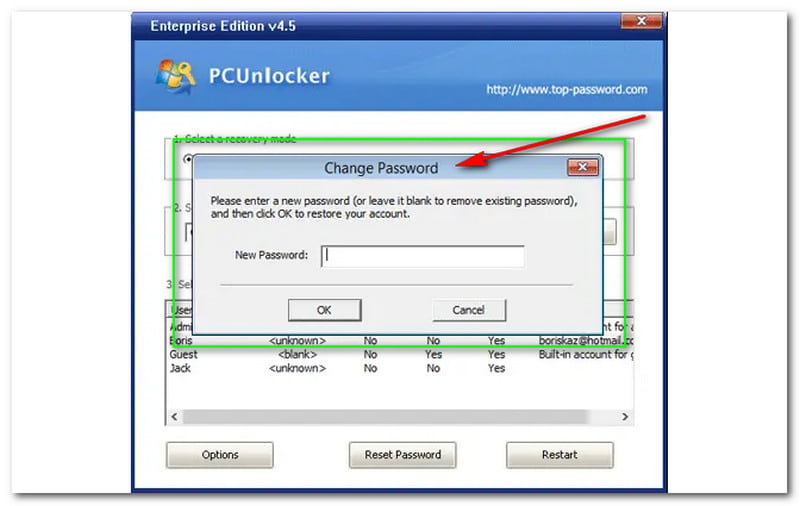 To do this, it is a must for you to select the Windows SAM registry file. To give you some information, SAM is a registry file, and it is for Windows. It stores every local user's account password, and it will be held on your system drive. After selecting the SAM registry file, PCUnlocker will immediately list all the users' accounts. Then, hit the Reset Password button, and it will become blank.
Next, select the ntds.file for Windows Active Directory Controller Database. Then, same on the top, click the Reset Password button and create a password that you like. Following that, restart your PC and pull out the device you use for booting your PC. It could be a CD, DVD, or USB flash drive. Then, start entering the new password you prefer and log in.
Bypass Windows Password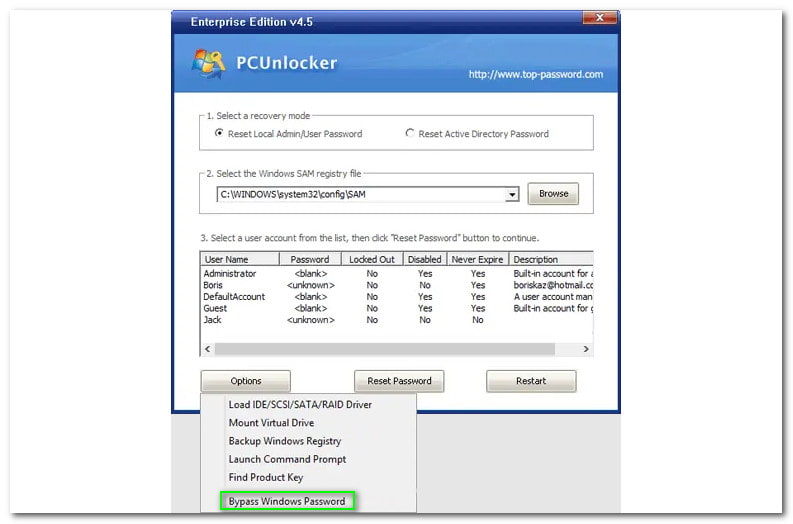 If there is an instance in which you do not want to change your password, you can use the other option; Bypass Windows Password. On the button part of the window, tap Options. Then, you will see all the available options but choose the last one, the Bypass Windows Password. After that, a rectangular panel will appear and click OK. However, it does not change the SAM registry, which will disable the authentication system. Do not worry; PCUnlocker will give you a confirmation to reboot your system and click the OK button again.
4. PCUnlocker Download
PCUnlocker is highly compatible with Windows 11/10/8/7, and you can download this program from its official download button here: https://www.pcunlocker.com/.
5. FAQs of PCUnlocker Review
Why is PCUnlocker not booting?
Do not worry if you have problems with why this software is not booting. There are many reasons why it happens, and one is this; more often, the bootup failure is because of a problem with the BIOS settings. Or you have not burned the disc correctly. To fix that, go to the BIOS and change the boot order. Then, click the BIOS Setup Utility.
Is PCUnlocker Windows safe?
There are a lot of queries about this matter, and the answer that we can give is yes, based on our experience using the software. Its full version is safe, and many experts have proven PCUnlocker in every anti-virus. In addition, the unlock tool is safe and secure on every Windows computer, and it keeps all data protected. For more Windows password recovery tools, you can check it here.
What is the difference between the free and paid version of PCUnlocker?
PCUnlocker does not offer a free trial. However, there are still differences between the three paid versions; the standard version, the professional version, and the expertise version. If you want to use this software with no limitations, please purchase the expertise version.
Does PCUnlocker work on Windows 10?
PCUnlocker is compatible with several Windows versions. Therefore, this software works on Windows 10.
6. Free PCUnlocker Alternative
Though PCUnlocker guarantees a 100% recovery rate to help you reset the Windows password, its demo version does not offer any functional features for using. So the need of find the free PCUnlocker alternatives is arising.
PassRec RAR Password Recovery and Free PowerPoint Password Recovery are the free replacements that you can have a try.
7. PCUnlocker VS PassFab 4Winkey
Here is some of the PCUnlocker and Pass 4Winkey information that you can refer to. You must have an idea of the software before downloading and trying it. So, for that reason, we do it for you! We review both software; please check their differences in the table below:
| | | |
| --- | --- | --- |
| PCUnlocker | VS | Passfav 4Winkey |
| | It offers a free trial. | |
| | Compatible in all Windows versions. | |
| | Reset Windows local administrator password. | |
| | Boot your locked PC from the network using PXE | |
| | There is no need to reinstall the Windows system. | |
| | Reset password to Directory Services Restore Mode (DSRM) accounts. | |
| | Create a new local admin. | |
| | Free updates. | |
| Starts at $49.95 | Price (Enterprise) | Starts at $39.95 |
| 8.5 | Convenience | 9.0 |
| 9.0 | Safeness | 9.0 |
| 8.0 | Reliability | 8.5 |
For clarification, both software have their uniqueness. It means both software has advantages and disadvantages. However, PCUnlocker and Passfab 4Winkey function well and are reliable. Most significantly, both are safe and secure.
Conclusion:
To sum it up in this review, we discuss the advantages and disadvantages of PCUnlocker. Furthermore, we will show you its features. What's more? We also give you information about its functions, and we provide some questions and answers that you might ask in the future. Not just that, we also show the differences between PCUnlocker and Passfab 4Winkey, and we hope that it will be helpful for you to choose the best software for you. To end, we expect that this review satisfies you. Do not forget to leave us a thumbs up and share this with many! See you in our next article.
Did you find this helpful?
115 Votes
YES

Thanks for letting us know!
No

Thanks for letting us know!