Ophcrack Review: A Free and Open-Source Windows Password Recovery
There are times that users lose hope because they think they will never retrieve their Windows password. It is saddening that many of them do not know much about software over the internet. One of them is Ophcrack, which is free and open-source software. In addition, it allows you to recover your Windows password using Windows, Mac, and even Linux. Not all software needs to be purchased, and with the help of this review post about Ophcrack, we will do the best to enlighten you with every detail of this software. Moreover, we provide you with an honest review, and we make sure that you will learn so much from this, so read now!
1. Our Verdict
Pros

It is free-to-use software.
It helps you save space on your computer because you no longer need to install it.
It is compatible with every operating system.
It runs with Rainbow Tables technology, making it accurate and efficient in recovering passwords.
It has a simple interface.
Cons

You need to download a large ISO image file to recover a password in Windows 7.
It takes too much time to burn an ISO image file to a CD and USB drive.
It is easy to recover simple passwords, but the most complicated passwords are very long to process.
It does not provide customer support.
It isn't easy to download.
Overall Ratings
Easy to use:9.0
Safety:8.0
Efficiency:8.5
2. What is Ophcrack?
Best for: People looking for free and open-source Windows password recovery.
Price: Free
Platform: Windows, Mac, and Linux
Main Feature
Ophcrack is free and open-source software, and it is designed to recover your Windows password. It allows you to recover passwords for Windows and other operating systems like Mac, Linux, etc. Moreover, please see the features below:
◆ It enables you to recover your password for Windows.
◆ It provides Rainbow Tables.
◆ It lets you create a password recovery disc.
◆ It provides Ophcrack Live CD.
◆ It cracks NTLM and LM hashes.
◆ It has a brute-force module for easy passwords.
◆ It allows you to load a single hash, session file, encrypted file, etc.
3. Ophcrack Review
Interface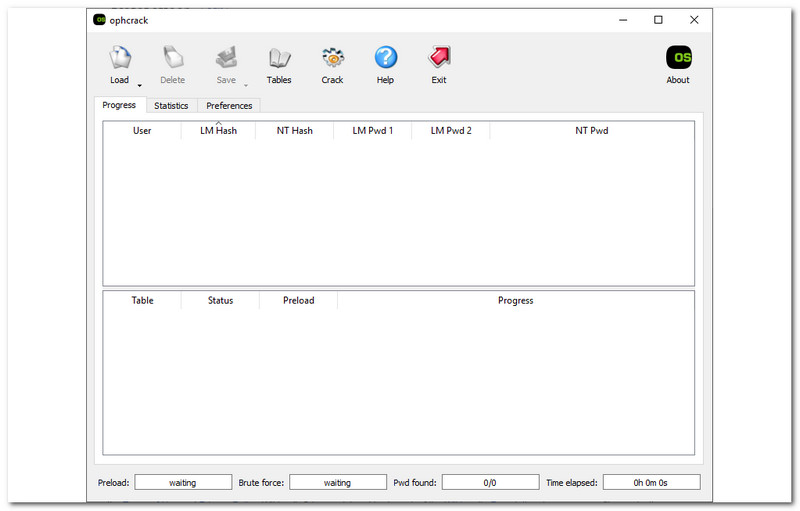 Ophcrack has a simple interface. It has a white color and light gray color, which makes the interface clean to see. You will see the Load, Delete, Save, Tables, Crack, Help, and Exit on the upper part. Then, in the middle part of the interface, you will see the Progress, Statistics, and Preferences. Below that, there are two rectangular boxes. The first box includes User, LM Hash, NT, Hash, LM Pwd 1, LM Pwd 2, and NT Pwd. In addition, the second box includes Table, Status, Preload, and Progress. On the lower part, you will see the Preload, Brute Force, Pwd Found, and Time Elapsed.
Burn the ISO Image File to a USB flash drive, CD, or DVD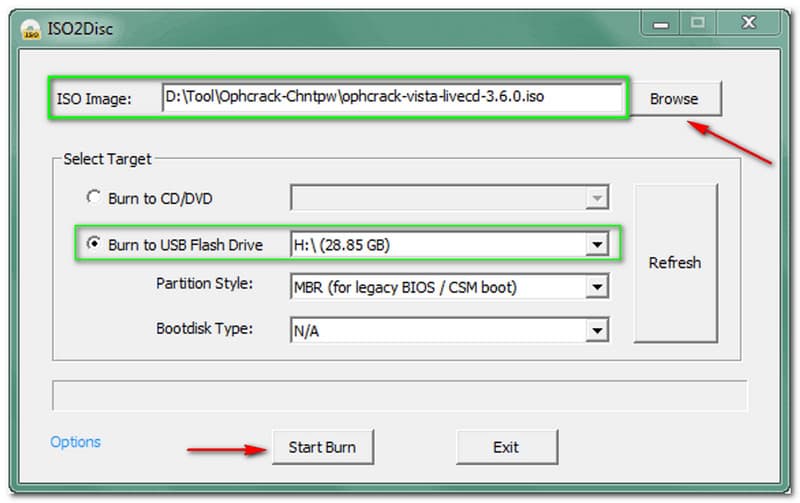 After the downloading process of Ophcrack, find the Ophcrack Vista. It is an ISO image file that you need to burn, whether on the CD, DVD, or USB flash drive. Burn the ISO image file to an empty disc. A blank disc means it is a writable CD, DVD, or USB flash drive. You need to understand that burning a standard file is different from burning an ISO image file. Therefore, you need a tool like UltraISO and ISO2Disc to burn ISO image files to CDs, DVDs, and USB flash drives.
As you can see in the photo, you can Browse an ISO Image file. Then, on the Select Target, you can choose to Burn to CD/DVD or Burn to USB Flash Drive. As you notice, we select the burn for USB Flash Drive with 28.85 GB. Moreover, the Partition Style is MBR (for legacy BIOS / CSM boot), and the Bootdisk Type is Not Available. Next to that, click the Start Burn.
Recovering Windows Password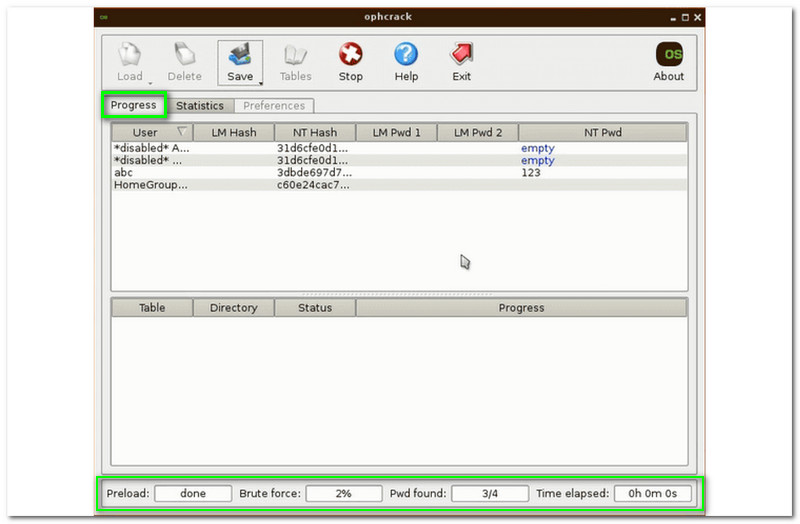 Did you know that Ophcrack will automatically locate users to the Windows system and start cracking their passwords? Yes, you read it right. Then, when you already see the passwords being displayed on your screen, do not forget to write them down. Furthermore, you will see in the photo the different Users, various NT Hash, blank LM Hash, LM Pwd 1, and LM Pwd 2. However, NT Pwd has 123 on the third portion. Then, the Preload is done on the bottom part, Brute Force is 2%, Pwd Found is ¾, and Time Elapsed is 0h 0m 0s.
Preferences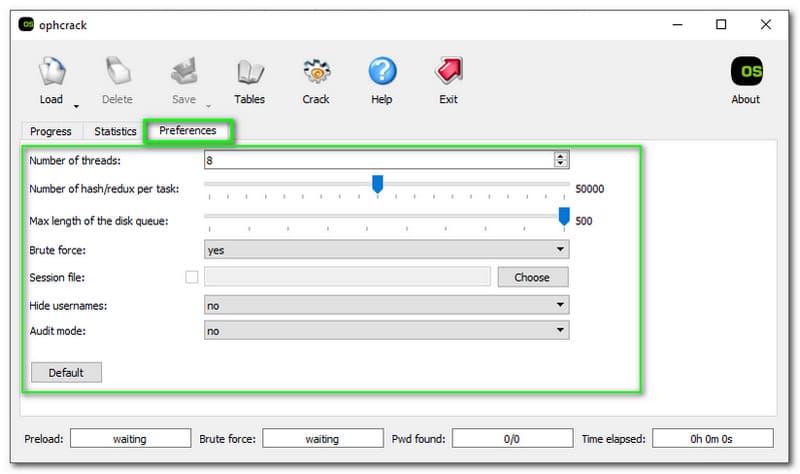 Below the main options above, you will see the Progress, Statistics, and Preferences. Click the Preferences, and you will see another pace of interface. First on the list is the number of threads. You will set it from 1 to 99. On the other hand, you can adjust the number of hash/redux per task from 5000, and the maximum is 100000. Also, the max length of the disk queue is adjustable from 50 to 500. After that, you can change the Brute Force to Yes and No. Then, you can choose a Session File on your computer, if any. In addition, you can also change Hide Usernames and Audit Mode to Yes or No.
4. FAQs of Ophcrack Review
Is Ophcrack safe?
Yes. Nevertheless, you still need to be careful since Ophcrack is open-source software. Accordingly, it is still vulnerable, disturbing the source code and turning into malware, especially if you downloaded it from an unknown source.
Is Ophcrack works on Windows 7 and Windows 10?
In the upper part of this article, Ophcrack is compatible with almost all operating systems. Therefore, it is working on Windows 7 and Windows 10. Moreover, it is reliable in password cracking and helps every user recover a Windows password.
What are the Rainbow Tables in Ophcrack?
These are the reversed hashes tables used to crack every password hashes. The good thing about this is that Ophcrack provides Rainbow Tables to make Ophcrack accurate and reliable when users tend to recover passwords even if they are not professional.
5. Ophcrack VS Tipard Windows Password Reset
Ophcrack is confusing to download, and it does not provide the customer support that every user needs when there is something wrong with the tool. If you want to try much more reliable software, you can effortlessly download Tipard Windows Password Reset. To be familiar with both software, feel free to see the comparison table below:
| | | |
| --- | --- | --- |
| Ophcrack | VS | Tipard Windows Password Reset |
| Free | Price | $31.96 |
| Windows, Mac, Linux | Operating System | Windows |
| | Free Upgrade | |
| | Free Rainbow Tables | |
| | Customer Support | |
| | Reset and Recover Windows Password | |
| | Supporting bootle CD, DVD, and USB Flash Drive | |
| 8.5 | Features | 9.0 |
| 8.5 | Interface | 9.0 |
| 8.0 | Safety | 9.0 |
| 8.5 | Reliability | 9.0 |
From the comparison table that we provide, Tipard Windows Password Reset stands out. Nonetheless, you need to purchase this software, but the benefit you can get when buying a Tipard Windows Password is the safety while using it. Also, it is worth purchasing. Furthermore, Ophcrack is convenient and perfect to use, especially if you do not want to spend money.
Conclusion:
To conclude, we learned that Ophcrack has a straightforward interface. In addition to this, we also know its advantages and become aware of the disadvantages of Ophcrack. Moreover, we also provide and show you a comparison table between Ophcrack and Tipard Windows Password Reset. And with all honesty, Tipard Windows Password Reset stands out. Overall, see you again with our following article!
Did you find this helpful?
122 Votes
YES

Thanks for letting us know!
No

Thanks for letting us know!