pdfFiller Review: Convert and Edit PDF Files Professionally
Do you also desire an advanced online tool to do more with your PDF files? Well, you can not now because this online tool we want you to know is a professional online tool that can convert, edit, and manage files. It is named pdfFiller, and below, you will deeply learn about it. So, read now!

1. Overview of pdfFiller
What is pdfFiller?
pdfFiller is a professional tool for PDF files. It has a wide range of features and lets you use it for free or by subscribing to one of their subscription plans. However, to use the trial version, pdfFiller sign-in is required.
For that reason, you will have an account, and you can use that to save your files. Moreover, it encourages you to buy one of their subscription plans. Why? Because after the trial version, you will not be able to use the features. So, to continue using your account, purchase a plan.
Furthermore, if you have yet to use pdfFiller, you can consider its advantages and disadvantages. It is now your time to get to know more about pdfFiller. Please see them below:
Pros

It has an aesthetic user interface.
It provides a 30 days trial version.
It also provides numerous features for PDF files and more.
Cons

It is not advisable for beginner users.
It isn't easy to find its options.
Uploading documents takes too much time.
Interface9
Features9
Easy to use 8
2. pdfFiller Review
Interface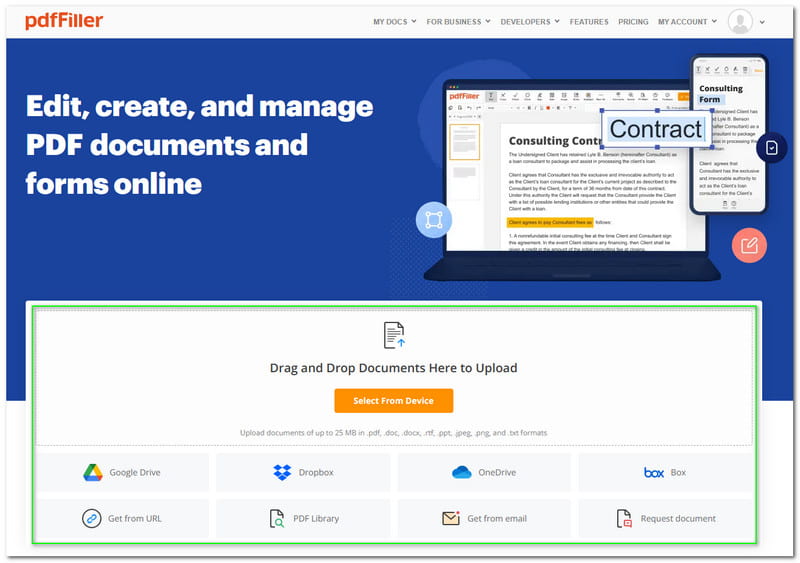 One of the advantages of pdfFiller that you will appreciate is its user interface. It is aesthetic, beautiful, and pleasing to see. Nonetheless, it could be more manageable for beginner users. If you are a beginner user and you are reading this article review, do not worry. We will discuss its user interface.
pdfFiller app is not available since it is operating online. When you go to its official site, you can click the options above, such as My Docs, For Business, Developers, Features, Start Free Trial, and My Account.
Upon scrolling down, you will see a rectangular panel where you can drag or drop documents. You can also upload from Google Drive, Dropbox, OneDrive, Get from URL, PDF Library, and more. After uploading a file, it is up to you what you want to do. pdfFiller allows you to convert files to PDF, Word, Excel, PPT, and more.
Furthermore, to see more features, select the Features button, and pdfFiller will show you all the features, like PDF Document Editor, Print, Download, Send, Fill Forms Automatically, PDF Converter, Merge and Paginate PDFs, Add Watermark, Images, Videos, and more. Starts exploring pdfFiller now!
pdfFiller Pricing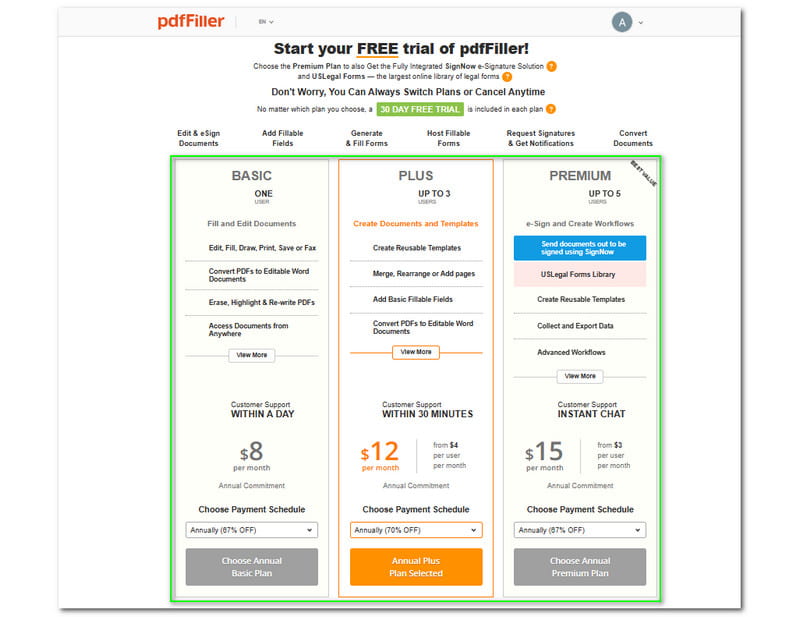 If you are using the trial version and want to upgrade to use it continually, this is the perfect time to read this part. It is all about the pricing or subscription plan of pdfFiller, and at the end of this part, we will conclude if the price is worth it.
The first plan is called the Basic Plan, which costs $8.00. It lets you Fill and Edit Documents. The tools and features are Convert PDFs to Editable Word Documents, Highlight and Re-write PDFs, Access Documents From Anywhere, and more.
The second plan is the Plus Plan, which costs $12.00 and lets you Create Documents and Templates. It includes tools and features like Create Reusable Templates, Merge, Rearranges and Add Pages, Adds Basic Fillable Fields, and more.
The final plan is called Premium Plan, which costs $15.00. This plan will help you e-Sign and Create Workflow, and the features included are; USLegal Forms Library, Send Documents out to be signed using SignNow, Collect and Export Data, Create Reusable Templates, and more.
So the question is, is the Subscription Plan of pdfFiller worth purchasing, especially the Premium Plan? We can say that, yes, it is worth purchasing. Supposing you want to stop using pdfFiller, you can do so by canceling the plan.
pdfFiller PDF Converter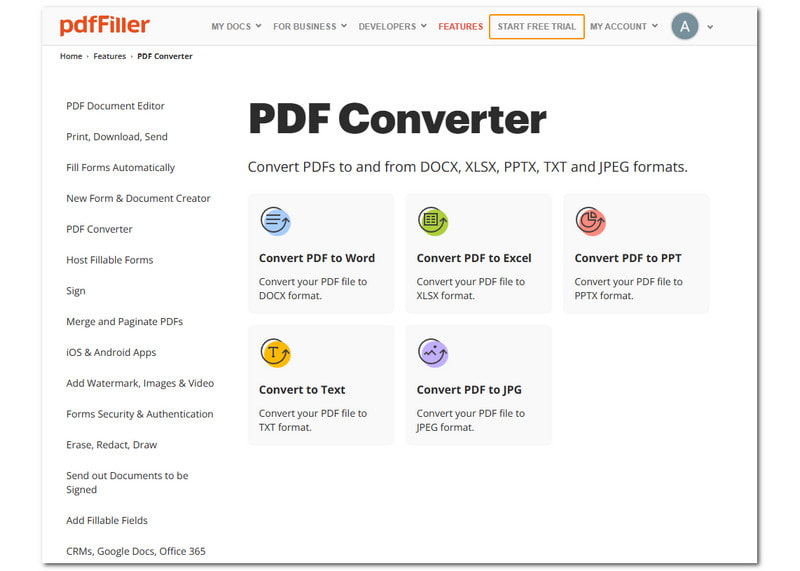 One of the main features of pdfFiller is the PDF Converter. You can see these features when you click the Features button and select the PDF Converter on the left-side corner. pdfFiller lets you convert PDF to Word, PDF to Excel, PDF to PPT, PDF to Text, and PDF to JPG.
For example, upload your PDF if you want to convert PDF to Word. Before converting, you can Add Text and use the Tools from pdfFiller, like Sign, Cross, Images, Erase, Initials, Check, and more. There are more Tools, such as Fit Width, Comments, Help, and more.
For that reason, using the PDF Converter of pdfFiller will satisfy you, especially if it offers tools you can use every time. Again, you can only use some features and tools if you use a trial version.
For more PDF to Word converters, you can check this review.
pdfFiller Customer Service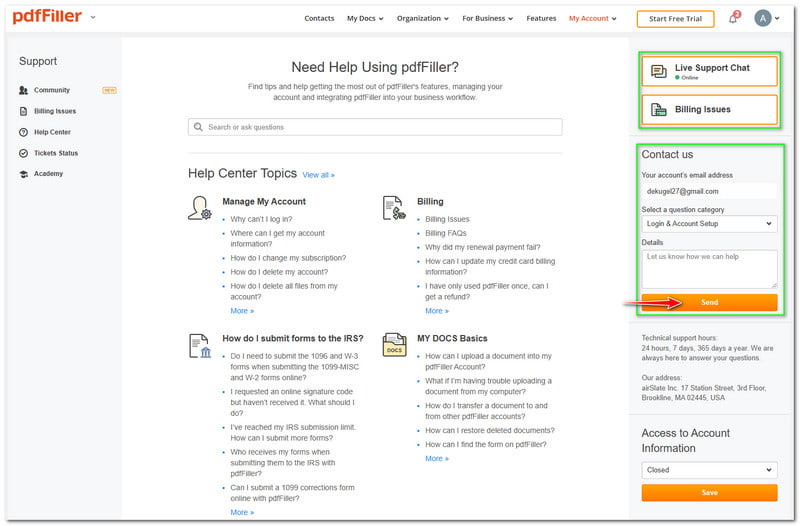 It is easy to contact pdfFiller if you have concerns or questions to them. But before explaining pdfFiller customer service, you need to understand that the subscription plan is connected to customer service.
For example, Basic Plan offers customer service within a day. Then, Plus Plan offers customer support within 30 mins. Also, the Premium Plan offers customer support for instant chat.
Now, to contact pdfFiller, you can see the Contact Us button on its official site. Then, that is it. You can click the Live Support Chat and Billing Issues. To message pdfFiller about your concern, provide your email, select a Question Category, and provide the Details. After that, click the Send button and wait for the pdfFiller to respond.
Chrome pdfFiller Extension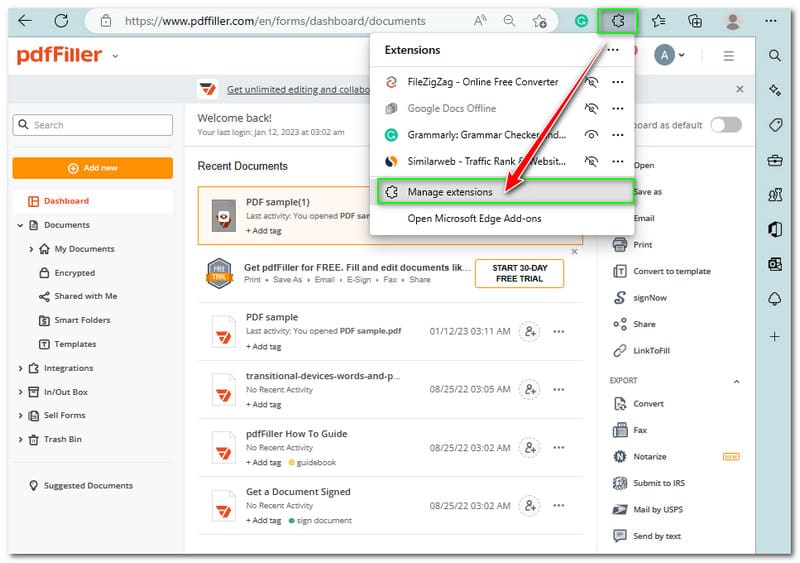 Since pdfFiller is an online tool, you can add it to your Chrome Extension. When you are on the main webpage of pdfFiller, find the Extension button in the upper corner of the window. Then, you can set the pdfFiller by managing the Extensions. Therefore, after adding pdfFiller on the Chrome Extension, it is easier to access pdfFiller. That will save you time, and you can start your work ahead of time.
3. Alternatives to pdfFiller
iLovePDF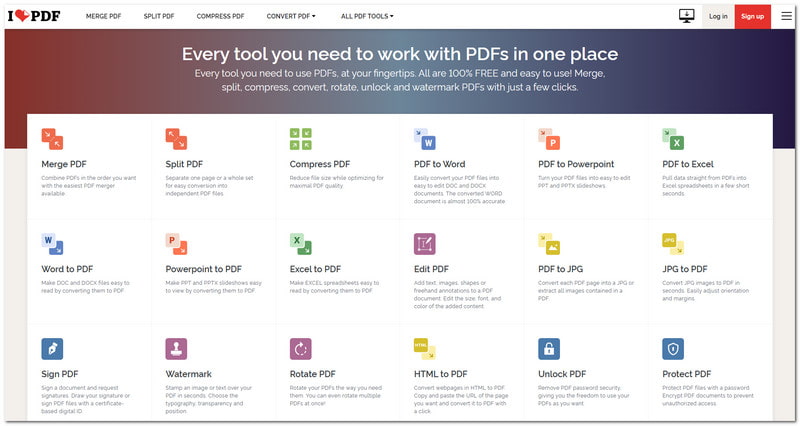 Price: Monthly Plan costs $7.00, and Yearly Plan costs $4.00.
Platform: Online
Undoubtingly, iLovePDF is an alternative tool to pdfFiller. Let us explain to you how that happened. We know that pdfFiller has limitations, mainly if you only use its trial version.
The excellent news is iLovePDF provides features that you can access for free. Yes, you read it right. You can convert your files from PDF to Word, Excel, PPT, and more. Also, you need to prepare a fast internet connection upon converting or editing files.
Smallpdf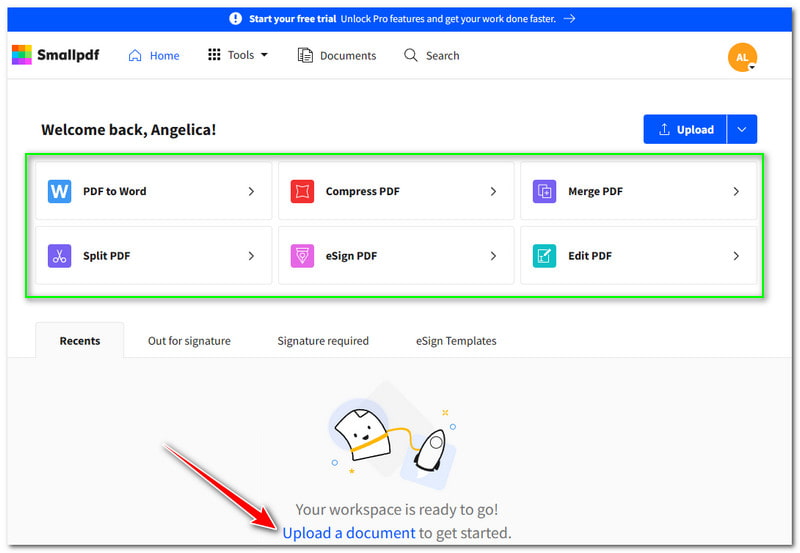 Price: $8.00 a month and $6.33 a year
Platform: Online
Another alternative tool to pdfFiller is Smallpdf. Do belittle this tool since it has the features you want, like converting PDF to Word, PPT, JPG, and more. Not just that aside from PDF Converter, it provides many tools, such as Compress PDF, PDF Scanner, Split PDF, Merge PDF, PDF Reader, and more.
AnyMP4 PDF PNG Converter Online
Price:Free
Platform: Online
Lastly, the best alternative that you can use as an alternative to pdfFiller is AnyMP4 PDF PNG Converter Online. It is also free, unlike pdfFiller, and supports several formats, just in case you want to convert your PDF file.
It lets you add 40 PDF files a day. Yes, that is too many, but you must ensure that the files are at most 10MB. Moreover, it is quick to add files to AnyMP4 PDF PNG Converter Online. You can drag, drop, or choose a file from your computer. Try it now!
4. pdfFiller VS iLovePDF
This part will determine which is better between pdfFiller and iLovePDF. We use a comparison table, and you will notice that everything you need to know is inside the table. Please look at them now:
pdfFiller
iLovePDF
Overall Ratings
Interface
Support Service
Platform
Online
Online
Pricing
Basic Plan: $8.00, Plus Plan: $12.00, Premium Plan: $15.00.
Monthly Plan: $7.00, Yearly Plan: $4.00.
Supported Formats
PDF, Word, Excel, PPT, Text, and JPG
Word, PPT, Excel, PDF, and JPG.
Conversion Speed
Fast
Fast
Editing Process
Advanced
Moderate
Best For
pdfFiller is best for professional use. You can use this for work and business purposes.
iLovePDF is best for users who are looking for an online and accessible tool for their PDF files.
Free Trial
30 days
Free
Features

PDF Document Editor

Fill Forms Automatically
PDF Converter
Merger and Paginate PDFs
Add Watermark, Images, Videos
Erase, React, Draw

PDF Converter
Split PDF
Merge PDF
Extract Pages
Compress PDF
Scan PDF

Pros or Advantages

has an aesthetic interface.
It provides professional features.

Its user interface is manageable.
It is compatible with many devices.
It offers free features.

Cons or Disadvantages

Its user interface is not manageable.
You must sign up and log in to them.

It has Ads since it is free.
It only allows you to convert PDFs if you are logged in.
With the help of the comparison table, we hope you can compare which online tool is better for your needs. If you want an easy and beginner tool, you can choose iLovePDF. But if you want an advanced and professional tool, you can use pdfFiller. Choose between the two now and start using it.
5. FAQs of pdfFiller
Is pdfFiller safe?
We can guarantee that pdfFiller is safe, even if you upload files. According to them, they protect your data with US federal and EU compliance standards. Therefore, you do not need to worry about the safety of your files.
Is pdfFiller free and legit?
pdfFiller is legit because you can access it. Unfortunately, pdfFiller is not free. But you can use its free trial. However, you will experience limitations. Moreover, you can buy one of its subscription plans and see the plan above this article.
How to cancel a pdfFiller subscription?
If you do not want to use pdfFiller anymore, purchase one of its plans, do not worry because you can cancel it anytime. To do that, go to your Account and find the Cancel Subscription. Then, wait for the plan to be canceled.
Conclusion
We are done reviewing pdfFiller and learned that it is more for professional use. In addition, we review all the details you deserve to know, like pricing, platforms, features, and more. Plus, we provide a comparison table and choose between the two online tools if which is better. If you like this article review and you learned from it, give us a thumbs up, and we will indeed publish more. See you there!
Did you find this helpful?
275 Votes
YES

Thanks for letting us know!
No

Thanks for letting us know!
PDF Converter Ultimate
An ultimate PDF converter to Word, Excel, Image, and more.